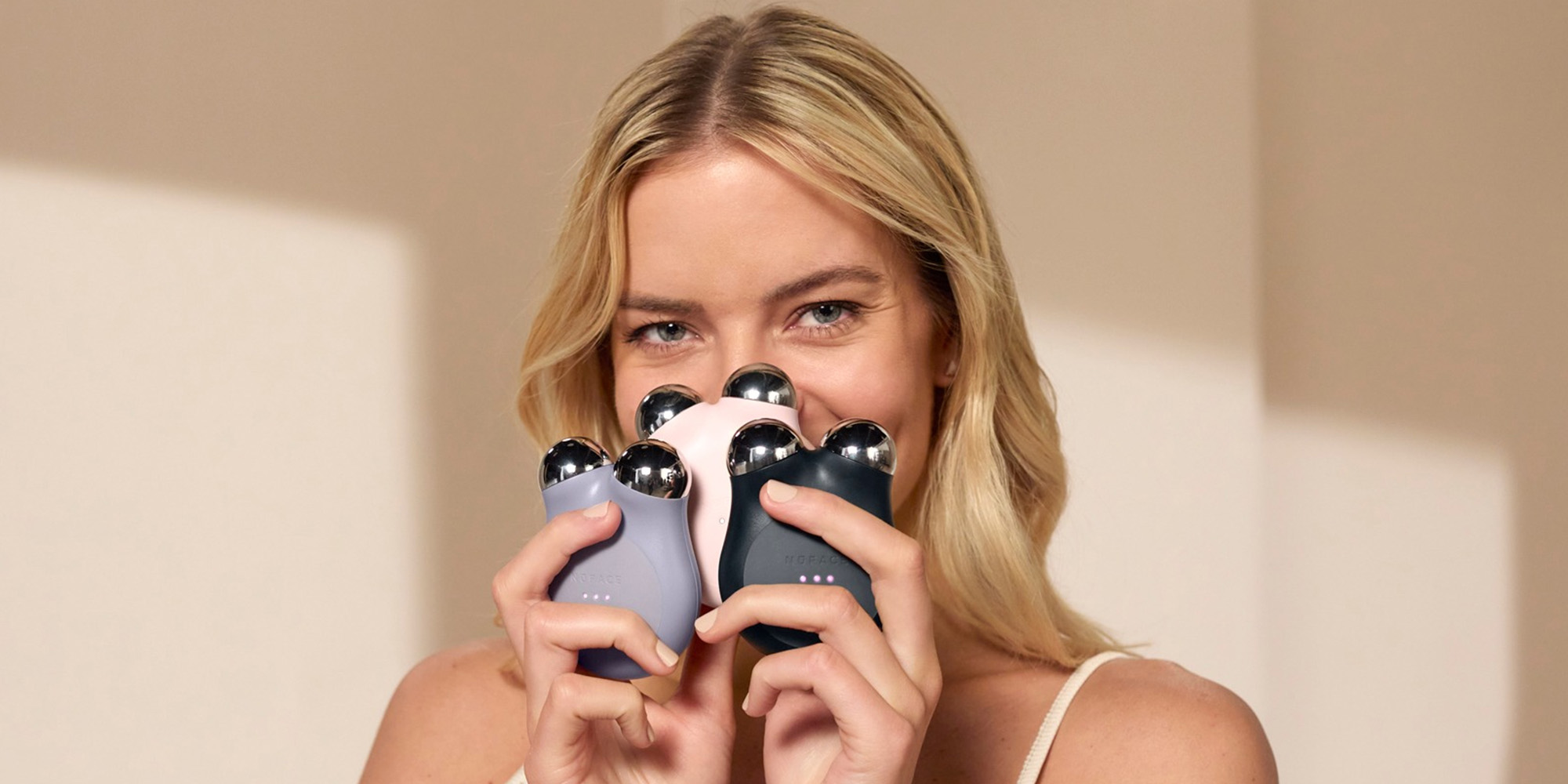 NuFace Opens Facial Sculpting Studio At Nordstrom To Introduce Shoppers To Its Microcurrent Devices
At Nordstrom in the upscale shopping center Fashion Island in Newport Beach, Calif., customers can check out NuFace's microcurrent skincare devices and receive a treatment using them as well.
The brand has planted a Facial Sculpting Studio in the location's beauty department staffed by two NuFace aestheticians who perform 10-minute glow-up treatments designed to tone, lift and contour and 20-minute customized treatments addressing specific skincare concerns, all for free. Outside of Nordstrom, NuFace is available at 1,500 spas, and facial add-on treatments with it can easily set clients back $50 to $100.
The 120-square-foot Facial Sculpting Studio, which operates Thursday to Sunday, is a temporary installation that bowed on Oct. 5 and will run through January, but NuFace is working to place in-store treatments studios in up to 10 more Nordstrom locations next year. In the roughly four weeks the Facial Sculpting Studio has been open inside Nordstrom's Fashion Island store, NuFace reports it's led to a 250% sales increase and 400% foot traffic increase for the brand.
"We are continuously looking at ways to grow and evolve our longstanding brand partnerships to better serve our customers," says Debra Redmond, VP/DMM of beauty at Nordstrom, in a statement. "The Sculpting Studio provides a new and innovative experience for our customers, allowing them to discover the latest in beauty and see results firsthand."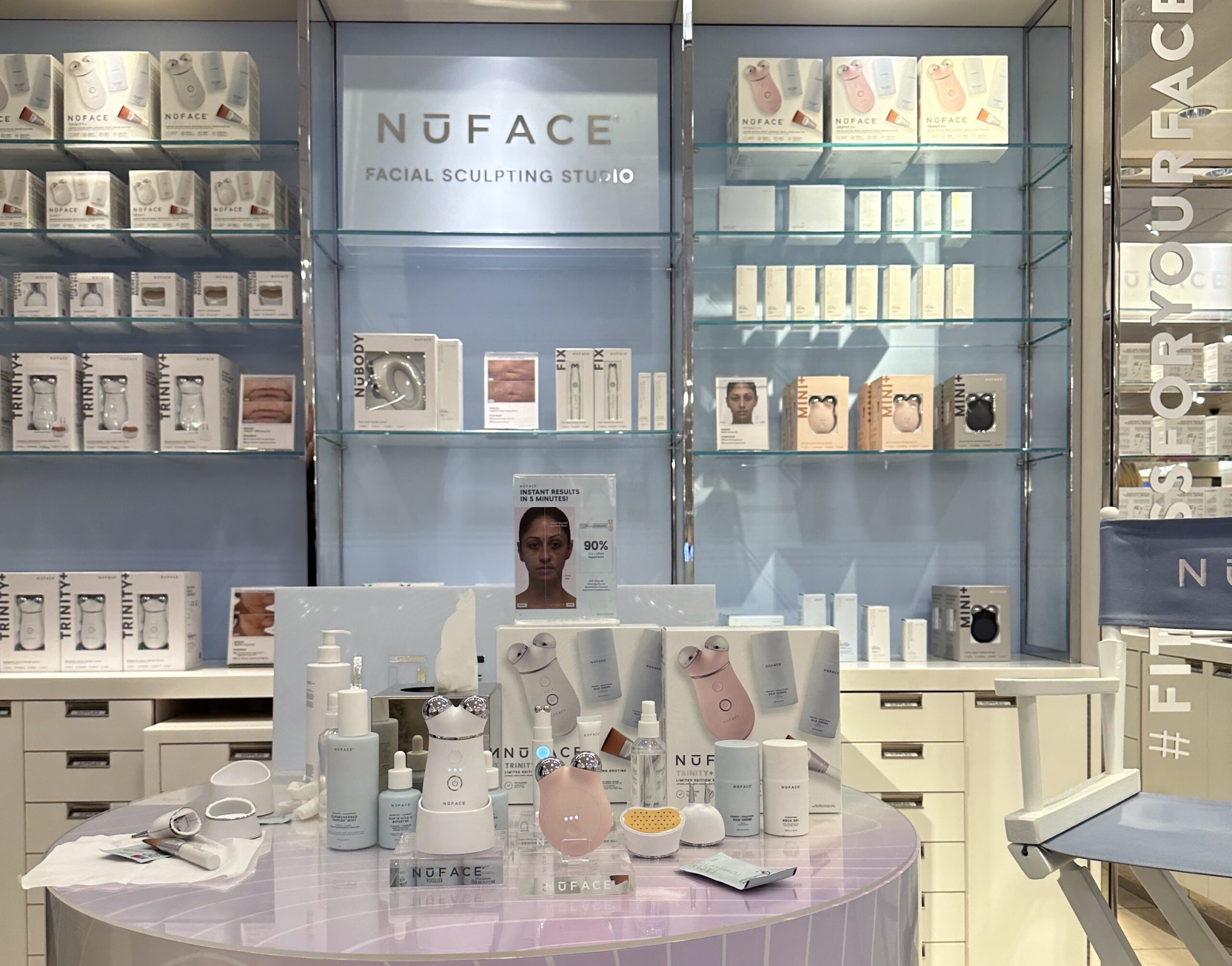 For a brand heavily driven by online sales, NuFace's Facial Sculpting Studio is an incentive to visit a physical location. Traditional retailers account for 30% of NuFace's sales and, within that amount, the retailers' e-commerce platforms are responsible for 50% of sales. Along with Nordstrom and Ulta, NuFace is sold at Sephora, Dermstore, CurrentBody, SkinStore, Amazon and its own website.
"It's bringing more clients into the store, but it also allows the aestheticians to lead with education, not with sales," says Peterson. "So, we're providing a service that naturally translates to sales and that's what we see in the professional setting, too. When a client gets a treatment, they typically don't have a NuFace already."
Services have played a role at beauty retailers for years, and Peterson points to Anastasia Beverly Hills' brow service studios at Nordstrom as part of the inspiration for NuFace's Facial Sculpting Studio. She says the Facial Sculpting Studio is "such a great opportunity for clients to come in and have that face-to-face time with NuFace."
She elaborates, "What we find is, just like you would go to a spa and get a NuFace treatment, this really allows the client to have the flexibility to get a NuFace treatment when he or she wants to. So, if it's a Friday night, and you want to get your face lifted and toned before you apply your makeup, you can go to Nordstrom, get your face lifted and toned, and then go get a makeup application, and you're ready to hit the nightlife or go out on a date."
"This really allows the client to have the flexibility to get a NuFace treatment when he or she wants to."
Carol Cole, an aesthetician and early microcurrent proponent, started NuFace in 2005 with her daughters Kim Morales and Peterson, who, like her mother, is an aesthetician. Last year, Peterson told the publication Glossy that NuFace has sold more than 4 million devices and its sell-through had jumped 24%.
Peterson declined to discuss sales growth this year, but characterizes it as "great," particularly on Amazon. In the past six months, she mentions the search term "microcurrent" has gone from being ranked 16,000th to being ranked 928th at the giant e-tailer. Globally, market research firm Fact.MR projects the skincare device market will multiple 3.1X to be valued at $43.48 billion in 2032, up from $14 billion last year and $12 billion in 2021.
NuFace's selection contains Trinity+, Trinity Classic, Mini+, Mini Classic, NuBody and Fix microcurrent devices. In addition, it has red light, facial trainer and lip and eye attachments for the devices and seven topical skincare stockkeeping units. At Nordstrom, NuFace's prices run from $35 for a 1.69-oz. size of the skincare product Hydrating Aqua Gel to $595 for the Trinity+ Smart Advanced Facial System All In One set with the Trinity+ device, three attachments, two skincare products and a brush.
Topical skincare constitutes 20% of NuFace's business, but Peterson's objective is for it to reach 30% of the business. The brand's Facial Sculpting Studio can help inform customers about its topical skincare products, including Super Vita-C Booster Serum, Super Peptide Booster Serum and Super Antioxidant Booster Serum, and accelerate their sales.
Peterson explains that the topical skincare products really "enhance your skincare results. For instance, our Super Boosters, some may say, 'Oh, it's just a serum.' Well, it's not. It's actually created specifically for microcurrent because there are some ingredients that you don't want to use with microcurrent. The beautiful thing about microcurrent is it will push ingredients deeper into your skin."
Prior to the pandemic, international markets contributed as much as 40% of NuFace's sales. Today, they contribute around 10% of its sales. Domestic issues in China caused the shift. Now, to fuel growth, Peterson says NuFace is looking to strengthen its relationship with its existing retail distribution partners and doesn't expect to pursue further distribution partners in the near term.
She notes, for example, that Ulta doesn't currently carry the Vista, Calif.-based brand's signature Trinity+ device. Ulta stores in three California locations—Citrus Heights, Folsom and San Diego—offer NuFace treatments that take less than five minutes, and the brand's goal is to expand upon that offering with the Facial Sculpting Studio concept.