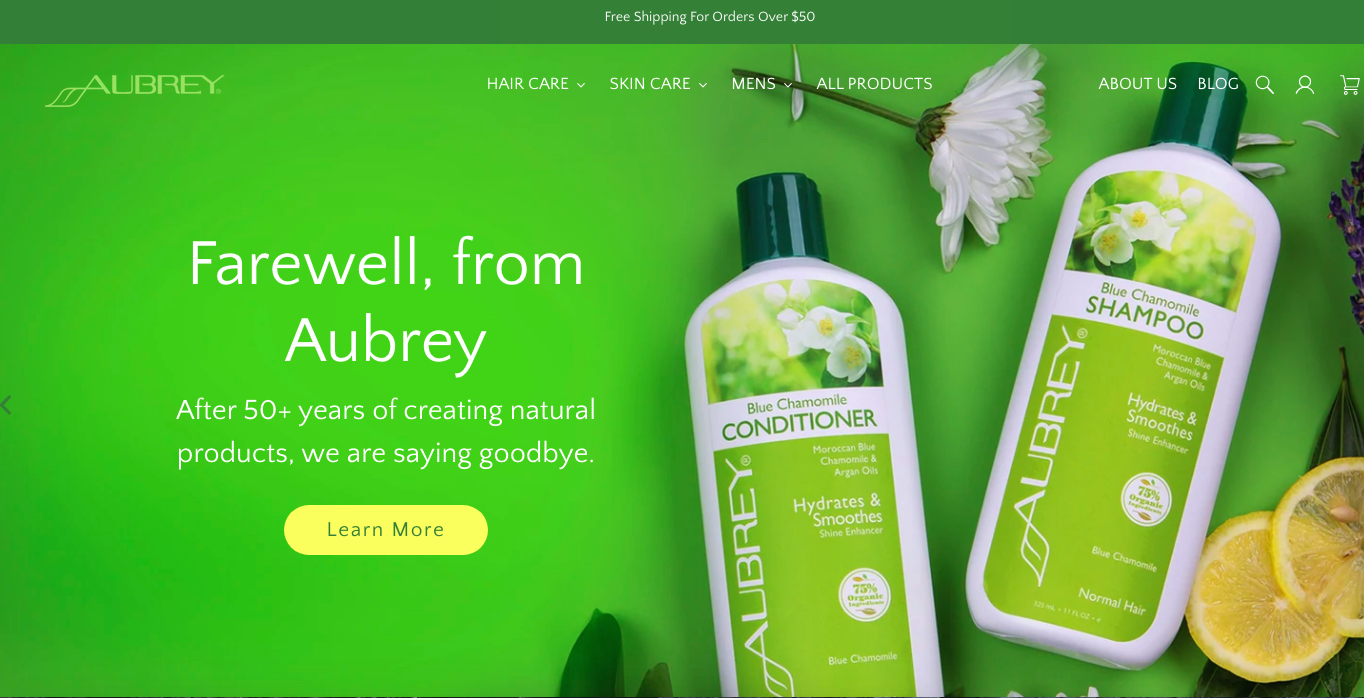 Nutraceutical Shutters Pioneering Natural Haircare And Skincare Brand Aubrey Organics
Nutraceutical is closing haircare and skincare brand Aubrey Organics, a staple of natural grocery shelves for decades.
The company, which also owns beauty and personal care brands Heritage Store, Life-flo and Theraneem Naturals, disclosed the news on Aubrey Organics' website. The closure will bring an end to a brand that pioneered the natural beauty and personal care products sector prior to the clean beauty movement picking up on its ethos of moving away from synthetic chemicals in favor of nature-derived ingredients.
"After 50+ years of creating natural hair and skin products we are saying goodbye. It is with gratitude to our customers that we announce the closing of the Aubrey brand," reads Aubrey's site. "We will still be carrying many products while we have inventory, so if you are able to find the products you want that are in stock (on our website or through secondary retailers), we recommend stocking up."
Aubrey Hampton, an eclectic entrepreneur with a PhD in biochemistry whose interests ranged from cosmetics to theater (he co-founded the Guerilla Theatre), started Aubrey Organics in 1967 as Aubrey's Nature Labs with two products: Relax-R-Bath and GPB Glycogen Protein Balancing Conditioner. Aubrey Organics' site says he went on to develop some 200 natural haircare and skincare formulas.
Hampton also wrote books, including "Natural Organic Hair and Skin Care" and "What's in Your Cosmetics," and drew up a list of 10 synthetic beauty ingredients to avoid (propylene glycol, petrolatum and sodium lauryl/laureth sulfate were among the ingredients on the list) that presaged similar lists by clean beauty brands and retailers.
Speaking of Aubrey Organics, Curt Valva, former CEO of the brand and founder of Sunstate Natural Product Consultants, says, "It pretty much invented the space of natural cosmetics when many of the alternatives—the not-so-natural alternatives—were going a different route." KKT Consultants founder Krupa Koestline, former director of research and development, manufacturing and quality assurance at Aubrey Organics, says, "It was doing clean before it even existed."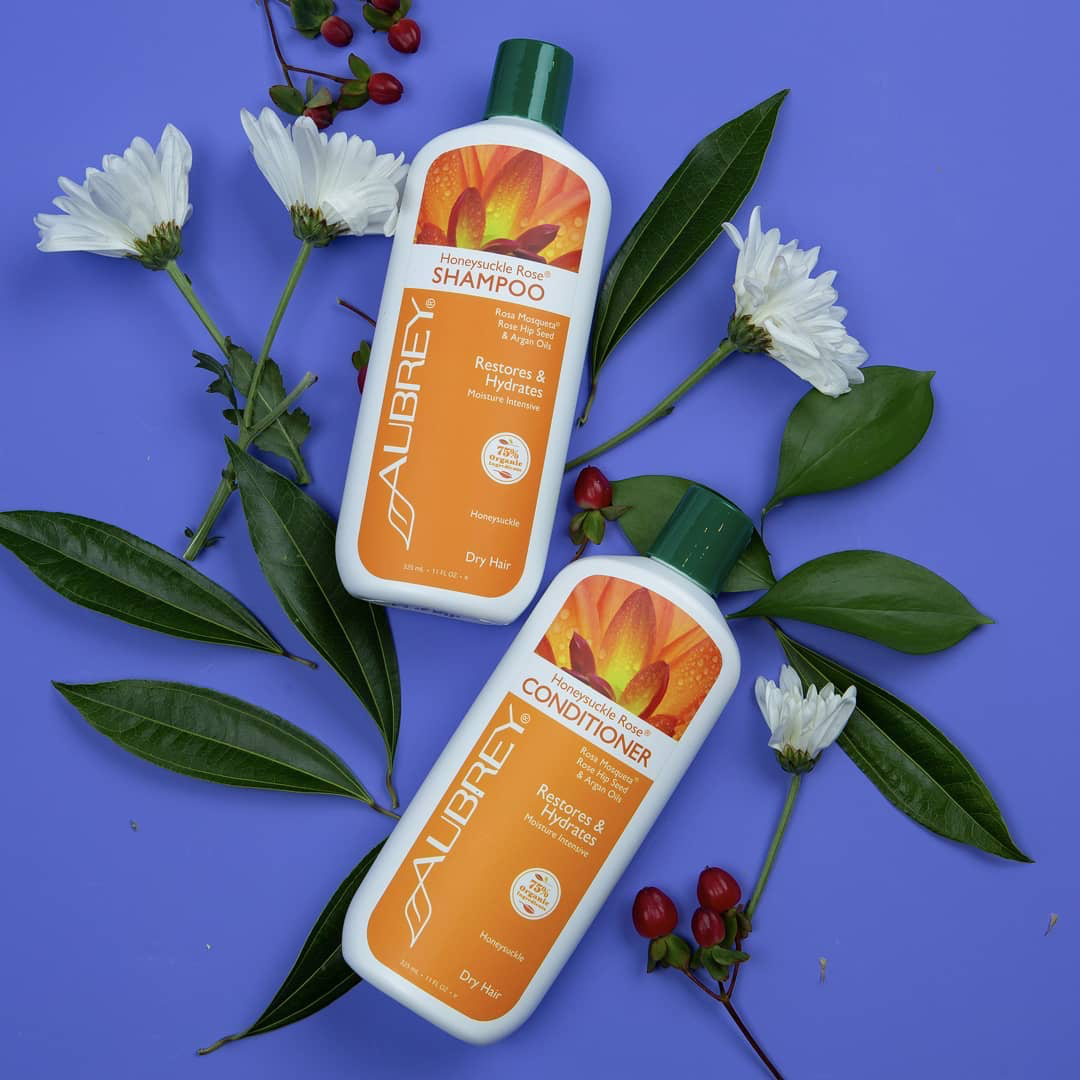 As the natural beauty and personal products sector gained traction with brands such as Weleda, Dr. Bronner's and Jason Natural Products along with Aubrey Organics, Gay Timmons, founder and president of organic and sustainable ingredient supplier Oh, Oh Organic, says Hampton "probably had the cleanest ingredients at the time. He seriously believed in the mission of having the least harmful products."
Obtaining plant-based ingredients for beauty and personal care products wasn't easy in the early days of Aubrey Organics, and the brand built its own manufacturing facility in Tampa to produce products that adhered to its standards. In 1994, Aubrey Organics asserts it was the first personal care manufacturer to be certified organic. The brand made ingredients like rosehip oil, sea buckthorn oil, camellia oil and blue green algae known in the beauty and personal care industry.
Karyn Trumbach, former director of education at Aubrey Organics and a beauty brand consultant at KKT Consultants, singles out GPB conditioner as Aubrey Organics' perennial bestseller. Koestline praises the brand's E Plus High C Deodorant, a strong seller as well, as an "iconic product." She says, "It was a very unique formula that worked, and it was completely natural, no aluminum and no baking soda."
Hampton died in 2011, and Nutraceutical acquired Aubrey Organics in 2016. The brand's sales were $10 million to $20 million back then, and Nutraceutical bought it and natural liquid supplement manufacturer Dynamic Health Laboratories for a combined $26 million. The acquisitions were expected to generate $25 million to $30 million in annual sales post-acquisition.
At its height, Trumbach estimates Aubrey Organics was sold at 6,000 independent health food stores and 3,000 chain stores. It was a mainstay of leading natural grocers Whole Foods and Sprouts. Currently, the brand continues to be available online at Vitacost, iHerb, Walmart, Kroger, Amazon, and more e-tailers and retailers.
"It was doing clean before it even existed."
Nutraceutical didn't provide reasons for its decision to close Aubrey Organics. Purchased by private equity firm HGGC in 2017 for around $446 million, the company has been focusing of late on Heritage Brand. Last year, it rebranded the legacy brand established in 1969, and it's grown Heritage Store's distribution at Target and Walmart. In total, Nutraceutical's portfolio has about 50 brands spanning beauty, personal care and supplements. In 2020, the company reports it was ranked No. 1 in unit market share for dietary supplements and personal care products in the health food specialty channel.
Aubrey Organics was hurt by a lack of innovation and increased competition. Timmons explains the explosion of brands entrepreneurs concocted out of their kitchens that matured to become larger beauty players ate into Aubrey Organics' business. "Then, you add the next layer that came along a little bit later, which was Shopify and Square, and the ability to sell stuff directly," she says. "Creating commercial products is remarkably different from when Aubrey had to source ingredients, manufacture products, and find distributors to ship them out all over the United States and world."
Trumbach says Aubrey Organics failed to pivot its marketing and design as fresher brands entered the market appealing to younger consumers. Koestline says, "There are brands that are constantly evolving that took over the customer base that Aubrey had. There really has been no innovation on Aubrey's front for the past five to six years. I'm not surprised [by the closure], but it's definitely very sad."
Timmons says Hampton's dedication to purpose over profits will be the lasting legacy of Aubrey Organics. She elaborates, "As a company, they put their ethics where their money was. They really walked the walk." Trumbach says, "The biggest legacy of Aubrey Organics from the founder was promoting the idea that cosmetics should be something that consumers care about."