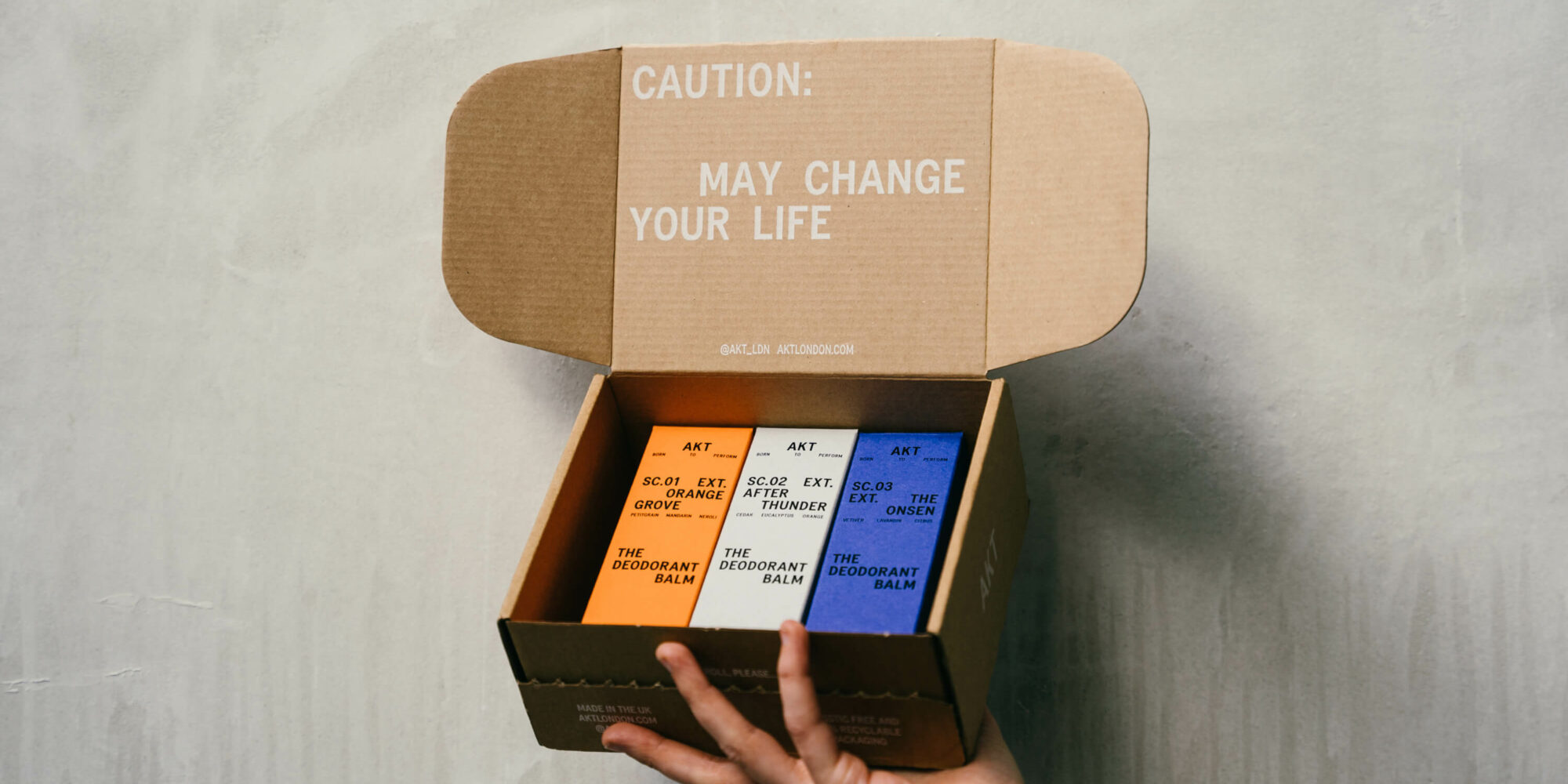 With Ambition To Become A Premier Plastic-Free Luxury Beauty Brand, Deodorant Startup Akt London Reels In $2M In Funding
"There are many deodorants out there, but they don't look like Akt," says actor Andy Coxon, who founded the brand with Ed Currie, who he used to perform with. "We are quite bougie people. We like nice things. So, we said, 'This product has to look nice.' We want it to look like it belongs at Soho House or at that curated center table in a men's boutique. We want it to be photographed along with Aesop—and that's happening."
What else is happening is that Akt London, which is named for an act in a play in a nod to Coxon's and Currie's theater backgrounds, has secured 1.5 million pounds or roughly $2 million at the current exchange rate from Stonebridge, an investment firm led by James Cox, backer of Carbon Theory and founder of Simba Sleep. The money is on top of 150,000 pounds or $207,000 it raised from friends and family, and 50,000 pounds or nearly $70,000 it drew through a Kickstarter campaign to support its launch.
The recent funding is a step toward Akt London reaching its goal of becoming much more than a niche natural deodorant player. Coxon and Currie have ambitions to take the brand global—the United States is definitely on the roadmap—and expand its assortment far beyond its baking soda- and magnesium oxide-powered deodorants. Akt London refers to them as deodorant balms and packages in them in aluminum tubes with bespoke aluminum caps.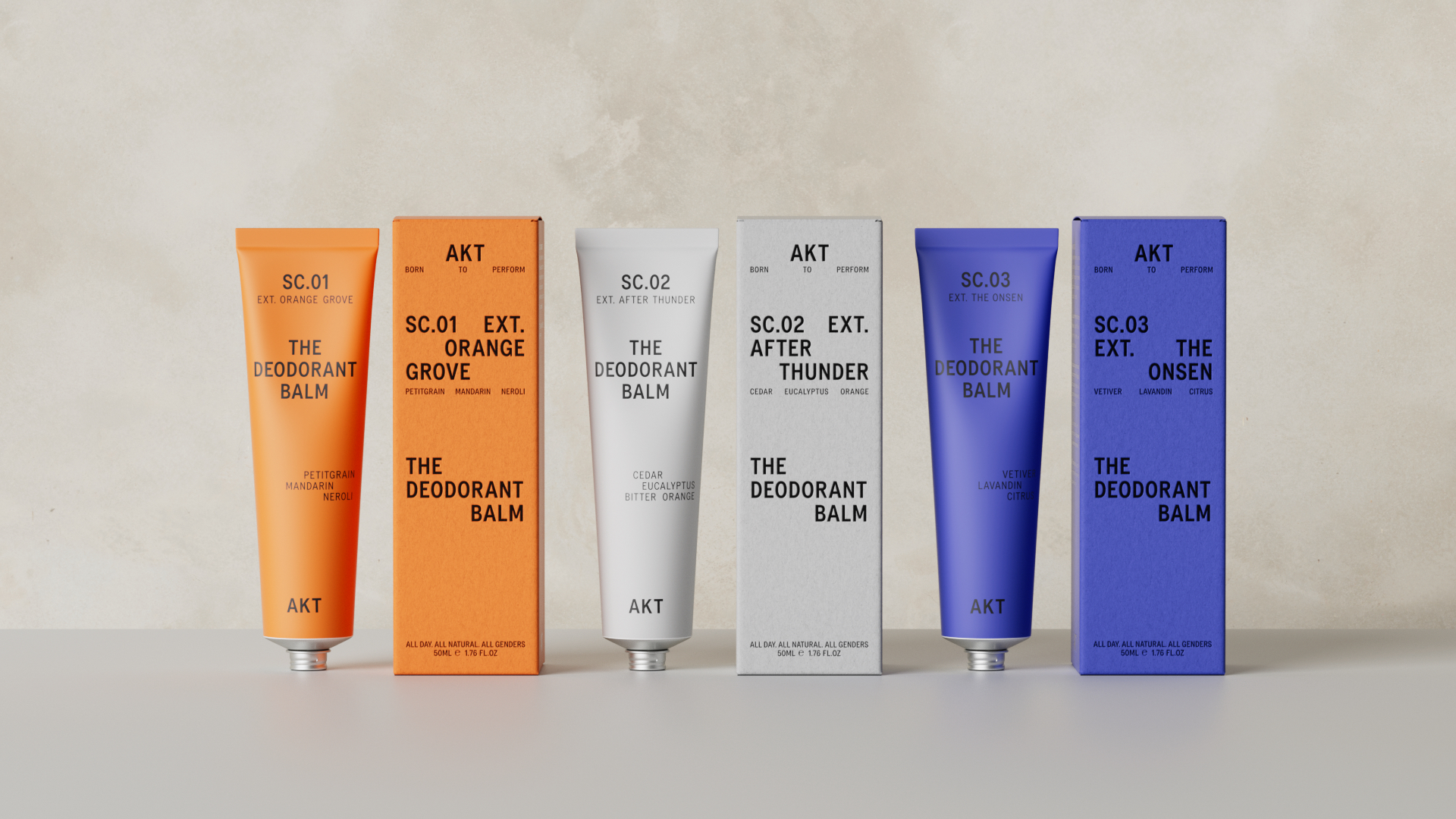 "We want to become the No. 1 premium plastic-free body care, fragrance and skincare brand the world alongside Aesop and Byredo, all those brands we see in Liberty of London," says Coxon. "We could have kept the brand little, but we have so many dreams and plans with this brand, we had to do a funding round."
For the most part, Coxon's and Currie's charisma and connections have driven the brand thus far. The two met in 2015 during a West End production of "Beautiful: The Carole King Musical." A Theatre Weekly article from earlier this year reports they had a "'showmance,' but while their romantic relationship didn't last, it turned out to be a business match made in heaven." At the start at least, heaven was pretty stinky.
Coxon isn't afraid to identify Currie as the sweatier member of the duo. Currie's hard work rehearsing and performing had malodorous consequences. "I couldn't get the smell out of my T-shirts, even though I washed and washed them. I was throwing them out week after week," recounts Currie, who had been stocking up on drugstore deodorants like Sure and Lynx, aka Axe. "I was getting super frustrated. I looked online and was like, 'How could we do this?' I'm not stupid. There must be a way of fixing this issue. I started with beakers and powders. It was very 'Breaking Bad' style. It was a horrible Camden kitchen in North London, and I was making it worse."
"There are many deodorants out there, but they don't look like Akt."
He wasn't making his smell worse, though. Currie's deodorant recipes were helping. To perfect the recipe, Coxon and Currie dispersed versions to people in their theater community to test. It took about three years to nail down Akt London's deodorant balm. By then, Coxon and Currie began to believe they could build a brand. At the time, the brand wasn't called Akt London. It was called Pitt London.
A fortuitous encounter at a Royal Shakespeare Theater play with actress Caroline Quentin, wife of cosmetic chemist Sam Farmer, sparked the next move. Farmer informed Coxon and Currie they needed to have access to funds to properly establish their business. Coxon and Currie embarked on their Kickstarter campaign and seeded 1,000 deodorant balm samples to their performer friends to spread the word. The campaign generated 3.3 times its original fundraising target and 3,000 orders.
Seemingly less fortuitous was that, just as Coxon and Currie were going to trademark Pitt London, they received a cease-and-desist letter demanding they abandon the Pitt London name. In retrospect, Coxon says the letter "was the best thing that could have happened to us. The previous brand had no acknowledgment of our theater roots. For some reason, we had completely forgotten it."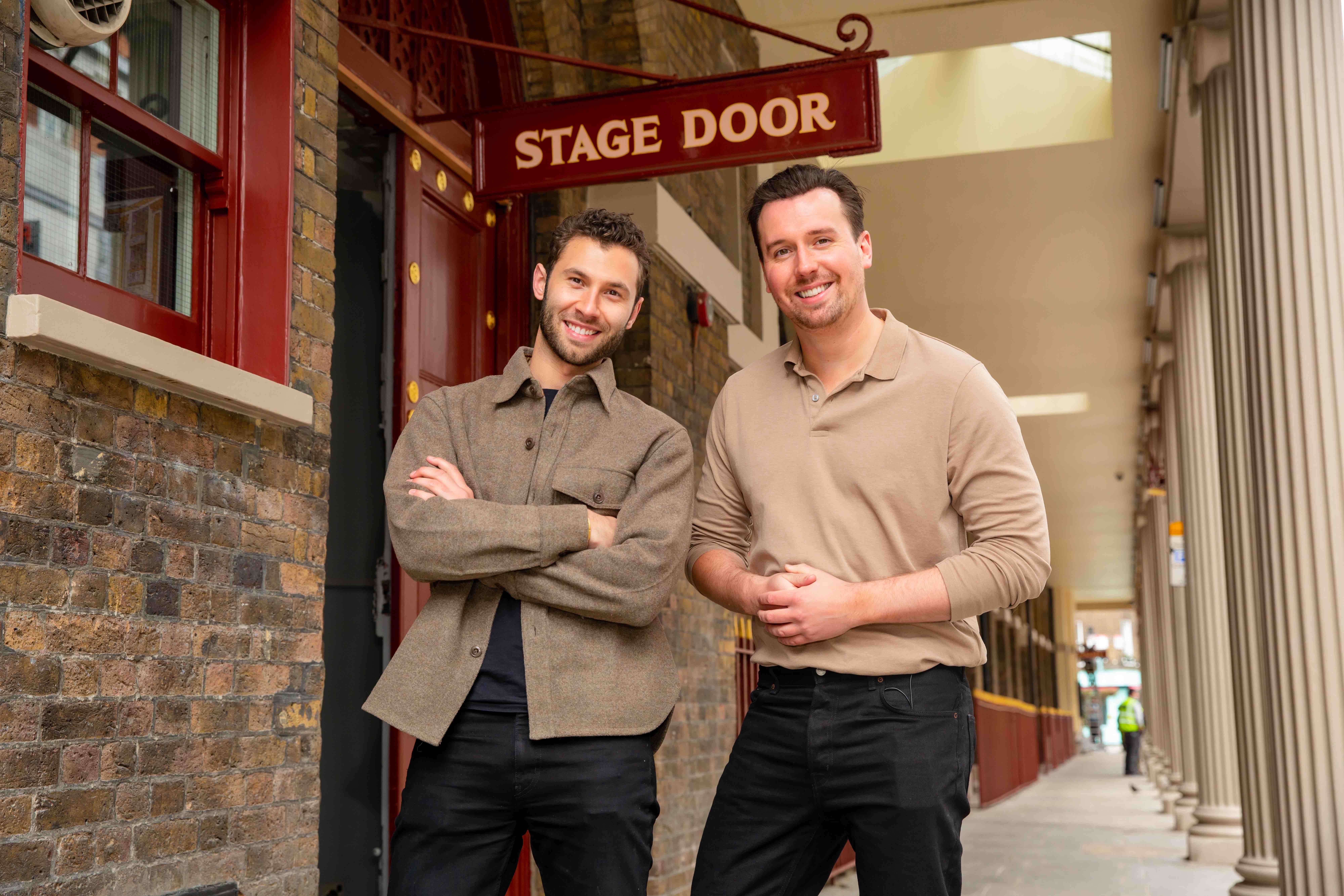 Not forgotten at all in the current branding, Akt London describes its products as scenes: There's Sc. 01 Orange Grove, a blend of petitgrain, mandarin and neroli; Sc. 02 After Thunder, a combination of cedar, eucalyptus and orange; and Sc. 03 The Onsen, an assemblage of vetiver, lavendin and citrus. Priced at 18 pounds or roughly $25 and housed in blue, white and orange packaging, the gender barrier-crossing deodorants sell about equally, with Orange Grove a smidgen in front of the rest. The slogan, "Born to perform," is on the brand's boxes, and its e-commerce mailers pronounce, "Caution: may change your life."
"We are a confident, bold brand, and we really wanted the colors to be bold," says Coxon. "If you go into a supermarket and you see a deodorant section, the men's is all dark and war, and the women's is all pastels, soft pinks and whites, and flowers. We are all genders, and we wanted to make our fragrances fine fragrances because no deodorant does that. People mix up essential oils, but ours you can wear as perfume. The balm is multiuse. It's not only for your armpits."
The funding from Stonebridge will be put primarily toward product development and marketing. Akt London has had a lean marketing program, and it will be beefed up with affiliate efforts and influencers. The brand expects to enter select retailers and is intrigued by possibility of partnerships with the likes of Equinox and Barry's Bootcamp, but mainly will stick to direct-to-consumer distribution. Subscriptions are a big focus for Akt London. It now has 4,500 subscribers and a repeat customer rate of slightly under 80%.
"We want to become the No. 1 premium plastic-free body care, fragrance and skincare brand the world."
Growing Akt London in European countries and the U.S. is also a priority. The brand envisions activating actors and performers in the U.S. to lift awareness similar to what it's done in the United Kingdom. In 2022, it aims to hit almost 9 million pounds or $12.4 million in sales.
Akt London is interested in stretching its merchandise across categories, and it often incorporates tools to pair with its products. For instance, its tool The Applicator inspired by gua sha is intended for customers who don't want to apply deodorant balm with their fingers, although Akt London hasn't noticed that's a huge problem. The brand's tool The Assistant facilitates the squeezing of its aluminum tubes. In the future, an elegant snuffer could come out with candles.
"For us, it's about slowing down and harkening back to a time before plastic where there was this moment at the dressing table where you had all your beautiful pots," says Coxon. "On a personal level, we couldn't deal with the guilt of adding more plastic into the world. That's why our tubes are completely plastic-free."
Akt London's fundraising process was paved by the arrival of the pandemic, which ended Coxon's tenure as Tony in "West Side Story" at Manchester's Royal Exchange Theatre and allowed him to concentrate on the brand, and through the Beauty Connect conference. Coxon and Currie, who finished performing five years ago, participated in a pitch contest at the conference and were introduced to Matthew Wiseman, a partner at investment bank Alantra. He orchestrated meetings with investors. Coxon and Currie spoke to some 50 of them, but their meeting with Cox—the first one they took, virtually of course—wasn't surpassed. They were attracted to his experience and creativity.
"Many people we spoke to said, 'We will give you the money, and you will [handle] everything.' We don't want James running the business, but we want him to work with us. He's on calls with us, and he's talking to us about new product ideas. He knows subscription. He has scaled e-commerce brands massively," says Coxon. "He's in that world and the ideas he was rolling off within the hour-and-a-half call excited us, and no one matched that. He set the bar really high."