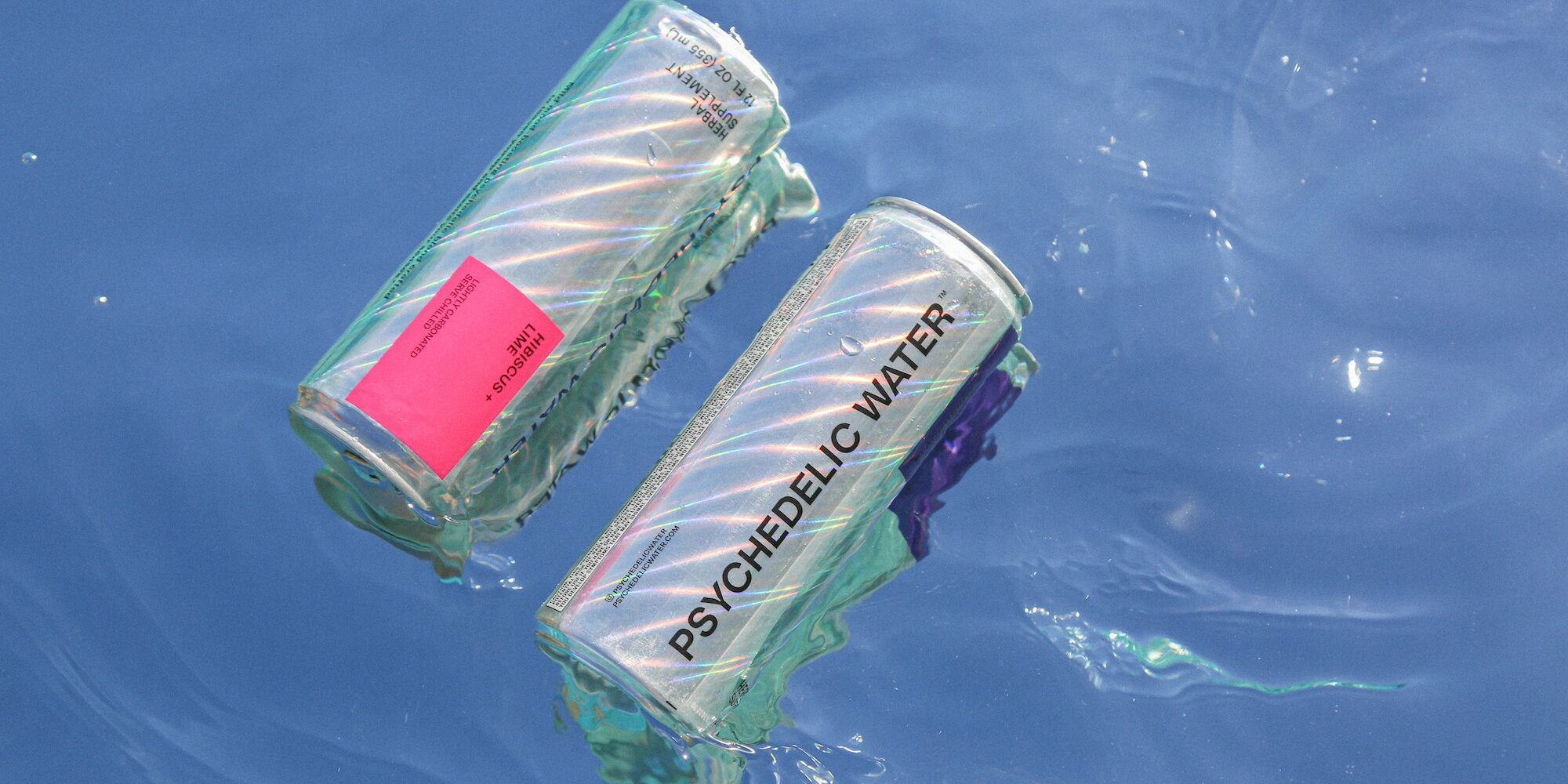 Psychedelic-Adjacent Functional Beverage Psychedelic Water Goes Viral On TikTok, Racks Up $1M In Sales
Don't let the "psychedelic" in
Psychedelic Water's
 name fool you.
The bubbly beverage won't make you hallucinate. Rather, Psychedelic Water executive Felicia Hershenhorn says, "It's bringing that psychedelic state of mind, the curiosity and the passion, the creativity to everybody at any time of day." Certainly, the idea has piqued consumers' curiosity. 
After launching in February and going viral on TikTok—its hashtag has 11.5 million views on the social media app—the company sold through three months' worth of inventory, about 50,000 cans, in only three weeks during the summer. By September, Psychedelic Water had reached $1 million in sales. It's projecting about $5 million in sales for the year, which will be achieved at least partly through swiftly expanding retail distribution.
Currently, Psychedelic Water is sold at cannabis dispensaries mostly in California. In total, it's available in more than a dozen states. While Psychedelic Water was founded in Toronto, it turned to Los Angeles as an early testing ground. "We used it as our hub to see how people would react to the product and how excited they would be going into stores and purchasing the product because there's a difference between buying something online that you see everybody's using and, then, going to a store, buying and repurchasing, and we've had success on both fronts," says Hershenhorn, a lawyer who, along with Psychedelic Water, co-founded beauty ingestible brand Imaraïs with influencer Sommer Rae. "Now, it's time for us to go nationwide."
In addition to cannabis dispensaries, the brand has had a presence on Amazon since the summer. The majority of its sales, however, have been through its e-commerce website. A pack of six 12-oz. cans retails for $33. Psychedelic Water comes in three flavors—Blueberry + Yuzu, Hibiscus + Lime, and Oolong + Orange Blossom—and more flavors are on the way.
The "mildly psychoactive" non-alcoholic blend developed with food scientists from New York University features botanical ingredients, including kava root, damiana leaf and green tea leaf extract. While the beverage is safe to consume, there can be side effects due to its active ingredients. It's not recommended for people who are pregnant or breastfeeding. 
The functional beverage has been popular among the growing number of consumers who want a buzz sans the hangover alcohol induces. "That's one of the best value propositions about our product is that you can have this elevated, blissful, euphoric feeling, and wake up the next day and be completely fine," says Hershenhorn. "I love talking about our products in the context of non-alcoholic alternatives, but it's so much more. It's something that you can have at 10 a.m. because it makes you feel good, and it lifts your mood." 
Hershenhorn adds Psychedelic Water has consumers who use psychedelics like psilocybin, and they have shared the experience of the beverage is similar to the experience they have had from microdosing psychoactive compounds. "I always say that with a grain of salt," she cautions. "Everybody reacts differently, but everybody has reported to us how amazing the product tastes and how amazing the product makes them feel." 
Founder and Toronto lawyer Keith Stein concurs. "I think Psychedelic Water has gone crazy because it is the world's first product of its kind and has tapped into the enormous interest in this area," he says. "Plus, people love its taste and effect." 
Stein, who formerly worked in the cannabis industry, established the company in 2019 with serial entrepreneur Pankaj Gogia, who serves as Psychedelic Water's CEO. It's raised $4 million in a series of funding rounds involving angel investors, family offices and celebrities. Psychedelic Water's seed round was led by Toronto venture capital firm Clanton Capital.
Psychedelic Water is at the intersection of several trends in the wellness space. As psychedelics gain popularity, there are many consumers interested in the benefits of psychedelic use, but not willing to take the plunge into tripping. This dynamic has given rise to the nascent, but mounting psychedelic-adjacent product category, which Beauty Independent has covered.
The functional beverage segment including CBD-infused soft drinks like Recess, Vybes and Sweet Reason as well as adaptogen- and nootropic-powered offerings such as Kin Euphorics, Curious Elixirs and Free Rain is exploding, too. Per Fior Markets, sales of global functional beverages are expected to advance at annual rate of 7% to go from over $125 billion in 2020 to nearly $217 billion by 2028.