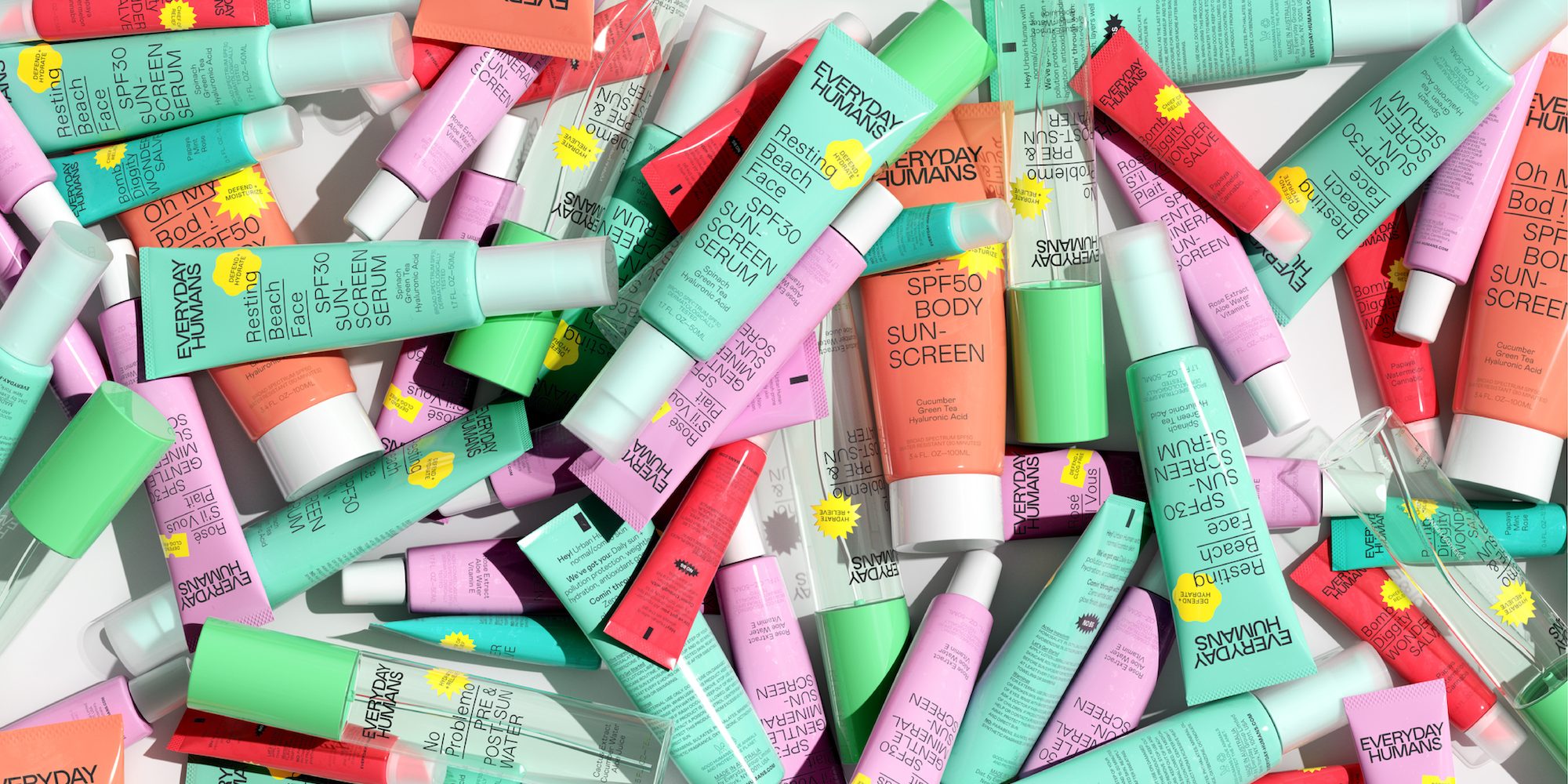 Revamped Sun Protection And Body Care Brand Everyday Humans Launches At Target And Ulta Beauty
It's not every day that a 2-year-old brand with significant retail traction is completely overhauled, but sun protection and body care specialist Everyday Humans, previously Everyday For Every Body, has done just that.
Last summer's Target Takeoff accelerator program was a major turning point for Singapore-based founder Charlotte Pienaar, who placed Everyday for Every Body in Madewell, Urban Outfitters, Anthropologie, Revolve and Shen Beauty after it premiered in July 2018. As she was studying the ins and outs of mass retail in the program, she concluded the brand wasn't as well-positioned as could be to attract gen Z and millennial customers to store shelves and direct-to-consumer platforms. She says, "I decided, yes, I've just launched, but we're going to start all over again. That was a crazy decision, but, in retrospect, I think it was great."
The focus of the renovation was to extend Everyday for Every Body beyond seasonal SPF to perennial purchases and cater to young customers with tight budgets. Everyday Humans' products are priced 20% to 25% lower than Everyday for Every Body's products. No product in the updated range is over $25. Previously $30, the brand's hero product, SPF facial serum Resting Beach Face, has been slashed to $24. Pienaar says her goal is for Everyday Humans to become the "go-to millennial and gen Z sunscreen and body care brand."
At Target Takeoff, she divulges, "We learned that the buyer that buys for sun during the summertime buys for body during the wintertime. When sunscreen sales go down, body care goes up. We needed to normalize our revenue numbers so that we don't have this huge peak-and-trough situation. We needed to figure out how to consistently be able to sell no matter what season we're in." In addition to diversifying revenues around the year, Pienaar's objective is to diversify revenues throughout Everyday Humans' selection. Resting Beach Face has been responsible for 45% of the brand's sales.
"We needed to figure out how to consistently be able to sell no matter what season we're in." 
"That's a really big percentage towards one SKU. We have one hero, and now we need to figure out what our second hero is," says Pienaar. "We want to set the second hero in a different category."
Everyday Humans' assortment includes Resting Beach Face, mineral sunscreen Rose S'Il Vous Plait, body sunscreen Oh My Bod SPF 50, aloe-infused face and body mist No Problemo, and skin salve Bomb Diggity. An earlier iteration of the salve existed pre-rebrand as did a deodorant, which will be relaunching with Everyday Humans' 2021 body care releases. Given the current global retail climate, Pienaar isn't in a rush to push new products out. She says, "I think everybody's on pause right now. I don't think it's necessary to drop another five SKUs or whatever in six months' time. Things can change a lot." She plans to introduce 12 products in the next year to 18 months.
Consumer feedback via social media, reviews and one-on-one conversations guided Everyday Humans' product formulations. Revised Resting Beach Face has been dermatologically tested and increased its moisturization power with hyaluronic acid. "For a mineral sunscreen, one of the biggest complaints out there is it's going to clog my pores," says Pienaar. "We listened to a lot of people's complaints [and] formulated a mineral sunscreen that is clinically proven to not clog pores. It's suitable for sensitive skin and acne-prone skin, there's no white cast, and it's $25. We wanted to hit all the marks of what people are asking for and formulate from there."
Starting in June, Everyday Humans will be available on Ulta Beauty's and Target's websites. In July and August, the brand is due to roll to Sephora's Asia-Pacific stores across 11 countries. "To debut with three of the most reputable beauty stockists is a great thing coming from a small startup, which is basically self-funded," says Pienaar, noting the brand raised an undisclosed amount in funding from friends and family members to support its makeover. "Generally, people who I've met that got into these types of retailers usually have a ton of money or have a lot of beauty experience or have a lot of connections." Everyday Humans is the fourth startup former investment banker Pienaar has been involved with, but the first in the beauty and personal care space. Her previous startups were in the technology and luxury fashion categories.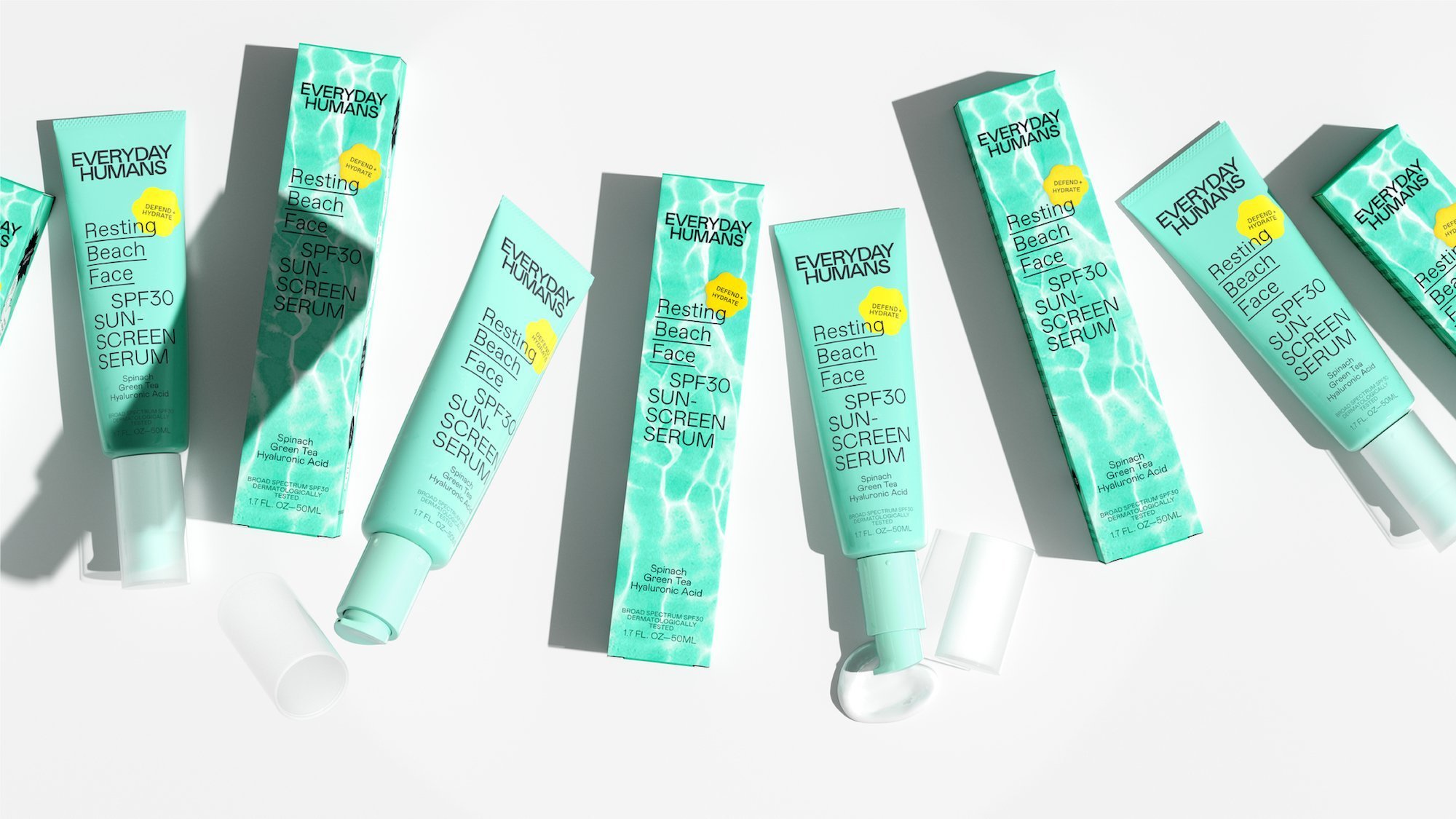 The good news for Everyday Humans' business amid the present crisis is that its average order value online has been mounting despite halting digital marketing for the past six weeks. Pienaar says, "We've never done better than this month." She continues the brand's Amazon sales have been jumping, although they remain a sliver of its total turnover at less than 20%. Asked about why she believes sales have accelerated, Pienaar explains people are still heading outside in the midst of the pandemic and interested in affordable pick-me-ups to lift their moods.
Before the pandemic, the sun protection category had seen a burst of deal activity. Last year, Beiersdorf acquired Coppertone for $550 million, and SC Johnson scooped up Coola and Sun Bum. While the pace of M&A in personal care has slowed down substantially of late, Pienaar is confident Everyday Human will be part of the conversation once it speeds up again.
"I feel like acquirers are looking for an asset in this space. There are not many assets out there in the mid-tier, and there's been a demographic shift," says Pienaar, indicating legacy sunscreen brands aren't compelling to millennial and gen Z consumers. "Coola has Bare Republic. We aren't as cheap as them, and we don't have their California beach vibe. We're more of an everyday brand, and we want to broaden our assortment strategy to appeal all year round."