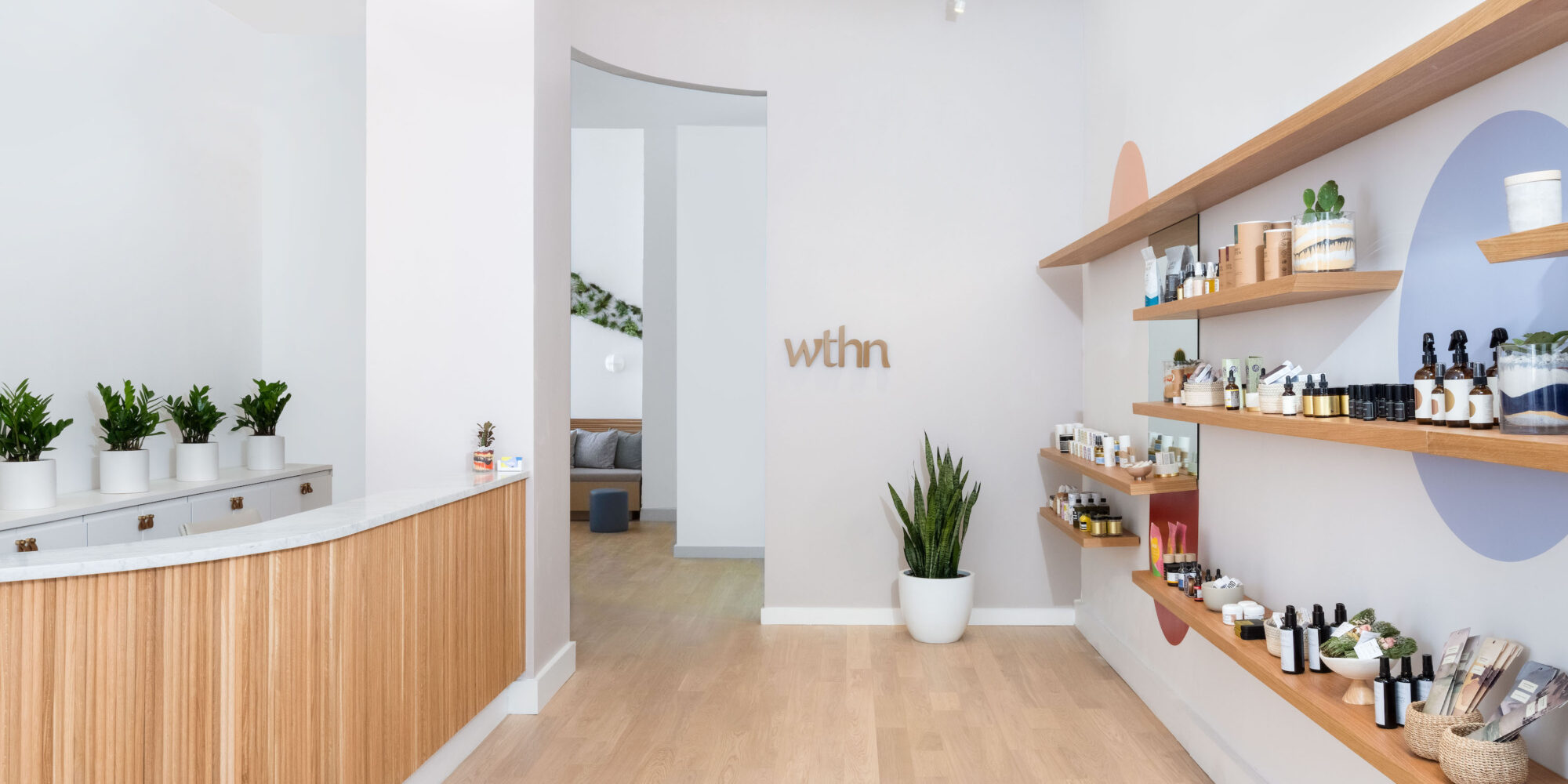 What It's Like To Reopen A New York City Wellness Business In The Midst Of The Pandemic
For the past four months, the city that never sleeps has been in a virtual commerce coma. Restaurants, gyms, stores, salons and spas closed in mid-March due to COVID-19, leaving New Yorkers seriously behind on their personal maintenance. Stylish acupuncture studio WTHN was among the shuttered businesses, and its services were stopped at a time when co-founders Dr. Shari Auth and Michelle Larivee felt clients needed them most. In late May, however,
New York State designated acupuncture an essential health care service, making WTHN exempt from phased reopening requirements. Here's Auth's and Larivee's account of preparing for WTHN's June 15 reopening and how the coronavirus has changed its business.
Larivee: Closing for us was really hard in the sense that this has been the most stressful time most people have gone through in a long time. Not to mention levels of pain have increased, the need for a boost of immunity is also urgent. For us, not being able to provide that throughout the crisis has been really hard because that's why we exist, to help people achieve their best health. As a people-first and a health-first business, safety has always been a top priority for us. We've always taken that very seriously. So, we had that strong foundation, but there's a lot that we have also changed.
We were planning for reopening from the day we closed. At the beginning it was, hopefully, we'll be open again in a couple of weeks and, then, in a month. That all dragged out. Our focus was not just on our clients, but also how do we take care of our team? They're going through all of this at a personal level as well. And, when they come back to work, they'll be on the front line. How do we make them feel safe and build trust?
Our approach was to dive into all of the evolving guidance and regulations from relevant resources. It was about being nimble, being flexible, staying up-to-date across dozens of resources. We were looking at local state and federal government, new laws and regulations that have been passed. We were trying to triangulate across all of that to make sure that we were able to make informed decisions. We looked closely at expert health and medical guidance, following CDC guidelines that continue to be published on a regular basis, looking at employee workplace safety and compliance, OSHA regulations and, then, we also were in regular communication with the Acupuncture Society of New York. We also worked with legal and HR experts around a lot of the environmental things. One of the things that we did was publish our health, safety and sanitization guidelines publicly. 
We also have an internal document that was shared with our team. Behind every individual line of text, there's a 10-page document on how we came to this. It was definitely overwhelming. What we tried to do is sift through it and put in structure so that it felt clear. We're developing new internal policies and procedures as it relates to clients and staff: Masks and temperature checks, health declaration, cleaning protocols, expanding on sanitization, expanding our facility staff for additional coverage. We tried to think through all the different elements as it relates to physical distancing and a more contactless, touch-free experience. We had a tea bar, wellness lounge and sampling station for all of our products that everybody always loves. For now, we've put all of that on hold. 
It's been really helpful for us being part of an informal group of similar businesses that were all dealing with the same thing. We could bounce ideas off each other, provide moral support to each other and navigate the crisis together. That's been a nice unexpected community aspect that's come out of this. We're good brand friends with Heyday and know their founders really well. We're in close contact with them. We spoke with other more health care-oriented organizations like Parsley Health and Kindbody. 
To reopen, we built a ramp-up plan. Our goal for the ramp-up plan was first and foremost safety, and building trust with our clients and team. We structured a plan that we thought would help us reopen as quickly as we could as safely as possible. We built flexibility over 12 to 16 weeks into the plan, with scenarios for even longer going out through the end of the year. We kept these flexible because a lot of what we did was going to be based on listening to our clients and learning.
"The vast majority—more than 90%—were ready to come back into WTHN as soon as we reopened. Not only that, they needed us more than they ever had before."
We did a survey a couple of weeks before we reopened. We were trying to understand clients' mindset. Were they comfortable traveling? Are they even in New York? What were their most pressing health concerns so we could really make sure that we were there for them in the way they needed us to be? That survey was really encouraging for us because it showed that around 70% of our client base was still in the New York area and that the vast majority—more than 90%—were ready to come back into WTHN as soon as we reopened. Not only that, they needed us more than they ever had before. 
We truly believe in the power of prevention, and the way that people are thinking about their health is different than it ever was before. People come in with stress and anxiety being the No. 1 concern, followed by pain relief. There's been a lot of injuries. People haven't been able to get the care they need across different types of modalities for months now. They are also working from home in highly uncomfortable circumstances. It's totally wild, especially for New Yorkers. Insomnia is becoming one of the top search terms.
The first week that we reopened, we had limited capacity in terms of the number of days we were open and the number of acupuncturists we had on the schedule. It was a significant drop in capacity relative to where we were at. Given the high demand, the first week that we were open, we booked out every single appointment with a waiting list. We've been accelerating our ramp-up plan to meet that demand, while also recognizing that client behaviors change. We're trying to be flexible and listen to our clients, and learn and be able to adapt. With what we've seen so far, we're very much ahead in terms of our ramp-up plan. 
One of the things that we're most proud of throughout this time is to keep all of our acupuncturists on staff to be able to continue to support them financially. As a team, we had a long list of goals— community building, professional development, personal development—that we wanted to roll out before all of this, but found it hard as a new business. We couldn't always get to those types of things, but, through the months we were closed, we launched WTHN University, which is essentially a professional and personal development training program for our team of acupuncturists. We used this as a moment to come together and increase our skills to would ultimately leave the business in a stronger spot. 
One of our broader goals is to be a place where acupuncturists want to come to work. We think that this was really successful from that perspective. Pretty much everybody was ready to come back on day one. These are trained healers and trained medical professionals. [They want] to be there for their clients that they've come to know and love, and know really needed them. 
Auth: E-commerce did boom for us during quarantine. We expanded our selection as well, incorporating a lot of third-party products, products that were the bestsellers in the WTHN boutique: pain balms, options for stress. We moved a lot of those things online so that people could get what they needed. We're still seeing that e-commerce momentum now.
Larivee: One of the ways that we tried to find the silver lining was having the time to double down on digital offerings. We want to be able to create not just a line of products, but really a healing at-home experience. We expanded the range of both our own products that were online as well as third-party products. We also launched online virtual healing sessions where we could connect our clients to acupuncturists and herbalists to answer questions, get tips in terms of stretches, breathwork, acupressure, and teach people how to put ear seeds on themselves.
"The way that people are thinking about their health is different than it ever was before."
We have a vision to expand in New York as well as to cities across the country. We were figuring out how do we use digital to reach people before we're there from a brick-and-mortar perspective. Our imminent expansion strategy is to continue growing within New York before, in the next 18 months or so, moving to LA or San Francisco. We were planning to open two locations in New York in 2020. Right now, it looks like those will be pushed back to the end of the year and, then, one in early 2021. We're still actively pursuing that and are hopeful that there is actually a benefit in terms of it being a renter's market in the commercial real estate landscape.
Coming out of this crisis, there'll be a much bigger shift towards preventative health. What we're hearing from our clients all the time is, what are the ways that I can actively and proactively take care of my health? We're definitely excited to have had that result happen, which helped us reopen. But I think it's more of the bigger picture headline recognizing that these time-tested powerful healing modalities do have scientific backing and results, and do have a role to play in the future of health care in the U.S. I think [the pandemic] was a turning point. The urgency of the crisis around the need for the type of care, and the results and benefits that we can provide helped make that shift that had been a conversation for a long time.