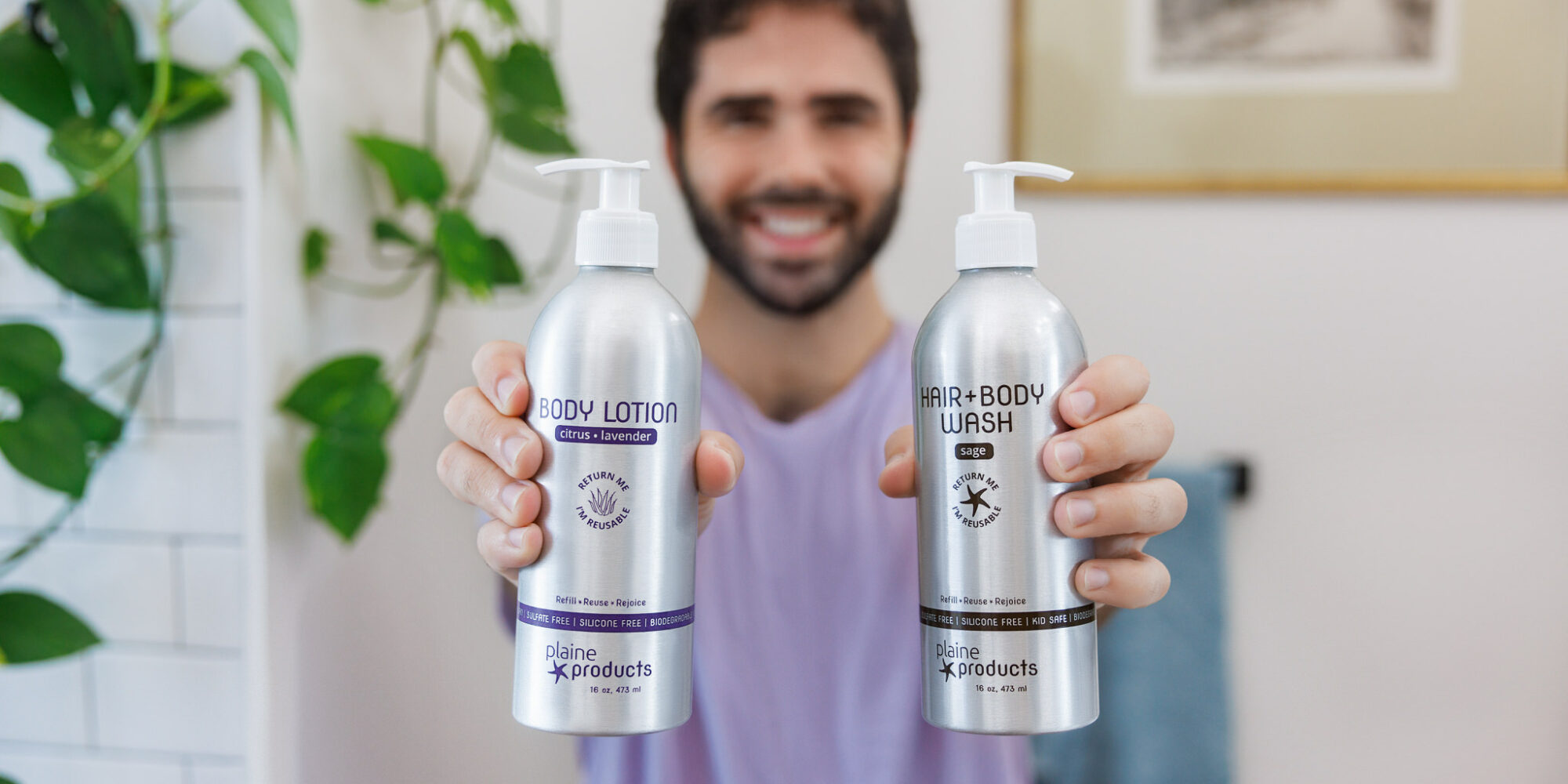 Reusable Beauty Packaging Isn't Mainstream, But Plaine Products Hopes To Be A Major Player In Getting It There
There have been strides toward the spread of reusable and refillable beauty packaging, including Lush's installation of refill stations at its locations globally. However, any consumer shopping for beauty products at their local big-box chain store has proof right in front of them that it hasn't gone mainstream. There are rows and rows of plastic bottles, and barely any reusable, refillable options in sight. Plaine Products hopes to be part of the solution that brings the concept to the mainstream.
The 5-year-old brand that's created a system to put refillable bottles in the hands of its customers over and over again is gaining traction. It's becoming a mainstay of zero-waste shops and on pace to generate $2.5 million to $3 million in sales this year, up from $2.2 million last year. In Cincinnati, where it's based, the brand has turned an abandoned crematorium into a warehousing, packing and bottle washing facility to support business expansion. "It's a continual source of amazement to me that we are big enough to have a real warehouse with a forklift and everything. I see it as a victory that this model can grow and go mainstream," says Lindsey McCoy, CEO and co-founder of Plaine Products. "I think this is step one toward that."
Beauty Independent asked her to elaborate on the brand's circular system, the difficulties of educating people on Plaine Products' proposition, the realities of it at retail, and the steps that have to be taken to going forward to make reusable, refillable products mainstream.
Did you plan on being an entrepreneur?
Oh no! My dad was a small business entrepreneur growing up, and I definitely didn't want to go into business. I was going to save the world. I'm 47, so I didn't think you went into business to save the world. You went into nonprofits or government. I have a public policy degree and spent 20 years working in the nonprofit world, the last 10 of those living in The Bahamas, where my husband is from. I got involved in environmental education, where the only qualification I had was that I had lived in Boulder.
I met a lot of amazing scientists doing cool work doing that, but I kept running into plastic everywhere. On the islands, you don't have the same infrastructure we have here to make it disappear. The fact that it was piling up was so much more obvious. I started to try to use less plastic in my life and couldn't find a solution for the plastic bottles I had in my shower. They were honestly starting to irritate me.
This was in 2015, and we were talking about moving back to the U.S. It occurred to me that maybe I could start a business to meet my needs and the needs of others. I called my sister [Alison Delaplaine] because I knew I was going to need some help, and the two of us decided to try to figure it out. We spent a year and a half researching and testing. We were one of the first ones to try reusable, returnable packaging in the beauty industry. At the same time, we were trying to find a manufacturer that was natural. We really wanted to have the products be as good as the packaging.
How did you get the packaging to work?
We knew that we wanted something we could reuse. I kind of had the Netflix idea, where you used to get DVDs and send them back. We actually started out in stainless steel mason jars, and they rusted. So, we pivoted to aluminum, which has been great. It's a little bit lighter weight. They do dent, but we have continued to evolve the packaging around them to protect them more and more such as with thicker cardboard, inserts and designing boxes around them to keep them from banging around in them.
I think the more challenging piece has been educating consumers because it's a different way to buy things. That's something that we can keep working on, explaining to people how it works and why it has benefits. This is how things used to be done. You used to wash your milk bottles and then used them again. That's not the hard part, the hard part is to get people to think about consuming differently.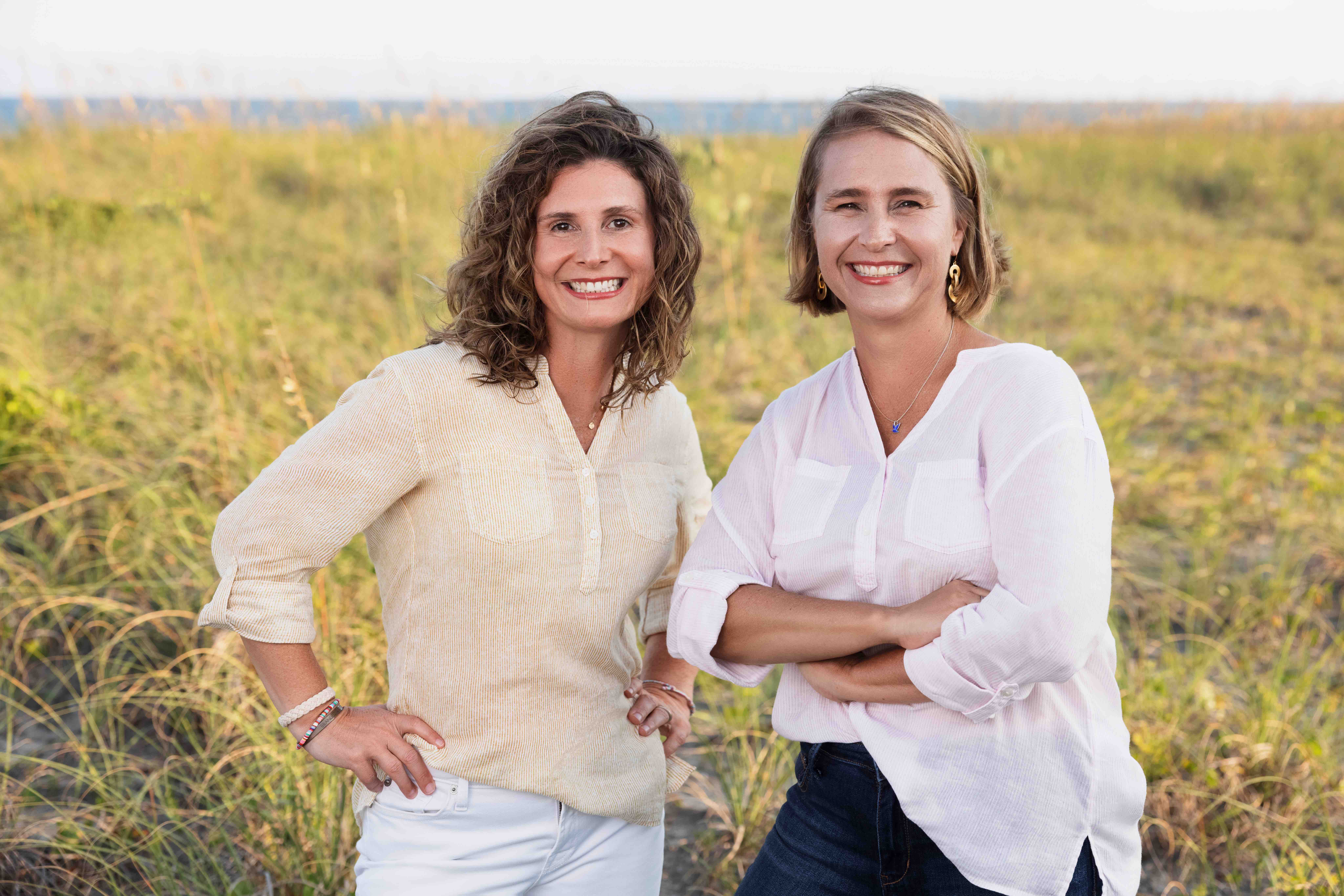 What products did you start the brand with?
We launched in February 2017 with a shampoo, conditioner and body wash in one scent because those were literally the products I was trying to replace in my life. We've added a lotion, hand wash, body wash, hair and body wash, and hand sanitizer, and unscented options for most of our products based on consumer feedback. Our shampoo and conditioner are the bestsellers. Those are the products more people use, and they use them most days.
The prices haven't changed since we started. We have a travel size that's $5 if you want to give us try or replace little plastic bottles, up to a 16-oz. size, which is $30, although you get 10% off if you subscribe.
How did you get the word out about your brand when it started?
I think it was the nonprofit girl in me, but it was a lot of networking and partnerships. When we were doing research, I was reaching out to bloggers and influencers in the space trying to learn, asking them, "What do you think of these ingredients and our process?" I was just trying to get feedback, and I developed relationships.
We grew with word of mouth in the first two years. Even now, we don't do a ton of advertising. We still rely heavily on relationships, and people excited about our mission of less waste, less plastic and trying to consume differently as well as the clean beauty piece.
More companies offering reusable and refillable containers have come into the beauty market. What's that been like for you? What greenwashing do you see?
It is exciting to see people more intentional with packaging design and looking at reuse as opposed to recycling as a solution. Recycling isn't a bad thing, but, unfortunately, plastic can only be recycled once or twice before it gets thrown away anyway, and a lot of plastic doesn't get recycled and may not be great for our health.
A move away from that as a solution toward reuse is really exciting. The more brands and the more people that are doing it, the more consumer awareness and demand increases, and the more likely that others will get on board.
I think greenwashing is always a concern. People are saying, "This is environmentally friendly," without explaining why that is, and there are people just using the right hashtags and language as sustainability becomes more popular. That can be frustrating.
How does Plaine Products' system work?
Someone orders something on the site—we are still 80% direct-to-consumer—and we send out a bottle that comes with a pump. You put the pump on, and when you're running low, we send a refill bottle. You switch the pump over to it. A return label comes with the refill bottle, and you send the used bottle back to us. We wash them and send them back into the world.
In a perfect world, there would be washing facilities all around the country, and things would stay more local, but we have to build more volume to get there and get more people willing to participate. Our reuse rate is really high, it's about 80%, but people who have sought us out are excited about participating. It's not your average mainstream consumer yet.
We are seeing more zero-waste shops pop up around the country. We are working with about 200 of them right now. That's hopeful that we are seeing more demand for it and support of it. Eventually, one would hope that, as we decrease our dependence on fossil fuels, cheap plastic will become less of a driver, and you will see more people moving in this direction. Certainly, with the supply chain issues that have been going on, reuse has become more popular, and we became an interesting option for people.
What are further steps you can take to improve sustainability in the beauty industry?
One is growing this business and trying to be successful to create a model that leads other people to be like, "Oh, they are doing well, we can do something like that." Really, the packaging is our differentiator. We have grown on the back of people wanting to have less waste in their lives. Hopefully, that encourages other people to give it a try.
We do work with other brands. I answer a lot of questions about our process and who our suppliers are. We are talking to other people about how we can wash for them or how they can get a washer themselves. We are trying to be supportive of people integrating this into their companies.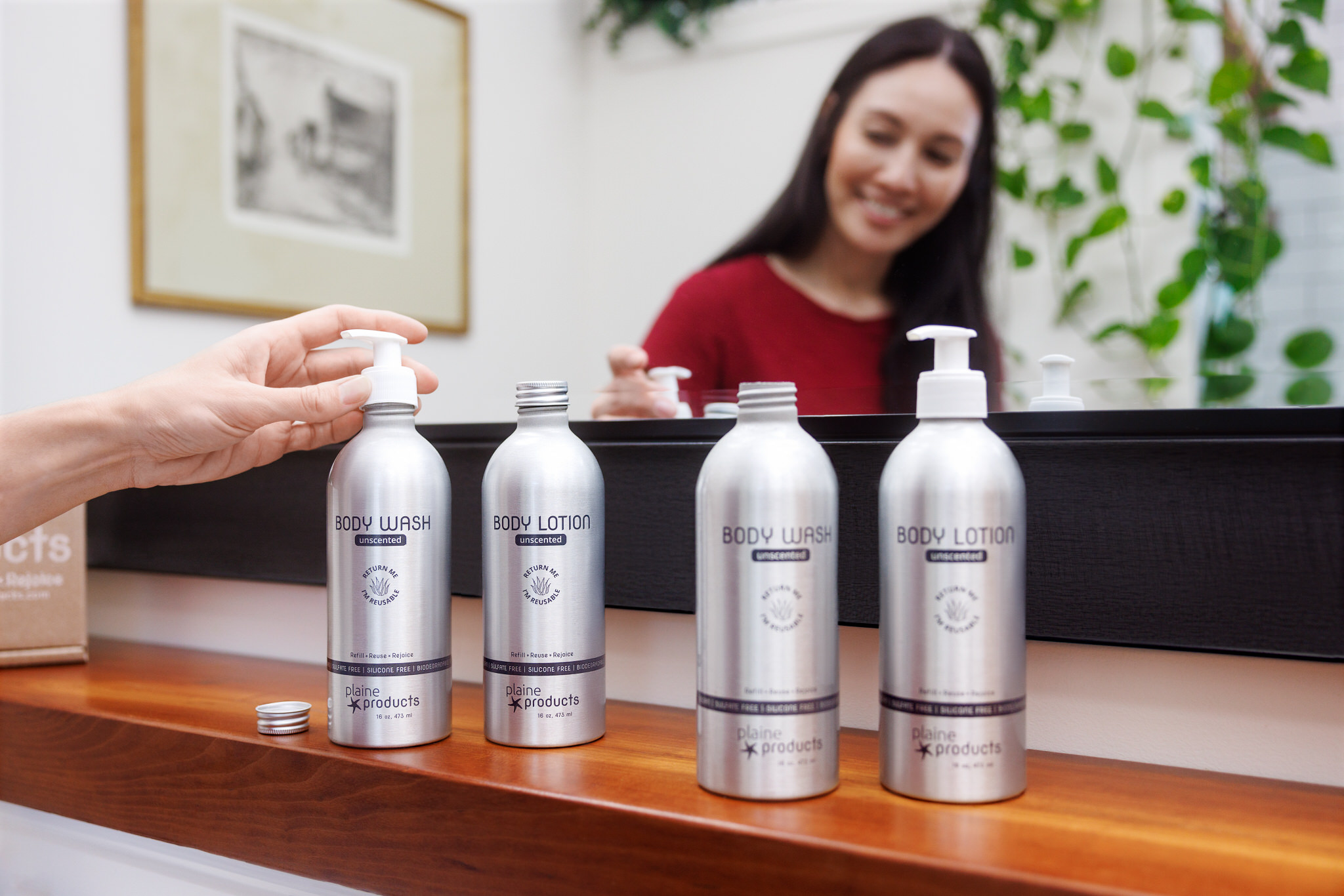 What does a brand need to know about integrating a system like yours?
People are curious about the washing. I don't want to minimize it because it is more work. It's not rocket science. We are just using an industrial bottle washer. It's not different than restaurants have been using. We know how to safely sterilize aluminum bottles. Maybe it's because I didn't come up in the beauty industry, it didn't seem crazy to me to try it. A lot of people in the industry are focused on other things.
What about the costs of it?
There are a few ways to look at that. One is it is a great job creator. And instead of just throwing away resources, being able to reuse them means you don't have to pull more resources out of the ground. It does cost more, and our products cost more, but they aren't completely out of line with other natural products. Certainly, you can't sell a $4 bottle of shampoo this way, but as more brands do it, and it's able to be localized, the costs will come down.
What's been your experience with retail?
We have tried to reach out to different people, and it can be more work and explanation for them, and it takes potentially more room if they are going to store bottles that people drop off. We've had more success with small niche stores where the mission is zero waste or it's a coop store. There are more of them reaching out to us than us reaching out to them. I do think things are starting to change, but it's happening slowly. You are starting to see signals from larger companies putting toes in the water not wanting to be left behind.
Can you go into a large chain?
Certainly. The interesting piece about aluminum is that it's better than plastic because it can be recycled easier, but it would be great to have the extra five to 10 times of reuse before it's recycled. That's the extra work where a retailer like Target would have to be on board with educating about that. We hope more people will be pushed to complete the circle. But, yes, the whole process is scalable, and Loop is doing a lot of work on it as well. They've got a pilot at Kroger in the Portland area, and they are working with larger brands to get a reuse section in stores.
Do you believe a system of reuse and refill can be mainstream?
Yes, definitely. It's like anything else, it's a question of volume. The disposable society that we have built eventually is going to catch up with us, so we are going to have to figure out solutions. What we are doing I don't think is the only solution, but it's a solution. Shampoo bars are great, people making stuff at is great, and I think this is a piece of the puzzle.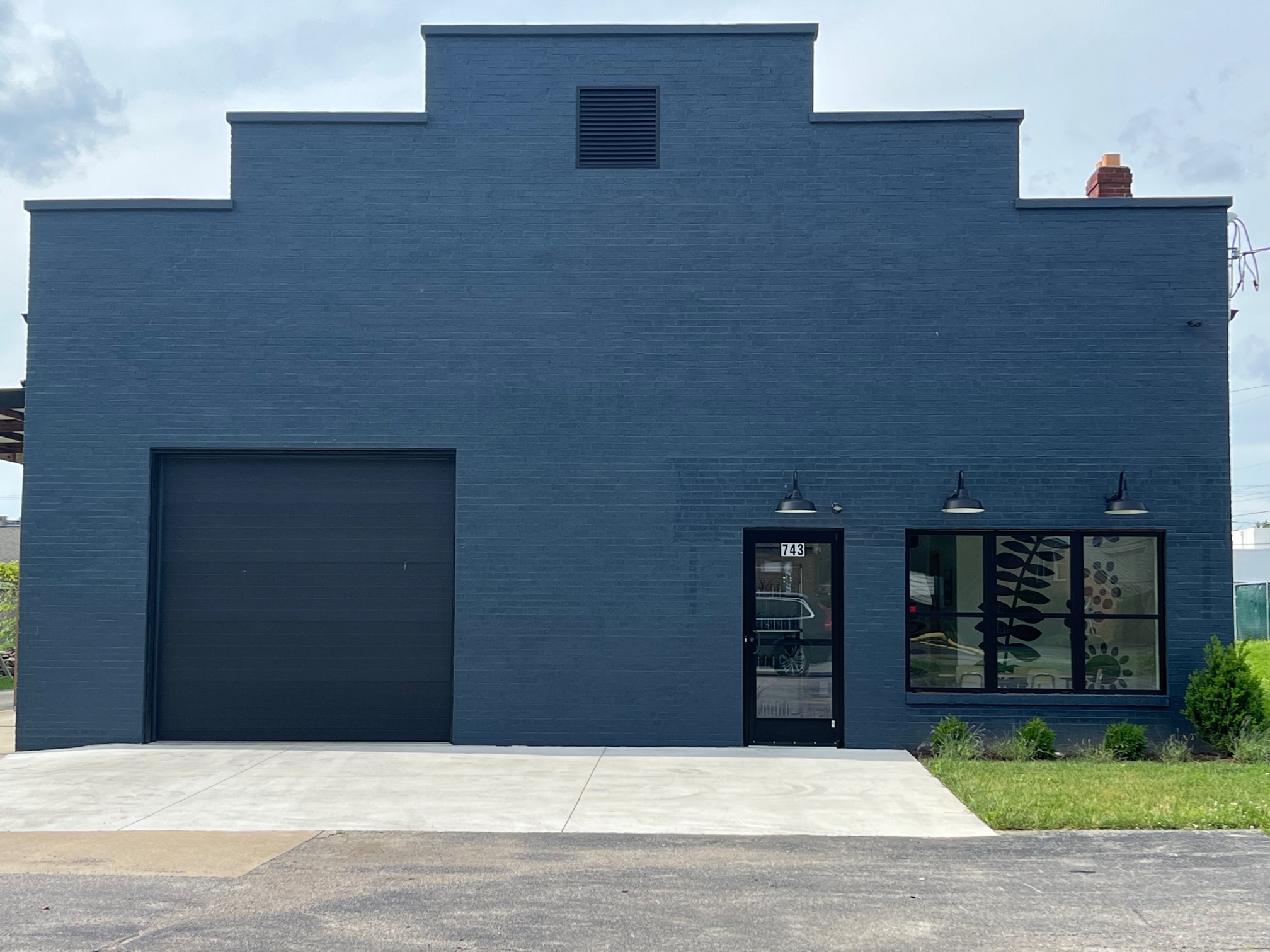 What's a change or revision you've made to the business that's been impactful?
We continue to revise how we talk about what we do and explain it. I had this tagline at the beginning that was, "Join the packaging revolution," and then I finally came to understand that no one cared about packaging. It didn't mean anything to anybody. When you are trying to grow a category like reuse, people aren't necessarily looking for it because they don't know it exists. We are trying to find other ways to talk about it. Our goal is to make sure people find us. Right now, we use terms like "refillable shampoo," "reuse" and "plastic-free," but I don't know that we've fully hit on the answer yet.
There's been a reckoning in clean beauty. What do you make of that?
I think environmental and clean beauty as a whole both have trouble when they go after each other instead of staying focused. Certainly, there are ingredients that aren't perfect, but they are better than a lot of the alternatives. We have a mottle of, "Progress, not perfection." I know there are things we can be doing better. We are always trying to learn.
It's frustrating when someone is trying to do better or trying to learn and then they are attacked for not being good enough. There are plenty of companies not doing well at all and that's where the focus should be. The more people we bring to this side of the street, the better off we will be, and there are a lot of companies that aren't trying at all. We just need more people over here as imperfect as they may be.
What are some short- and long-term goals for Plaine Products?
In the short term, growth is important to me, not only for the brand, but also as a way to prove this model has legs and encourage other people to do it. It's not only about us as a brand, it's about being a standard-bearer for reuse. I would love to see us get to the point where we could open other washing facilities around the country. We have to have volume to do so either from just us or from us banding together with other brands to do it. That may be the only way to bring costs down to get this into the mainstream.
You've been in business for five years. What's your vision for where the brand will be five years from now?
I would hope we are considered a mainstream brand doing what we are doing, not a niche brand, which we are right now, and/or that so many other people are doing this that they put us out of business.