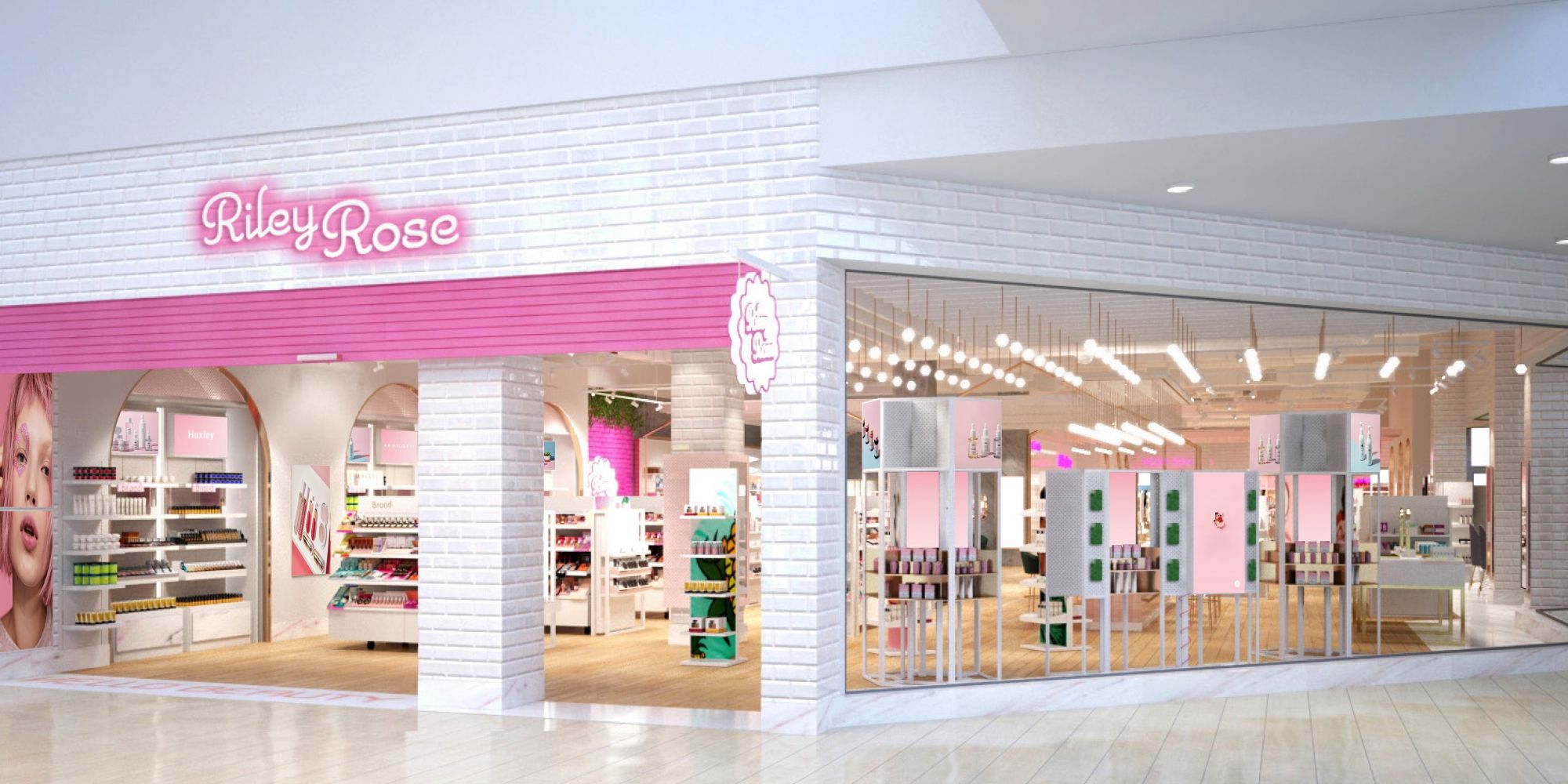 Riley Rose: A Thorny Or Budding Beauty Retail Prospect?
Forever 21 pulled back the curtain on its ambitious beauty play last week with the official opening of Riley Rose at the shopping center Glendale Galleria in Glendale, Calif.
Against the backdrop of struggles in the apparel retail segment, the fast-fashion retailer is pushing into Sephora's and Ulta Beauty's territory with Riley Rose's dazzling and diverse array of makeup, skincare and more in a vivid, neon-flecked environment compelling young shoppers to gaze up from their phones. The Glendale store will be joined by a second Riley Rose location in about a month, with eight additional units slated for this year and at least three next year.
"We've been able to travel around the world, and we've seen some really cool things happening, but we felt there's nothing like this in the U.S.: a brand that combined beauty with home and lifestyle, and catered to the millennial and gen z generations," says Forever 21 cofounders Do Won and Jin Sook Chang's daughter Linda Chang, who created Riley Rose with her sister Esther. "We really feel there was a hole in the market."
Forever 21 joins a growing group of apparel retailers moving into beauty. Urban Outfitters Inc.'s properties Urban Outfitters, Free People and Anthropologie, Boohoo.com, Topshop, H&M and Old Navy are just a few of the clothing chains capitalizing on a cosmetics sector that hasn't been as affected by the rise of e-commerce as many consumer products categories and has been catnip to the Instagramming masses.
Murphy Bishop II, founder of beauty agency BLEU Brand Development, calls Forever 21's entrance into beauty "brilliant." "If retailers don't change and adjust quickly, they aren't going to be in business. If Riley Rose can execute well, it will be great for Forever 21," he says. "Retailers have to stay relevant, which is what department stores haven't done."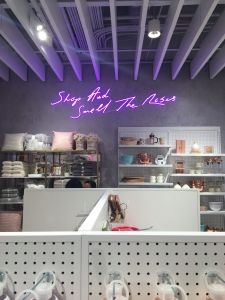 Department stores, however, detect the same market conditions as Forever 21 and have been delivering millennial-tailored beauty as well. Bloomingdale's, for example, is courting shoppers under 40-years-old with Glowhaus cosmetics sections. Not surprising given that the audience targets are similar, Glowhaus has brand crossover with Riley Rose. Lime Crime, Winky Lux and Sigma Beauty are carried by both concepts. The overlap raises concerns over whether there's enough beauty customers to go around for the various retailers pouncing on makeup merchandise.
Chang is bullish on beauty enticing people into shopping centers to visit Riley Rose. "Hopefully, this experience draws people into the stores. With beauty, you want to touch it, feel it, try it and put it on you. That will drive people into malls," she says, noting the store will feature food and beverage vendors, and throw events to give shoppers reasons to come back again and again.
There's certainly no shortage of beauty supplies to explore at Riley Rose. The assortment touches upon seemingly every aspect of beauty from K-beauty to hair accessories. On top of Lime Crime, Winky Lux and Sigma Beauty, brands stocked by Riley Rose include Stila, Color Wow, Too Cool for School, Lipland, Lemonhead.LA, Dearpacker, Banila Co, Nuca, RMS Beauty, Floss Gloss, R+Co, Living Proof, Lottie London and Beauty Bakerie.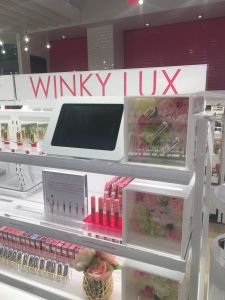 Riley Rose contains a large dose of sustainable, cruelty-free and paraben-free beauty products with packaging that complements Riley Rose's bright setting. Bestselling products are spotlighted with labels that communicate they're number-one in lips or number-one in eyeshadows to guide customers during their shopping trips.
Buzz was a huge factor in the Riley Rose brand consideration process, and Forever 21 searched worldwide for brands, according to Chang. "We checked social media, what people were talking about and the trends. We literally asked each other: 'What brand do you know of the you love?'" she says. Chang didn't concentrate on specific price points, and mentions prices for products in Riley Rose start at around $1.90 and rise to $200. She's open to further brands at Riley Rose and encourages Riley Rose hopefuls to reach out to Forever 21.
The store is configured to surprise customers as they venture through it. Beauty is at the heart of the Riley Rose selection, but merchandise that isn't usually paired with lipsticks and serums like candies, iPhone cases and home goods are present, too. Mirrors, chairs, iPads and countertops invite customers to sit and experiment with products. Chang speculates customers will be delving into highlighters and plenty of sparkly stuff.  She says, "We have glitter literally from your eyes to your hair. That's a big trend."