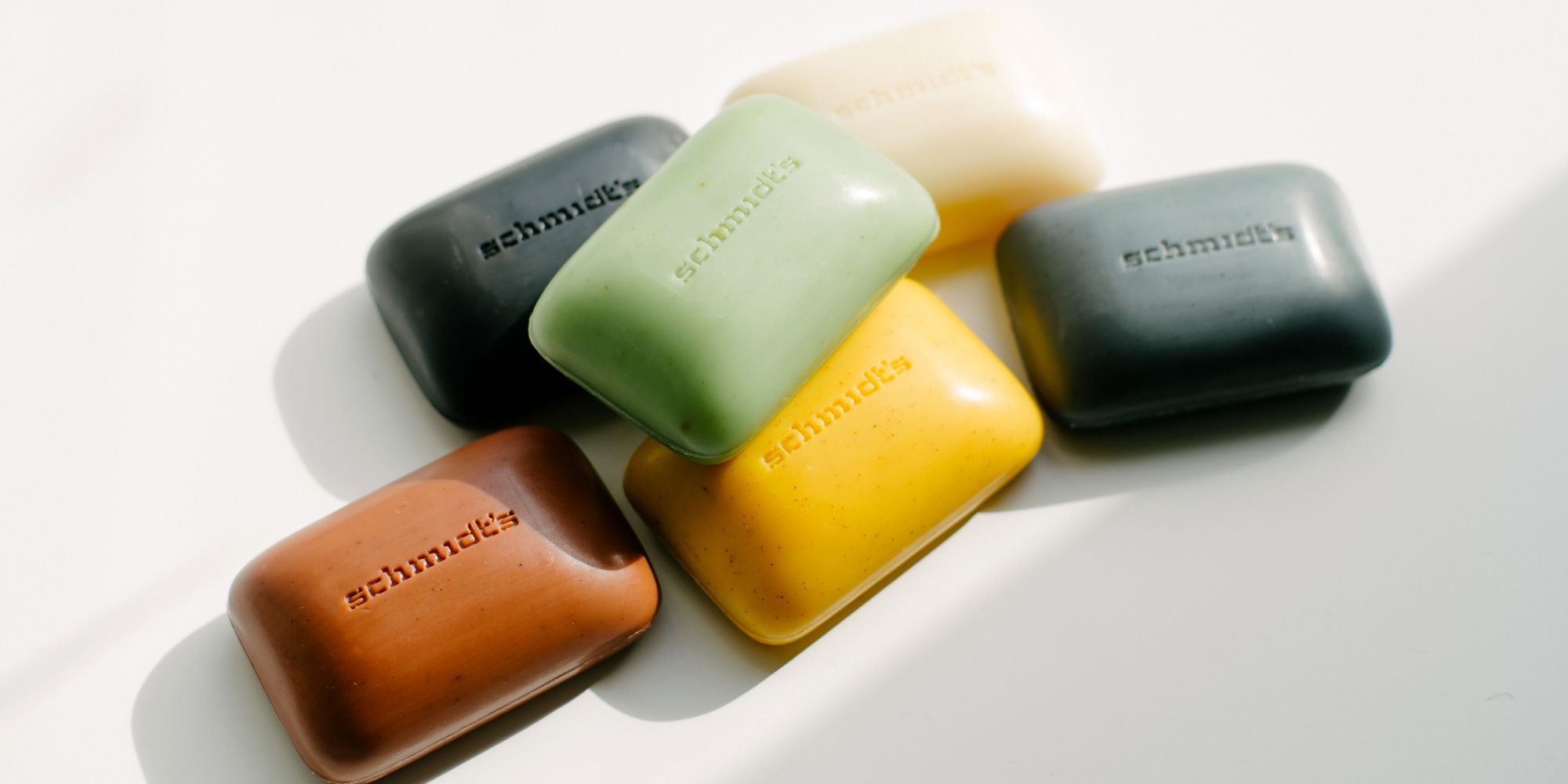 Schmidt's Naturals Pushes Beyond Pits
Schmidt's Naturals is moving from armpits to other body parts.
The fastest growing natural deodorant company in the U.S. is introducing six bar soaps in a test of whether the bounds of specialization can be broken to entice shoppers and stores to a diverse selection. Priced at $5.49 each, the soaps will roll out to national retail chains early next year.
"The development of bar soaps is just the beginning to a growing line of innovative plant and mineral powered products. We are truly amplifying the needs of our consumers and incorporating their voices into our own unique POV," says Schmidt's Naturals founder Jaime Schmidt. "Our soaps are a direct response to customer demand."
As brands vie for slots on crowded shelves, it's increasingly common for them to focus on a single item or narrow personal care segment. Schmidt mastered that strategy, depending upon a signature product before developing a broader line. She sought to command the natural odor-busting category and attract avid fans who'd be hungry for more merchandise.
"When I started out, I didn't have a concrete business plan," says Schmidt. "I had a lot of products because I thought you had to, like body lotions, soaps, shampoos, etc. Against everyone's advice, I decided to pick one and do it really well. My family thought I was crazy."
The crazy concept panned out. Schmidt's has notched over 300% year-over-year growth and is selling twice as much deodorant as conventional brands at Target, providing the fuel necessary to expand outside of its well-established deodorant collection to plant-based soaps. The soaps come in Rose + Vanilla, Bergamot + Lime, Ylang Ylang + Calendula, Lavender + Sage, Cedarwood + Juniper and Fragrance Free varieties.
Similar to Dollar Shave Club preceding it that stretched from razors to grooming essentials, Schmidt's Naturals views its venture into soaps as bridging the brand beyond a niche bathroom purpose. It's taking an additional queue from the likes of Dollar Shave Club and unveiling a personalized subscription service on its website enabling customers to receive product deliveries scheduled automatically.
Offline, Schmidt's products are available at 15,000 retail doors. The seven-year-old Portland, Ore.-based brand entered Target stores in February, and is found at Sprouts, Fred Meyer, Ralphs, Urban Outfitters, Gelson's Markets, Lassens and Whole Foods, where it launched in 2013, as well. Michael Cammarata, founder of the venture capital and private equity firm Random Occurrence, invested in Schmidt's in 2014 and is now chief global strategy officer for the brand.
Schmidt's product excursions aren't stopping with soaps, and the brand wants to strike with new introductions while natural products are sizzling. The natural beauty market is expected to reach $13.2 billion by 2018, up from $7.6 billion in 2012, and is surging at an annual clip of 9.6%, according to Transparency Market Research. "It's all about timing and customer demand," says Schmidt.
The soaps will be stars on Schmidt's social media channels. The brand is tapping key influencers to spread the word about them and will be highlighting the bars on Instagram Stories. Schmidt's has nearly 75,000 followers on Instagram and more than 500,000 followers across social media platforms.