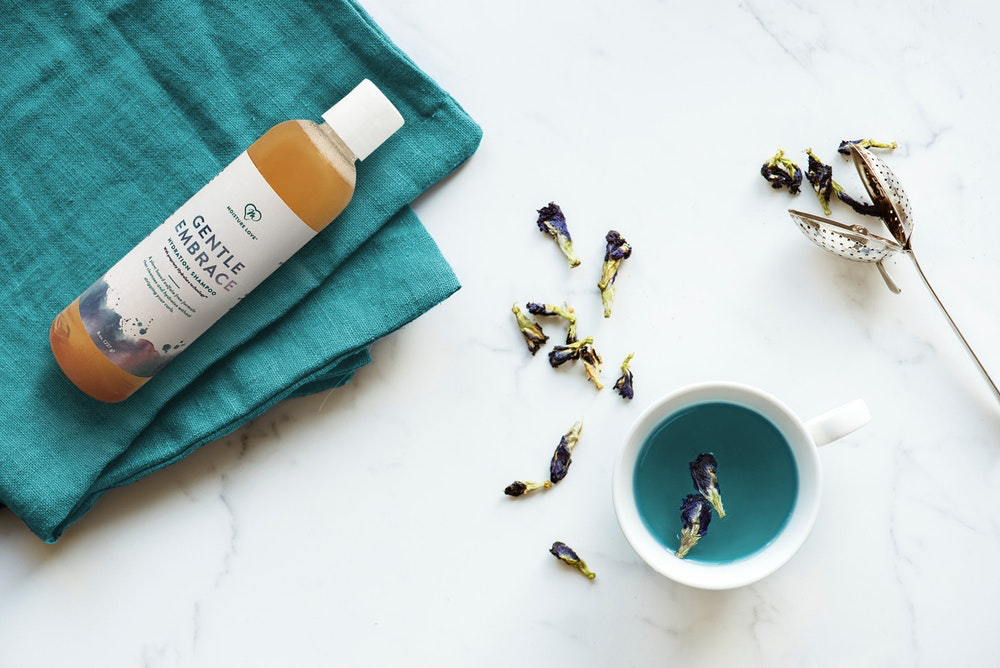 "Self-Love In A Bottle": How Moisture Love Makes An Emotional Connection With Its Customers
Moisture Love had its best year ever in 2020. The brand, which launched in 2017 and offers a collection of haircare products formulated to infuse hydration into the hair on a cellular level, saw its revenues multiply 7X, and daily sales increase from $150 to as much as $1,300. Supply chain delays and manufacturing issues have been hiccups this year, but Moisture Love is on track to 7X its revenues again in 2021. Its growth is due, in part, to shifting from a focus on selling products to a focus on education, says founder Jeannell Darden. Moisture Love developed hairstyling guides, launched a webinar program and amplified its online haircare tutorials. 
Darden also pivoted her outreach strategy, adopting what she describes as Apple's way of marketing by connecting with consumers on an emotional level and building up their confidence. "We think of Moisture Love as the heartbeat of haircare. It's like self-love in a bottle," she says. "And so our goal is to help women release the trauma they have from years and years of negative things they've heard or experienced around their beauty and come on the journey with us to truly loving themselves and showing up confidently as we redefine beauty, specifically for women of color." As Darden continues to redirect Moisture Love, we spoke to her about life before it, how she's approached building its team, moving away from discounting and goals for the brand's future.
Why is Moisture Love the brand you wanted to start?
My mom's a cosmetologist. I started doing my own hair around 9, 10 years old. It became my job to do her hair, my sister's hair and my hair every weekend before church. My dad's a minister, so we had to go to church with our hair really nicely done. In high school, I played a lot of sports and did a lot of after-school activities and I couldn't have a traditional job. Doing hair on the side was one of my mini hustles that I earned money from. I learned to love entrepreneurship, but I also love hair and beauty. Cosmetology came from my mom and my dad, in addition to being a minister, is an entrepreneur. Those things combined are what I knew I wanted to do in life.
The summer before I went to Georgia Tech, my mom gave me a relaxer and, two weeks later, I colored my hair, and it broke off really, really bad. At the time, I was super vain about having long hair because I felt like, as a dark-skinned woman, I had to have long hair to be beautiful. It wasn't until my third year at Tech…you know how, when you're about to graduate, you have this, 'What am I doing with my life? Where do I want to go?" kind of come-to-Jesus moment? I had taken an African American entrepreneurship class and read Madam C.J. Walker's book, and I felt inspired by her story and her entrepreneurship journey. That's when I decided to cut my hair off. When I cut my hair off, I didn't know how hard it would be to find products. Never did I think I'd be making products, but I knew I'd be in the beauty business. I decided, alright, let's make products. That's really where it started.
What were you doing prior to starting Moisture Love?
I had a brand before Moisture Love that was called Coco Curls. It took me multiple years to really launch it. I was working as an engineer. I worked for Chick-fil-A. I worked for Procter & Gamble and L'Oréal doing my whole corporate tour. [After] my first daughter was born, I was dropping her off at daycare on the way to work, and she started crying and dragging on the floor. We had to pull her away from the door every day just to leave. That's when I knew that that wasn't going to work, and I needed to be a stay-at-home mom.
Summer of 2011, I decided to quit my job and start the brand so I can stay home with her. The brand at the time was called Coco Curls, but we had trademark opposition. We had a bigger company trying to bully us out of our trademark and we fought that for three years. In 2016, 2017, we rebranded to Moisture Love.
Were Coco Curls and Moisture Love the same brand?
We were putting out the same products, but it was a little bit of a different brand. At the time, Coco Curls only had I think three products. When we rebranded it to Moisture Love, we added two more, and we really focused on a new story, too. Coco Curls was really designed for Black women with curly hair, focused on moisture. That was our big thing. With Moisture Love, it was still similar. We named it Moisture Love because we know that moisture is the No. 1 challenge women with curly hair have universally, but we also decided to pull in more of my backstory about feeling vain about my beauty and not having long hair.
We realized that there are other women who have similar struggles around their beauty. It might be about their skin or their hair texture, any combination of things. I think most women, at some point in their life, go through a point of questioning their beauty or feeling like they need to have one thing or the other to feel beautiful. That's why we named it "Love" because we wanted everyone to look at taking care of yourself and your hair the same way you would a significant other. You don't question how much you love a parent, a sibling, a friend, a child, and we wanted women to look at themselves the same way. All of the products relate to seminal moments in a loving relationship, so that you can identify with that: Gentle Embrace, Deep Indulgence, Seal With A Kiss, to name a few.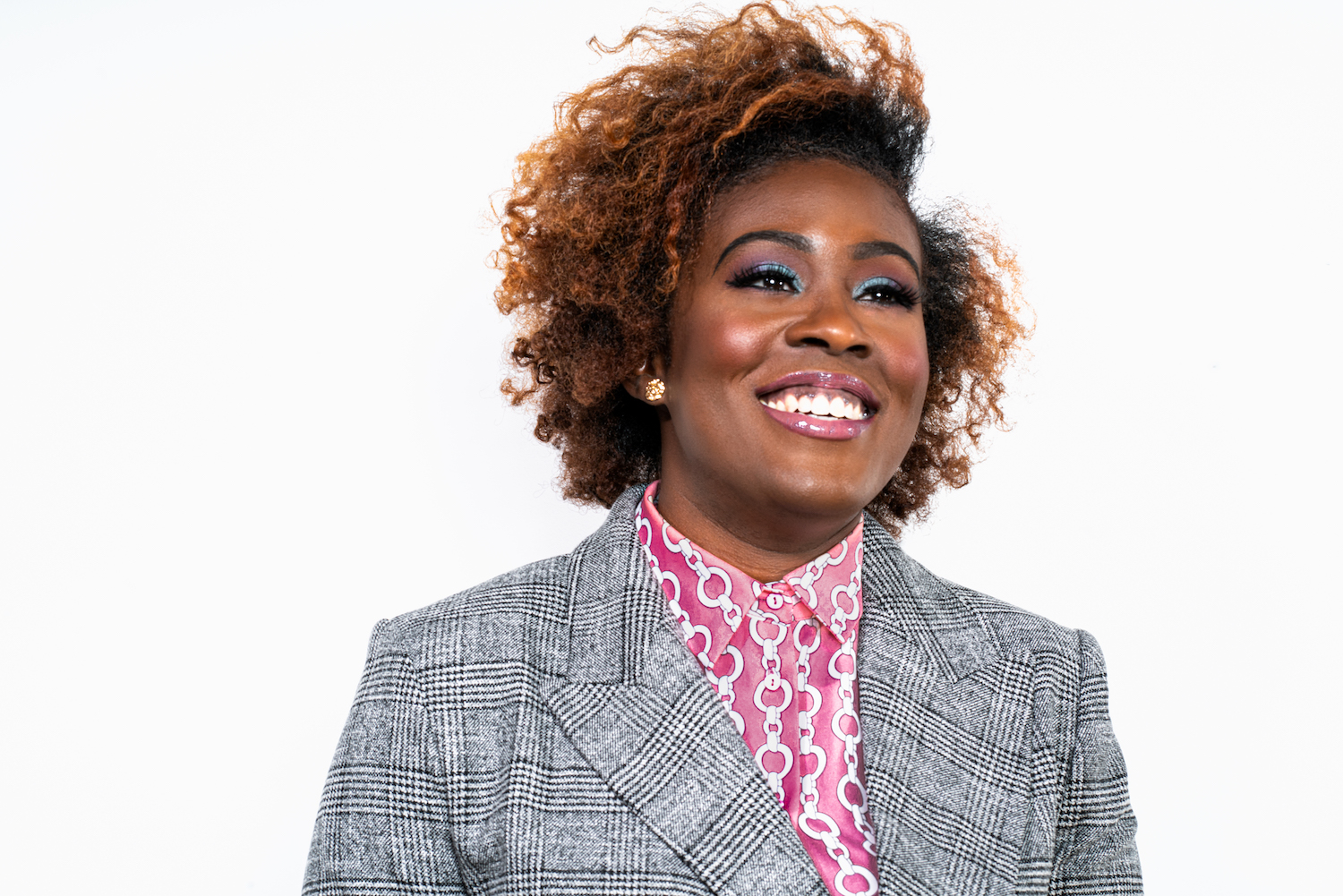 How many products did you launch with, and how many are there now?
When we first launched, we only had one. Now we have five and, if some of the logistics with COVID would be nice to us, we're planning on launching another three-piece collection. It was supposed to be this fall, but I don't know if we'll be able to.
How do you think about expanding the product assortment?
We think of our products in terms of collections and in terms of use. I know a lot of other brands kind of just create really trendy collections with rice water or CBD or spirulina or something like that. But, for us, we're really trying to find foundational solutions with simple products that work. The entire line is cruelty-free and vegan, and we also make sure that moisture is infused in the hair so that it can last for at least three days and, with all of our products, the moisture reactivates with steam. Any new product that we create is to solve another challenge that someone with curly hair may have.
The collection that we're working on now is what we call the protective style collection. A lot of women these days—especially since COVID— are wearing braids and weaves or wigs because it's a lot right now during this pandemic. You need a different set of products to protect your hair under those types of hairstyles than if you're wearing your hair out curly.
How has Moisture Love's business fared during the pandemic?
We've had some ups and downs. We definitely had our best year ever in 2020. We grew by 7X during the pandemic because by not being in retail and consumers needing to be able to buy products online. We really pivoted to selling education. We started selling PDF guides to show people how to style their hair. We launched a webinar that walks people through how to style their kid's hair and their hair as well. We did a lot of tutorials online just giving people tips and tricks to take care of their hair at home. That was a major pivot that actually produced a lot of growth for us and also helped us to realize the needs that customers have.
In 2021, we're definitely having a little bit more of a difficult time seeing growth because so much has changed with the pandemic. We've gained employees, we've lost employees. We've had to rethink how we manufacture our products. We've had to completely rethink our marketing strategy because Facebook ads don't work as well. It feels like we're in a constant state of pivot. Even the collection that we were going to launch this fall, we can't launch because two of the core ingredients are on backorder until February or March of next year. Now we're thinking about, "OK, what kinds of products can we launch that don't need those types of ingredients? Or how can we show people more ways to use our current products until we can launch a new collection?"
How did you rethink the marketing strategy? 
Before, we were kind of marketing the same way everybody does: Facebook ads here, discounts there, buy one get one free, all those types of promotions and stuff. They work temporarily, but they don't really create a long-term sales growth strategy for the brand, and they definitely don't help define the brand for who we are. We realized that we could continue marketing that way, but we will always be in a rat race of trying to differentiate ourselves and trying to grow. Conversely, I decided that we've got to pull away from the pack of all the other natural hair brands, and we've got to build really more of a lifestyle around our products.
Everybody sells some combination of shea butter and oil, but that's not the real issue. You don't stay up at night thinking, like, "Man, I really want a product that has 2% more shea butter," you stay up at night because you're like, "OK, is my hair going to look good when I go to work tomorrow? Or I have a first date on Friday, how will I wear my hair? Will I feel comfortable? Will he like me?" We're trying to deal with the emotional level things that women really deal with, the trauma that some of us even have around our beauty.
When I think about who we are as a brand, I think about the Apple way of marketing versus Samsung. Apple commercials are always like, look at this lifestyle that you can have by having an iPhone and how you can connect with your family members more versus Samsung is like, here are all of the features and benefits, and you can get it for 20% off. So, that's how we've been redirecting the ship this year. It was a little bit painful trying to stop the traditional way of marketing and start a new way, but I feel like it will pay off for us in the long run, and it will help us to have a more sustainable, healthier and profitable brand over time.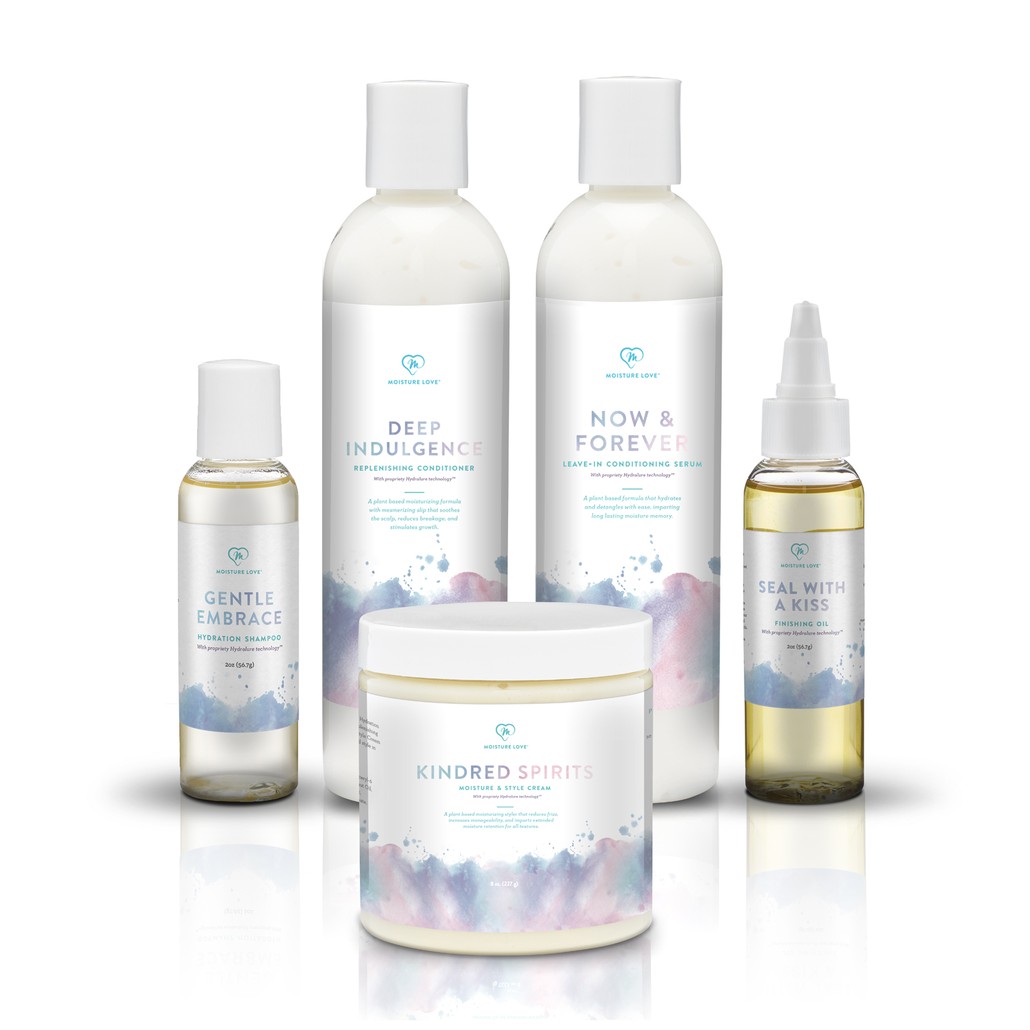 You mentioned shifts in Moisture Love's team. What does it look like now?
Right now, I'm the only full-time employee for Moisture Love, and we have contractors and agencies that we work with. I realized that, in this flexible environment, people need to have a different level of flexibility, and sometimes that's difficult. We were mainly hiring entry-level or recent grads and, for them, I think they really need to be able to have more variety or flow. I don't know. I'm still trying to figure out how to work with gen Zers and young millennials.
What we have done is we've outsourced a lot and found independent workers in other countries. I've found workers in Nigeria, I've found workers in Jamaica to help me get some things done that don't necessarily require somebody physically or in the States. It's definitely a lot more cost effective for us right now, but I also can feel good about the fact that I'm giving people jobs in countries where they are struggling. For the couple of workers that I have there, they're getting paid significantly more than some of their counterparts in the country, but I'm also saving money at the same time.
I know you were a part of Target Accelerators' Forward Founders 2021 cohort. What's your distribution strategy going forward? 
We're definitely exploring retail. We've always looked at it as this big hairy, scary monster before because we've heard horror stories from friends about their experiences there. The great thing about having gone through that program is we really got to see what it's like to work with big retail and to understand the mathematics and the science behind it all. Now that I'm more equipped with information on how it works, it makes it a lot easier for me to make strategic decisions on which retailers are a fit for us. That's the process that we're going through now. Actually, we realized that we have a couple of gaps within the brand, so our focus for the next six months is to fill those gaps. Then, the end of those six months, see where we land and decide what retailers we want to go after first.
Are you able to share what those gaps are?
On a high level, we know that we definitely need to have a stronger content play. We saw how well content worked in 2020 and, when I survey brands who seem to be growing significantly and aren't investing a lot into Facebook ads, they have heavy content. We're doubling down on that. Our website needs updates, so we're doubling down on that. And, then, just thinking through and working on new products are our top three goals for the next six months.
"When I think about who we are as a brand, I think about the Apple way of marketing versus Samsung."
Is the brand bootstrapped?
Another program I just recently went through looked at how to raise funding. We've been bootstrapped up until this point. We've raised a lot also through grants, especially in the last 18 months. Grants have been our saving grace. As we think about additional funding, we're really just looking for the right partnerships.
What I've also realized in these last couple of months is it's almost like you can focus on funding or you can focus on sales. If you find a way to grow sales in a profitable way, then funding becomes less of a need. As we are redirecting our ship right now, we've definitely needed some funding to fill in the gaps until we can grow the more organic route that I'm looking for. Because our customers definitely are like, "Where are the discounts at?" And I'm like, "They're gone forever, sis." So, the grants have helped us fill in that gap, but our goal is, over the next six months, that we increase our bottom-line profit in such a way that funding may become less of a concern.
Where do you see Moisture Love in five years?
I really see Moisture Love synonymous to moisture as Apple is to technology. So, if a woman says, I need moisture, it's going to be immediately, "Oh, you need Moisture Love." It's almost like you don't say, "I need coffee," you're like, "Hey, somebody grab me some Starbucks." Those brands have taken over the whole concept altogether. That's definitely what we're aiming for as a brand. When I think about other specific things, I definitely see us international. I definitely see us with some physical locations.