A $250 Serum For Twentysomethings? Revolve Says Absolutely And Brings In Pricy Scientific Brand Heraux
When Revolve was looking to extend its skincare offering for trend-savvy gen Z and millennial customers, the online fashion retailer selected Heraux's $250 Molecular Anti-Inflammaging Serum.
At first blush, a pricy anti-aging product doesn't seem as if it would be a match for younger consumers. The opposite, however, appears increasingly true. Younger consumers are proactively maintaining their skin with an eye toward prevention. They spend money on beauty, even amid the pandemic. Klarna, a payment platform that tracks wish lists from 85 million shoppers globally, reports millennial and gen Z consumers have shelled out 32% and 23% more, respectively, on average weekly beauty purchases since March.
"Skincare is our largest beauty category, so this is an exciting time to introduce a new product like the Heraux Molecular Anti-Inflammaging Serum," says Kandice Hansen, beauty buyer at Revolve. Heraux joins skincare brands including Augustinus Bader, Elemis, Clark's Botanicals, Dr. Barbara Sturm, Vintner's Daughter and SKII in Revolve's assortment. It doesn't have the steepest product the e-tailer offers—that honor belongs to Mila Moursi's Lifting Serum at $440.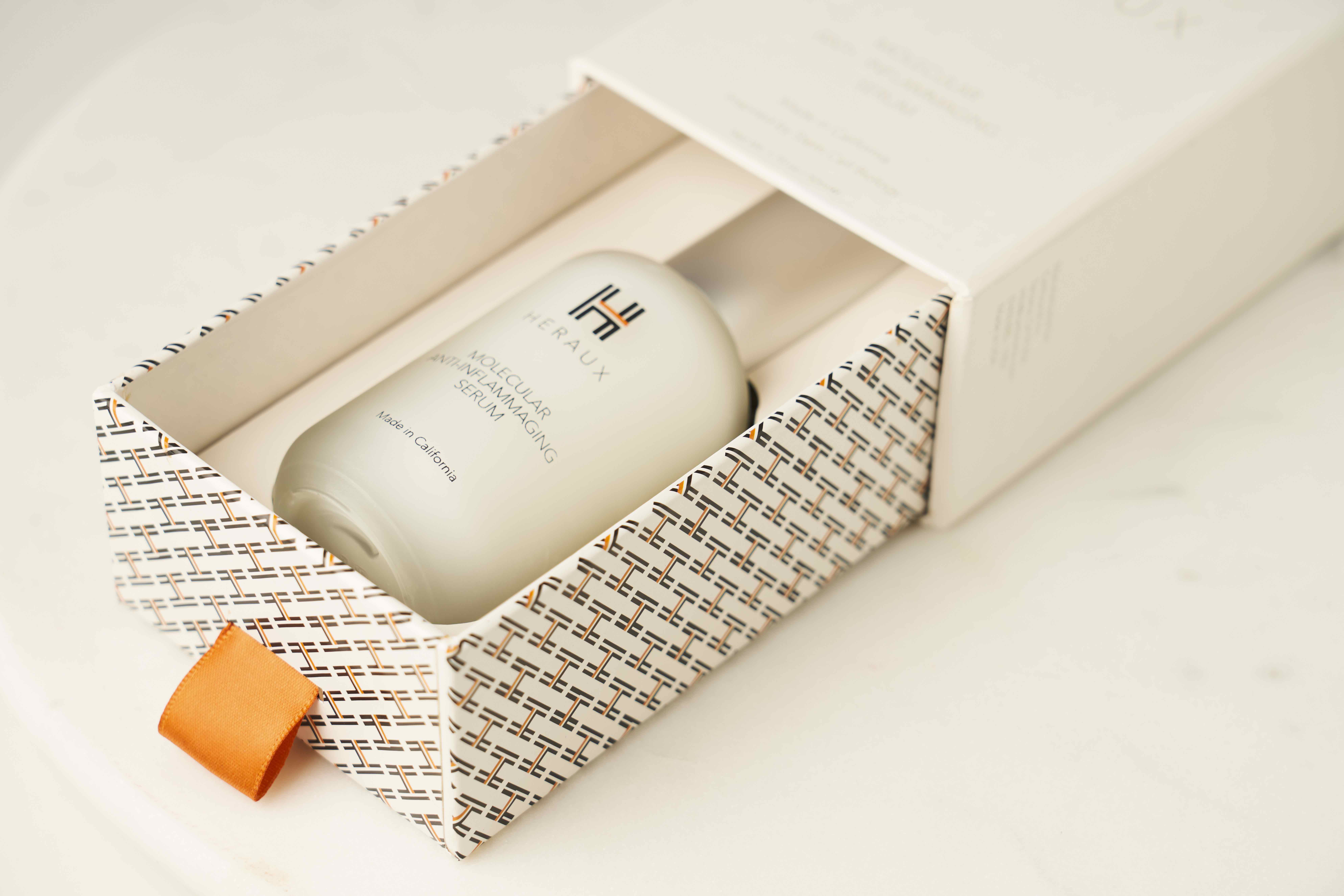 Heraux co-founders Amir Nobakht, a doctor with an MBA, and stem cell biologist Ben Van Handel did their homework prowling for the right retail partner for the skincare brand. "When looking at Revolve, we saw it was a great opportunity to reach millennials," says Van Handel. "The educational piece is important because more of them are understanding that putting a little time into your skin now can help you look better."
Nobakht continues, "Usually, you don't think of anti-aging with younger consumers, but that's definitely an area where we do well, and it is growing. Revolve gives us an audience looking for preventative or 'prejuvenative' skincare. Makeup was a major trend and, now, the focus has shifted to the health of the skin, and COVID accelerated people looking at ways to keep their skin healthy."
Revolve is raising awareness for the launch with targeted outreach to gen Z and millennial influencers to tout the brand. Hansen says, "Our extensive influencer network is a key component to our marketing strategy, and we can't wait to share with them this scientifically backed luxury facial serum." In 2019, Revolve revealed to Vogue Business that it has about 3,500 influencers in its network.
Heraux's hero ingredient called HX-1 was stumbled upon serendipitously in the lab when its co-founders were researching how to enable cartilage stem cells in the knee joint to resist degenerative stress and actively heal. They started out with 250,000 molecules and, over 10 years, winnowed it down to one that they discovered shields stem cells from the effects of stress and promotes youthful function by modulating the protein that regulates regeneration rather than inflammation. In essence, it stopped the inflammaging, the medical term for the lines, pigment changes and loss of laxity cause by inflammation, process fueled by aging and stress.
"Revolve gives us an audience looking for preventative or 'prejuvenative' skincare."
Nobakht realized that, if HX-1 could stop inflammation and trigger regeneration in stem cells, it could effective for the skin. That realization led to Heraux, a brand owned by Nobakht's and Van Handel's regenerative therapeutics startup CarthroniX. Beyond skincare, the startup pursues remedies for chronic pain, neuro-degenerative disorders and osteoarthritis.
From medical and scientific backgrounds, Nobakht and Van Handel are big on research. In an eight-week clinical trial with twice daily application and clinical grading done by an independent board-certified dermatologist, Heraux's molecule HX-1 showed an up to 85% decrease in the appearance of fine lines and wrinkle depth with statistically significant improvement confirmed by advanced imaging technology.
That impressed Hansen at Revolve, who believes consumers are interested in clinical studies and that data can help the brand stand out in the market. She says, "Now more than ever, consumers are looking for real results at home and offering solutions with one product that can be worked into your existing routine versus needing to fully overhaul the products you're already using is a great approach to grab new customers."
Heraux officially debuted last year with the single serum and, despite COVID-19 hurting business in the beauty segment, the founders say the brand's sales are doubling. With expansion at Revolve along with retailer The Conservatory, industry sources estimate Heraux will edge toward $2 million in sales this year. The company didn't comment on sales.
To fortify the formula of Heraux's serum, the founders supplemented HX-1 with hyaluronic acids to hydrate and plump skin, peptides to reduce the appearance of fine lines and wrinkles, vitamins C and E, and red maple bark extract for antioxidant support and to protect skin from environmental aggressors.
"Consumers are smarter than ever and understanding what pollution and other factors are doing to their skin. They are also understanding microbiome health and how inflammation leads to aging," says Nobakht, noting his company is investigating a molecule to actually reverse signs of aging. While Nobakht and Van Handel don't want to layer in too many products into their portfolio, they see sun care as a natural extension.
Beauty industry outsiders, the co-founders are amazed the claims being made by beauty brands without validation. They've dug into their pockets for clinical testing and endured numerous bottle changes to ensure claims are accurate. Nobakht says, "In the end, we just want to give customers better skincare."