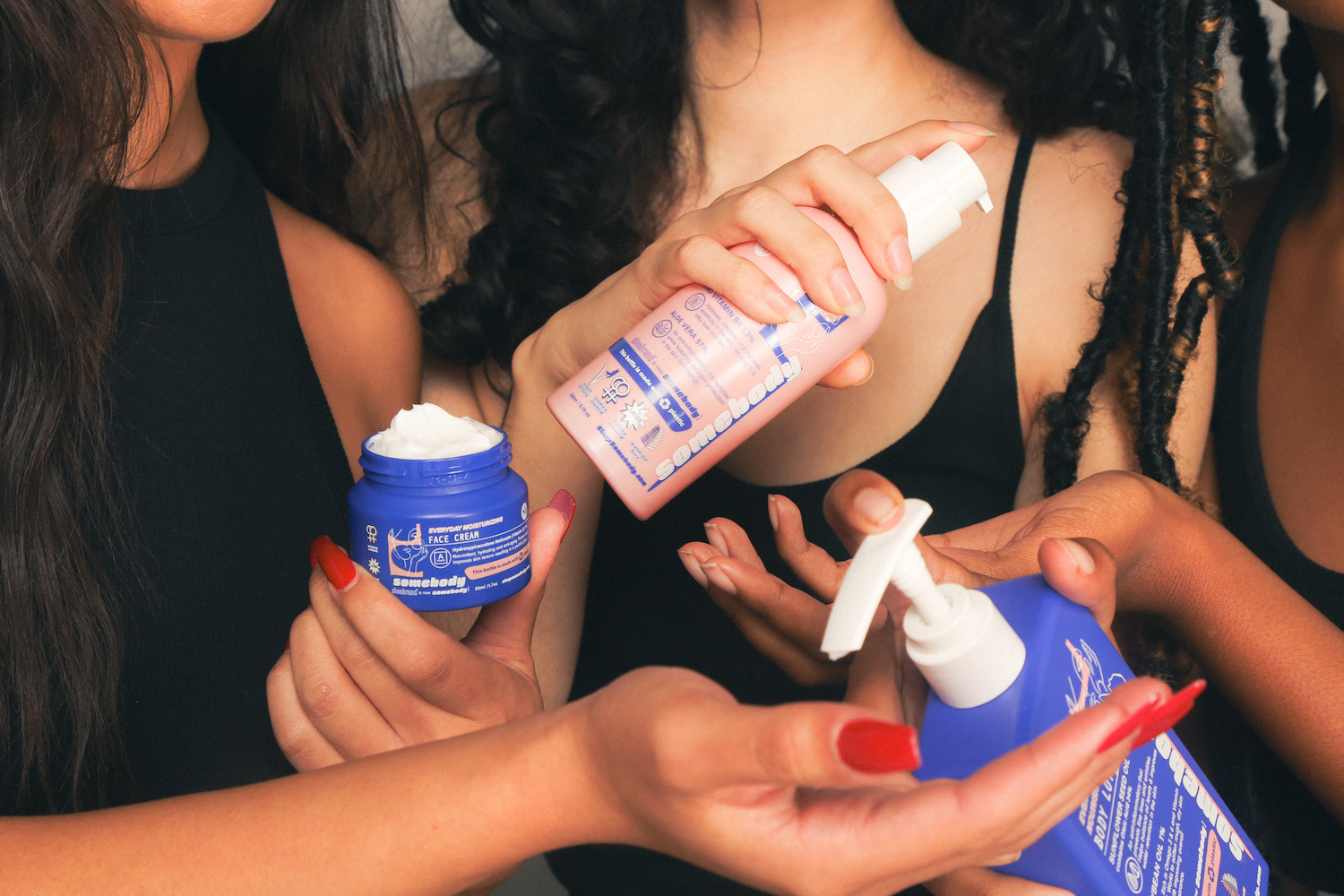 Shea Brand Relaunches As Somebody, Begins Fundraising
After five years on the market, Shea Brand has relaunched as Somebody with a new look, skincare collection and distribution model.
"The name Somebody focuses on the individual and the importance of looking inward for answers, strength and exploration," says Austin Katz, who founded the brand with Marie Arlet and Krystal Vaquerano. "We believe every somebody deserves to be recognized, loved and provided self-care products that enrich their lives."
Handled in-house, the rebrand took about a year to complete and cost $100,000. With it, Somebody has rolled out the Everyday skincare collection containing Moisturizing Face Cream ($32), Invigorating Face Cleanser ($24) and Nourishing Body Lotion ($22). In total, the brand has 31 stockkeeping units that it groups into CBD, skincare, face, lips, shea butter and sanitizing coronavirus essentials.
"We took a lot of time to look at all of our products as a whole and really broke them down into collections but also looked at them as a whole and how they would look on a shelf," says Vaquerano. "They still look like a family, but they each have a very distinctive feel."
Wholesale has been Somebody's bread and butter up until this point, accounting for around 85% of its sales. Credo, Whole Foods, Free People and Anthropologie currently stock the brand. Shea Brand launched in 2017 prior to the 2018 Farm Bill that legalized the hemp trade. After the passage of the Farm Bill, many retailers began to experiment with the CBD category.
Katz says, "When we launched our first CBD product, our CBD balm, we started getting recognition in the wholesale space and ended up in a lot of stores eager to expose their customers to this new and exciting ingredient, and we ended up establishing a pretty strong presence through boutiques and also national retailers."
While retailers were eager, customers were unsure about CBD. Shea Brand leaned into educating salespeople about the benefits of CBD so they could share that information with customers and temper anxieties about the cannabis compound. The brand put informational videos on its website to inform salespeople about each product and offer quizzes on them.
"We wanted to make sure that they could answer any questions that the customer might have, which they had a lot at that time," says Arlet. "Wholesale channels really allowed us to grow very fast and get our products in the hands of customers who probably wouldn't have visited our website in the first place."
Katz, Arlet and Vaquerano didn't view wholesale dependence as a long-term strategy, however. When the pandemic hit and retailers were forced to close amid lockdowns, their focus shifted to direct-to-consumer distribution. By next year, Somebody expects 80% of its revenue coming from DTC while wholesale channel growth is projected to continue. The brand has strove to improve its online user experience to help drive DTC sales.
Somebody is in the midst of fundraising. Initially, the three co-founders cobbled together $35,000 to develop Shea Brand, and the company has raised small amounts of money from private investors via SAFE notes over the past few years, but have not worked with any institutional investors. Now, the goal is to secure $2 million to boost marketing to escalate the DTC business. "We've never had the sort of working capital available to us to spend on direct response marketing, we've grown organically and put money back into making new products and enhancing the customer experience," says Katz. "So, people are going to start to know who Somebody is this year, and we're really excited about that."
Somebody kept specific details of its marketing strategy under wraps, but it includes syndicated digital stories and what Katz describes as "industry best educational content." He says, "We have some pretty clever ways of doing this that we think will represent the sort of next level of online retail shopping experiences."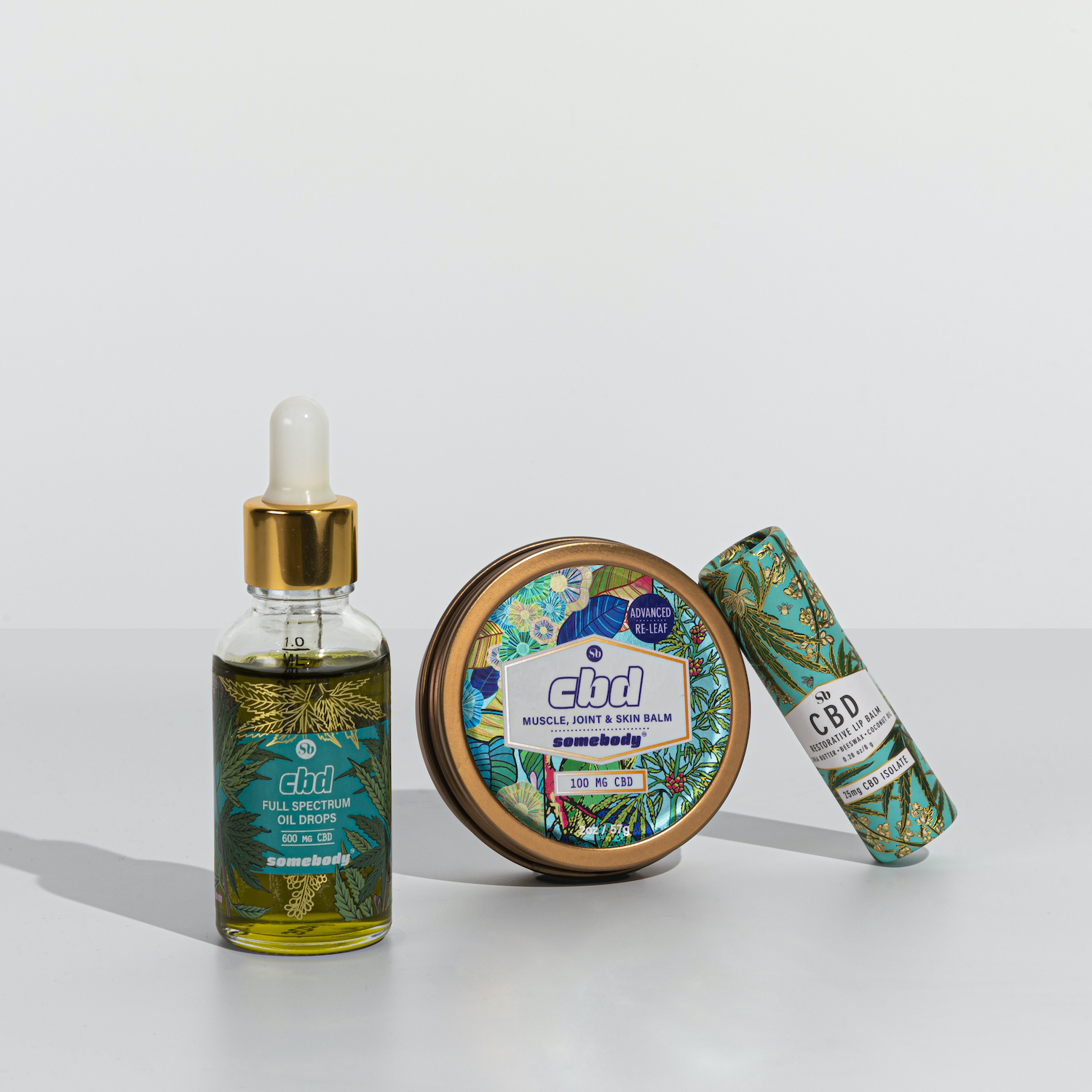 Influencers in the older millennial age group have been onboarded for partnerships. Somebody's target consumer are aged 35 to 40 years old. Arlet says, "There's a really big emphasis now to target either really young millennials or an older gen Z…and we saw white space within that age demographic."
While Somebody's skincare range pushes it into conventional beauty industry territory, several of its bestselling items such as CBD Muscle, Joint and Skin Balm ($30), CBD Full Spectrum Oil Drops ($69) and CBD Transdermal Patches ($20) tackle everyday issue like aches and pains, and dry patches. Katz underscores they address consumer needs rather than wants and fuel retention.
"You might want to look more beautiful, but you need to deal with chronic back pain, so I think when you tap into needs versus wants it affects the stickiness of the products in terms of how loyal the customers are," he says. "Traditionally, in beauty, there's a lack of brand loyalty because people want to try new things, but when it comes to products that are meant to address pain and dietary health, people will stick with brands, and we have the best products, so people will stick with us."