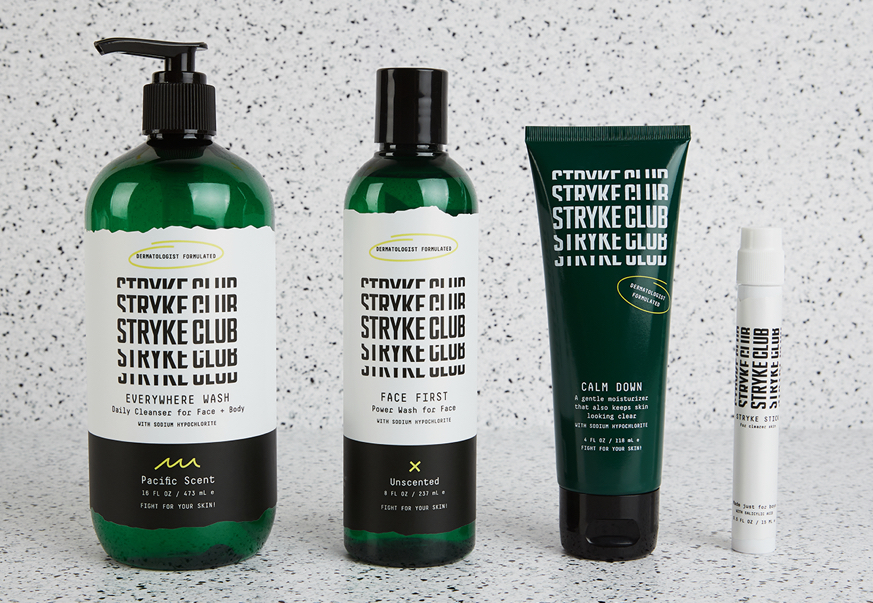 Stryke Club Brings Skincare For Teen Boys To Target
Stryke Club, the skincare range for boys, is the latest addition to Target's ever-expanding roster of indie brands picked to fill in market gaps.
"There's white space out there, and Target knows it," says Stacy Blackman, co-founder and CEO of the brand, which debuted in 1,045 Target stores last month with three products. By the end of this month, Stryke Club will have five items on chain's website. Target has a retail exclusive on the brand for a year.
Created by four women—Darci Rosenblum, Sheilagh Maguiness and Nicole Brooks as well as Blackman—with a combined 11 children, the idea for the line arose when they spotted inequities in skincare products for boys. "We started to notice our girls' bathrooms were overflowing with products with multistep beauty routines," says Blackman. "With the boys, there was pressure to look good, yet there was a discrepancy in that there were no products for them."
Working on the concept throughout 2019, the quartet launched Stryke Club via direct-to-consumer distribution in early 2020. Unlike many beauty startups that lack product knowledge and marketing acumen, the brand got underway with a strong bench of experience.
Blackman previously spearheaded several ventures, including WebWisher, which was snapped up by The Knot. Rosenblum is a former GM and VP with stints at companies such as Olly and LeapFrog. Maguiness is a pediatric dermatologist, and Brooks is a family therapist with a wealth of knowledge about teen mental health she relied upon to guide Stryke Club.
The brand's e-commerce sales were progressing nicely when COVID-19 hit. The co-founders thought their nascent business had hit a wall. For three days, it was "crickets," shares Rosenblum. "I called Stacy and said, 'It was nice building a company with you.' Then, all of a sudden with people online and having time to do research, we started to take off. Over the summer, we sold out."
The high demand intersected with a supply shortage, and Stryke Club was out of stock for a month. As the brand dealt with the supply issue, the women behind it had a chance to refine it. The refinements were informed by communication with its DTC consumers—moms and their sons—who provided inspiration for product releases such as unique wipe form for boys.
"Here we were a new company, and we weren't really sure about our following, and we were hearing from so many moms their sons were out of product," recalls Blackman. Another silver lining of the supply disruption for Stryke Club that Rosenblum points out is that it "started out with off-the-shelf bottles, but, [during COVID-19], we moved to 100% PCR bottles that are actually our colors. It enabled us to pivot in the right direction."
"With the boys, there was pressure to look good, yet there was a discrepancy in that there were no products for them."
Prior to pandemic-related lockdowns, the Stryke Club co-founders participated in the retail bootcamp program Target Takeoff. Other brands in its 2020 Target Takeoff cohort—Golde, Range Beauty and Young King Hair Care—have also broken into Target's selection. One of Stryke Club's learnings from the program was that, while the brand's boys' lifestyle positioning worked online, its in-store shelf presence had to be tweaked to attract all young users.
"We needed to rethink our packaging so that it would work on a shelf at Target," says Blackman. "For example, we now place our Stryke Stick in a box that stands on the shelf. The Everywhere Wash is delivered with the pump already attached." Stryke Stick is an acne-fighting product with salicylic acid designed to be applied to pimples twice daily.
Stryke Club's co-founders dedicated about $250,000 of their own funds to develop the brand. They secured an undisclosed amount of capital from family and friends to finance its Target rollout. Raising more capital could be on the agenda for 2021 to further support growth.
The line is presented in a new derm skincare area at Target, and the contributions of Maguiness were among the factors in Target's decision to put it in the area, according to Rosenblum. "She is one of the faces of the brand, and we promote her on Instagram and on packaging," she says. "She's not just a derm we hired. She's helped develop these products."
Maguiness champions sodium hypochlorite, an ingredient she recommends in her practice that, before Stryke Club, wasn't available in any product lines at Target. In fact, it was a bit of an obstacle in the development of Stryke Club since most manufacturers weren't familiar with it.
Stryke Club recently launched Calm Down Moisturizer. It joins Everywhere Wash and Face First Wash in the brand's selection along with Stryke Stick. Prices range from $11.99 for the face wash to $54 for a bundle of two washes, the acne stick and the moisturizer. Forthcoming wipes will be called Wipe Out. Blackman says, "It is a boys' dream product because they can be lying in bed on their phone and can wipe it across their face or keep it in locker rooms to use on their bodies."
Acne is consumers' entry point into Stryke Club, but the co-founders see potential to extend it into an array of categories overlooked in the boys' market such as shaving creams. "Our pipeline is huge," says Rosenblum. To build a following, the creators depend on social media platforms that reach kids like TikTok. However, most of its advertising is directed to Facebook, where moms are likely to view its promotional activity.