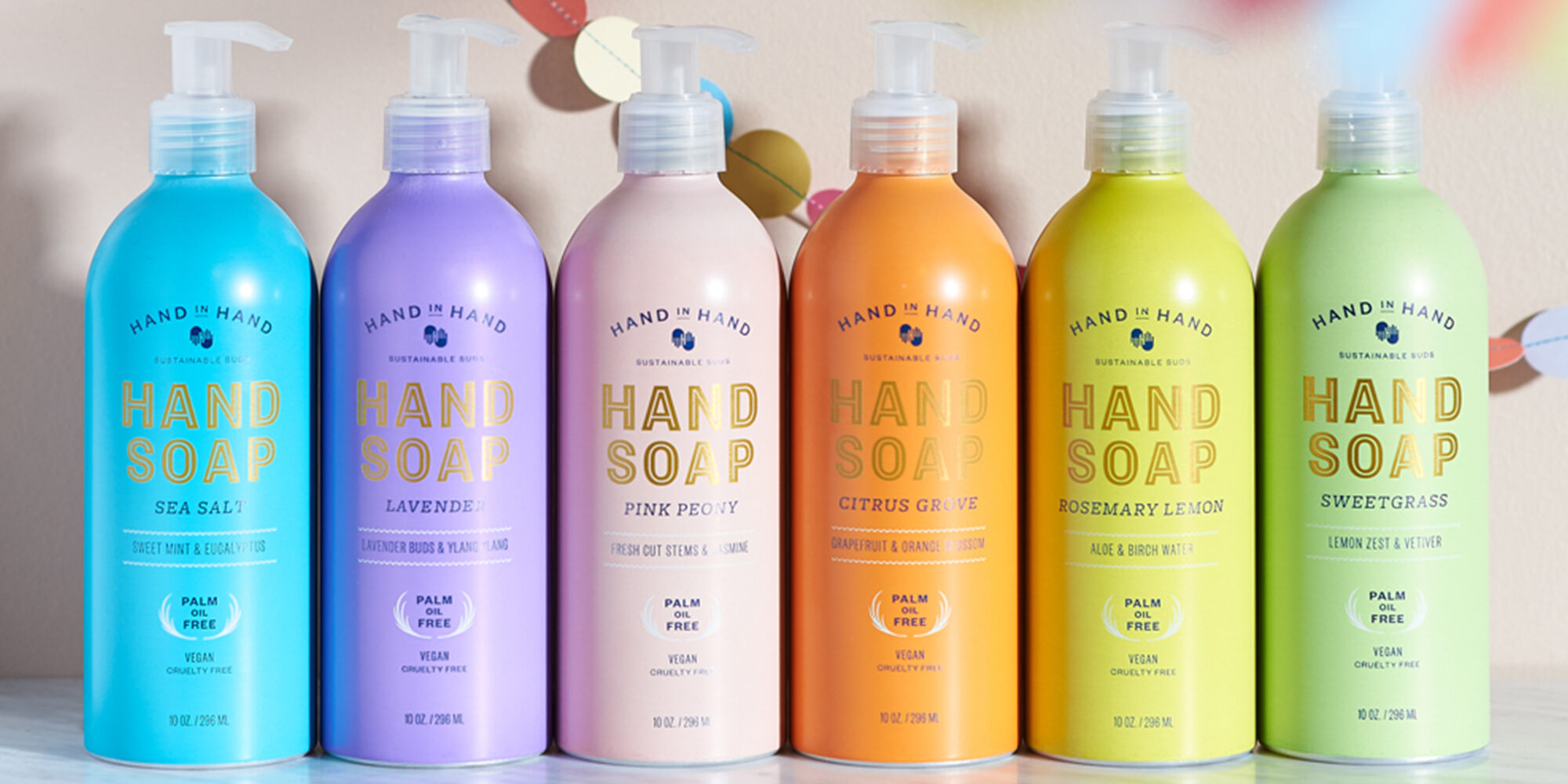 In A Step For Sustainability, Hand In Hand Puts Liquid Hand Soap In Aluminum And Sells Millions Of Units
In the mass market, aluminum is no longer just for beer and soda. Now, it's also for soap.
The personal care brand Hand in Hand released liquid hand soap packaged in aluminum in May, the first such product on the shelves in the United States at big-box, drugstore and grocery retailers such as Target, Wegmans, Walmart, CVS and Kroger, and has sold 10 million pieces of it to date. The product is currently being featured at Target in sustainable packaging endcaps where Hand in Hand is the only indie brand out of three brands represented. The other two are Procter & Gamble-owned Native, which is housing deodorant in cardboard tubes, and Swish by Colgate, a mouthwash contained in aluminum.
"It's gratifying as a small company to do something that most big companies aren't doing. It's fun to push the market in a more sustainable way," says Bill Glaab, executive chairman and co-founder of Hand in Hand. He adds, "The whole idea is to do good in ways that we can while still growing a business and showing the world that you don't have to be greedy and pinch every single penny. Business owners can be responsible and still succeed."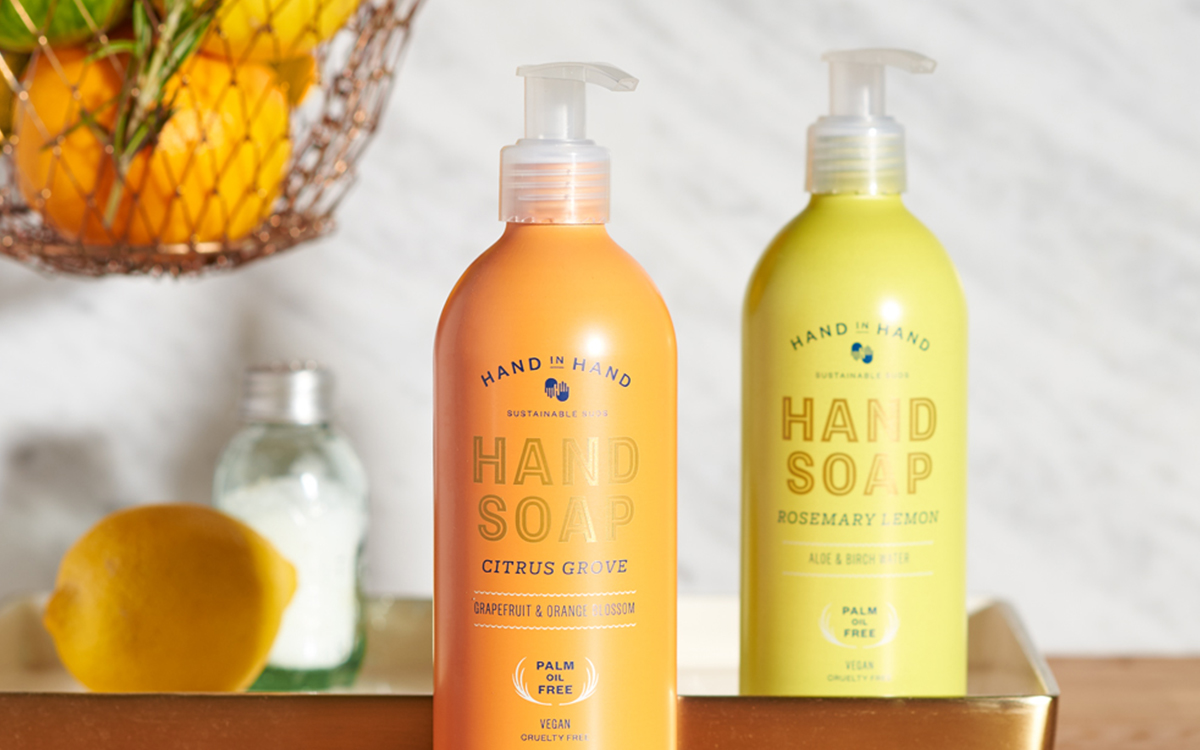 Since Hand in Hand was established in 2011, Glaab and his wife Courtney Apple, the brand's co-founder, have been conscious of the effects of its products from soil to shelf. Early on, Hand in Hand cut out palm oil because the palm industry is linked to deforestation and labor abuses, and used fair-trade ingredients. The brand has a Toms-style one-for-one model donating a bar of soap to children in developing countries for every product purchased. Corresponding with its sales, Hand in Hand has donated 10 million bars of soap this year. The brand is on track to donate 13 million bars this year.
For its myriad of benefits, Glaab was keenly aware Hand in Hand was contributing to the global plastic problem—some 8 million tons of plastic pour into oceans annually, according to Plastic Oceans International—and it kept him up at night. Beginning last year, the brand started scouring packaging suppliers for an aluminum option. Eventually, Hand in Hand landed on an American supplier (the domestic address was key to Hand in Hand maintaining inventory during the pandemic) that could provide threaded recyclable aluminum bottles for its liquid hand soap.
Switching to aluminum wasn't a budget strategy. Glaab estimates Hand in Hand's liquid hand soap aluminum container is at least double the price of the plastic alternative. The expense is a reason prestige lines have placed soap in aluminum, but mass lines haven't. Glaab recognized Hand in Hand, a brand carried in 10,000-plus retail doors, couldn't introduce a product at prestige prices. He didn't want the brand's liquid hand soap to be out of reach for consumers with Method and Mrs. Meyer's in their brand consideration sets.
"As a soap company, we haven't had a liquid soap in a long time because it's costly to produce a good soap and very cheap to produce something that's not natural or pretends to be natural and isn't," says Glaab, specifying Hand in Hand hadn't put out a liquid hand soap before May in five years due to the cost. "We had to launch a product that was more a commodity, higher volume product that people need all the time."
"Business owners can be responsible and still succeed."
Hand in Hand's extensive retail distribution allowed it to achieve economies of scale, and it secured a manufacturing partner that worked with it to hit acceptable mass prices. Hand in Hand's natural, vegan and cruelty-free liquid hand soap is $4.99 for a 10-oz. size. Method's is $2.99 for a 12-oz. size, and Mrs. Meyer's' is $3.99 for a 12.5-oz. size. Hand in Hand will increase its value proposition per ounce next year.
Glaab acknowledges aluminum isn't perfect from an environmental perspective. "It does take a lot of energy and resources to mine the raw materials, but the positive thing about aluminum is over 75% stays in the market, and it's essentially infinitely recyclable," he says. "When you recycle our soap bottle, theoretically, it could be a Bud Light can in another month."
Besides cost, aluminum hasn't been prevalent in personal care because it tends to dent. Glaab was extremely concerned about Hand in Hand's liquid hand soap aluminum packaging possibly denting. It even persuaded retailers to change their practices to hold denting at bay. For example, at Whole Foods, Hand in Hand's liquid soaps aren't replaced one at a time. The brand stores them in packs of three for protection and replenishes stock three at a time to minimize the handling of each liquid soap and stave off damage.
With a sigh of relief, Glaab says, "It hasn't been as big of a problem as I feared." He continues, "Hopefully, as consumers realize the sustainable impact they are having, they are OK if bottles have tiny dents as opposed to plastic that isn't going to dent."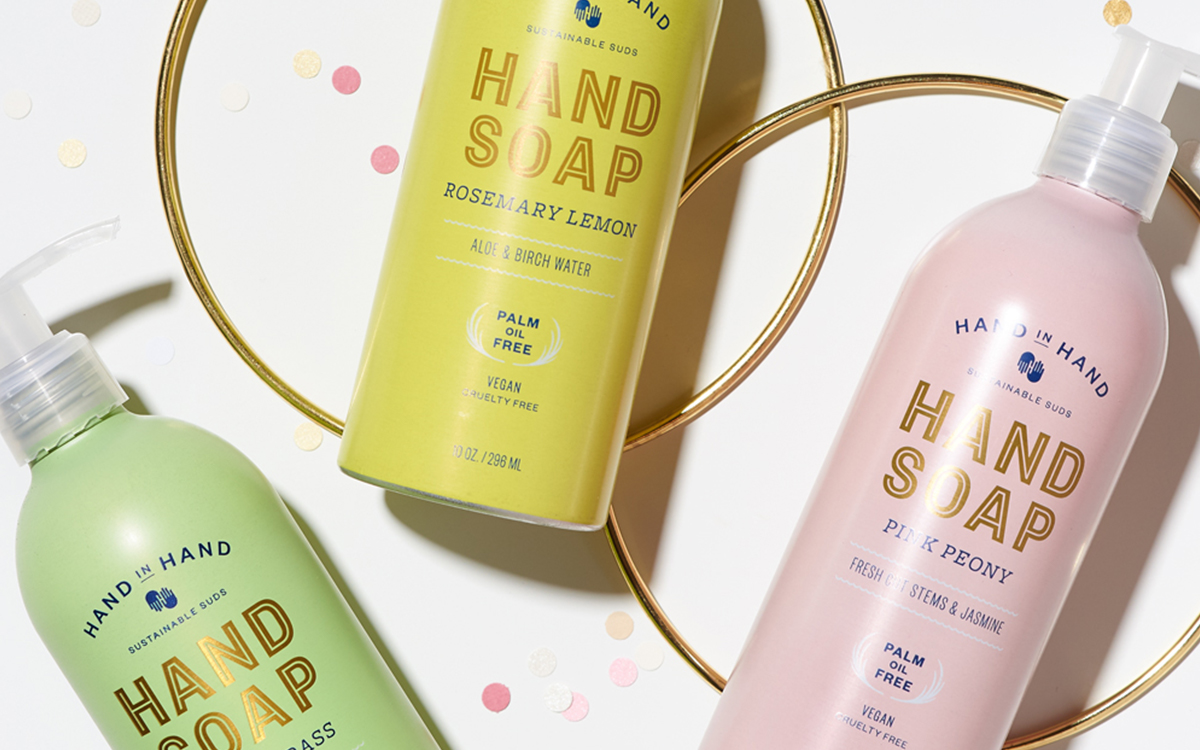 Hand in Hand's sales have multiplied 13X this year as it responded to sky-high pandemic demand for hand soap. The sales are allowing the bootstrapped brand to invest in building its team, ramping up marketing and further improving its environmental footprint. A significant recent hire is CEO Mitch Hara, formerly CEO of Beekman 1802 and SVP at HSN. Hand in Hand is rolling out soap refills and recycled aluminum bottles, and experimenting with recyclable mono-plastic pumps in 2021.
"It's completely changed the trajectory of our company," says Glaab of Hand in Hand's liquid hand soap in aluminum packaging. "We have done so many things we think are important from an ethical standpoint, but this is the first one we have done that people can see instantly if they hold the product. We don't have to explain to them about palm oil or our give-back program. You can feel it immediately, and you know it immediately. It's not hard on a very basic level to understand that this is not plastic. It's been huge. It would have taken us another five years to get here."
Feature image photo credit: Kira Luxon