After Launching With Target And Ulta Beauty In the US, Megababe Is Heading To Cult Beauty In The UK
Personal care brand Megababe is out to leave no thigh unswiped—and a new partnership with Cult Beauty is moving it closer to that objective.
"If a woman has thighs that chafe, I want to be able to help them wherever they are," says Katie Sturino, founder of Megababe, which is known for anti-friction stick Thigh Rescue. "Because we're a small business, we're self-funded, we have a really, really small team. We had to focus on the U.S. first. Now that we're in every Target and Ulta, we can focus on expanding and reaching more women and making them feel comfortable and confident."
Launching in the United Kingdom has been a dream of hers since starting Megababe five years ago, and she's been in talks with Cult Beauty for three. Timed with the launch, she's heading across the pond to celebrate it, and meet with local editors and influencers. Sturino appreciates that The Hut Group-owned e-tailer understands Megababe's messaging pertaining to addressing issues not regularly addressed in the beauty industry like thigh chafing, boob sweat and body acne.
"Retailers sometimes can get stuck in old communication patterns, and they don't want to touch certain categories," she says. "I love that Cult doesn't see these as taboo topics or things that they need to stay away from. I love that they know that these are just realities of being a human."
Megababe's bestsellers, including Thigh Rescue, Body Dust, Dust Puff, Space Bar, Happy Pits, Rosy Pits, Smoothie Deo and Green Deo, will be available on Cult Beauty's website. The brand debuted originally with Thigh Rescue and Bust Dust prior to expanding into natural deodorants and body products priced from $6 to $22.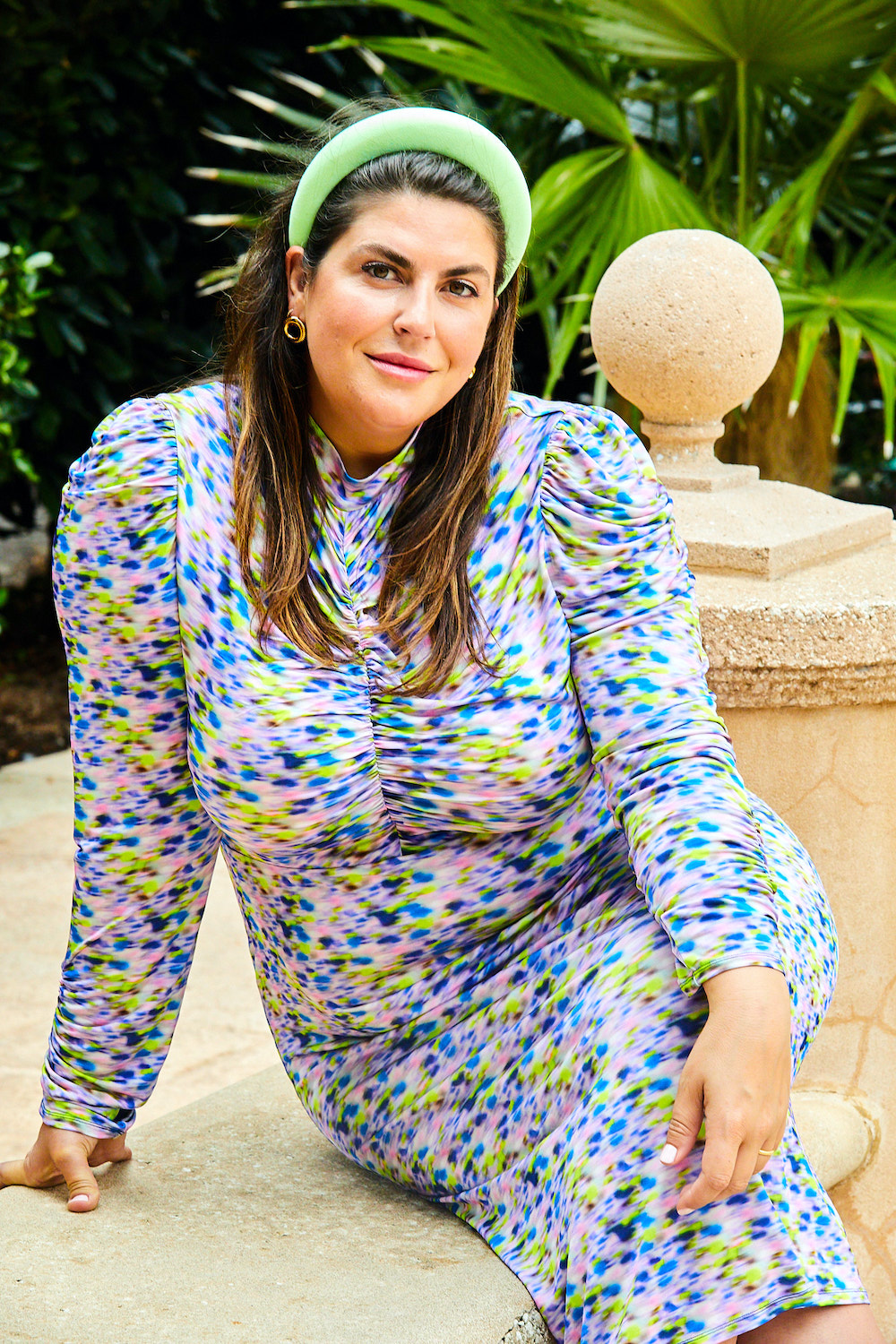 "We've gone beyond just products that I'm passionate about or that I need. We really are listening to our community and seeing what else we can help people feel more comfortable with," says Sturino. "If we make the product and put it in cool packaging and talk about it and make it less stigmatized, I think that that just helps people overall feel better." Le Tush Butt Mask is an example of a product requested by Megababe's customers.
The brand is projected to register triple-digit growth this year. It's stocked at more than 2,700 retail doors, and its business is split evenly between wholesale and direct-to-consumer distribution. Sturino's distribution goal is for Megababe to extend to drugstores next. She says, "The real goal for me, always, is just to have a Thigh Rescue stick within five minutes of anyone who needs it."
At the outset of the pandemic, hand sanitizer was an important product for Megababe. Sturino actually began producing it in January 2020, prior to the coronavirus taking hold in the United States in big way, at the behest of her sister and co-founder Jenny Sturino. "She just had a baby and was being really serious about having everyone clean their hands beforehand," she says. "And after a while everyone's hands were dry and cracked from Purell."
Megababe's $6 solution balances plant-based alcohol with avocado oil, marula oil and aloe. The sanitize collection has stretched to Squeaky Clean Antibacterial Hand Washes and Antibacterial Wipes. Sturino says, "We were able to not only provide people with hand sanitizer because everyone else was out of stock, but we also started a Megababe Cares program where we were sending cases of hand sanitizer to different people who couldn't access it that were immunocompromised."
Sturino has built a loyal fanbase on her personal Instagram, where she has 780,000 followers, and her series #MakeMySize and #SuperSizeTheLook have gone viral numerous times. In advance of Megababe, she started a public relations company at 25 years old. She also authored the book, "Body Talk: How to Embrace Your Body and Start Living Your Best Life," and hosts the podcast "BoobSweat."
Sturino's no-filter approach spilled over to Megababe, but translating it to TikTok has proven to be tricky. "I think people think you can just show up and have a presence, but you can't, you've got to really build a community," she says. "So, we're working on our TikTok presence because we do want to reach more people, and I think there are different audiences on Instagram and TikTok, and we dabbled in YouTube, but we found more success back with Instagram."
Summer is Megababe's prime season. Sturino initially created Thigh Rescue for sticky New York City summers and, even more specifically, for girls walking to the subway in a skirt. Although Megababe has reached 30-plus stockkeeping units today, there's still plenty on Sturino's wishlist, notably water in a can.
"It's too expensive to make and my business partners think that no one really wants it, but Evian makes one and so does Avène," she says. Speaking about the impending NYC humidity, she adds, "I just need a constant breeze and a spritz of glitz."