After Independent Testing Discovers Purito's Mistaken SPF Claim, How Can Sun Care Brands Regain Consumers' Trust?
Gushing about K-Beauty brand Purito's Centella Green Level Unscented Sun SPF 50+ in Business Insider, reporter Alison Barretta wrote, "When I use it, I'm often able to skip moisturizer and makeup because it makes my complexion look radiant."
She's far from the only fan. TikTok sensation Hyram Yarbro raved the product is "so freaking good," Mixed Makeup founder Susan Yara listed it as one of her favorite Korean sunscreens, and it scored a 4.8 out of five in nearly 250 reviews on Influenster, where consumers praised its lightweight formula for leaving no white cast.
But simmering under the approbation has been a sneaking suspicion among beauty enthusiasts and experts that the product is too good to be true. Reports of people wearing it and getting sunburned started to surface, and its reliance on low percentages of Uvinul A and Uvinul T, filters produced by the German chemical company BASF and not approved by the United States Food and Drug Administration for American sunscreens, elicited skepticism.
Judit Racz, founder of ingredient information website INCIDecoder, was dubious that the 3% Uvinul A and 2% Uvinul T in Centella Green Level Unscented Sun SPF 50+'s formula could yield the SPF 84.5 Purito publicized. "Though I do not say it is theoretically impossible to create a broad-spectrum high SPF product with only two organic filters, most brands use a wider array of filters and at a 15% to 20% percentage to create an SPF 50+ product," she explains to Beauty Independent via email. "Purito claimed their product is SPF 84 and using only one UVB filter at 2% to achieve this seemed very strange."
It seemed so strange to Racz that she decided to send the sunscreen to a Polish lab to conduct a human in-vivo test and an in-vitro test without humans. The in-vivo test showed an SPF 19, and the in-vitro test showed an SPF 15.8. A second in-vivo test by a German lab showed an SPF 19.2 ± 2.4.
The findings have sent shockwaves through a sun care industry that's long wanted to encourage regular sunscreen application with airy formulas and diversify the range of filters available worldwide. Executives at large companies, beauty entrepreneurs and influencers worry that the Purito controversy could instill cynicism about the effectiveness of sunscreens and the credibility of the brands behind them.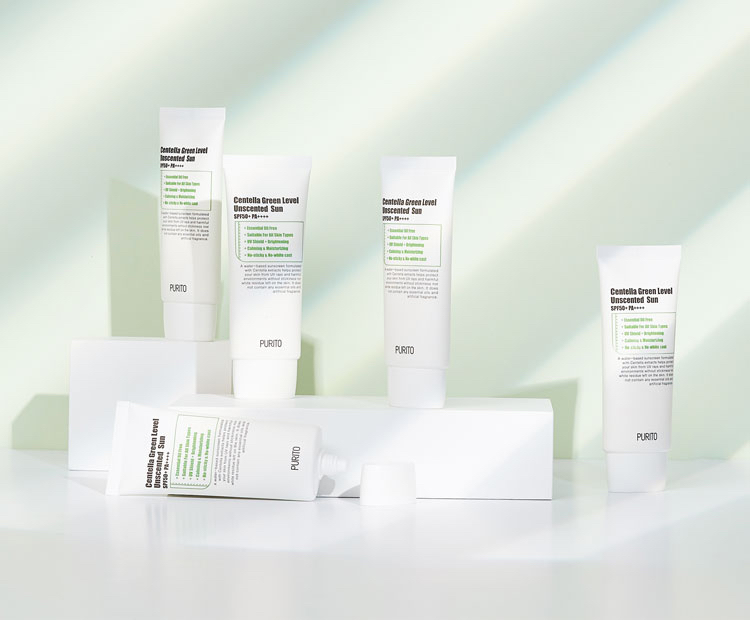 "It's so sad that an elegant beautiful sunscreen that so many people loved and do call a cult favorite because it works for them is now something that is not as safe to use as they thought based on the SPF rating or is tainted with this adultery, with this mistrust," says model and online personality Cassandra Bankson in a YouTube video about the Purito affair. "And, especially right now, that's the last thing we need from cosmetics in the industry."
Purito is taking the situation seriously. It's halted the sale of Centella Green Level Unscented Sun SPF 50+ as well as Centella Green Level Safe Sun and Comfy Water Sun Block. In an Instagram post, the brand said it didn't question the SPF claim made by the third-party manufacturer of Centella Green Level Unscented Sun SPF 50+ before releasing the product. With the sunscreens off the market, Purito is doing its own research on their efficacy, and vetting their SPF with in-vitro and in-vivo tests performed outside the manufacturer.
"We have put our trust on the manufacturing company, and accept the issue that has resulted. We will take this situation as a lesson, and check the details with more parties during the process of product development," the brand commented on Instagram. "We apologize for any inconvenience that this may cause, and we will compete the investigation in as timely a manner as possible."
Purito isn't the first brand to have SPF issues. Beauty behemoths and indie lines alike have been caught making erroneous SPF assertions. In a video on the Purito scandal, Michelle Wong, the science educator known as Lab Muffin, cites a Consumer Reports study four years ago discovering that nearly half of sunscreens tested didn't meet their SPF claims. In Consumer Reports' assessment, for example, Banana Boat's Kids Tear-Free, Sting-Free Lotion SPF 50 and CVS's Kids Sun Lotion SPF 50 were actually SPF 8.
What's In My Jar analyzed 1,205 sunscreen products in its database based on the concentrations of UV filters in them and concluded 8% could fall below their marketed SPF. The artificial intelligence-powered skincare startup uncovered that mineral sunscreens depending exclusively on zinc oxide have a greater chance of low concentrations that could lead to SPF misses. "Most of these products are from newer brands rather than from the big industry players," says What's In My Jar co-founder and CEO Maria Semykoz, who was careful not to accuse any specific brand of deceiving consumers.
"The quest for perfectly indivisible sunscreen pushed the industry too far towards prioritizing products' sensory feel and cosmetic appeal over reliability of sun protection. The less UV filters a formula uses, the more cosmetically elegant the sunscreen will feel, but, unfortunately, it also makes it less likely to provide a high level of sun protection," emphasizes Semykoz. "Both consumers and skincare brands need to take a step back. The UV filters we have in the cosmetic industry right now do not allow us to produce perfect weightless sunscreens, and both consumers and brands need to set realistic expectations for how cosmetically elegant a proper sunscreen can be."
"If the manufacturer provides you with a formula that seems too good to be true, it is worth doing extra tests on it."
What else is happening that's causing the multiplicity of SPF problems? Jude Chao, founder of the blog Fifty Shades of Snail, runs down the possible reasons for Purito's SPF debacle, including that the manufacturer intentionally provided a false claim. Falsifying SPF isn't unheard of. Last year, former employees at consumer products testing company AMA Laboratories pled guilty to a multimillion-dollar scheme involving fabricating SPF tests.
Kevin Cureton, COO of sunscreen manufacturer Solésence, figures batch variation could be a factor in the disparities between tests on the Purito sunscreen. "Batch-to-batch variation is a reality with formulas unless the formula is designed properly to minimize this," he says. "For most beauty products, this batch to batch variation won't matter, but, for SPF-containing beauty products, it can be the difference between meeting the claim. Brands should ensure that their manufacturing partner has an understanding of the source of variation and addresses this based upon how they produce product and test the product for release."
The bottom line is that sunscreen testing is tricky. In her video, Wong outlines that scientists have been trying for decades to develop in-vitro tests that replicate in-vivo tests and have come up short. In-vivo tests are the gold standard, she says, but they can be impacted by modifications in the tools and techniques employed. Sara Dudley, executive director at sunscreen specialist The Sunscreen Company, expounds in-vivo tests have ethical concerns because they mandate humans to be irradiated, and there are questions about whether the lamps employed in them as stand-ins for sunlight are precise. Discussing testing, she says, "There is a global pursuit in the industry to decide on a universal method that delivers consistent, reproducible and accurate results for SPF."
The ongoing SPF problems and the Purito hubbub have real implications for sun care brands. Semykoz says, "It will make it harder for independent brands overall to convince consumers [of the] reliability of their sun protection products while giving a boost to big established players." She speculates the popularity of sunscreens from Asian brands could decrease. "Before the Purito controversy, U.S. consumers were willing to play along with the brands in the 'grey zone' of the U.S. regulations. Now, many of them will start questioning this approach and will wonder if FDA has a point in not allowing these products to be sold in the U.S. normally," she says. "This might even give additional arguments in the public eye in support of the FDA's current approach to sunscreen regulation and, in particular, their reluctance to issue the long-awaited approval for the new filters."
What can brands do to assure consumers their sunscreens are up to snuff? Experts propose more testing is advisable. Racz recommends brands invest in SPF tests from at least two independent labs. Tests from two labs, she says, are "not 100% error-proof, but definitely better than only one lab measurement. Also, if the manufacturer provides you with a formula that seems too good to be true, it is worth doing extra tests on it." SPF tests aren't cheap. Wong divulges they cost $5,000 to $10,000 a pop, and extra testing will be a challenge for cash-strapped indie beauty brands.
"Testing is expensive, but necessary," stresses Tai Adaya, founder of emerging sun care brand Habit. "As a direct brand, the most valuable asset is customer trust. We test within our lab before testing with an independent clinic." In the U.S., she says that a "third-party in-vivo test [with a 10-person panel] is required by law to legally sell and label SPF products. The testing we do in the lab is not required by law, but the real key here is that the testing is independent and standardized."
Cureton instructs brands to validate the labs they hire for SPF tests. "Differences do exist between labs in part because of the human factors present in the SPF methods, so we also like to see how labs differ in the in-vivo methods they perform," he says. "We also prefer to that a testing lab has participated in multi-lab benchmarking study and has scored near the average of the participating labs."
The Purito controversy is rooted in SPF issues, but Racz, the force behind the tests that gave rise to it, and other industry experts suggest consumers shouldn't pay attention to SPF alone. "There is no way for the consumers to know for sure that a sunscreen meets the SPF claims on its label, but, in general, when it comes to organic filters, if a wider range of filters are used and in higher concentrations, there is a better chance of high SPF protection," says Racz.
Dudley agrees consumers should consider concentrations. She elaborates, "My overall takeaway to consumers would be to not lose faith in sunscreens in general because of the issues with SPFs, but rather focus on the overall performance of their SPF by looking at the concentration of their filters as listed in the active ingredients. It does involve being a little bit savvy. We always tell our customers to look for a concentration that is closest to the maximum amount allowed of zinc oxide at 25%." On top of concentrations, Dudley counsels consumers to scan sunscreen ingredient lists for anti-inflammatories such as butyloctyl salicylate, niacinamide and bisabolol that can generate misreading of UVB protection.
To bolster consumer confidence in sunscreens, it could be beneficial if brands were open about their SPF testing. Broader consumer education on the ins and outs of sunscreens could be valuable, too. "Transparency will be key here," says Semyko. "Independent brands might find it helpful to disclose the exact percentages of the UV filters used in the products and also make the lab testing protocols publicly available."
In the case of Purito, Wong is cutting the brand some slack. "You might be wondering how you can trust any sunscreen brand ever again, but please don't freak out," she says, continuing, "I don't think there's necessarily any wrongdoing on anyone's part here. There are explanations that don't involve that. My gut feeling is that it's more likely than not there is some sort of issue with the sunscreen, and that can range from whether it's just really not robust or someone has straight up been fraudulent. It's impossible to say where in the process this has happened or whose fault it is."
At the moment, Wong says she's "treating the Purity sunscreen as an everyday sunscreen that doesn't necessarily have higher than SPF 19." And she underscores, "It's important to remember that sunscreen is not a suit of armor, and it's only one part of sun protection and not the most important part. Wearing a hat, wearing UPF clothing, seeking shade and avoiding the sun in the middle of the day are super important."
KEY TAKEAWAYS
Korean beauty brand Purito's Centella Green Level Unscented Sun SPF 50+ has been a favorite of influencers and so-called skintellectuals who hunt for hidden beauty gems. Although it contains filters not approved in the United States, Americans have been buying it on websites like YesStyle.
Simmering under the acclaim was a sneaking suspicion among beauty enthusiasts and experts that the product was too good to be true.
Judit Racz, founder of ingredient information website INCIDecoder, was dubious that the 3% Uvinul A and 2% Uvinul T in the sunscreen's formula could yield the publicized SPF 84.5. She commissioned tests of the product that showed its SPF to be around 19.
Purito has halted the sale of Centella Green Level Unscented Sun SPF 50+ as well as Centella Green Level Safe Sun and Comfy Water Sun Block, and ordered tests of the sunscreens performed outside its manufacturer to verify their SPF levels.
There are worries that the Purito controversy could undermine trust in sunscreens and the brands behind them. There are also worries that Asian sunscreen sales in particular will suffer.
Experts suggest sun care brands engage in greater testing to assure consumers their claims are legitimate. Racz recommends SPF tests from at least two independent labs.
In evaluating sunscreen options, sun care experts advise consumers to look beyond SPF levels to the concentrations of UV filters in their formulas.
To bolster consumer confidence in sunscreens, it could be beneficial if brands were open about their SPF testing. Broader consumer education on the ins and outs of sunscreens could be valuable, too.