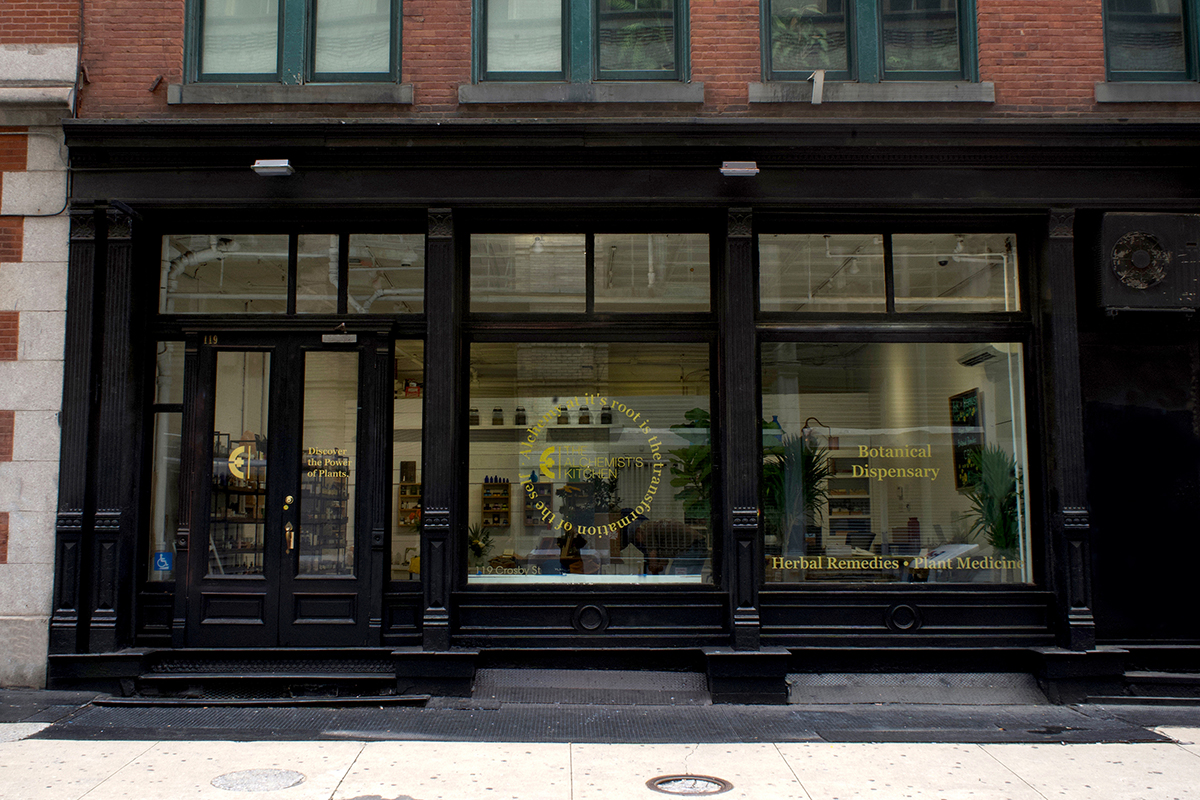 What The Alchemist's Kitchen Is Cooking Up In Its Kitchen (Hint: It Could Be Mind-Altering)
New York City beauty and wellness apothecary-cum-elixir bar-cum-event space

The Alchemist's Kitchen

was created to connect people to the power of plants. Opened in 2016, it's a verdant oasis in the heart of downtown

Manhattan where customers can browse products like

Nopalera's Cactus Soap, Quim's CBD-infused lube, and an array of crystals and incense, as well as 

sip a custom Anima Mundi bitters-infused botanical beverage while they get a human design chart reading.
The Alchemist's Kitchen's clientele is as eclectic as its merchandise. Founder Louis Sagar says it draws the daughters of hippies turned wealthy baby boomers with "exposure to the world." "Or," he posits, "
she's coming from the side of, 'If I feel good, if I do my SoulCycle, then I don't need to be any more spiritual than that.'" Modern-day witches also haunt The Alchemist's Kitchen.
Ezza Valdez, VP of strategy and business at The Alchemist's Kitchen, says t
hey're healers
"connected to the constellations, the stars, the planets, crystals." 
For all types of customers, The Alchemist's Kitchen is a destination for plant-driven holistic remedies. It's at the center of a plant wellness movement that's growing as
cannabis and psilocybin
decriminalization
sweeps across the nation. Beauty Independent spoke to Sagar and Valdez about the shifting legal landscape around psychedelics, growing good weed in New York, growing medicinal and magic mushrooms in Mexico, and more.
What's the mission of The Alchemist's Kitchen?
Sagar: We wanted to connect people to the power of plants. The psychedelic community seemed to be recognizing the benefits. The Alchemist's Kitchen was a business to take care of all these modalities. I have a good sense of the trends and am able to articulate them and bring them into a physical experience. It's something I like to do digitally as well.
When we started, people would come in and say, "Oh, you're selling CBD? You've got to be concerned. The DEA [Drug Enforcement Agency] may come in.' That's only five years ago. We were more concerned about getting busted. People would also come to us looking for a shaman and where to go [for psychedelic ceremonies]. We became the plug for people. We created an enormous underground community. It's amazing.
If you're my customer and you tell me you paid a guy [to get] you all set up for your shamanic ceremony, I and my team are not feeling that we're really protecting you, because we know who the shamans are, and we know where the pretending is. So, we found ourselves in a place where we didn't want to risk our business, but we facilitated, "If you want to go to there, you should talk to this person," and we built our community in the underground.
We had to build trust, and it's generated interest in psychedelics. We have all these mixologists [who] make magnificent medicine, but they're not trying to commercialize it, not for tripping. Some of it is tripping, but, for the most part, we wanted to bring it in as a medicinal. You've got low mood, your mom is struggling with depression, this is another choice for her, and we help facilitate that. We are trying to find our role in supporting people's journey.
We're there to be the facilitator in terms of the community, and from an educational point of view, we're the curators, the practitioners, the teachers, the knowledge keepers for the people that want to go on a journey because they want to be able to meet themselves. [A psychedelic journey] is a revelation. You become much more comfortable with yourself. And a lot of the people that take plant medicine have a much better care for the world. 
Valdez: We want that experience and that knowledge about the world to be a more predominant part of the conversation that we're having now in terms of mental health, in terms of your own personal health, and then allow people to make their own decisions and be able to question the authority, right? That knowledge of self empowerment is really what we're all about. We have amazing teachers, we have amazing practitioners and we're here to just make the introduction. 
Do you worry about the legality? 
Sagar: I don't think so. It's in a private setting. We're not selling or transacting. I want to emphasize the educational part. The fact of the matter is, if you take a plant that has a psychoactive compound in it and you distill it, you can take out the psychoactive compound, but, with the resin and the compounds remaining, you still have great medicinal benefits that change your state. They're not illegal. It gets very interesting.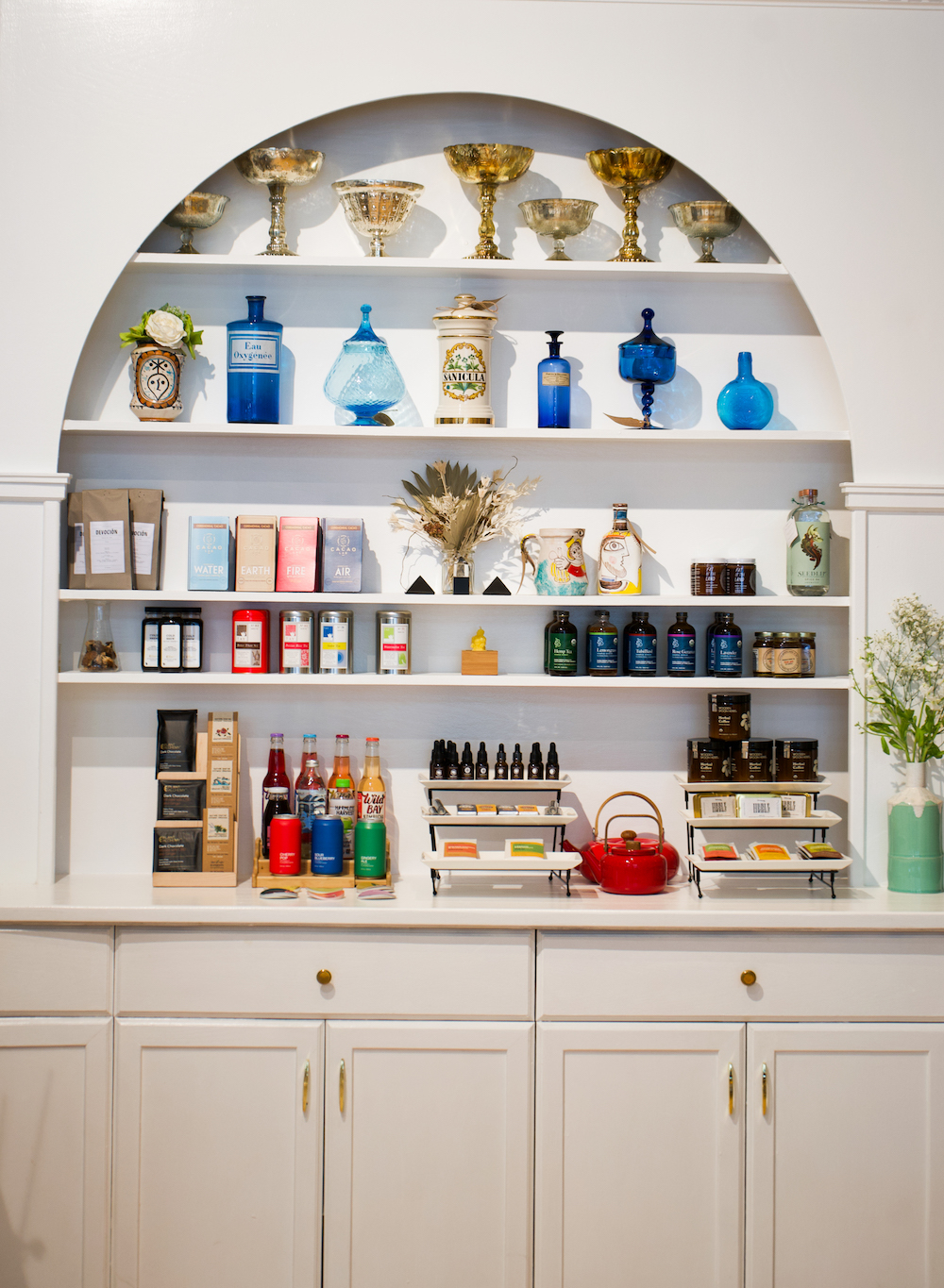 The beverages you serve at the Elixir Bar have functional benefits. Why is that important?
Valdez: Beautiful hair, beautiful nails, beautiful everything is from the inside out. For us, it's really about radiant beauty. You could have the best makeup, the best hair, the best eyes, but, if you're not smiling or you don't have the confidence, that's only halfway. And it can be a shared experience, whether it's community-based or you're sharing it with a friend, the joy that you experience is multiplied. Those are the things that we want our audience to experience. 
You sell a lot of beauty and wellness products from outside brands, but also have an in-house brand, The Medicinal Mushroom Co. Tell me about your products.

Sagar: At the time [we] opened The Alchemist's Kitchen in a retail space we began to produce a proprietary line of herbal and CBD formulations under a premium brand, "Plant Alchemy" which is the brand name for all of the products we produce vertically.
The "Plant Alchemy" product lines include premium CBD formulations presented in the form of tinctures, elixirs, gelcaps, topical balms, and chocolate edibles. We also produce a line of Medicinal Mushroom formulations under our sister brand "The Medicinal Mushroom Company". which include triple extract powders, tinctures, and mushroom-infused chocolates.
What are some recent launches?
Sagar: The most recent launches are highlighted by our state-changing Plant Alchemy Elixirs which are intended to stimulate a socially relaxing state of mind using adaptogen herbs, and mildly psychoactive mushrooms which we offer as an option to alcoholic beverages.
Valdez: We have a tincture called Clarity that's great. It has medicinal mushrooms like lion's mane and spagyric extractions. It's a different type of extraction, a very special process, where you're decomposing the plant, then you're adding it back with minerals and salts. You're putting it back together, mind, body, soul. And, in that process, to just keep it simple, you're putting human consciousness and intention into the formula. 
How will The Alchemist's Kitchen be involved in New York's legal cannabis industry as it develops?
Sagar: We are planning to go for a dispensary license, but the problem is that, in New York state, you're never going to be able to grow outdoors. Everything's that's grown of quality will be grown indoors, which means greenhouse growing. That will take two years. You're not going to give up your guy in California who sends you your weed or your guy down the street that gets you your weed from Colorado for some New York stuff [in the next two years].
Our goal is medicinal. We're doing a strain of THC with CBD. That will be much more effective for the treatments of cancer or postoperative recoveries that you can't do with just CBD and cannabinoids. You need the psychoactive too. Because of the way the law has developed, psychedelics and cannabis are going to come together more and more.
We are a native New York company. It's our obligation as New Yorkers to not do it the same way, not to develop the content and the stories around how California does it or Colorado. Because of what we've learned from the different legalization, [we can] do something in New York that is helpful for the community and more profitable, too. 
Do you think New York will decriminalize psychedelics soon?
Sagar: I think next year, 2022. I think it's coming really quick now. Decriminalization just means it's not illegal. You can't sell it in a commercial setting, but you're OK if you're using it for private use.
It creates an opportunity. All our psilocybin comes from Mexico from very good labs, very well vetted. I think it's going to be that the psychotherapist will get licensed first to be able to prescribe it for their patients. I think it'll go through a more rigorous roll out of how it actually gets into the society.
With COVID, I think people are thinking differently about work and life and partnership. A real reassessment is going on. How can we be supportive of mental health this year and next year are still the primary concern. Those are still going to be major topics that people will be concerned about. 
Valdez: I think we could shift a little bit into the fact that I think gut health, digestion is really such a big influence. The first wave was the bitters, fermentation, foods and probiotics. And I think that can improve your brain, immunity as well as stress and sleep and pain.
If you have symptoms or your concerned about your mental health, how do you address that without going straight to a psychiatrist? How can we support that? Maybe our approach to that this year would be more awakening. Let's have fun. Let's be adventurous. Let's not wallow in our pain, in our stress. Let's get out there and see the world a little if we feel safe as a collective, shifting the mindset. Instead of seeing the world as I don't want to be near you, stay six feet away, to a more friendlier feeling. 
When do you think psychedelic microdosing products will be able to be sold at places like The Alchemist's Kitchen?

Sagar: I would say by 2024. I think federal decriminalization of marijuana will be first. It may become more of a political thing, but acceptance [of psychedelics] is going to develop through decriminalization.
We're investing in medicinal mushroom cultivation just like we are doing in cannabis. There's a way to grow mushrooms really well, and then there are ways that are not so great. There are a lot of people going into medicinal mushroom cultivation because there's a shortage.
The manufacturing of medicinal mushrooms is going to explode. People from Johns Hopkins are moving down to Mexico, [where mushrooms are grown], and setting up clinics and labs and putting out great stuff. We're getting closer to the source as a company. Our desire is to be more vertically integrated as a company. The Alchemist's Kitchen wants to be a lifestyle and an educator.