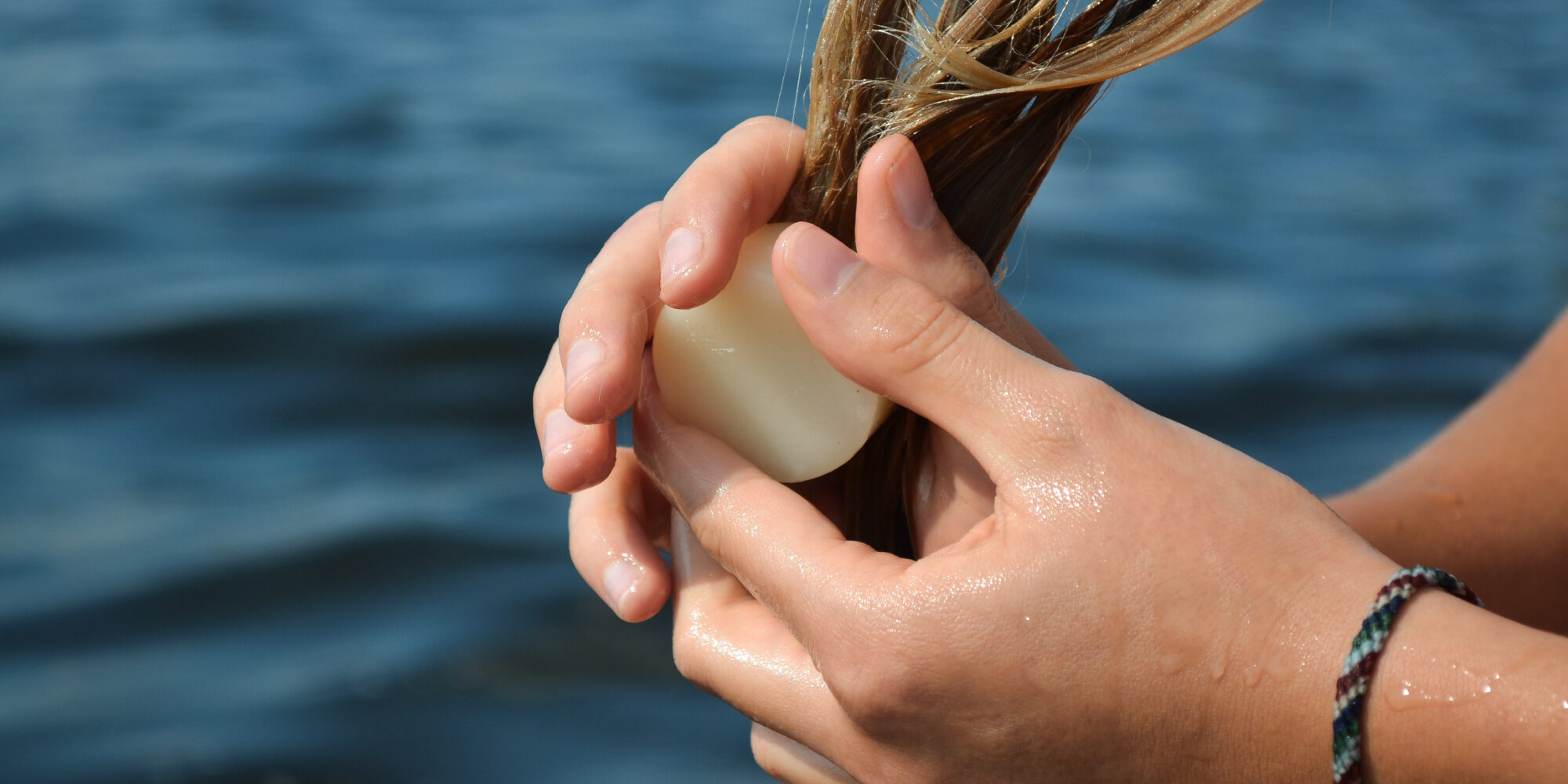 The Way The Beauty Business Is Conducted Today Is Inherently Unsustainable. This Beauty Brand Is Trying To Change It.
For beauty brands, sustainability is an extremely tricky proposition.
The historic fundamentals of the beauty industry—filling formulas with ingredients natural and not, encasing them in alluring packaging, shipping products to consumers and retailers around the nation or globe, and attempting to do more and more of all three—aren't designed to minimize impacts on the earth. Kate Assaraf knows that—and she's willing to break with the usual ways of doing business in the beauty industry to bring her plastic-free haircare brand, Dip, closer to sustainable ideals she believes beauty brands should strive to achieve.
She's eschewing massive chains in favor of small refill shops, surf stores and independent hair salons. Since its launch in October, Dip has entered 60 accounts such as Refill Mercantile, The Clean Refillery, Sage Refill Market and Simply Zero. Assaraf is making conditioner that lasts up to a year despite the replenishment consequences. She's choosing synthetic fragrances over essential oils even though clean beauty consumers and retailers are typically essential oils fans. And she's self-funded the brand (she poured roughly $40,000 from her personal savings into developing it) and not chased external funders pushing growth.
"My hope is mostly for the brand to inspire other people to start brands that take sustainability a little bit more seriously instead of trying to fit a square peg in a round hole. I hope it inspires people to self-fund, grow responsibly and with respect to natural resources," says Assaraf. "It's so easy to copy what everyone else is doing, but it doesn't have to be scary to start a different kind of company if you do it scrappy, and you let the growth be slow."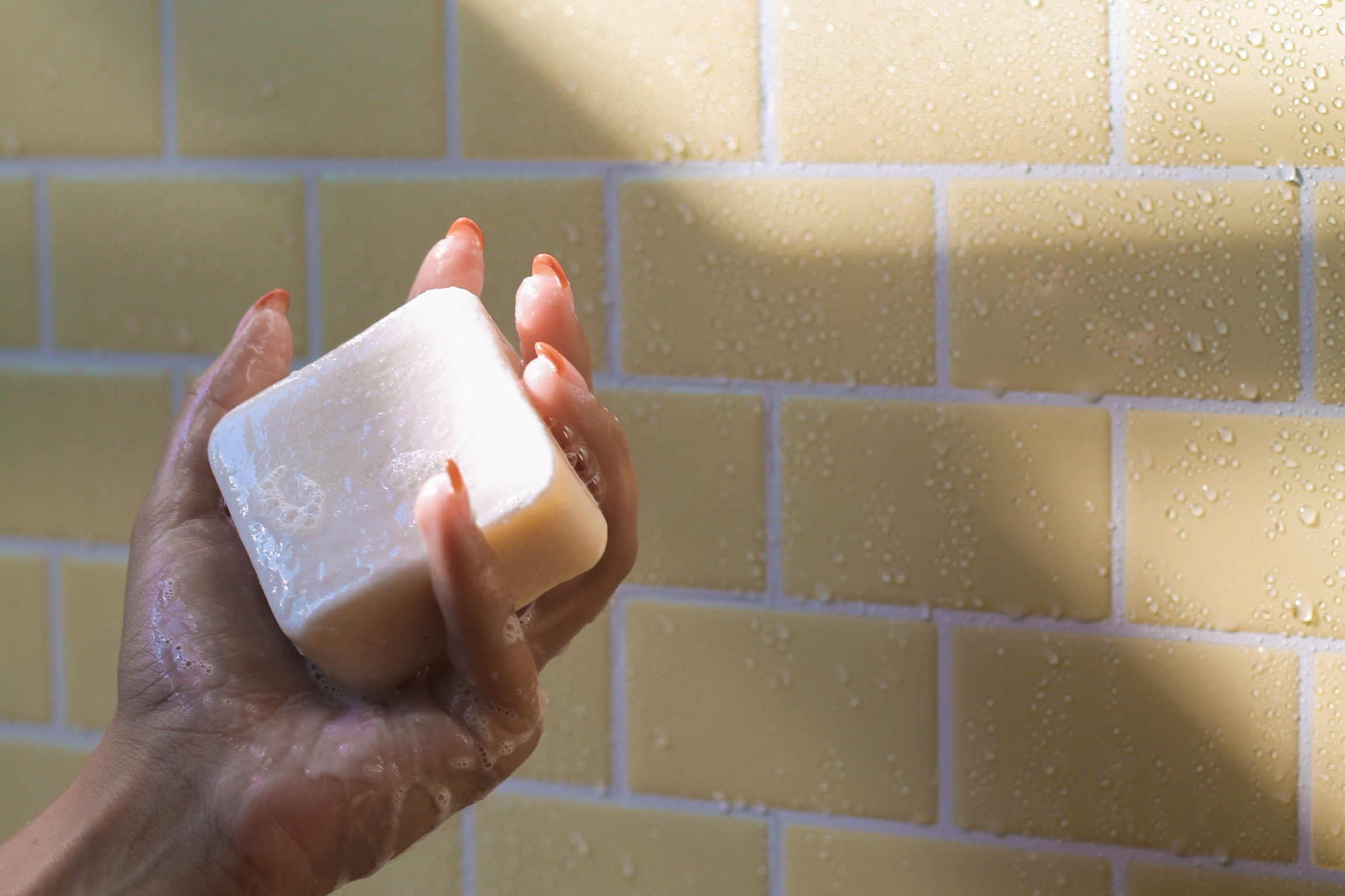 Dip isn't Assaraf's first brand. Formerly a brand manager at Jakks Pacific, she was CEO and co-founder of NOAP: Nurture Our Amazing Planet, an eco-friendly haircare brand that debuted on Earth Day in 2020. After Assaraf discovered her vision for NOAP didn't align with her previous partner's vision, NOAP shuttered in February last year, and she built Dip from scratch based on the learnings from NOAP.
NOAP's shuttering gave Assaraf the opportunity to reformulate shampoo and conditioner bars. Her main goal for Dip's waterless haircare bars is for them to compete directly with haircare leaders like Ouai, Oribe, Pureology and Kerastase. "Stealing a customer from another bar brand doesn't bring me any joy. It doesn't move the needle at all," she says. The lather is a huge piece of Dip competing with haircare heavyweights. Assaraf challenged Dip's chemist to formulate a shampoo bar that lathers without consumers having to press it hard into their hair. Assaraf says, "You glide it over your head like an air hockey puck, and it lathers and lathers."
Scent and performance are two other huge pieces of Dip competing with major haircare players. While Dip's bars adhere to Credo's and Sephora's clean beauty ingredient guidelines, Assaraf doesn't describe Dip as a "clean" brand, decries essential oils as allergen-loaded ingredients that aren't sustainable and favors the smell of synthetic fragrances that track with conventional haircare brands. Fragrance raw material company Robertet supplies Dip's fragrance ingredients. Dip has eight scent options across 35 stockkeeping units, including fragrance free, and tobacco and driftwood is the bestselling scent. The brand's prices range from $9.80 for .75-oz. mini shampoo bars to $32 for 3-oz. full-size conditioner bars.
Assaraf says, "People have been spun this yarn that essential oils are the best and most sustainable thing, but, when you really think of how they are grown, how they keep pests off of them, what kind of farming and labor practices they use, all of these things that are kind of hidden, there's a different story."
"I tried to make the bars so that going plastic-free isn't even a story for me."
To verify Dip's conditioning power rivaled leading haircare brands' conditioners, Assaraf tested its conditioner bar against their conditioners. "I joke with my friends that I'm Persian and from New Jersey, two cultures that have very high standards for hair," she says, elaborating, "I used to buy a tube of Oribe Gold Lust every month. I loved the way it smelled and performed. My conditioner bar lasts me a year, and it gives me the same experience. I save 12 tubes of Oribe Gold Lust, which is well over $200 in savings for me. I tried to make the bars so that going plastic-free isn't even a story for me."
Although Assaraf wants Dip to replicate the performance of big haircare brands, she doesn't want it to replicate their distribution. She explains, "I don't have dreams of being in Sephora or Ulta or Target. I don't want to ship pallet-ized goods. I don't want the six or seven layers of plastic wrap going to big box. What I'm trying to do is support small businesses."
Assaraf supports small retail businesses by establishing a low minimum order amount of $100 for them to buy into Dip. On Dip's website, the threshold for free shipping is relatively high, at $75, to encourage shoppers to visit stores. Currently, about 60% of Dip's sales are from stores. The brand ships products directly from its manufacturer to stores. "I tried to reduce all the steps in the distribution chain to get things to stores," says Assaraf.
Dip doesn't sell on Amazon so its stores don't have to fight for dollars with the e-commerce giant. "I have one store that has sold $15,000 of just Dip since October. That's the whole point for me. I drive people from our DTC site to shop at smaller stores. I tell them to abandon their cart and check out our store locator," says Assraf, adding, "If you listen to what young people have to say, they don't want to support Amazon or big-box retailers that don't pay their employees well. They don't want to support greenwashing. They want somebody to listen to them and stand for something."
Assaraf is generating buzz for Dip's store network through events and grassroots word-of-mouth marketing. She travels to the stores she can, and educates staff and throws parties for them and their customers. She's private-labeled Dip wine cans, and she hands them out for free at the parties to promote the brand and its stockists. She reports some stores have rung up $2,000 in sales in an hour at the parties. Assaraf says, "Beyond bootstrapped, I'm am literally marching to make sure these small stores are set up for success."
Dip hasn't dipped into paid influencer marketing, but has collaborated with TikToker, print maker and Great Lakes expert Geo Rutherford on printed tissue paper to wrap its products in. With every online order, the brand sends out a retro iron-on logo patch and a pamphlet on the environmental ills of fast fashion as part of its Dip Your Shit campaign advising people to refresh existing clothes with a patch, hat or rhinestone accent rather than buy new duds. Assaraf says, "People have written to me and say, 'I saw someone else with the Dip patch, and we talked about hair.'"
Speaking of avoiding new stuff, Assaraf is busy attempting to put deadstock or bottles that were destined for landfills back into the market with a Grateful Deadstock collection. She envisions the collection looking imperfect on purpose. "It's funny to not have this beautiful aesthetic and to have this collage of weird abandoned stuff. It's more sustainable than creating aluminum and glass," she says. "I think it's going to be funny to our customers when it launches."
Assaraf doesn't aspire for Dip to be everywhere or for everyone, but many places and people appear to be getting its quirkiness and business philosophy. The brand crossed a six-figure sales total in four months without a single social media ad. "I really want to show that sustainability can be done in a thoughtful way. You don't have to run to Amazon or to Ulta to have a nice business. You don't have to have a huge board or investors to grow something with intention," she says. "You don't have to go and raise millions of dollars and suffer those growth stressors. I would like to just grow enough to support my family. I wake up in the morning, and I love running this company. It's so fun."