This Vibrant New Natural Deodorant Brand Is Confident About Taking On Antiperspirant
Mel Lewis is always pushing further. After not being able to find a natural deodorant that held up to her grueling training for a 100-kilometer endurance event, she released the brand Kiriwai in 2018. Then, after natural deodorant competitors stepped up their games, she decided to improve upon her natural deodorant formula and packaging design with the new brand Ultrella.
Housed in vibrant pouches, Ultrella's baking soda-free deodorants are driven by magnesium hydroxide, coconut oil, sweet almond oil, sunflower seed oil, kaolin, shea butter, diatomaceous earth, zinc oxide and IBR-snowflake, an extract from the summer snowflake plant native to Europe that's been included in skincare as a Botox alternative. In clinical studies, IBR-snowflake has been shown to reduce sweating by 36%.
"So many people are willing to go natural, but there's quite a lot of fear about it because people don't trust it," says Lewis, who was in banking and a stay-at-home mom before jumping into personal care. "We tried to find ingredients where the efficacy would be so good that it would match antiperspirant. We are calling it demi-perspirant."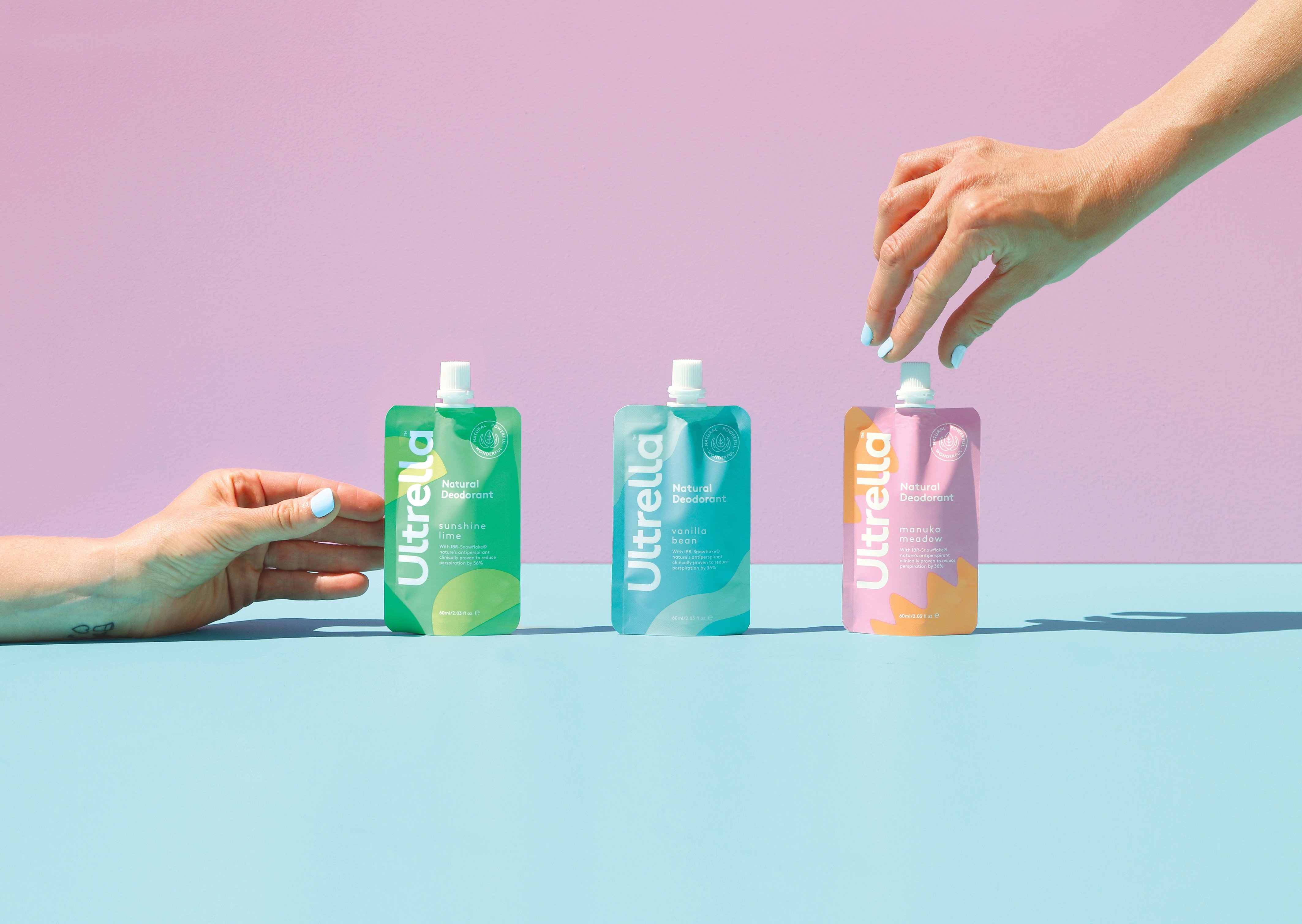 Lewis, resident of the New Zealand village Havelock North, has been working on Ultrella since January last year. She received a Callaghan Innovation government grant of 5,000 New Zealand dollars or nearly $3,000 at the current exchange rate to kick-start the brand. Cosmetic chemist and clean beauty specialist Stacey Fraser, founder of consultancy Natures Blueprint Ltd., helped develop its products. In addition to natural deodorant in sunshine lime, vanilla bean and Manuka meadow varieties, Ultrella is beginning with CalmPits Detox Mask in a soothing rose scent, and Natural Body Spray in hello aloe, and bright and blueberry options. A hand sanitizer is up next. Prices of existing items run from 15.99 to 21.99 in New Zealand dollars or around $9.50 to $13.10.
"We tried to find ingredients where the efficacy would be so good that it would match antiperspirant."
Lewis agonized over whether to launch the brand amid the pandemic. "I sat there with my finger over the go-live button thinking, 'Should I do it or should I not do it?' I realized, 'Who knows when the right day will come?' We have to adapt to this new way of living, so I just decided to go for it. We've poured so many resources into it in terms of time and effort," she says. So far, Lewis has received a favorable response to her decision to move forward with Ultrella. She shares, "I've had so many emails and messages of support from people saying, 'It's really good to see something positive happening.'"
New Zealand's coronavirus response has been a model for the world. It's closed its borders, instituted a strict domestic lockdown, and prioritized eliminating rather than containing the disease. Still, Ultrella's distribution targets and sales forecasts have to be completely reshaped in light of the dire global circumstances. Lewis's pre-coronavirus goal was to place the brand in 100 New Zealand retailers by the end of the year. It's been picked up by local natural grocers, eateries and fitness studios such as Cornucopia Organics, Breathe Yoga and The Works. Lewis expected to quickly turn her attention from New Zealand to expanding Ultrella abroad. For now, however, the focus is on New Zealand and direct-to-consumer operations.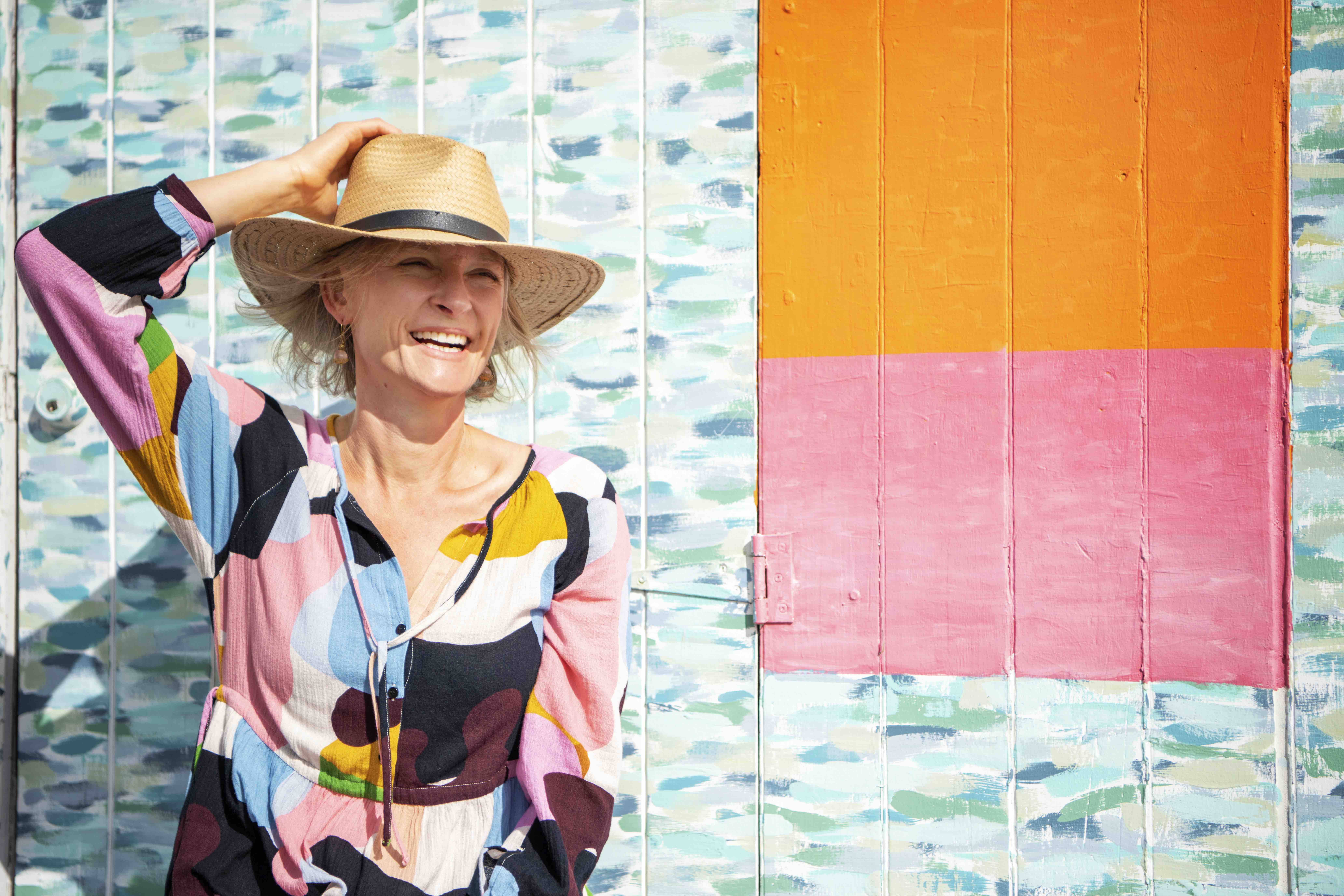 In Ultrella's home country, Lewis explains the deodorant brand field is split into two groups. "There are a number of products made by women like me. They had a personal situation whereby they needed a natural deodorant product, so they created their own using common household ingredients like baking soda, tapioca and coconut oil. You also have corporate brands coming in from Australia," she says, mentioning her sensitive skin was an important catalyst for whipping up her own natural deodorant. "We're coming in at the middle. We have a backstory, but are approaching it more from a corporate perspective."
"We have to adapt to this new way of living, so I just decided to go for it."
Ann Davenport Design crafted Ultrella's cheery look that incorporates pink, blue, orange and green shades, and white text. The brand's pouches are fully recyclable virgin plastic, and it's setting up a recycling system in which it handles the recycling of empty pouches returned to stores. The body spray bottles are constructed from 100% recycled plastic. Rather than having to dip their fingers into a pot of natural deodorant, consumers squeeze out a pea-sized dab from the pouches to apply on their armpits in an easy, hygienic delivery method.
"I really wanted to prove that you could have really innovative products that had a fun exterior," says Lewis. "It's a really interesting time to be a woman. You don't have to give up your enjoyment of fashion to be a really amazing businesswoman. The packaging is a reflection of that, and I wanted it to stand out on social media and the retail shelf."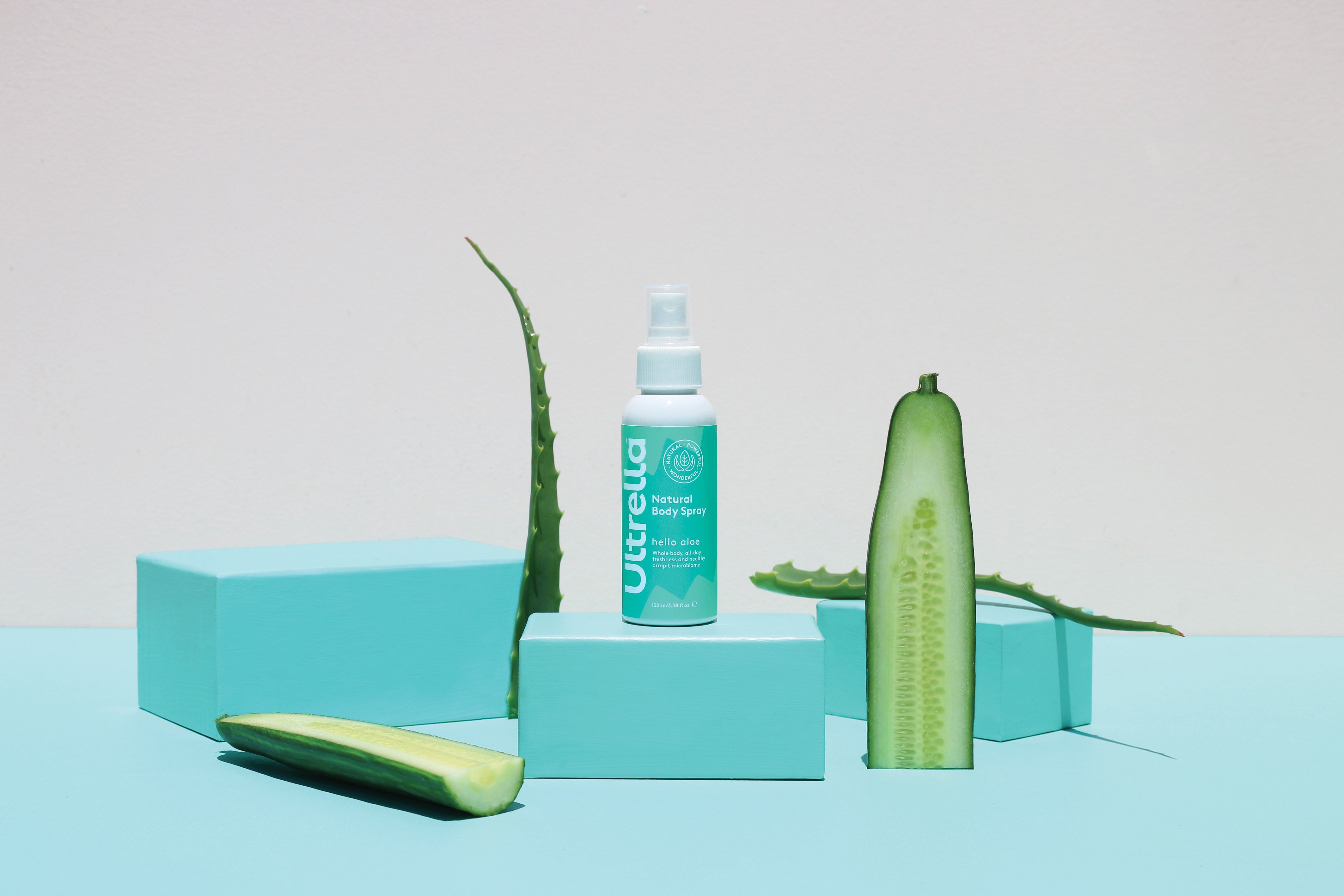 Ultrella's name is a combination of "ella," the Spanish word for "she," and the English word "ultra." It's an apt label for Lewis and the busy women aged 25 to 65 she envisions gravitating to the brand. Early on, she believes it will primarily recruit consumers that have already dabbled in natural deodorants and are hunting for products that will better their experiences with them. Ultimately, though, Lewis aspires for Ultrella to convert antiperspirant shoppers.
Despite what she describes a "surreal" moment to introduce a brand, Lewis says, "People are going to keep sweating, and we are going to make good products available to them." She adds, "I'm so proud of our products, and I would really love to see them on the world's stage."