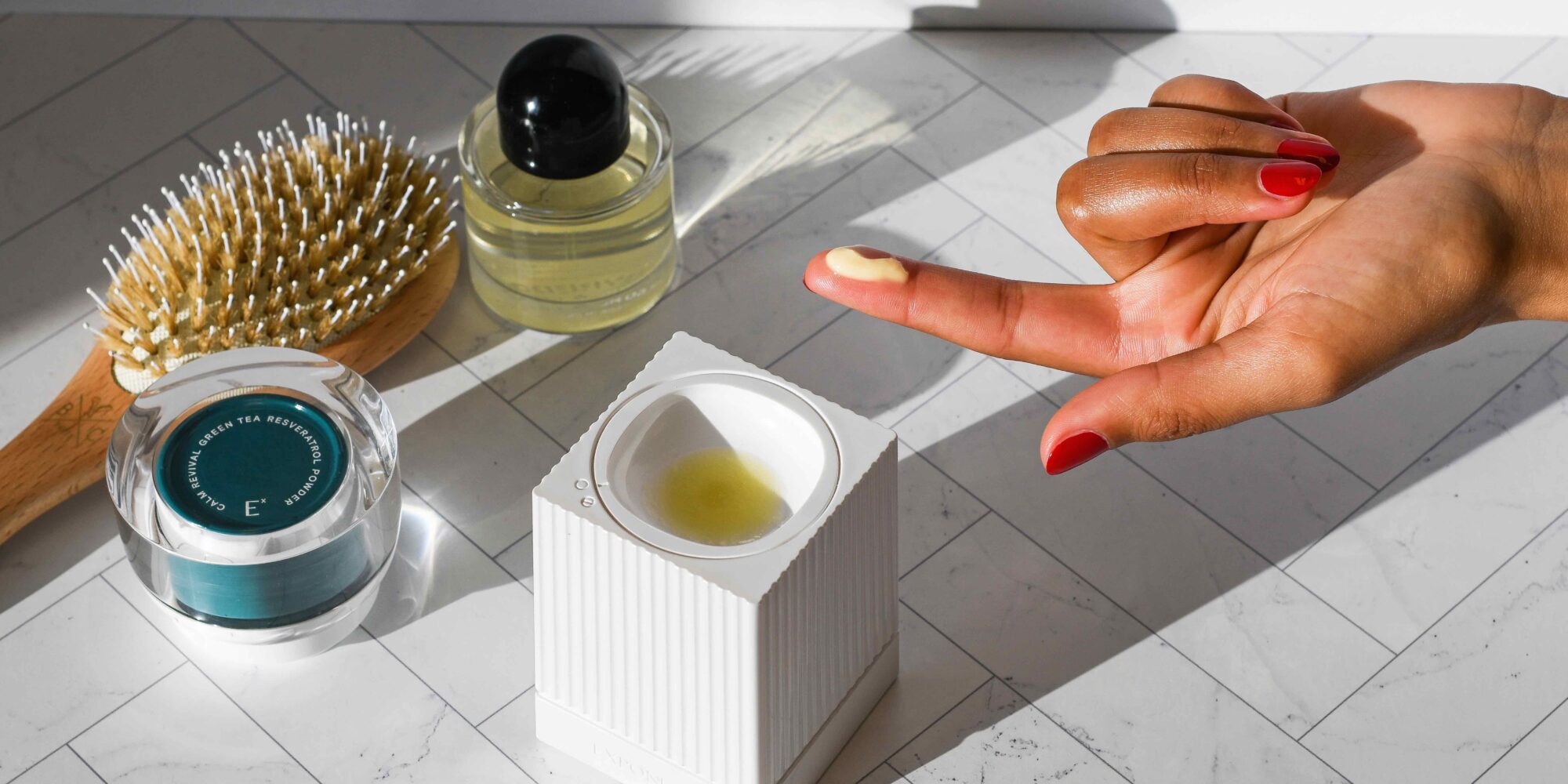 After Verifying That Skincare Degrades, Unilever Ventures-Backed Exponent Created A System To Deliver Skincare At Peak Potency
Shortly after Elizabeth Whitman sold her in-office beauty service company Manicube to The Red Door by Elizabeth Arden in 2015 and became CMO of the now-defunct spa chain, where she would later become president as well, she was busy learning about the company by receiving a facial (someone had to do it!) when she had an unexpected aha moment.
"I was literally in a terrycloth robe in our Fifth Avenue flagship, and our star aesthetician Nina was instructed to get me up to date on our protocols," recounts Whitman. "She spent quite a bit of time telling me that the reason why we mix our masks, serums and treatments fresh is things like antioxidants, retinol and even acids like glycolic and lactic acid are very fragile and degrade quickly. My brain was going into overdrive asking, if that's true, how effective can pre-mixed retail products be?"
Whitman's curiosity about the effectiveness or lack thereof of off-the-shelf skincare products stuck with her, but she didn't act on it until 2019. By then, she had stepped down from her executive position at The Red Door and moved from New York to San Francisco for personal reasons. Freed from her management responsibilities, she decided to employ Micro Quality Labs to study the degradation of skincare ingredients.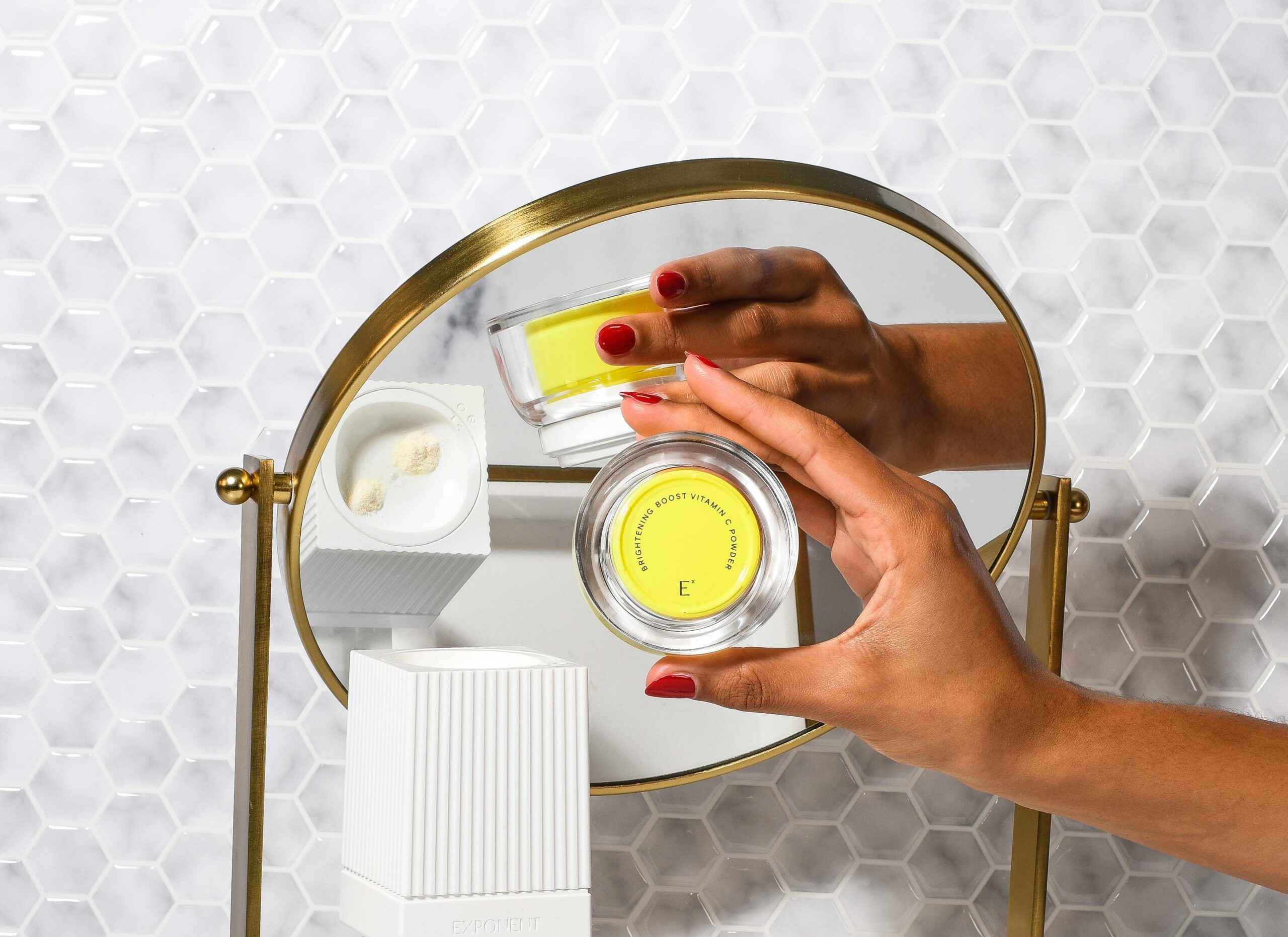 Specifically, the lab examined 20 leading skincare products with vitamin C, retinol and CoQ10, and discovered a 40% average degradation of the ingredients in eight weeks. CoQ10 degraded the fastest at a rate of nearly 75% in eight weeks. In clean formulas, the ingredients degraded faster to the tune of 33% more than non-clean versions. The conclusion was that clean formulas lose efficacy 4.5 times faster than non-clean formulas. "I wasn't surprised to find something, I was surprised by the magnitude of it in the industry," says Whitman.
Once she identified the magnitude of skincare ingredient collapse, she went about trying to solve it. Exponent, a skincare brand launching Thursday that facilitates formulas on demand in consumers' bathrooms, is her solution. Whitman believes Exponent is pioneering a new category she dubs self-activated skincare. "It's a reversion to the days before mass production," she explains. "The reason why all these jars and tubes are produced a year before the consumer buys them is because that's the world we live in in CPG, but that doesn't mean that has to be the way it is."
The centerpiece of Exponent's push into the self-activated skincare category is what the brand calls a Self-Activator or dispenser (Whitman emphasizes it's not an electronic appliance) that precisely doses its Quadruple Hyaluronic Acid Hydrator to blend with one of four active ingredient powders: Firming Filter CoQ10, Brightening Boost Vitamin C, Clear Comeback Probiotic Enzyme and Calm Revival Green Tea Resveratrol. Powder formats help maintain stability. Starter kits with the Self-Activator, 90 doses of the Quadruple Hyaluronic Acid Hydrator and 45 doses of an active ingredient powder are priced at $168 each.
"We are really targeting a very optimal concentration in every dose."
"With these ingredients, there's an optimal concentration you want to hit. I will give you the example of L-ascorbic acid. At 10% concentration, it's been clinically proven to show benefits. Below, there are less benefits," says Whitman. "We are really targeting a very optimal concentration in every dose." In the products Micro Quality Labs studied, she mentions the majority didn't have optimal concentrations.
Housed in a refillable container, the Quadruple Hyaluronic Acid Hydrator is inserted into the base of the dispenser, and the dispenser is up-pumped to release a dose of it. The active powder, also housed in a refillable container, is blended into the Quadruple Hyaluronic Acid Hydrator by screwing it facedown atop the dispenser, pushing down and clicking clockwise. The system yields a light gel-cream formula within seconds.
The look of the Self-Activator is inspired by vintage fragrance bottles to encourage consumers to leave it out on their bathroom counters, although it's small enough to be placed inside a bathroom cabinet. Early prototypes were larger, and Exponent shrunk the Self-Activator to enable it to fit in a cabinet. "It was a long, hard lift on the packaging side," says Whitman. "At the end of the day, no consumer is going to mortar and pestle skincare in their bathroom. We knew we needed it to be an easy, convenient delivery system, and bonus points if it's fun and beautiful."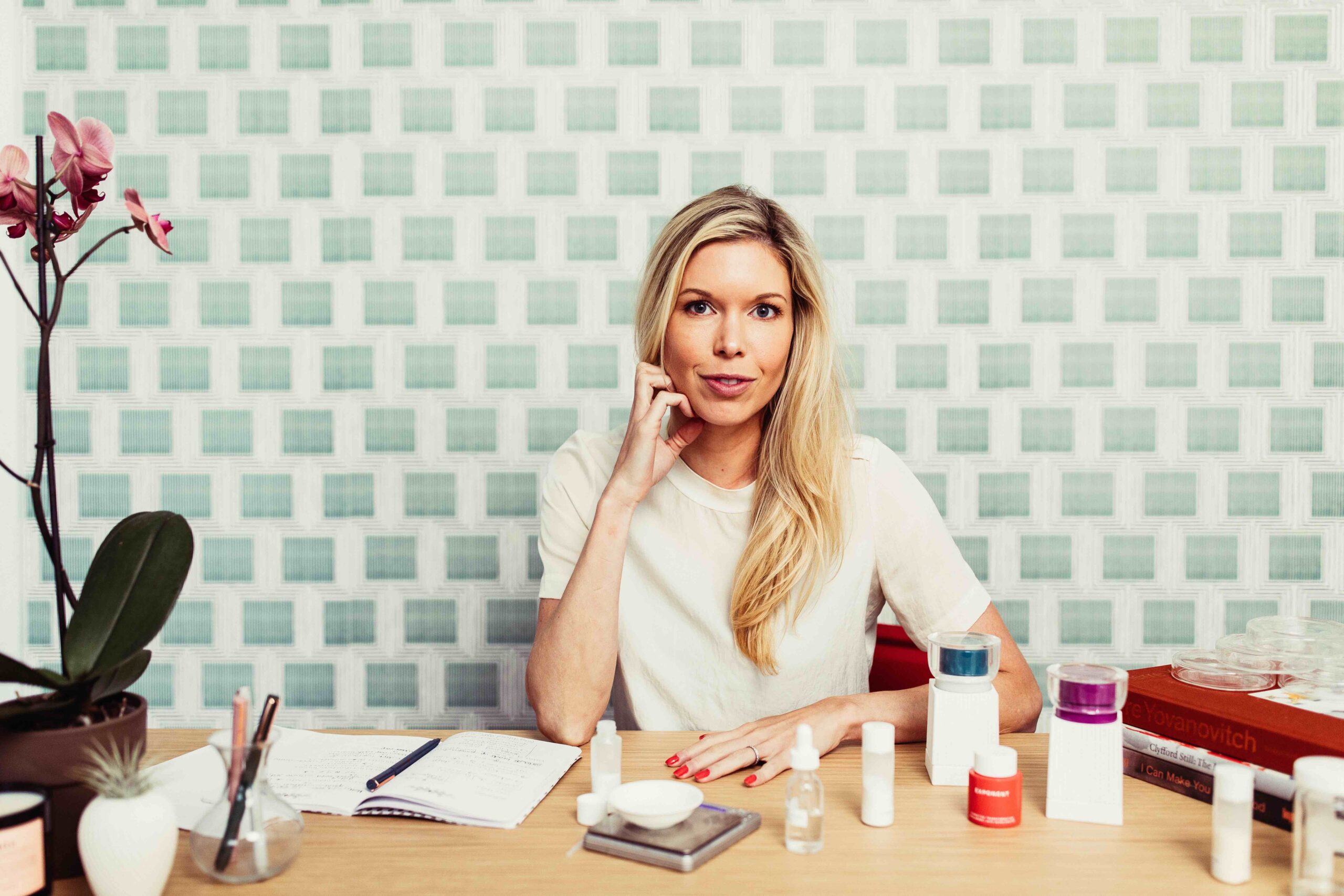 Rebecca Bartlett, principal and creative director at Bartlett Brands, an agency involved in the development of Exponent, acknowledges the brand's self-activating system requires a behavior change that can be a barrier to consumer adoption. "We were extremely focused on keeping the packaging from appearing to be a device or gimmick," she says. "Instead, we leaned into the aesthetician heritage of mixing fresh in the moment at peak potency and used modern-classic cues that lend credibility and elegance to the brand design."
Exponent is for consumers hunting for products that actually execute upon the power of their skincare ingredients, but how many consumers realize that skincare ingredients lose their power? Certainly, the personalization trend is tied up in product freshness, and there are brands like Robb Akridge's Opulus Beauty Labs, which features a Keurig-like contraption to whip up skincare, and Drunk Elephant, which sells the product C-Firma Fresh Vitamin-C Day Serum that's mixed prior to application, discussing ingredient potency. Skintellectuals chatter about degradation issues, too. Exponent is aiming at them, but confident its reach can widen to skincare laypeople not familiar yet with potency declines.
"For skincare junkies who are spending a lot of money on 'efficacious' skincare, the data on degradation that Exponent reveals (i.e., the average skincare loses half of its ingredient efficacy in just 60 days) is a mirror-breaking moment," says Bartlett. "We did fairly extensive consumer research, and when people heard this, they were so pissed. That stat changes your relationship with the category. For myself, after hearing this, I actually started dumping competitors' powder active boosters into my skincare because I otherwise it felt like it just a lost cause."
"My particular process is always to find a really acute problem to solve."
Exponent isn't only addressing the ingredient potency problems with its system. It's highlighting ingredient potency problems across the skincare market. Beginning six months ago, the brand introduced The Exponent Standard to identify skincare products it deems to be beneficial. According to The Exponent Standard, products must contain an active skincare ingredient from among a dozen substantiated active skincare ingredients at meaningful concentrations and clinical studies that aren't simply consumer perception studies. The brand has vetted 500 products and determined 79 of them adhere to its standard.
In addition, to enable consumers to test their vitamin C skincare products at home, Exponent created a $15 at-home vitamin C test with 10 test strips that turn color to display the percentage of vitamin C in the products. The brand instructs consumers that under 5% vitamin C is too low and much over 10% is too high, and invites them to share results from the vitamin C test with it. Whitman says, "It's a way to collect data and talk to consumers."
Exponent has achieved B Corp certification. It's raised $3 million from 15 strategic angels, including Sara and Erin Foster, and funds such as Unilever Ventures, Founders Fund, SugarCap and Bullish. Whitman, an investor herself as a partner at X-Factor Ventures, backer of Ceremonia, Live Tinted and Maude, says the brand's main distribution priority is direct-to-consumer for its initial year of business. She declines to divulge a first-year sales projection. Exponent has already received interest from specialty retailers, and Whitman is weighing retail partners that provide high-touch customer service to offer education on Exponent's concept.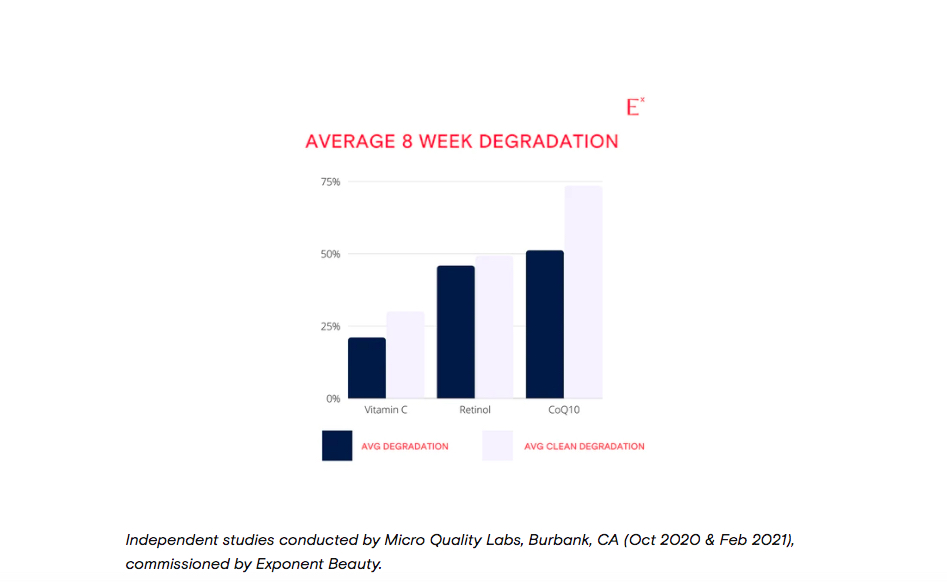 She envisions the brand expanding into an array of products and ingredients. Currently, it has three products in the works. "We are really focused on tried-and-true ingredients that have been tested for decades and have great performance, and we are innovating on form factors and systems that can deliver on their benefits," says Whitman. "We started with powder that solves antioxidant ingredient degradation issues, but there are other ingredients like ceramides that don't have degradation issues. They have molecular weight issues. If they are larger, it's unclear if they're penetrating. I see a world where we could tackle other problems in other ingredients."
Exponent is her third entrepreneurial venture. Along with Manicube, she previously launched designer apparel brand Lewis Albert. Whitman's approach to entrepreneurialism is not to take it on tepidly. "My particular process is always to find a really acute problem to solve," she says. "You want to be the medicine. You don't want to be the vitamin in terms of your solution to the problem. That's going to be the recipe for doing something really breakthrough and, therefore, hopefully successful."