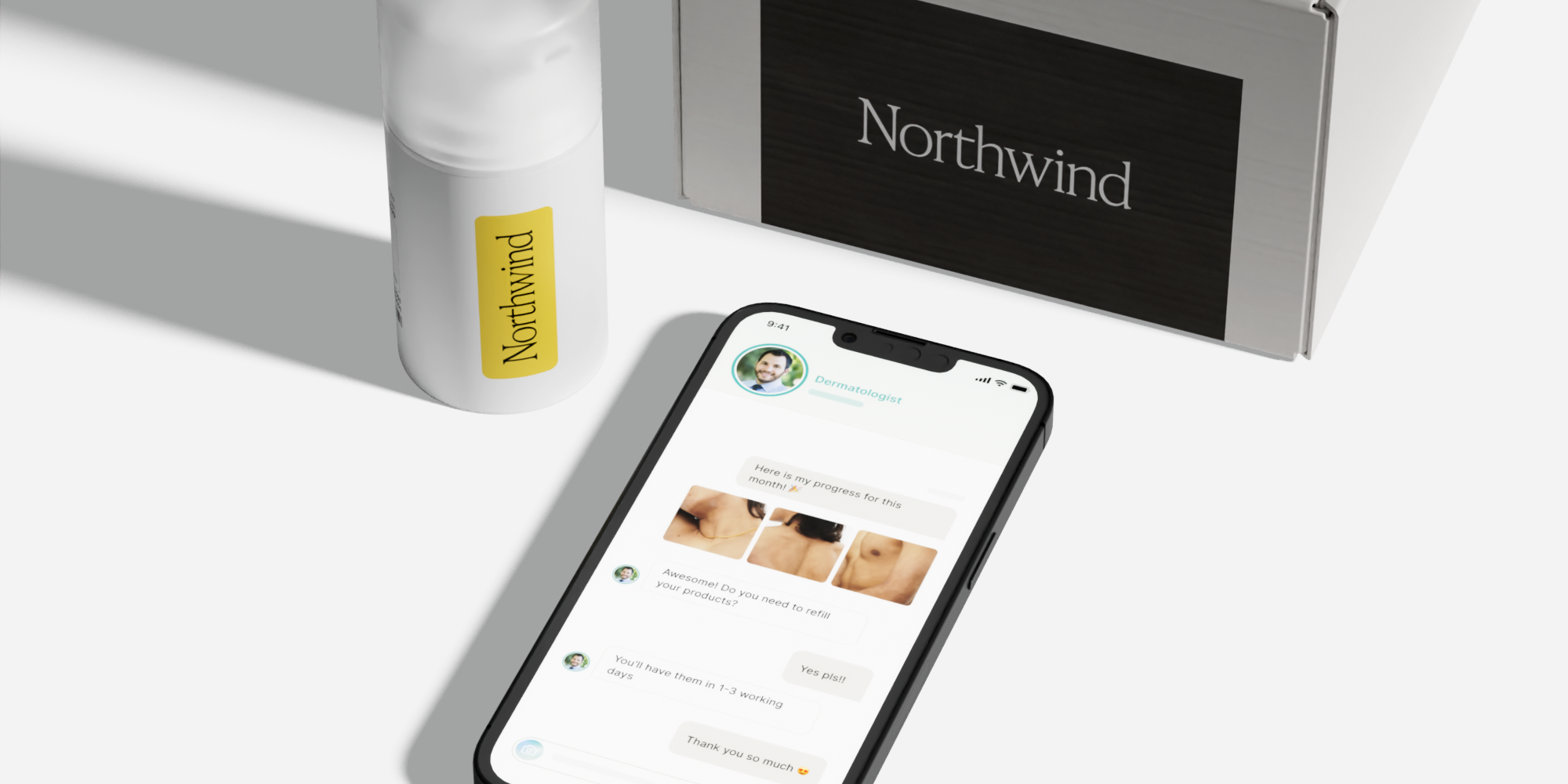 Y Combinator Alum Northwind Launches Psoriasis Care Platform And Products
Northwind founder and CEO Johannes Vermandois, who suffered from psoriasis for 20 years, is out to change care for the painful immune system condition that causes visible plaques on the skin.
Launching in the United States, Northwind is a teledermatology platform with a suite of products aimed at transforming treatment for the 8 million Americans with psoriasis and millions more with other chronic skin conditions like eczema. The platform's U.S. expansion comes after it spent two years becoming the biggest app for psoriasis patients in Vermandois's home country of Sweden. Over 15,000 Americans signed up for Northwind pre-launch.
Northwind is in Y Combinator's winter 2022 cohort, and the prestigious accelerator has invested $500,000 in the company along with Global Founders Capital, TrueSight Ventures and Deel founder Alex Bouaziz, who also has psoriasis. Northwind has raised a total of $2 million so far. A seed round is expected to close soon. 
"Northwind redefines the patient experience for the vast section of the population with difficult skin conditions such as eczema, psoriasis and dry skin," says Philippe Klintefelt Collet, partner at Global Founders Capital. "Through a modern digital medical interface and a proprietary suite of clinically approved cosmetic and Rx products, Northwind reduces the time to treatment by 10X and cost of care by 3X while offering treatment effectiveness not experienced before. To us, Northwind embodies what we look for in a modern category-defining health company."
While Y Combinator is not usually a breeding ground for skincare startups, Vermandois was able to use the tech expertise gained through the accelerator to begin developing Northwind's own teledermatology platform, including crafting predictive modeling around these skin conditions that will allow Northwind to identify patterns between treatments and lifestyle. 
Vermandois compares Northwind's interface to teledermatology company Curology's interface. Jason Tabuzo, a former acquisition manager at Curology, is an advisor to Northwind. To start the Northwind process, patients upload a picture of their skin and take a skin quiz. With the information provided, Northwind's team of board-certified dermatologists determines a treatment plan comprised of cosmetic and prescription remedies.  
"You can actually do a lot of work remotely with the cameras that we have today on the iPhone," says Vermandois, adding, "We can treat about 90% of the patient population in the U.S. You get a recommended treatment plan sent to you by our doctors in 12 hours instead of three months or four months at a fraction of the cost with an efficiency that we know is amazing."
Northwind's compounded prescriptions range in price from $40 to $110. Its non-prescription cosmetic products priced from $34 to $45 include body cream, creamy body wash, shampoo and face cream. Further products like patches for areas necessitating extra support are in the pipeline. Doctor appointments can be booked through the app for $40.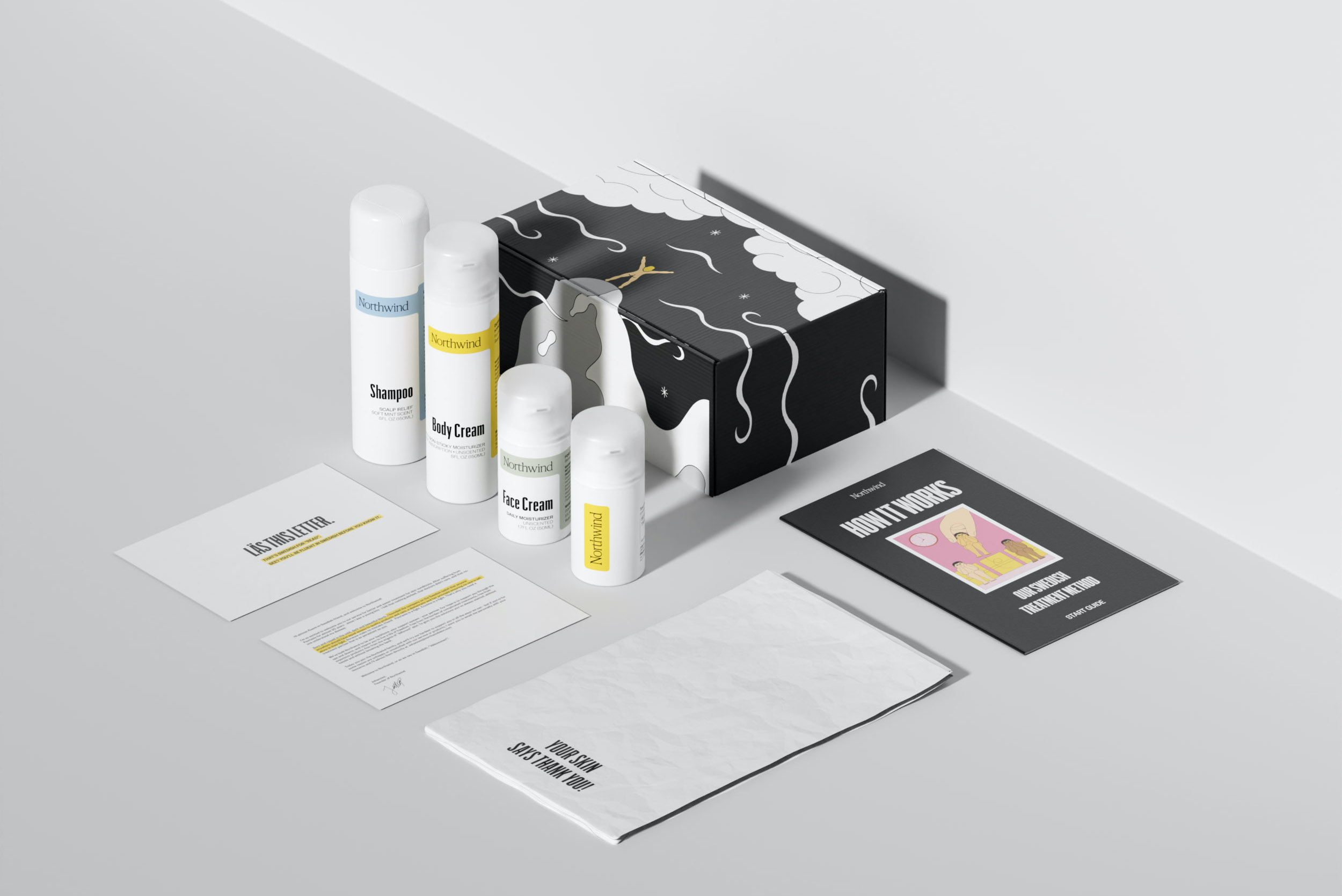 Vermandois's goal is for Northwind to lead the charge in the cosmetic psoriasis care space. It's certainly not alone in the beauty space in trying to combat skin conditions. There are emerging brands such as Bodewell, which was acquired by Procter & Gamble last year, and The Seaweed Bath Co., along with stalwarts such as Aveeno, CeraVe and Eucerin vying for consumers with stubborn skin issues. 
Amid the competition, Vermandois is enthusiastic about the response to Northwind's products to date. Among Swedes, he reports its body cream "went viral in the psoriasis community. We have a 92% self-reported efficiency from our users." And that's not an easy feat for a psoriasis product in Sweden, where Vermandois notes the dry and cold climate, and dearth of sunlight exacerbates psoriasis and eczema. 
Tasman pepper, a plant extract Vermandois says reduces inflammation and redness in the skin, is a key ingredient in Northwind's cosmetic products. Its formulas are vegan and were guided by crowdsourced strategies that enlisted 16,000 Swedish patients' thoughts on ingredient and absorption preferences, to name just two of many product elements the company sought feedback on. Vermandois says, "It was a very grassroots movement that allowed us to build these products that we have today."
Applying learnings from the 16,000 Swedish patients, he continues, "Our products have this very strong barrier function that you can actually feel. When you shower eight hours later with our products on, you can feel that there's a thin protective film on your skin that allows your skin to rest and regain its strength. People tell us all the time that they love that." 
In Sweden and the U.S., Vermandois explains doctors can adequately suggest treatments, but there's little persistent attention paid to people dealing with skin conditions day in and day out. "Doctors mean very well, but they have a very shortsighted approach to this condition, unfortunately," he says. "Both in Sweden and the U.S., it's a lot about giving cortisone steroids, and there's no follow-up, no support whatsoever. Patients are mostly left in the dark to manage a very severe and complex skin condition."
Northwind's service is built to foster ongoing care for patients using various products or even weaning from potentially harmful drugs previously prescribed by doctors. Vermandois says, "The bigger dialogue we want to have in the U.S. is about empathy, showing people that there's someone there who can listen to them, talk to them like humans, not just as patients."