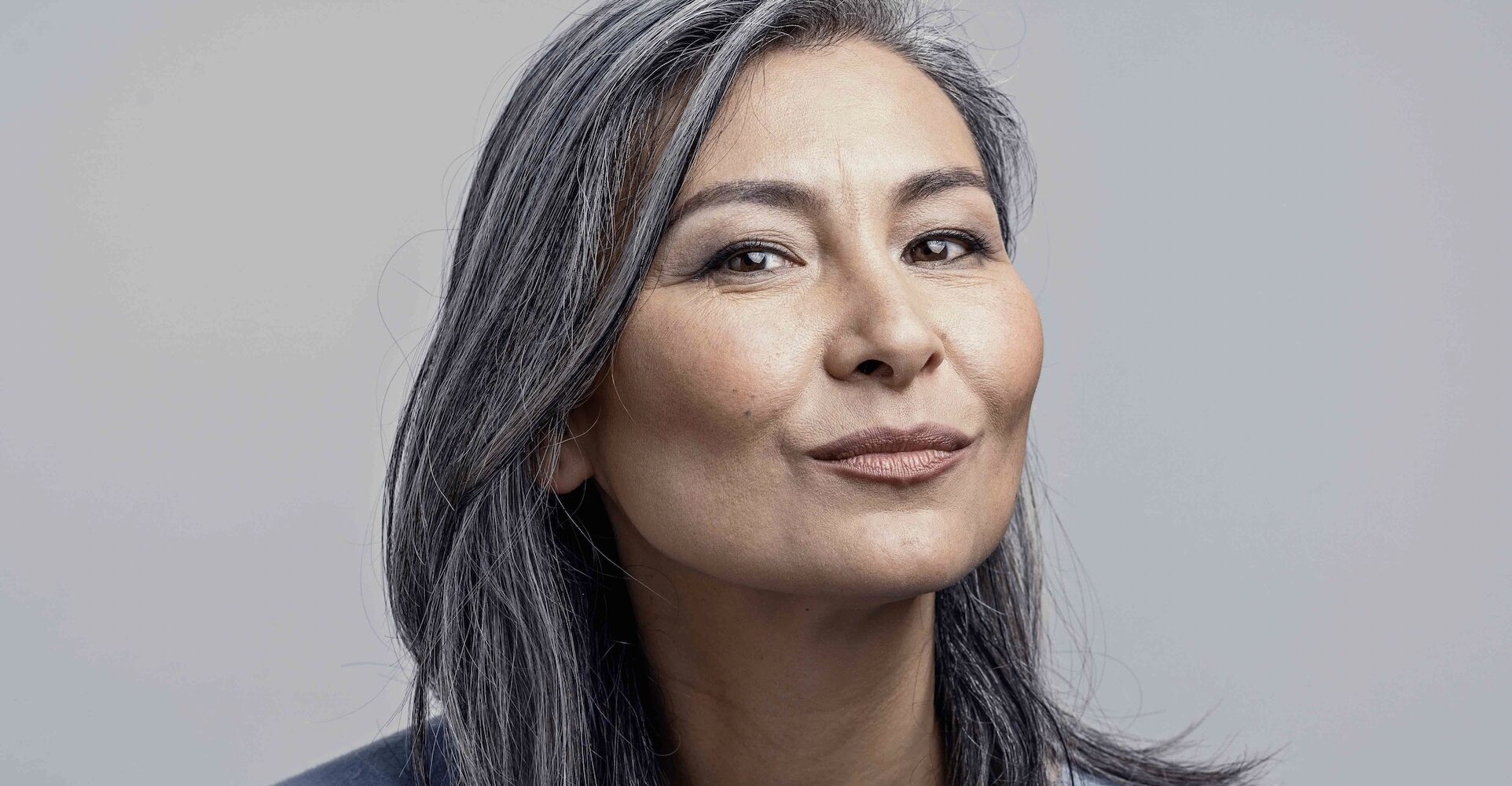 As Consumers Get Candid About Aging, Ulta Beauty Spotlights Products For Its Impacts On Hair In Chain-Wide Displays
Dating back centuries, beauty businesses have sold products promising to counter the impacts of aging on the skin, whether they're wrinkling, puckering, sagging or spotting, but the skin isn't alone in being tormented by time.
As they get older, women's hair is affected by age. "Aging hair is not a known concept in beauty, yet every single woman will tell you my hair started changing in my 40s," says Sonsoles Gonzalez, founder and CEO of Better Not Younger, a haircare brand aimed at women in their 40s and above. "It's not just the graying. They are telling us their hair is thinner, frizzier, dryer, and they have grays."
Aging hair may become a better-known concept in beauty, at least if Ulta Beauty has any role. The retailer has placed "Haircare for Aging Hair" displays in prestige haircare sections across its 1,300-plus stores in the United States. Alterna's complete selection of 31 products, including bestsellers Caviar Replenishing Moisture Shampoo, Conditioner and CC Cream, and 18 products from Better Not Younger, including bestsellers Lift Me Up Hair Thickener, Wake Up Call Hair Spray, Wake Up Call Shampoo and Conditioner, and Superpower Fortifying Hair & Scalp Serum, are showcased in them.
Jessica Phillips, VP of merchandising at Ulta, connects the displays to a far-reaching transformation in consumers' and the beauty industry's relationship with aging. Outside of the haircare category, the beauty specialty retailer has brought in menopause-related products from the brands Womaness and No7 for hot flashes, sleep, memory, joint health, energy, and dull, lined and crepey skin.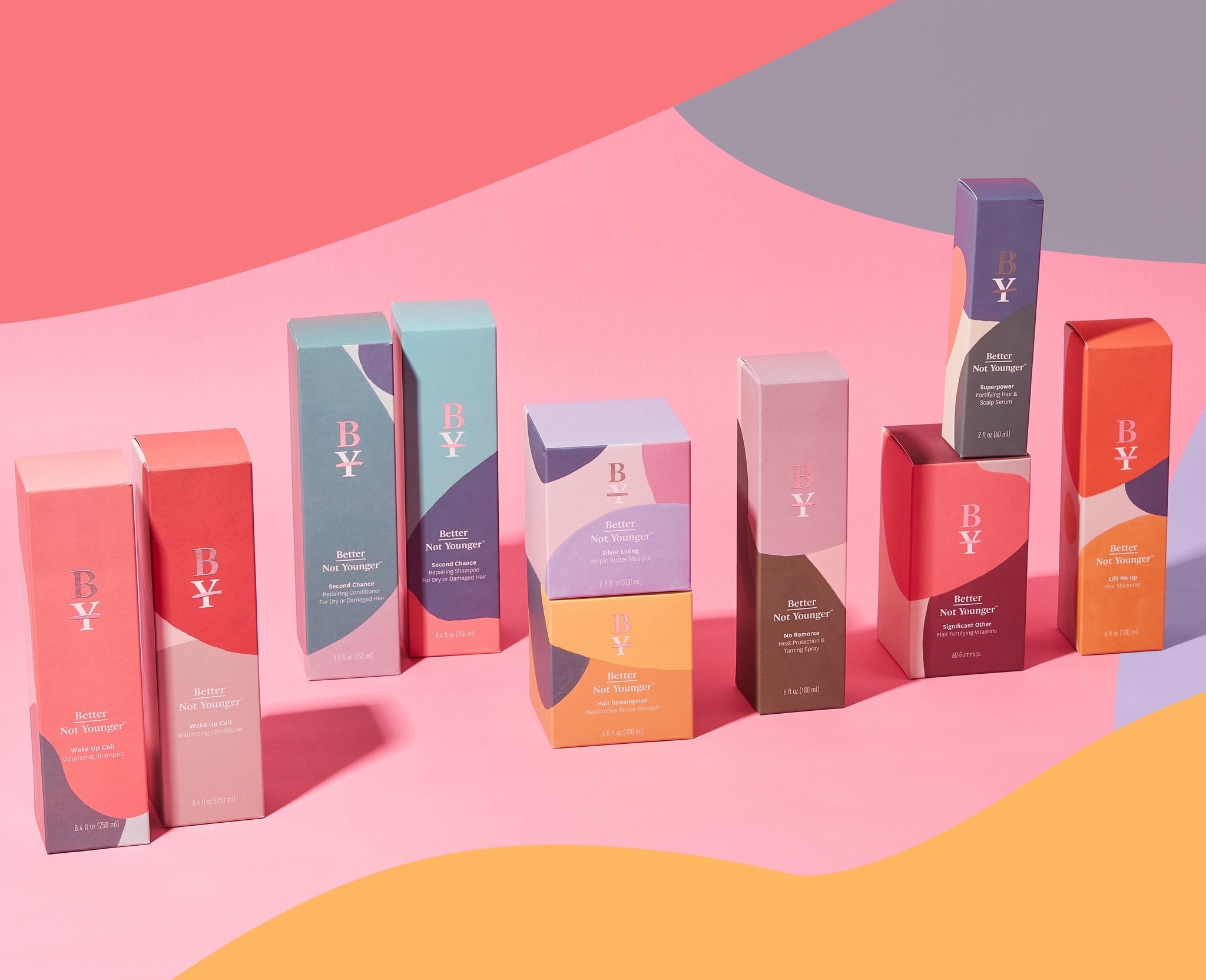 "The growing conversation around menopause and menopositivity has allowed for greater discussion around aging," says Phillips. "Up until recently, this traditionally taboo topic wouldn't have garnered much visibility given how deeply personal this stage of life is for many women. Now, with brands such as Womaness and Better Not Younger helping to educate and empower women with solutions to address these needs, we're seeing a shift in perception and overall acceptance for healthy aging, which is beautiful."
Gonzalez has had a front seat to the growing conversation since the start of Better Not Younger in 2019. "When I launched Better Not Younger, most of the big publications said, 'I'm not going to talk about a product for old women.' They would say, 'My readers are young,'" she recalls. "There is more awareness now that there is a market for unique needs. That's really changed versus a few years ago."
In April, Oprah Winfrey hosted "The Menopause Talk" with Drew Barrymore and Maria Shriver along with doctors Sharon Malone and Heather Hirsch, and The New York Times recently ran several major pieces on menopause, one of which in December headlined "Welcome to the Menopause Gold Rush" mentioned Better Not Younger, prompting its online sales to triple in the immediate aftermath. "They realized that this is going more and more mainstream," says Gonzalez. "People want to talk about menopause and not just about hot flashes, but changes in their hair, mood and skin."
Amidst the menopause gold rush, Gonzalez lobbied hard for Ulta to seize upon the aging hair opportunity. In September 2021, Better Not Younger premiered at the chain in endcaps in roughly 480 doors. Five months later, it expanded to 745 doors, but in the hair loss and thinning hair aisle that Gonzalez argued to Ulta didn't fully capitalize on Better Not Younger's prospects. "The brand got a little lost in the store," she says.
Although hair loss and thinning hair are issues women in their 40s and above deal with, they're among several. Gonzalez, who projects Better Not Younger will double its sales at Ulta this year due to exposure in the "Haircare for Aging Hair" displays, points out the No. 1 issue Better Not Younger's customers identify with their hair is volume. Increasingly, care for gray hair is a priority. Prior to the pandemic, 15% of Better Not Younger's customers reported in surveys that they didn't dye their hair. Today, the figure has jumped to 26%.
"There are 80 million in the U.S. over 40. She has the biggest disposable income of all female demographics in the U.S., and she's willing to try new products."
Phillips recognizes the panoply of concerns women have about aging hair. "As we age, our hair growth slows, and we may experience changes in texture. Hair strands also become thinner and lose pigmentation, so we see guests gravitate towards products that fortify hair health, boost density, volume and shine through serums, shampoos, conditioners and supplements," she says. "Our scalps also produce less oil as we age, so guests seek solutions like deep conditioning hair masks that replenish hair and add moisture. For those embracing gray hair, we also have brightening products that improve the look and feel of gray and white hair to be more manageable, less brassy and healthier looking overall."
Ulta's aging hair display communicates to women experiencing it that the retailer understands their concerns and has them in mind. Older women tend to believe the beauty industry ignores them. A 2019 survey by AARP discovered that 70% of women age 40 and above like to see beauty and grooming products created and marketed toward them. AARP spells out that women over 50 spend $22 billion annually on beauty and personal care products. For retailers and brands, an advantage of selling to them is they may be less affected by economic fluctuations than their younger counterparts.
"It's great to see retailers like Ulta put a focus on the needs of aging hair. This is a demographic that has often been overlooked and underserved within the haircare category," says Diana Whalen, senior global brand manager at Alterna. "By highlighting products that serve the changing needs of aging hair, Ulta is able to capture the attention of these customers and help them find the solutions they need."
For Ulta, gen Z's favorite beauty retail destination, capturing a larger share of gen X and baby boomer attention or, better still, dollars currently spent elsewhere on beauty products could amount to a significant windfall in a category it's already strong in. Haircare is the leading revenue driver for Ulta by category. It was responsible for 21% of the retailer's $10.2 billion net sales in the year ended January 28.
"There are 80 million in the U.S. over 40. She has the biggest disposable income of all female demographics in the U.S., and she's willing to try new products," says Gonzalez. "So, why not help her find the right solutions?"
Gonzalez adds that Ulta can capture a larger share of dollars of existing salon customers with aging hair options. Ulta has a salon in each of its locations, and salons contributed 3% of its net sales last fiscal year. "It's a captive shopper that you have in the store. She's going there to color her hair every four weeks if she has grays," says Gonzalez. "You hardly see a gen Z girl in the salon there. So, Ulta knows they have this shopper in the store, and they want to be inclusive of her."
Phillips emphasizes Ulta curates its assortment, which has over 25,000 products from 600-plus brands, to speak to diverse "wants, needs and interests." She says, "Beauty is generational, and while we're seeing younger guests engaging with the category earlier than any other generation before them, we know many teens are experiencing beauty with their parents and being inspired by older generations, especially when it comes to preventative beauty routines. We're proud to have something for every age and every stage of our guests' beauty journey and are committed to being a destination where all are welcome and reflected."
Whalen argues stores and salons broadly should take a cue from Ulta and build their aging hair product repertoire. "This is a market segment that is only going to continue to grow as the population ages, and there is a huge potential for brands and retailers to make a significant impact in people's lives," she says. "By providing targeted messaging and products that address the concerns of mature hair, retailers and salons can set themselves apart and create loyal customers who are looking for solutions to their haircare needs."