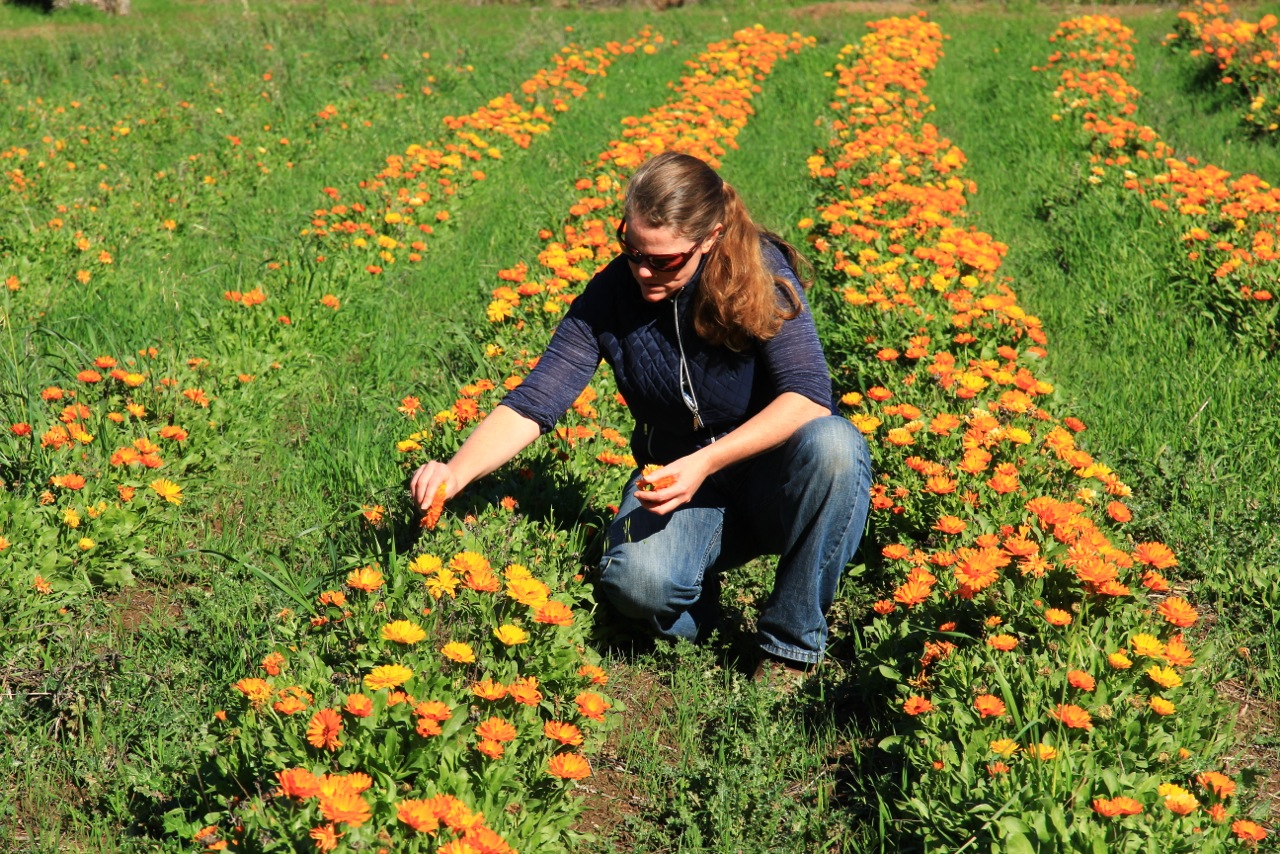 All Good Strives To Take All Good Approaches To Selling Products, Impacting The Environment And Retaining Employees
When Caroline Duell christened her healing salve All Good two decades ago, she had little inkling the name would go on to signify her company's drive to make good products while committing to good environmental and employee practices. A certified B Corp, Morro Bay, Calif.-based All Good specializes in sunscreens that don't ruin coral reefs and personal care packed with USDA certified organic ingredients. As Duell attempts to balance profits with positive impacts, her entrepreneurial philosophy is simple and yet utterly complex. "Keep going with your head up and your integrity high," she says. "Our tagline is, 'All Good makes everything better.' I try to remember that and, in everything I do, I ask myself, 'Can I do it better?'" Beauty Independent chatted with Duell about the challenges of doing better by running a business with a steadfast mission, fundraising, growing retail distribution, cultivating a happy workplace and transforming the sunscreen market.
Where are you from? Did you start out professionally in personal care?
I'm from Charleston and moved to Carbondale, Colo., when I was 10-years-old. I never imagined having a business. You hear stories about people who grew up selling lemonade at age 6 and electronics at age 18. That was not my gig at all, but I have always enjoyed connections with people and the outdoors. In college, I had a self-designed major that incorporated emergency medicine and alternative medicine. The emergency medicine part of it was about gaining skills to become self-sufficient in the backcountry. Herbs were used for healing, and plants were for eating along the side of the trail or to pick to stop bleeding. We still sell a product that I first made in 1998. I was teaching rock climbing and doing massage therapy, and wanted to have something I could share with my rock-climbing students and massage clients. There's a whole other component that's agriculture-based. My husband has been an organic farmer for 25 years now, and I developed the salve at an herb garden he was working at. We sold it at farmers markets. I created it just to give away, and the business came from the demand increasing for it.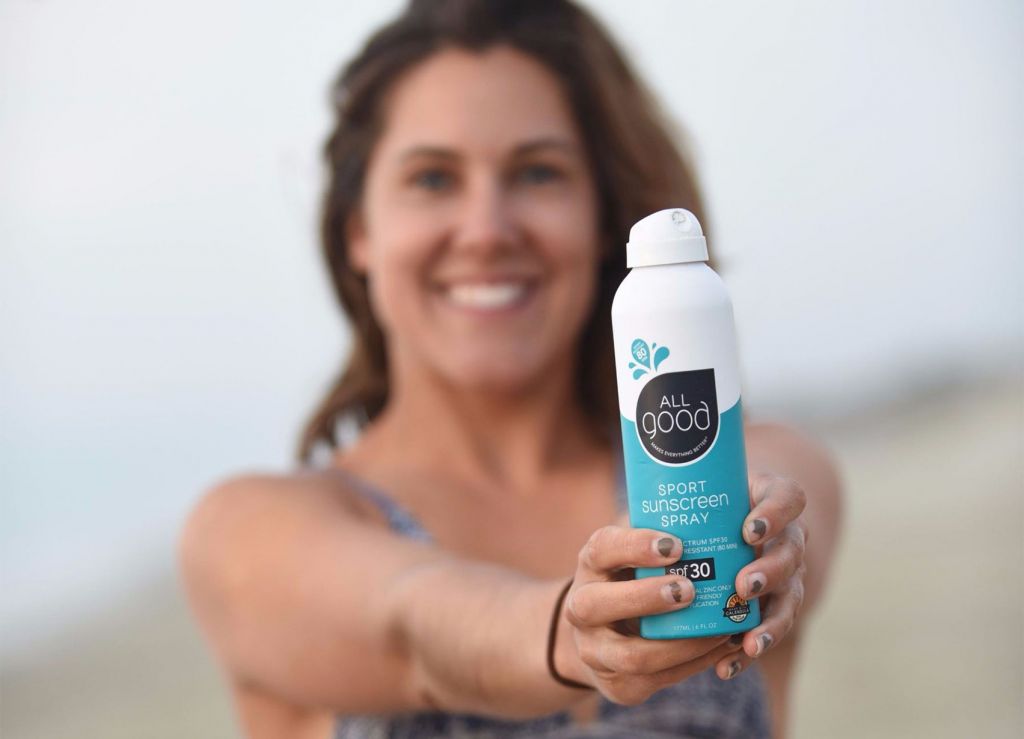 When did you start selling the salve All Good Goop?
The real start date of our business was 2006. Before that, it was purely alongside our garlic, tomatoes and raspberries at farmers markets, for myself or to give away to friends and family. We were living in West Marin County in Northern California, and it was the perfect hobby. It fit with working on a farm, guiding climbing and doing massage. I have always had an interest in helping people. I had little chamomile tea sachets, lip balms and lavender pillows that I made as well as the salve. In my 20s, it was a fun side project, and we had multiple jobs. In 2003, we decided to buy our own farm. We purchased a junkyard, Harley-Davidson Hells Angels hideout that had been a methamphetamine den in San Luis Obispo. We got rid of 50 cars and countless heavy metals. I completely gave up All Good Goop. I had to focus on the property. I started getting phone calls from people saying, "What do you mean you aren't making it anymore?" I hadn't appreciated how much of an impact the healing salve was having. I told people I would make it, and I drove it up north in big mason jars. I wasn't really charging much for it, and it felt burdensome. One of the times I drove up there, I went to a health food store in Fairfax, Calif., called Good Earth. I said to the owner, "I have an issue. I'm trying to get salve up here to the people who want it. Would you mind if I left it here so they can pick it up?" He grabbed me by the shoulders and said, "Do you realize what's happening? You're starting a business." That's when it really started to gel. I got labels, jars and a business license.
What happened next?
I decided to have a booth at the Green [Festival]. Networking was highly encouraged, and I was standing in line at the buffet behind a guy who said, "What do you do?" I said, "I make this healing salve, and it's kind of a hobby, but I'm working on selling more of it." He said, "Sounds like a business." I said, "It's getting there." He said, "Just accept it. You are running a business." I said, "Yes, I run a business. I make All Good Goop healing salve." I said, "What do you do?" He said, "Thanks for asking. I'm a business coach." I hired him. He was a fantastic influence on me in the early days. His name is Jeff Hayes, and I worked with him from 2006 to 2009. He really helped me organize things, and he was an accountability partner for me. If I said I wanted to do something, he asked me if I actually did it. One of my biggest hesitations in starting a business is that I didn't want to compromise environmental responsibility as I scaled the business. He helped me keep that a priority.
You initially called the brand Elemental Herbs. Why did the name change to All Good?
I established Elemental Herbs in 2006 as the business name, and we incorporated Elemental Herbs in 2008. What you know as All Good came through a deep dive into marketing and branding that we did in 2012. We landed all the way back onto All Good, which was the original name of the product. We named our farm Four Elements Farm, and Elemental was a spinoff of Four Elements Farm, but, as we grew, the name became less relevant for us. Now, we consider ourselves All Good, and the name All Good Goop has stuck around as the name of the healing salve for 20 years.
When you first began, what was your vision for the brand?
The vision has been the same since we started. Our vision is to inspire people to live in balance with nature. My dream is that by connecting people with plants for everyday products, they will see the importance of sustaining the habitats where the plants live.
How much money did it take to get your company off the ground?
I was able to secure an SBA loan for $125,000. That was at the end of 2006. Banks were happy to give away money at the time, and my loan was backed by the Economic Vitality Corporation in San Luis Obispo. They were excited about helping a woman-owned business get off the ground. Not having a business background, the concept of farming out equity for cash didn't seem like the right thing to do, and it didn't make sense. I didn't have a clear idea of how much we would grow. I also felt that, if I did it on my own, that would be cool. I did have a good friend that's one of our business partners now. He helped me design the first label, and it very quickly became obvious I was dependent on his skills. He contributed sweat equity for years for his percentage of the business.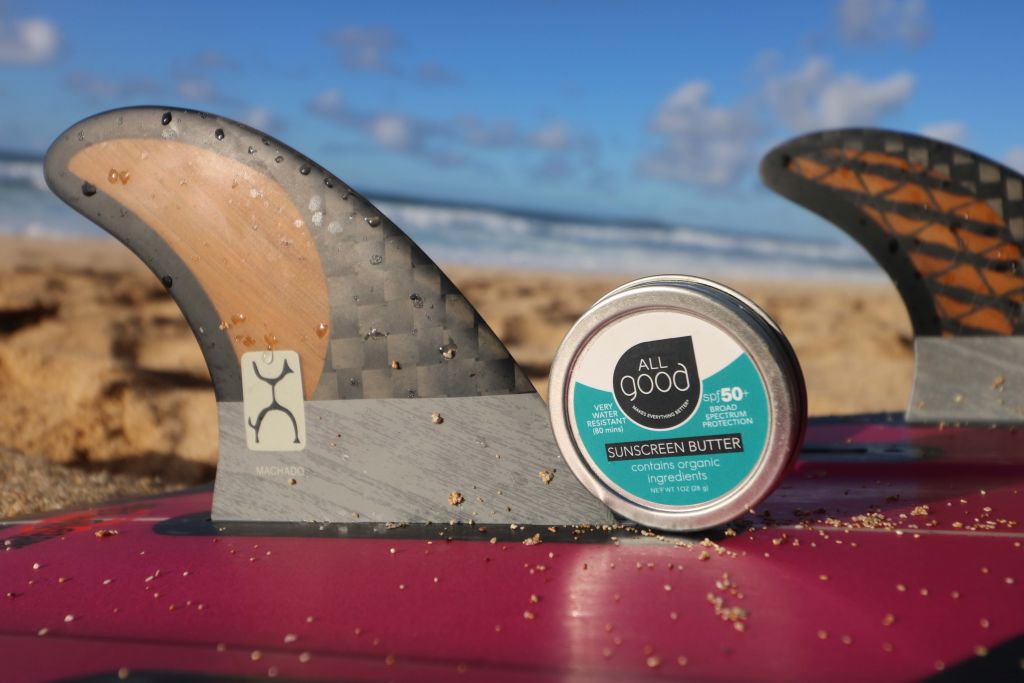 What is All Good's bestselling product?
We have about 50 products, and our sunscreens are the bestsellers. I developed the sunscreens in 2008, and we went through many iterations of them because the early efforts at formulating a sunscreen didn't meet our strict standard. Using beneficial ingredients and non-nano zinc oxide, and making it biodegradable, safe and effective was not an easy task. At first, everything looked great on paper – all the ingredients were great, and it was super effective – but it was like putting drywall on your face. We spent many years developing new formulas. Even when we had a formula that wasn't super sweet, people used it, but the formulations we launched in 2016 and 2017 have really helped our sunscreens take off. They are much more user-friendly.
When do you plan to reach profitability?
It's a dynamic dance with profitability. We have had profitable years, and we have had years where we have reinvested everything and more back into the company, and didn't show a profit. We hope this year will be a profitable year.
Who is the target customer for All Good?
We target what we call the eco-mod. The eco-mod doesn't necessarily mean they want to be eco-friendly. The environment is a secondary piece of it. The core desire of this customer is they want products that feel good, work well and fit their trajectory. Fit their trajectory means they might buy a single-use water bottle if they are thirsty, but, if they can find a better alternative, they're happier. It's largely women, but men are certainly part of it as well. We are constantly checking back with them to make sure we know who they are and what they want. We first identified them through our branding exercise in 2012.
Where is the brand sold now?
Our primary channels are natural and outdoors. We are in around 3,000 doors. In the early days, I would go to every climbing shop, ski shop and health food store I could find every city I traveled to. That's how I built the first 500-plus stores. When it became obvious we needed to reach a little further, we started selling through the distributor UNFI. Today, we have a few distributors we sell through. We have outdoor distribution with Liberty Mountain and A16 as well as UNFI. Distributors can be challenging. They've been helpful to increase the number of stores we sell to, but it can be difficult to manage how the products are doing and where they're being sold.
All Good has entered Target. What are your thoughts on going into a big chain like that?
We are on Target.com, and we are a test brand in a handful of Target stores. If you asked me 10 years ago if I would be selling in Target, I would have said, "No way." It turns out that Target runs a pretty good business. They have a sense of ethics. When I first went to Target for a meeting, they said, "Oh, you're a B Corp. That's great because we are looking for more B Corps. Oh, you are woman-owned. That's great because we are prioritizing that." I thought, "Wow, that's great!" It was a good education for me not to pass judgement before I learned about something. The more that we can sell sunscreens that eliminate toxic chemicals, are reef-friendly and don't contain endocrine disruptors, the better. I want them to be in everyone's hands.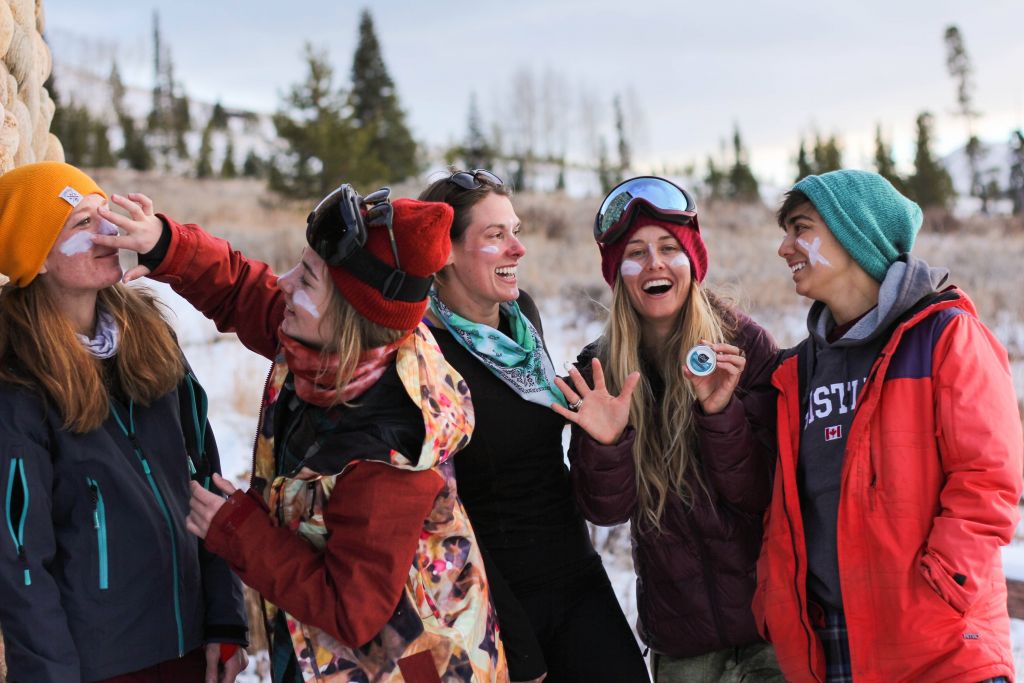 What do you do to support smaller retailers as you do business at Target?
We do lots of in-store training. We are on the ground meeting with their teams. We give their employees samples and testers. We have a campaign that runs each year which is our top 100 independent retailer campaign. We offer them discounts and deals, and sometimes products first.
Is All Good available on Amazon?
We have been on Amazon for two years. We have a third-party group that we work with that manages our Amazon store for us. It's amazing. They take care of all the logistics with Amazon. We process the orders, and meet with them to look at where we want to increase sales and how to do it.
When did your company become a B Corp and why?
We became a B Corp in 2009. I had already been working hard through my own mechanisms to measure our impact as a business. It was really cumbersome to do on my own while running a business. As soon as I understood B Corp, we did the assessment and became certified. It provided a stamp that communicated to all our stakeholders that we have measurable way to showcase best practices for environmental and social responsibility. As we have grown, they've also evolved and have gotten really good at improving what they're measuring. It's grown from being just a stamp to being a great tool for my team to look at ways to improve our practices.
What do you find tough about growing the brand while sticking to your principles?
It comes down to price. You can buy tubes from China for six cents, and we choose to buy tubes in the U.S. that can be double the cost. If we didn't have the ethics we have, it would be hard not to just look at cost. If we didn't care about ethics, we would certainly compromise on quality because our profits would be higher quicker. It is a challenge because, in the long run, I strongly argue that a choice for the environment is a good choice for the business. If you are going to compromise quality, it will compromise your brand. You can't run a business that's reactive and shortsighted because it can take longer to do the right thing. A perfect example is that, if you don't decide to print materials well before a trade show, Kinko's is the quicker option. A greener printer could take a couple of weeks.
You maintain a farm. How does it contribute to All Good?
We work on increasing the percentage [from the farm] all the time. Our farm is 50 acres, and we really only farm three acres of it, but we have grown our calendula production many, many times over to meet the needs of our products. The calendula is incredibly valuable from a medicinal perspective, and it's really special to us that we are the providers of it. And it connects us to our supply chain. We clearly know the quality of it because we grow it.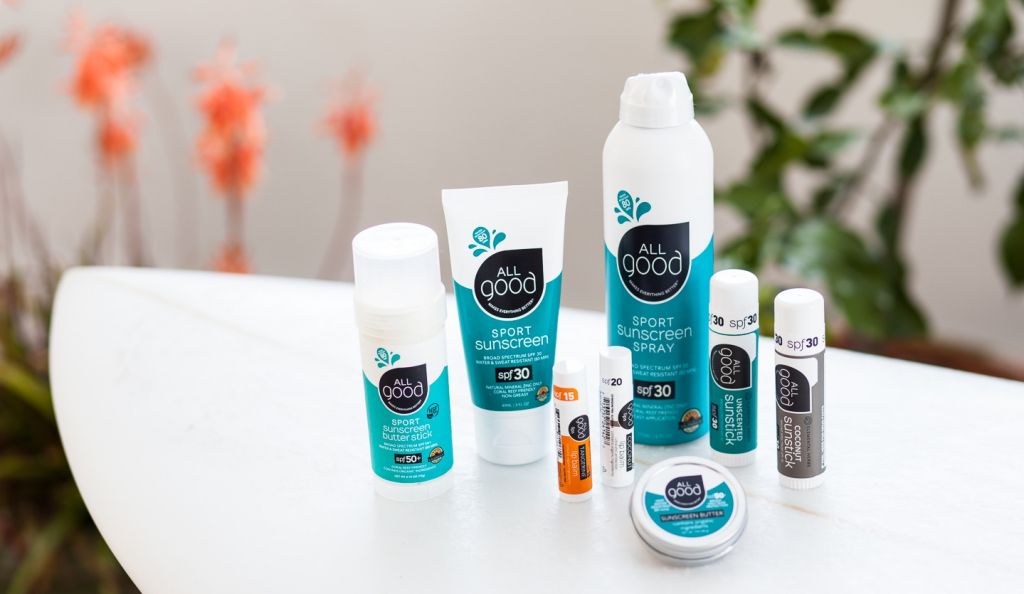 How do you make All Good Goop?
Every single jar of All Good Goop is poured by hand with intention and affection. We rent out a community center with a solar-powered kitchen and, every Tuesday, a team of women makes small batches by hand. The woman who runs it is named Audrey [Taub], and we call her the Goop Maven. She was my first employee, and now she's a production manager who runs her own team.
What's challenging to you about building a brand?
The consistency and persistence it requires. There is no off button for brand building. It's not only about building the brand, but it's also about building the company that supports the brand. It's a challenge to be responsible for a team of people and wanting to make sure they are well taken care of while getting things done. We have 12 people working for the brand.
How have you responded to the desires of your team?
A year-and-a-half ago, we had a third-party survey done by a business group who came in and asked a bunch of questions. The employees wanted things that weren't offered. In one all-hands-on-deck meeting, we announced we were starting a 401(k) plan with a matching fund. We increased wages. We upped vacation from two to three weeks. We improved our healthcare options, and we went for a flexible work week. I want them to have whatever they need to do the best job they can do. Eventually, I want employees to have equity as well.
Has it been expensive to make those changes?
It's definitely an investment, and you can't do one trade show a year and pay for all of it, but choosing to invest in our people has been well worth it. It's costlier when people quit, and we have to hire new people. It's about being in it for the long haul versus sticking it to people every day.
Has there been a rejection that's particularly stung?
In the early days, I almost never had a rejection. My husband [Ryan Rich] is now our vice president of sales, and he's dealt with a ton of rejection. The one that stung the most, which has a great ending, is Sprouts. Every time he would get a letter back from them saying, "No, thank you," he would have to go surfing to get over it. But we just got into Sprouts. Persistence paid off. I think it was six or seven years of rejection. How I first got into Whole Foods is I had a notification on my computer to call Whole Body every Thursday at 11 a.m., and I did that for nine months. Nine months in, Whole Foods said OK. Now, we are in nine out of 11 regions.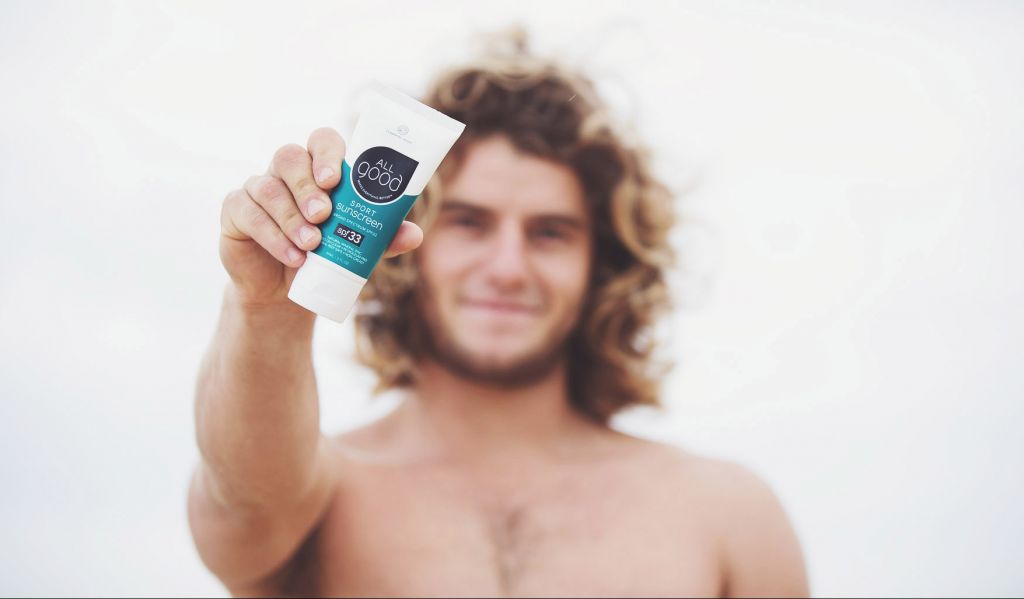 Have you done any fundraising?
We recently did our first formal fundraising, and we did a convertible note for friends and family. A convertible note is essentially formatted like a loan. When we have an equity event, that will trigger those loans to convert into shares in the company. We raised $550,000. I wasn't ready to open ourselves up to an investment group that could put pressure on us. It was smarter to go initially to friends and family who understand our business.
How big is your business in retail revenues?
Our total revenues are $3 million, and we have grown anywhere from 15% to 40% a year.
How much of your business is through your own website?
It's less than 5% through our own website. The rest is wholesale, and we also do private label for other brands or individuals. That's about 25% of our revenue. It's a complement to our business. We make lip balms for Patagonia, Clif Bar and Keen. We also make sunscreens for non-profits who give them away for skin cancer awareness. If someone just wants a lip balm for their wedding, we do that.
All Good has been in Whole Foods for a while. With the natural grocer being acquired by Amazon, what do you think is going to happen?
A year before Amazon bought them, our sales started going flat in Whole Foods. We recognized that something was going on. They are not really the player they used to be. They are not the only ones filling the niche for people getting their everyday organic products. Now, it's wide open. I don't know what's going to happen.
What are goals for All Good going forward?
We want to be a leader in innovation for natural and organic products. I would like to dive deeper into the supply chain, and start to actively solve supply chain problems. We want to raise the tide for the natural sunscreens. Right now, zinc oxide sunscreens make up about 5% of the industry. I want them to make up 95% of the industry. I want to lead a revolution to eliminate chemical sunscreens.