The Allure Of Allure, According To EIC Jessica Cruel
Jessica Cruel holds two titles: landlord and editor in chief of Allure. The former role involves a Newark duplex that has a habit of keeping her humble. Late last month, her bedroom ceiling opened up and water from exposed pipes leaked into the room. "I may be an editor in chief, but I will be sleeping on my couch tonight," she says. The latter has made her the third person atop the masthead of Condé Nast's beauty magazine. Linda Wells was EIC for 24 years until Michelle Lee took over in 2015.
The roles aren't as different as you'd imagine. In both, there's a ton of troubleshooting. "Being an editor in chief and being a landlord requires a lot of the same skills, but it's really kind of left brain, right brain," says Cruel. "One's very creative, and one's very hands-on and technical in a way."
Originally from Albany, Ga., Cruel started her media career as an editorial assistant at PopSugar. From there, she went to Self before landing at Refinery29 as the deputy beauty director. She's been at Allure for two years, holding features editor and content director roles prior to the EIC post. According to owner Condé Nast, the publication's traffic has jumped 5% this year, and readers are spending 13% more time poring over its content than they did in 2020.
Since becoming EIC on Sept. 8 at a challenging moment for media and a cataclysmic moment for the world, Cruel has been guiding Allure virtually while mostly wearing pajama pants. She's very ready to make her return to the office this month. Cruel says, "Being on a beauty team is so much fun, there's always product and we're always sampling things on each other's hands and arms and talking about the latest mailing, so I miss that camaraderie and those conversations and sometimes great story ideas come from those little water-cooler chats."
In a wide-ranging chat with Beauty Independent, Cruel was open about what the job of editor in chief entails today, why she's begrudgingly embracing being on social media, brands she's excited about and the importance of micro-communities to the future of Allure.
What drew you to media?
I always imagined myself in a glamorous New York job, the big city with a bomb pantsuit on, looking out from a skyscraper and being fabulous. As a high schooler, I had no idea what was going to get me that job, especially coming from Albany, Georgia, which is really Southern and rural in a way. The more I got into school, I realized that magazines and journalism were things that I enjoyed.
Once I did a few internships in the magazine realm, that was it. I wanted to work for magazines. I've been pursuing a career in journalism and magazines since when I was a junior in high school. I went to my first journalism camp—because I'm a nerd like that—and, from there, I've just had a one-track mind to being in media
One of the earliest lessons I learned was from my first New York internship at 4 Times Square at Condé Nast for Self magazine. I talked to my internship manager at the end of the summer, and she was like, "Go back to school and figure out how to work the internet because it's going to be big." It was the best advice. I was originally going to be a reporting major, but I changed to multimedia journalism, which meant I was coding websites and doing video. That really steered my career in the right direction.
What about beauty? 
Well, my dad had thoughts about me writing about mascara for a living, but I told him beauty was so much more than that. At the Self internship, I spent time in the beauty closet, and I just really enjoyed it. I love fashion, but I wasn't a fashion girl. At that time, I still felt on the outside of fashion. My hips were curvy, and I always felt kind of awkward, but, with beauty, I always felt like there's so much opportunity here for access.
Anyone can walk into a CVS and get a $1 lip liner. That means that, being from Albany, if I wrote a big story, my friends would be able to relate to it and interpret it in their own way. That was what really attracted me to beauty because it felt very limitless in a lot of ways. It definitely wasn't perfect, but I'm so glad that I went that route.
What drew you to Allure?
I don't know if I've told this story before, I went from PopSugar to Self and, during that time, I had also interviewed at Allure. Because of some things that were happening, I wasn't able to come, but Jenny [Bailly, executive beauty director] and I kept in touch.
For any beauty editor, Allure is it. Every job I had, I made a list of the publications I want to work at next, and Allure was always on that list for me. So, it was always in the back of my mind, and Jenny didn't forget me either, which is funny. She literally sent me an email when I was at Refinery29 and was like, "Hey! I have an email between us from five years ago, want to meet?" I was so excited to come back and work with Jenny and Michelle at that time and be at what some people say is the beauty Bibles.
Was being EIC always a goal of yours? 
On my Instagram, I posted a magazine I did in high school called the "ONYX," where I was editor in chief, cover star, editor and writer as a senior project. I think that person, that young version of me, definitely wanted to be editor in chief. As I got into the industry, I worked a lot in digital, and that dream kind of took a backseat, almost disappearing. I was like, "Maybe I'll write, work for a beauty brand and write a book," the typical beauty editor circuit.
But, when I came to Allure, I remember after a few months saying to a friend of mine, "I never thought I'd be editor in chief, but I think I would do it for Allure." With Michelle leaving, it brought that back in my mind. I was apprehensive at first, but the application process just really brought it home for me that leading this team is what I truly think that I was building towards this whole time.
What's the key to Allure?
What's key to Allure is the trust that's there. That little red seal is really the first time most people meet Allure. Sometimes, people don't even read it, but they know, "Oh, this means it's good. I know that this means this is quality. It's been tested by a group of people."
That level of authority and trust, not only that we have with our consumers and shoppers, but that we have with people in the industry who read us and collaborate with us on shoots and stories, that means everything. Our authority and our trust are what have allowed us to thrive for 30 years now.
What's driving traffic right now?
If you're talking about the digital aspect of Allure, people love to see what celebrities are doing. They love to see Lizzo's latest manicure and people's latest haircuts. So, we keep on top of current events, but I also think people come to us for the classic product recommendation. If you type into Google that you're looking for a vitamin C serum, chances are you going to end up on Allure because the Best of Beauty [awards] in particular have made us that authority when it comes to product selection.
In my tenure, it's my goal to also share with them some of the amazing voices we have on staff. One of our writers, Nicolaa [Dall'asen], just started a column a few months ago called Learning Curve, and it's all about body diversity and her experience. Our readers are interested in hearing personal stories that they can relate to. That's something that you'll be seeing a lot more from us in the coming year.
What's your approach to selecting cover stars?
We have a Slack group where people can drop names of people that they love. I'll be honest, I'm pretty boring. I sit around here watching ABC TV shows and listening to old-school R&B hits. So, I rely on our amazing staff to be on the pulse of things and to build a type of culture where we can all share our excitement about something we just saw or that we're interested in.
When it comes down to the final decision, I haven't made very many, but the first couple that I have made it's been a gut reaction. We have a talent team that does a presentation to our senior team when they have some ideas and usually one name gets dropped in that I'm like, "That's the one."
I'm interested in putting people on the cover that I am inspired by that give me that "oh my gosh, it's going to be epic" feeling. You can't see my face, but I'm smiling hard right now about our February cover in particular.
What else do you hope to improve at Allure in your new role?
Michelle was so great about bringing diverse faces to Allure and, obviously, it's important to me that we continue that. Also what's important to me is that we activate diversity in experience. I think a lot about the accessibility package that we did last year around this time. We highlighted people with disabilities and how they interact with beauty and heard their stories. That was pretty powerful to me.
In this next iteration, we're going to be spending a lot more time with these smaller groups of people, micro-communities that are so engaged and active. Think about your favorite Reddit thread, how do we bring those communities to Allure? It's really important to me that we engage with a group of people really passionate about beauty. Beauty can be used in so many different ways, and people gather around the type of beauty that they love. That's what we're going to be seeing a lot more of for Allure in the coming months.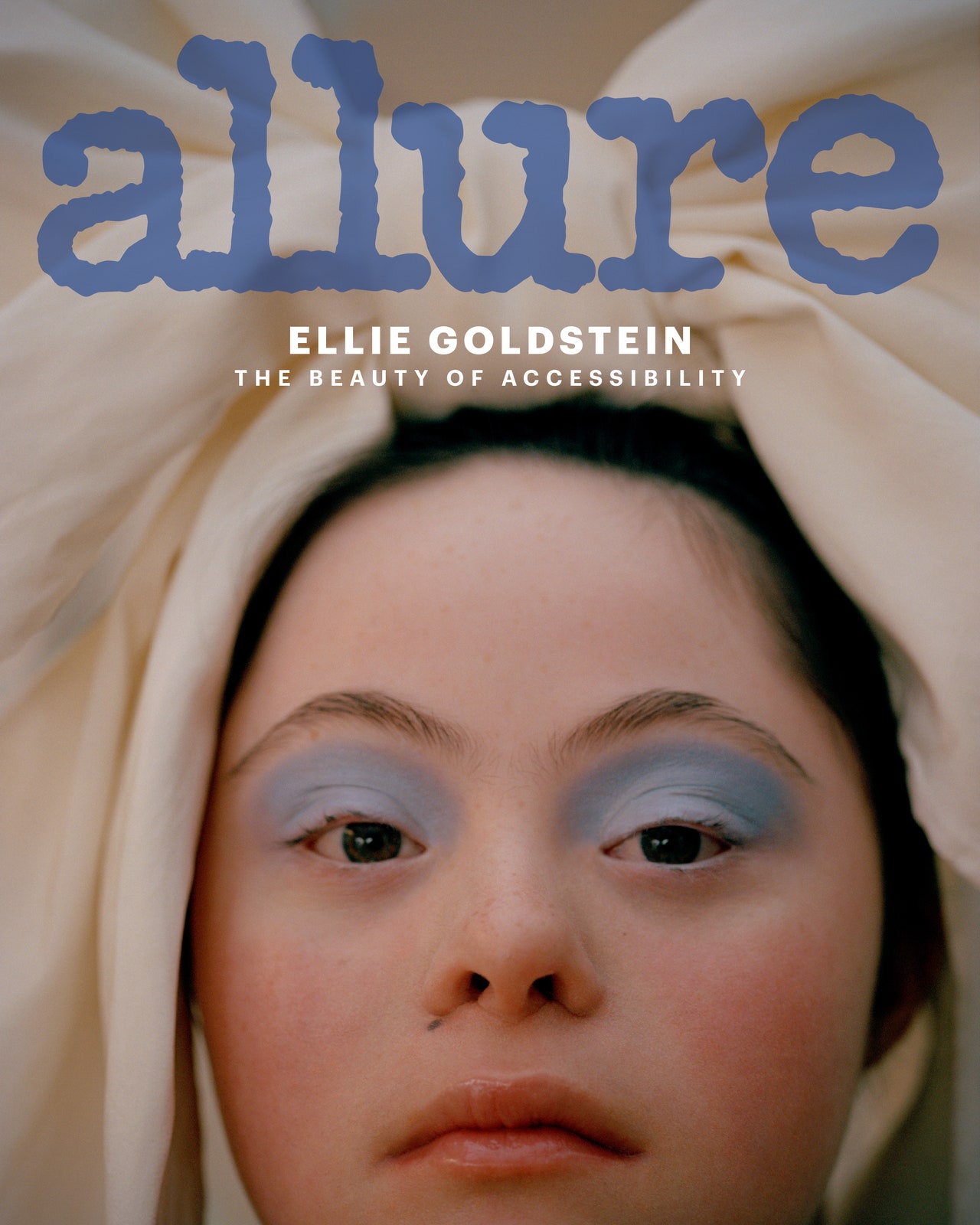 Allure has banned a number of terms such as anti-aging and recyclable. Are there words you think should be banned next?
We don't ban words lightly. Especially being journalists, we love words, but we do think that some are just marketing. Recycling, biodegradable, those words are used to confuse the consumer, and our job as journalists and as beauty editors is to cut through the crap.
We are really particular about how we cover things like clean beauty, for example. We have our own standard so that, when we say clean beauty, you know what it means. We're doing a lot of clarification, and that's what matters. We had the first part of our sustainability pledge last year, and we're going to keep doing work in that realm in the next year because we think it's important, and we know that our readers care about it.
I don't necessarily think there are words that I'm ready to ban. I'm not here with my red pen saying, "Never again are we going to say this word," but, oftentimes, we talk about words like "natural," "green," "clean," "organic," we talk about how we can define them for Allure and how we can help the consumer understand.
How do you think the editor's role has changed over the years?
Being editor in chief has always been seen as a very glamorous position, and there are definitely some glamorous perks that are a part of the job, but I think more than anything being editor in chief is very much so about being a businessperson.
The more and more I take on this role, the more and more I realize that I'm running a small business. We have our Allure Beauty Box, a subscription model. We have our Allure store, which is a retail opportunity. We have our Best of Beauty seal, which you see in Sephora, Ulta, CVS, Walgreens and Target. Then, we have our print publication, digital site and social media.
Being editor in chief is about the words still, but it's not just about the words. Nowadays, being editor in chief is about how you build your brand and future-proof the business. Being editor in chief used to be what I like to call a twirling job, going to events and meeting people. I still get to do that and that is so much fun, but a lot of my day is spent thinking about how can we do something that is going to be a good business decision, but also be exciting to the reader and people who love beauty.
You haven't been that front-facing on social media in your past roles. Do you plan on changing that? 
Have you been talking to my boss? Yeah, I went ghost on social media, and I've been told that's no longer allowed [laughs]. I started my career at a time when social media wasn't a big part of being a magazine editor, and I didn't lean into it probably as much as I should have at the beginning of my career, but I am excited about the things I'm about to learn.
Literally, I was on a call earlier today with our social media team, and they were trying to explain to me how to do IGTV. I will be shooting my first IGTV, and it's something that I have to do better at. I said that long before I became editor in chief. These days, social media followers are a crucial part of the job because that shows influence. You will be seeing more from me on social media.
Are you looking forward to it or dreading it?
I'm not going to lie to you, I'm dreading it a little bit, but I'm also excited because there are so many things beyond beauty that I'm interested in. I'm a landlord, I love finance, I love to cook, I work out occasionally. I think letting the reader into all of that, but also letting the reader into my wash day and my nighttime skincare routine is something that I think people can learn from and might find interesting. Before, I always felt what I do isn't that interesting, but now I'm realizing, "Oh, you know, they might actually be interested in how I water my plants."
"Nowadays, being editor in chief is about how you build your brand and future-proof the business."
Indie brands often feel that mainstream media publications don't cover them. What's your take on that?
Our job is beauty. We are considered mainstream, but, within the mainstream, we're very niche. We're the only magazine out there still in print that only covers beauty. Our whole world is trying products. Our editors try the big ones, the small ones, the ones that have been around for 500 years and the ones that aren't even out yet.We have found many different ways to cover small brands. In galleries usually is the first place they show up. We have a new launch gallery every month and, if our editors really love it and have a passion for it, then it might get its own article.
For our Allure Beauty Box, we actually include a lot of indie brand coverage there because it's a great discovery point for them. Especially during the pandemic, we found that smaller brands really wanted to be in the box because, if you don't have a retail opportunity, the box is a small way to sample out to new people. So, there are definitely ways that we cover indie brands, and I hope that we'll be doing a lot more of it in the future, telling their founder stories and really digging into how we can help them succeed.
Are there brands or trends you're particularly excited about?
I really love Ami Colé, Everyone's loving that brand right now. They just launched a mascara. Ceremonia is a hair brand, Latinx-owned, that just won a Best of Beauty award. Their leave-in conditioner is really awesome. I tested it for the awards this year.
Trend-wise, one of our editors, Jihan Forbes, wrote a story about cloud hair. It's this idea that, if you have natural hair, which I do, you can skip styling and just wear it, let it do its thing. That's something that I'm very inspired by. I will say I'm not there yet, I still use gel and I still do twist-outs, but it's something that I'm striving towards, just to be happy with my hair in its undefined state.
How do you think beauty media overall could do better?
We have a ways to go when it comes to diversity in the editor mix. People you never see in the magazine, but influence how the magazines looks—writers, photographers, lighting crew and producers—we really want to have more people of color there. It's also important to have people of color front-facing. There's always room to grow in that way.
We need more voices, more stories. I feel like people still try to fit people in a box. Like, oh, you have natural hair, so you must spend eight hours on it. Some people who have natural hair like to straighten it every day, some wear wigs on top of it, not all of us do twist-outs or wash and gos, not all of us use jojoba oil or shea butter. That's what we need to get rid of and tell more individual stories to really show the expansiveness of the beauty community.