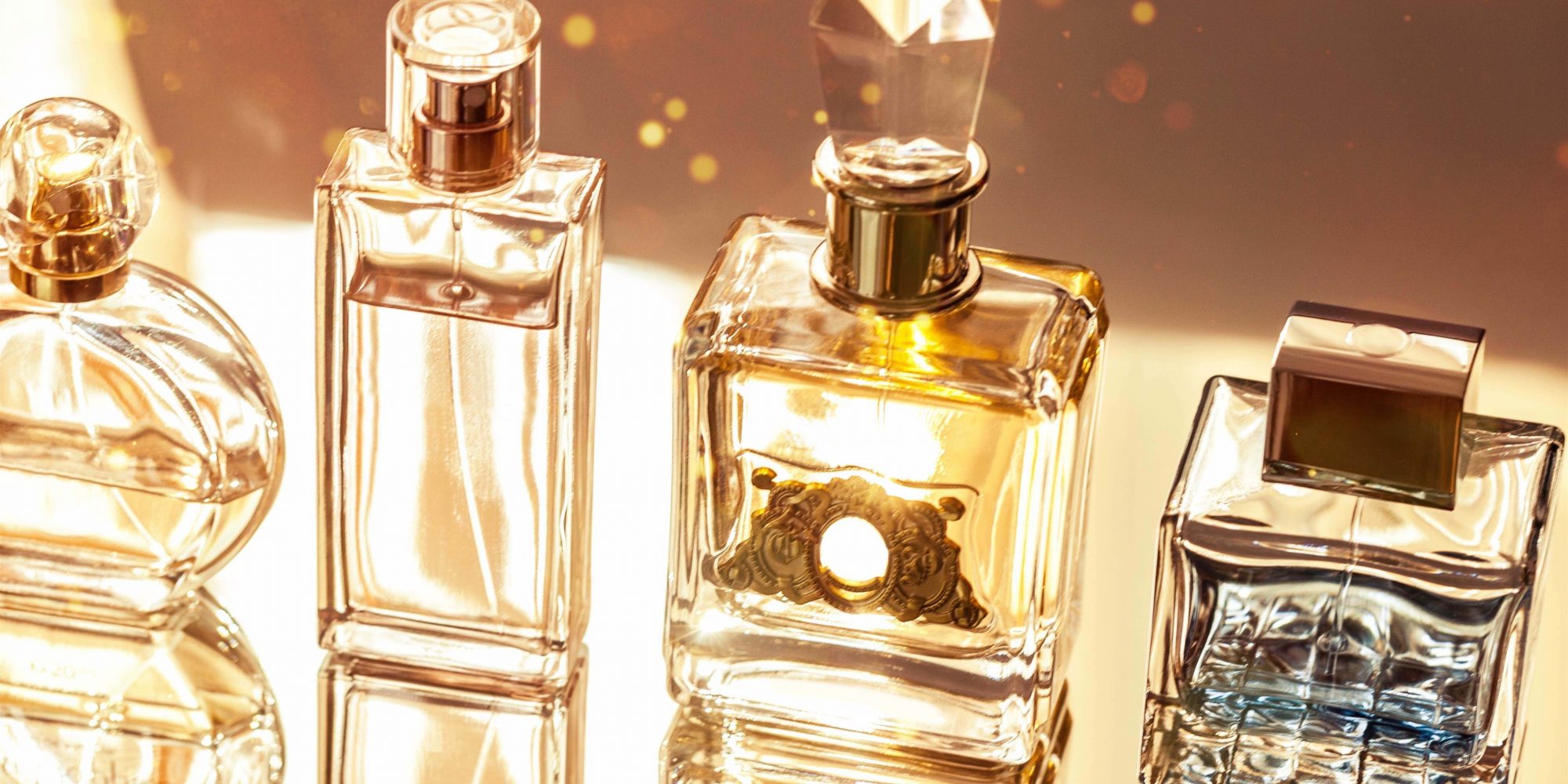 Analysts Forecast Strong US Beauty Sales Growth In The Years Ahead
Although Ulta Beauty CEO Dave Kimbell
recently cautioned
that the beauty industry's momentum in the United States could slow this year,
McKinsey & Co.
 forecasts record growth for the category over the next four years.
Specifically, the global consultancy projects that the U.S. beauty business will register between 7% and 8% sales increases annually between 2022 and 2026, a pace that's nearly double the pre-pandemic rate of 4%. The growth rate is expected to normalize at around 6% after 2026. "As an emotional category, beauty is more resilient and is considered an essential versus a discretionary spend," said Dimpy Jindal, associate partner at McKinsey & Co., during a recent Beauty Independent In Conversation webinar. 
For the webinar, Jindal was joined by Jennifer Famiano, director and beauty industry analyst at Circana, the newly named market research firm encompassing The NPD Group and IRI, and Nini Zhang, managing director of investment banking at Bank of America. Opinions expressed by Zhang on the webinar were her own and don't represent Bank of America.
While beauty represented just 1% of a consumer's total wallet spend in December last year, the category experienced the largest wallet share gain compared to other discretionary categories like home, software, pet supplies, sports and apparel, and essentials such as groceries. The gain was driven primarily by escalated consumption from higher income consumers relative to inflation-induced price bumps. McKinsey defines higher income consumers as consumers making in excess of $80,000 a year.
Prestige beauty was buoyed by robust tailwinds in 2022 as consumers making in excess of $100,000 a year scooped up prestige beauty products across categories. "These consumers are much less likely to have to cut back or make discretionary spending choices during a challenging economic period," said Famiano. 
Mass beauty held greater market share, but prestige sales grew at a faster clip and were up 15% last year compared versus mass's 9% spike. Taken together, sales in both segments advanced 11% last year. Out of the 20-plus consumer categories that Circana tracks, prestige beauty was the only discretionary category that saw unit sales growth last year, per Famiano. She reported mass haircare and fragrance sales declined last year. In prestige, no category had sales declines.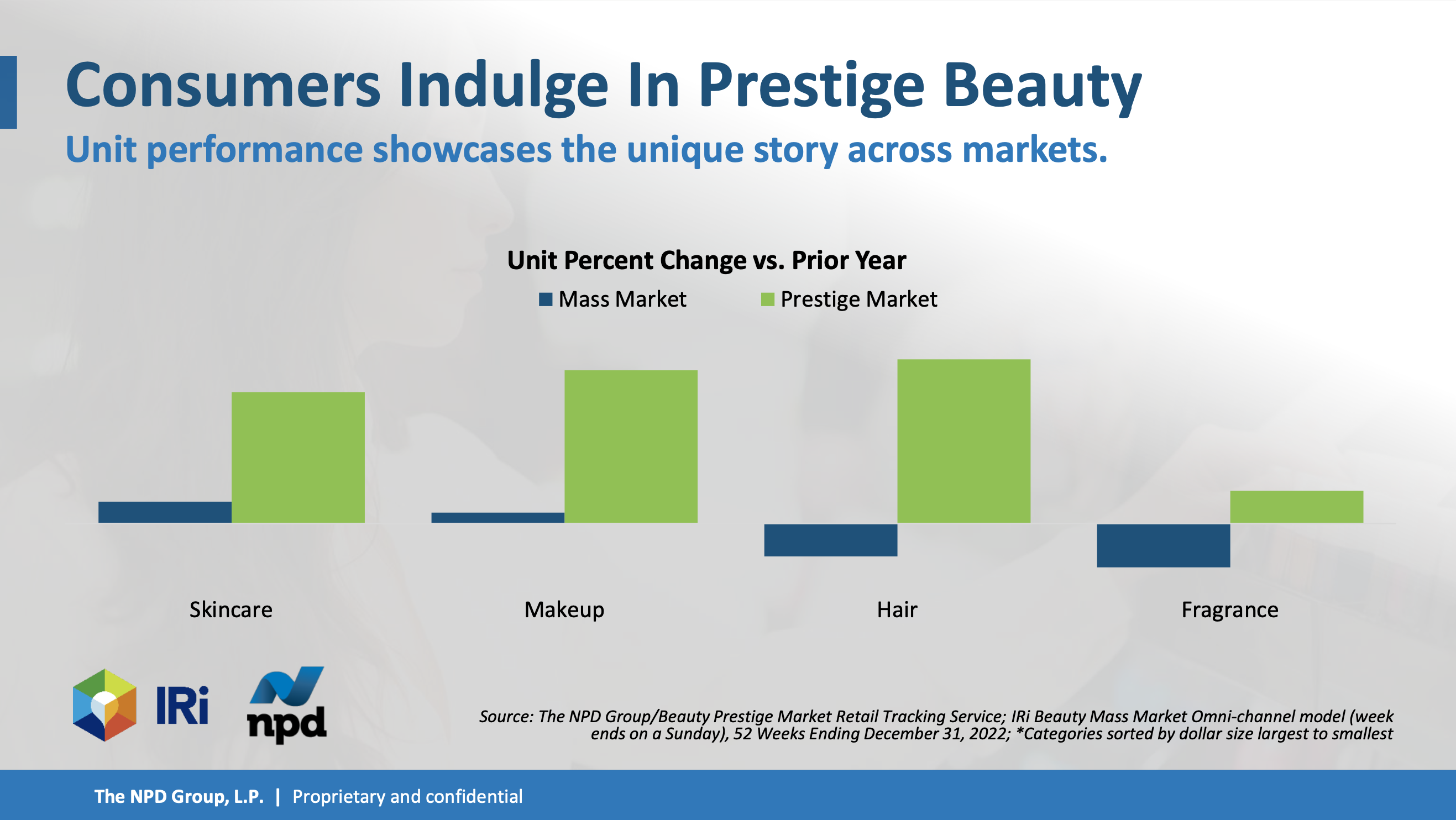 Beauty INDUSTRY Forecasts
In the next three years, Circana projects U.S. beauty dollar sales will remain elevated from pre-pandemic levels, but the firm prognosticates there will be category differences. Haircare is anticipated to grow at a double-digit percentage until 2025. In contrast, demand for makeup, skincare and fragrance is expected to soften. Famiano said, "The bottom line is that beauty is a really strong industry with a consumer that finds value in what we add to their lives."
Jindal said McKinsey is forecasting positive gains for the prestige and luxury beauty segments as the hair, fragrance and skincare categories continue to premiumize. Between 2022 and 2026, prestige beauty is predicted to gain 12% additional market share, and luxury beauty is predicted to gain 11% additional market share. Mass beauty's market share will be bigger, but mass beauty will experience slower growth. 
McKinsey believes skincare will stay the largest beauty category until 2030, registering about 5% global growth between 2026 and 2030. Jindal theorized that ongoing product innovation and an amplified focus on results-driven science-backed and doctor-led brands will propel the category. She said,"Efficacy is the new king in beauty."
Category Performance
Last year, makeup outperformed every other major prestige beauty category, notching the largest market share jump (8%) with consumers making between $150,000 and $199,000 a year. Lip products boosted makeup's performance, with its sales rising dollars and units 37% and 28%, respectively. Drilling down, prestige lip color products rang up $100 million in sales. Overall, makeup contributed 40% of prestige beauty's gains last year.
Skincare sales trended down as makeup trended up. "These two categories have a see-saw type of relationship. When one category is up, the other is a little soft and typically the change happens every four to five years," said Famiano. "So makeup has another few years to reign supreme over prestige."
Skincare was impacted in 2022 by consumers tightening their routines as they pared back the self-care practice they had established in their homes and ventured outside. Still, there were bright spots in skincare. Although demand slipped for face products, prestige body care flew off the shelves at almost three times the rate of prestige face products in dollars and twice the rate in units. Body care is the most affordable segment in prestige skincare. 
At 13% of the prestige beauty market, haircare made an outsized contribution to dollar advancement last year. The fastest growing category in prestige, it accounted for nearly 20% of the incremental dollar gains among categories. It also had the highest usage rate among consumers. More than 95% say they use hair products, per Famiano. Products geared toward hair health, scalp care, strength and restoration fueled haircare category growth.
Higher income consumers typically generate 40% of fragrance sales, but the category lost about 4% of those consumers last year. Other consumers picked up the slack and spent more on fragrance purchases. The average price for prestige fragrances climbed 14%.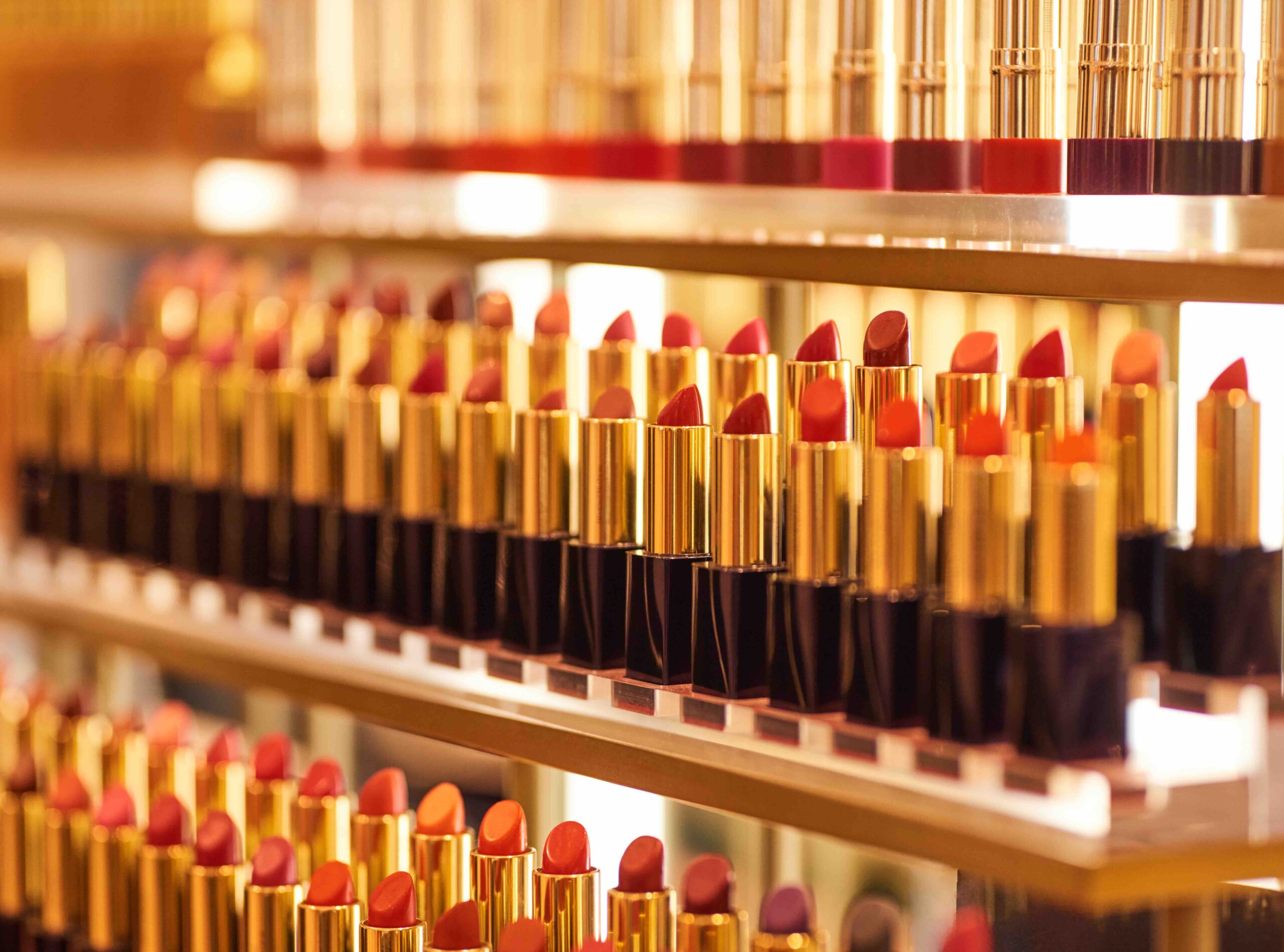 Deal Activity 
Recessionary fears have been circulating since last year, but Zhang detects no widespread economic threat in the near future. However, with the Federal Reserve hiking interest rates to as high as 5.5% this year, the economy could enter a short, mild recession around mid-year that will last until early 2024. 
Persistent economic stresses depressed mergers and acquisitions activity in 2022 as private equity firms struggled to raise funds from dampened leveraged finance markets, said Zhang. Strategic buyers that were looking at assets to buy zeroed in on assets with strong value propositions and profitability.
"People want to check the 20% growth box, the 20%-plus EBITDA margins box, the 70%- to 80%-plus gross margins box," said Zhang. "Those are the traditional metrics that a strategic would look for in addition to good brand equity, international expansion plans, real market differentiation and whether a brand can cross category lines."
Zhang said that there are delays in the M&A process as actors wait for market conditions to improve. With transactions largely stuck in wait-and-see mode, assets are shoring up their operations to improve profitability. 
Private equity firms may have gotten squeezed last year, but strategic beauty buyers like L'Oréal, Shiseido and Estée Lauder are in a strong cash position to finance potential acquisitions. Zhang said, "We're talking $1 billion to $4 billion or more in terms of cash on the balance sheet that they can deploy right away."  
The 2023 outlook for the IPO market is very similar to that of M&A. Brands hoping to go public won't be valued against their top-line growth as investors concentrate on sure bets with healthy balance sheets over riskier ones. Zhang underscored, "A lot of folks got burned in that 2021 cycle investing in some of these higher growth names and now want to just invest in something safe that's going to grow."
This story was updated with new information on Tuesday, May 2nd.