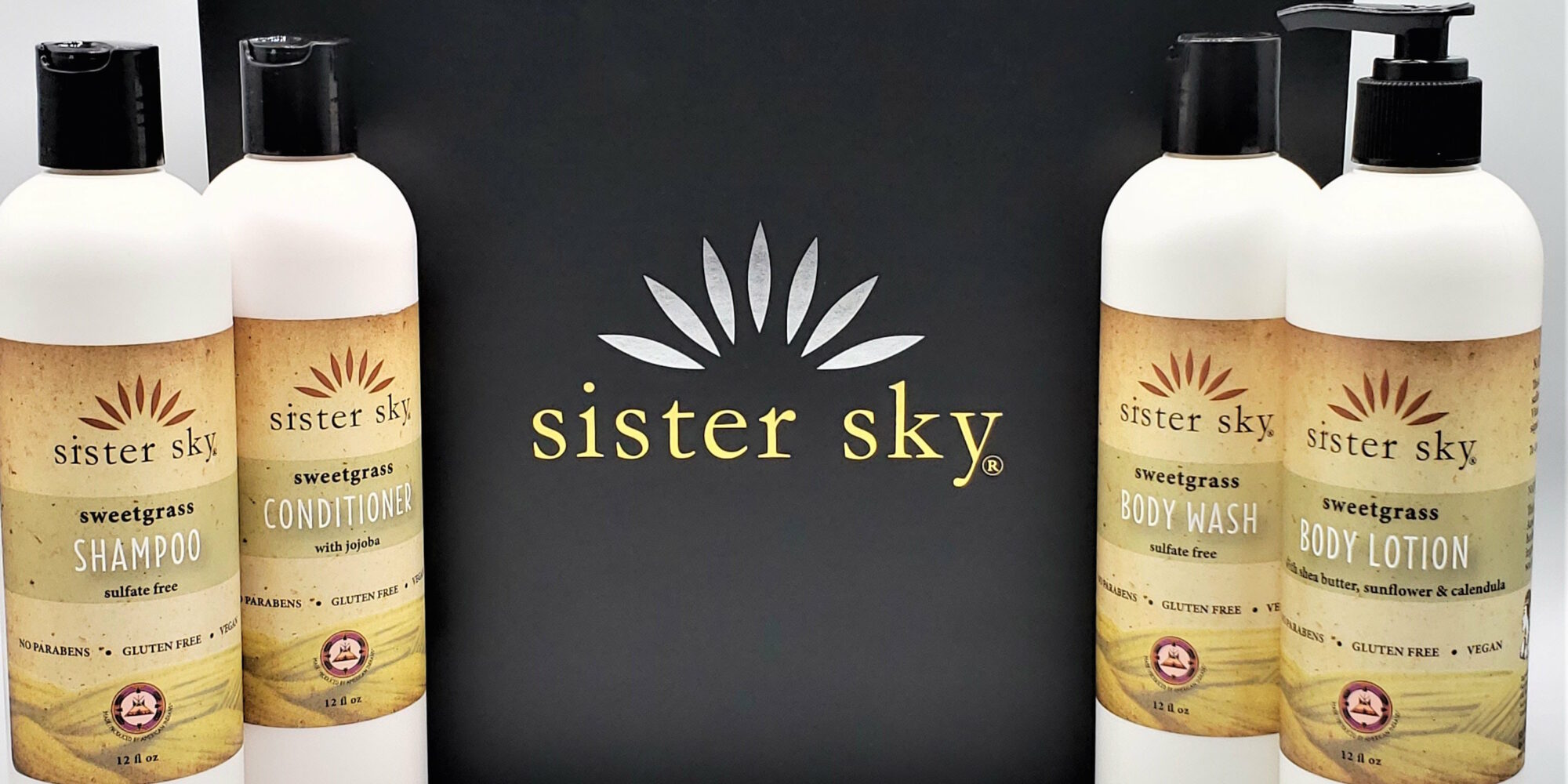 How Bath And Body Care Brand Sister Sky Puts Native American Ideas Of Wellness Into Practice
When Sister Sky co-founder Monica Simeon's six-month-old son Kevin suffered from severe eczema, she did what most parents would do. She rushed him to a doctor in the hopes there'd be a medical solution to his irritated skin. But no amount of prescriptions and over-the-counter treatments relieved Kevin's painful condition.
Desperate to find an answer, Simeon and her sister Marina TurningRobe took to the kitchen to concoct an at-home remedy. They used herbs found on Spokane Tribe land such as marshmallow root, horsetail and witch hazel that have been depended upon for generations to heal their Native American ancestors. To the sisters' relief, the resulting cream started to mend Kevin's skin. They named it Kevin's Care.
Originally, the cream was only intended for Kevin. "I would tell people about it, and they'd be like, 'Where can I buy it?'" recounts Simeon. She didn't have a plan to sell it, but a friend's advice changed her mind. The friend told her, "If you knew you had something that would help other people and didn't sell it, our ancestors would be more unhappy about the fact that you didn't help people.'" Simeon says, "When he told me that, I just started crying, and that was when it clicked for me."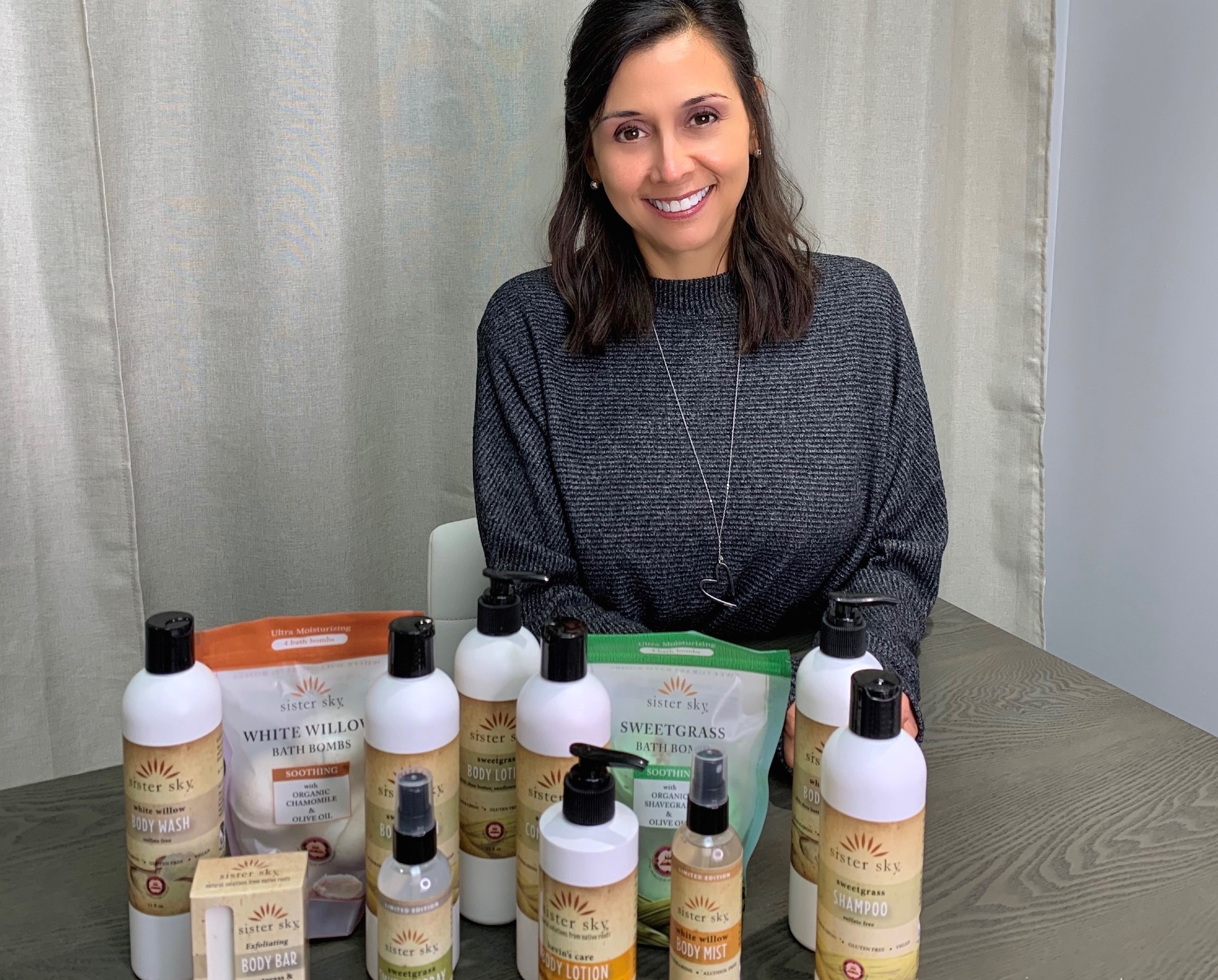 She partnered with TurningRobe to launch Sister Sky, a brand they hoped would honor their ancestors and become a family and tribal legacy, in 1999 and made it available at a local mall kiosk. Its assortment contained Kevin's Care Body Lotion as well as bath salts and candles handmade in batches of 20 to 40 units each.
Today, Sister Sky offers cruelty-free, natural and vegan bath bombs, body washes, body lotions, body mists, haircare and soap bars. Its prices run from $6.50 for Sweetgrass Soap Bar to $59.99 for a Deluxe Gift Set. Kevin's Care Body Lotion is priced at $17. "We knew we weren't drugstore or department store," says Simeon. "We were going to be in that specialty bath and body range, and we wanted to be in that range because we felt it was important to be accessible."
Kevin's Care Body Lotion is Sister Sky's bestseller and remains a staple of Kevin's skincare routine. On top of the herbs Simeon refers to as the medicines of the earth, it's formulated with shea butter, sunflower oil and coconut oil to be nourishing and conditioning. It's lightly scented with essential oils like lavender and geranium to calm the senses with application.
In 2005, Sister Sky obtained a loan to ramp up in-house manufacturing by constructing a facility on the sister co-founders' tribal land in Washington. There, the brand manufactured in a 500-gallon tank. Tragically, the facility was burned down in 2016 by Simeon's and TurningRobe's father and casino pioneer Ronald "Buzz" Gutierrez, who had a heart attack. Sister Sky was forced to scramble to pin down a manufacturing alternative and ultimately secured manufacturing at a California factory that produces about 3,500 units of its products at a time.
"Wellness is not just you individually. It's your family, community, environment, the animals."
Native American ceremonial acts like smudging have been commercialized by businesses controlled by non-Native Americans. Simeon vows Sister Sky won't do the same. She says, "When we first started, my dad actually said, 'You're not going to do anything crazy, right?' and what he meant is we weren't going to sell ceremony. I told him, 'No, we're going to honor our ancestors by highlighting natural ingredients that have always been used by our ancestors.'"
TurningRobe adds, "There is a tremendous amount of complexity and spirit to Native American ceremony that is personal and sacred that should not be commercialized. We can authentically claim heritage as our unique selling proposition and we can share the herbal wisdoms of natural ingredients in our products in a meaningful way. When non-Native American brands attempt to claim or profit from Native American heritage in their products and designs either directly or subliminally, it is something the entire Sister Sky team believes is an assault on Native American authenticity and, specifically, [is] cultural appropriation, which is fraudulent."
Since its conception, Sister Sky has been rooted in the concept of wellness, but not wellness in the traditional Western sense. "Our concept of wellness comes from our cultural values," says Simeon. "We're part of a whole and are all connected. To be well, you must be well within your mind, body and spirit. Wellness is not just you individually. It's your family, community, environment, the animals. If you understand that, your spirit is well. If your spirit is well, your person is well. It is with a well heart or well person that you live a good life."
The culturally-informed concept of wellness extends to Sister Sky's operations. "People love the community we create with our staff. There is a sense of purpose and belonging, which is tribal at the core," says Simeon. She mentions Sister Sky makes it a point to celebrate all news big and small and foster a familial atmosphere. Simeon says, "When you share food and celebration, your team feels really bonded together, and it also translates to work because they end up helping each other and really pitching in for each other because they've had that bonding."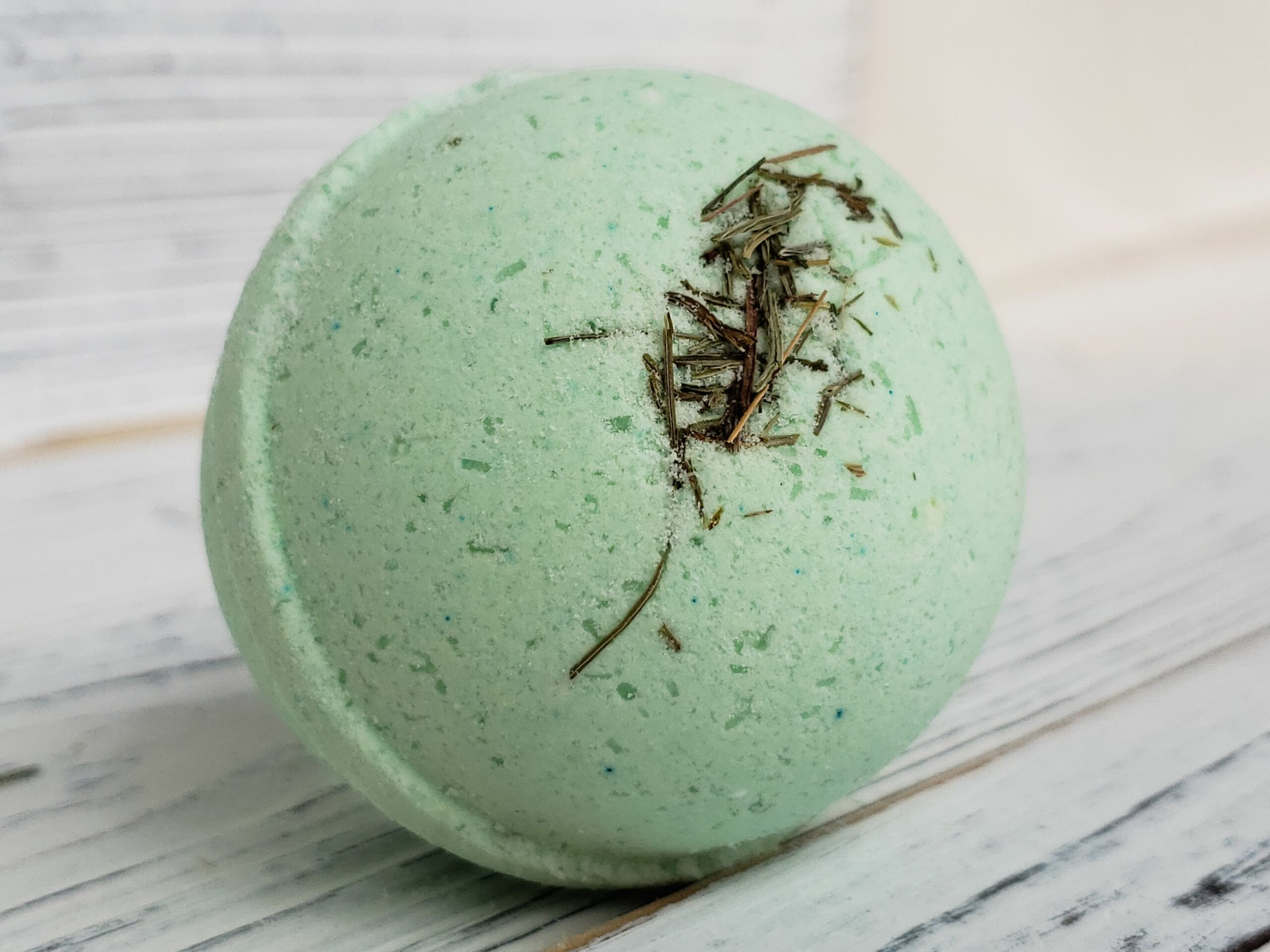 Amid the pandemic, Sister Sky has faced supply chain hurdles and orders have been delayed six to seven months. Many of the brand's retail partners shuttered their doors due to lockdowns and demanded margins as high as 90% on products. Sister Sky decided to close its retail distribution. Previously, the brand reached an extensive network of hotels and casinos. Simeon says, "We had to hold the inventory for direct-to-consumer, where we have more control over the messaging." Online sales have jumped 93% as pandemic-era shoppers shift to e-commerce.
While the pandemic has been tough, Sister Sky's six employees, including TurningRobe's daughters Stephanie and Sophie, have pulled together during it for brainstorming meetings on Zoom and to accelerate brand awareness on social media. "Before the pandemic, we were not really focusing on social media and building a community," says Simeon. "It forced us to really sit down and put some strategy into it. It's more than the shampoos and lotions. It's about how we can tell you more about why we do what we do."
Sister Sky supports Native American communities by committing 2% of its proceeds to organizations that have included Native Youth Leadership Alliance, Salish School of Spokane and Holistic Native. In 2019, the brand donated $2,500 to nonprofits. Outside of its personal care enterprise, Sister Sky has a contracting arm called Sister Sky Inc. specializing in business management services for Native American companies and professionals. Its goal is to assist Indigenous people with developing companies that can be passed down for generations to come. Simeon says, "The pride and work that goes into building a company isn't something we can just sell for money."
Originally published November 10, 2020.