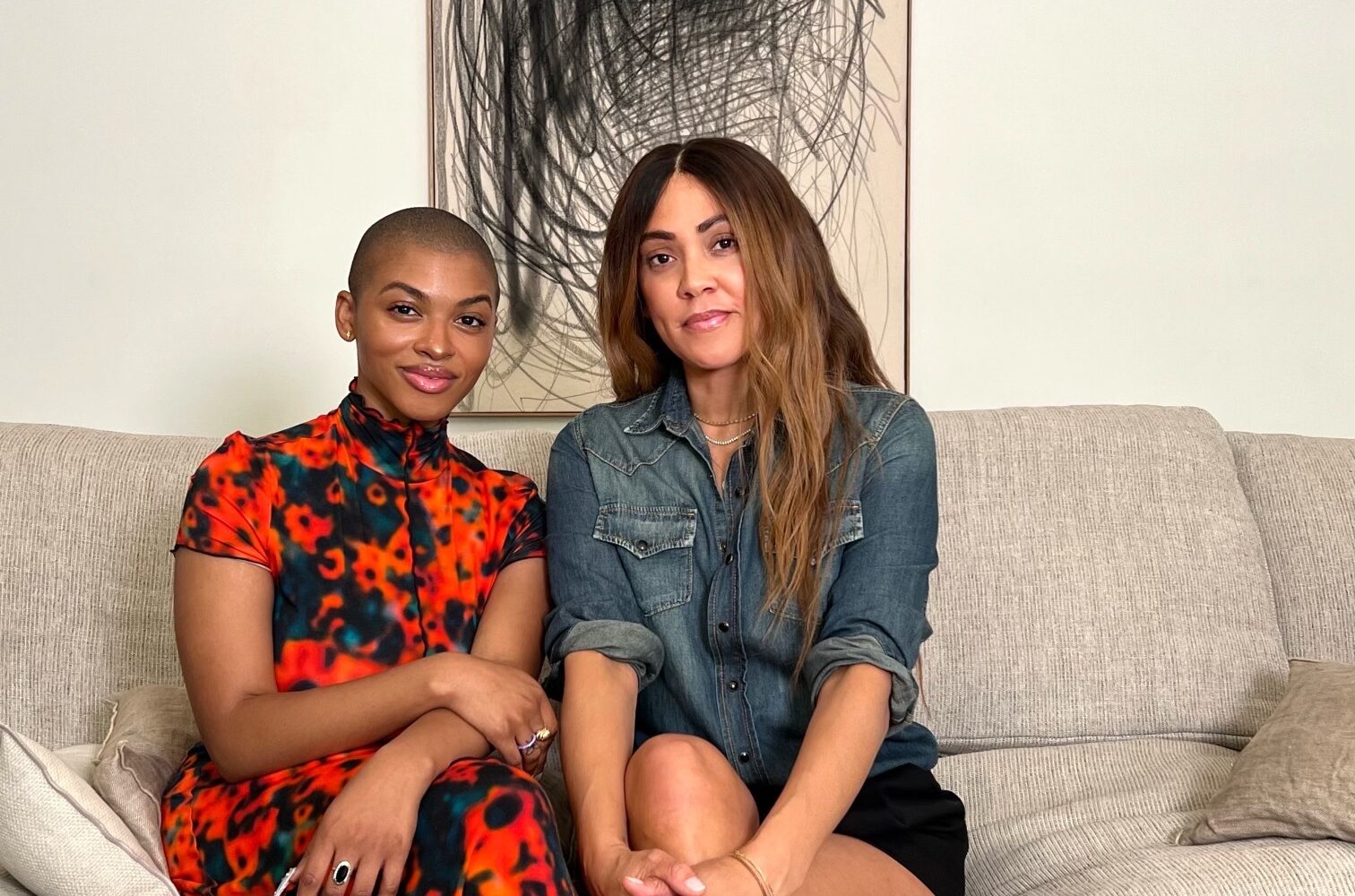 Beauty Brand Founders Shani Darden And Sienna Brown On The Importance Of Mentorship
The mentor-mentee relationship between Sienna Brown, former event planner and founder of the beauty brand Glosshood, and celebrity aesthetician Shani Darden, founder of Shani Darden Skin Care, was jumpstarted by a GIF Brown sent Darden two years ago via direct message. Now, they often FaceTime each other to share entrepreneurial struggles and bond over their similar eating habits.
Inspired by her guidance of Brown, Darden launched a mentorship program in 2022 to spotlight and advise other beauty brand founders and aestheticians of color. Past participants include Master Thyself Skincare founder Mercedes Valencia, Mora Cosmetics founder Minara El-Rahman and SRNDR founder Alexandria Smith. Darden is bringing the mentorship program back this year.
"One of the things that I learned from this program is how collaborative and beautiful people are," says El-Rahman. "When we work together, we create a better beauty industry. I'm forever grateful for Shani and her team for giving us access to tools and things that we didn't know we needed as beauty founders."
Brown, who's a member of the latest Sephora Accelerate cohort, says Darden has been instrumental in getting Glosshood off the ground. One of the best pieces of advice she received was to secure a copacker to help the brand scale in the coming years. Brown developed the formula for Glosshood's hero product Holyyy Gloss Balm herself and worried an external manufacturer would sully it.
"I was completely wrong, the results were incredible," she says. "That one piece of advice has truly freed up more of my time and allowed for me to work on other parts of Glosshood. This is the reason I'm a fond believer that, no matter the industry, seeking mentorship can save you in more ways than you could ever imagine."
Ahead, we chat with Brown and Darden about how they connected, the importance of having a mentor, and why more founders should slide into the DMs of their role models.
How did you meet?
Darden: We actually met because Sienna's best friend's mom is one of my best friends. So, I knew about Sienna through her, and then Sienna DM'd me and said, "Will you mentor me?" Now you basically live in my house sometimes. I don't know how we got to that next level, how did you get here?
Brown: How did I end up in your house [laughs]? I think the first time we got together was for an interview that we were doing.
Darden: Then, we fell in love, and it was like magic.
Brown: I was like, oh my God, I can't live without her. It was just so normal and natural. She's like my mom-sister-cousin.
Darden: She's part of my family at this point, but it started with me just trying to help her. My husband [Anthony Ferrari] is really involved in the business part. They talk all the time about next moves. If I'm doing anything for my business, I always like to include her, so she's also able to meet all the people that I have been working with for a long time.
Do you have a set number of times you try to connect a week or a month?
Darden: Tony and her have scheduled meetings, and I'll walk through the house and be like, "Oh, they're still talking." At this point, she's ready and set to go. I helped her with meeting people from Sephora, and now she's in [the Accelerate] program. We're just here to help her in any way as she starts to grow more.
Brown: We're at the point where I can FaceTime her whenever. The other day I had this random rash. It was so scary and I was like, "I'm going to urgent care." She's like, "No, don't go, you're fine." There are those little moments that you can just text this person and they become a lifeline for you. It's nice, it's more of a friendship.
Is there advice that Darden has given you that's stuck with you? 
Brown: She reminds me to be persistent and to not be scared of being a nag. If you want what you want and you need an answer or you need a tube or a formula or something, just ask for it repeatedly. There's so much going on. We all have ADHD by now, and it's sometimes so hard to just zone in and get the one email out or get the call out.
I have learned, from working with Shani, that I could call her as many times as I want. She might not answer, but she'll be like, "Oh shit, I need to go ahead and do X, Y, and Z for Sienna." It's just about keeping yourself top of mind for people.
She really pushed me to see that and not believe that I shouldn't be bothering so and so. Especially people who are young in the industry, they feel scared or feel like they're imposters or not ready for what's coming next and just that little note shifted my confidence and shifted how I maneuver.
Is there anything you've learned from Brown through mentoring her?
Darden: Just to be a calm person, to relax. Don't get all crazy. Sometimes it's really hard in this business because not everyone is necessarily out to help people, and I get very sensitive to things like that. Sienna's more like, "Don't worry about this, keep it moving." I get a lot from that. She's somewhat more normal than I am as a human.
Is there common advice that you tend to give out to a lot of founders or aspiring aestheticians?
Darden:Usually around just reaching out. We're in a really good place right now in the world where everyone wants to help. Back in the day, everyone pretended they wanted to help, and now it kind of feels like there's a shift where maybe people actually aren't just about themselves and that they want to help. I hope it stays that way.
Not everyone is fit to do certain things that they think they're supposed to do. Having someone around that's going to really guide you and be honest with you, that makes the world of a difference. I do think, at this point, you can reach out to anyone you want and someone's going to answer. That can really help a lot.
Brown: I second that. I feel like that's the No. 1 thing people ask me all the time, "Oh my God, how is Shani your mentor?" I'm like, "Reach out." Literally DM them. I can't believe that we have so much access to people these days. We don't have to go on LinkedIn, we don't have to get an email. We can literally just message them.
I feel like sometimes people get scared of the nos or the what ifs, and you get your mind so wrapped up in that that you stop yourself from actually doing the thing. For me, I just say, "Dive in." If you want, tailor that one message to different people in different ways and send it out to people. You never know who is going to see it and want to reach back.
Like Shani said, I think there are so many people who actually want to do the work and actually want to share their knowledge. I feel like we're in the perfect place for people to do that. All you have to do is be brave.
Darden: And people love to talk. So, if they have the opportunity, people will talk your ear off and teach you. I've never seen so many brands out as I've seen right now. I think there's definitely room for anyone and everyone.
Why is being a mentor important to you?
Darden: It's just about giving back. That's really important to me. I wouldn't have even thought of even doing the program until I started working with Sienna. I was in a place where I was like, what am I going to do? I don't have money to give, what else can I give?
It's hard for anyone to break out in this business, especially women of color. Not everyone can do it, so it's just been nice to guide people and see how it goes for them but be there for them when they have any questions.
Why do you think having a mentor is important?
Brown: At our first meeting, I was like, "I am going to bootstrap, this is my plan, this is how I'm going to do it." The more I learned, the more I was like, "Sienna, you don't know anything at all." There is so much knowledge to be gained when you're talking to someone who's been in the position that you've been in and built their company from the ground up. You have to be willing to listen. You have to be willing to understand that you don't know everything.
You have to also be willing to pivot and be nimble in that way. For me, I've had so many moments in Glosshood where I've thought, oh my God, this is going to go this way or I'm going to do this thing next or I'm going to release it this date, and I'm like, whoa, pull back, you're not ready yet or let's put these things in place. So, I just think it's about finding the people who you align with and seeing that there's always a chance for you to change what you're doing.
What advice do you have on how to find a mentor outside of a program? 
Darden: I really think just reaching out is probably the biggest way to do it. I know at this point there are so many places or spaces that have these new mentorship programs, but, with that being said, some of them are just so big that you could get lost, and it can be very difficult, it doesn't become about you.
Brown: One thing that helps for me is I create lists for everything because that's the only way that things get done for me. I actually wrote out a list of people who I was considering for my first mentor ever. I wrote them all down and I said, "OK, I'm going to contact them." I started to get really bad anxiety, and I even wrote about it on Twitter. I was like, "Oh my God, I'm going to reach out to this lady, and I hope she says yes."
Shani was the first one that I DM'd, so it worked out. I didn't have to message anyone else on the list. I definitely think it's about getting people on a list in your order of importance and then going down the list one by one just to cover all the bases. What was the defining factor for me was seeking someone who I could see myself in and I really feel like [Darden and I] are so aligned. It makes sense that I would want to listen to everything she has to say. Choose people who would want to choose you.