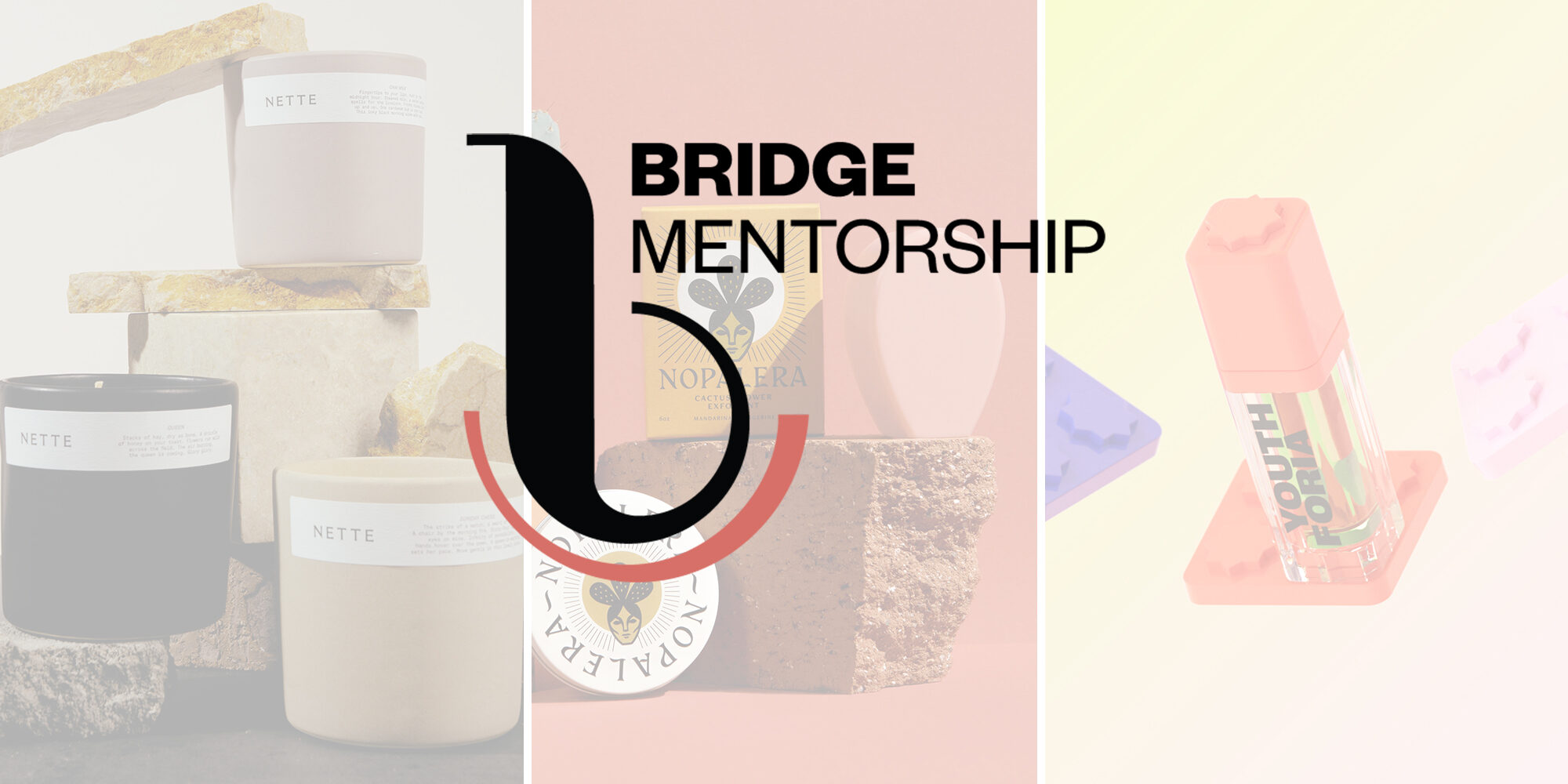 Bridge Mentorship Participants Share Knowledge They Gained From The Program; Applications Open For Second Round
Brands can't expect to receive funding if they don't have a tight grip on their financial models and distribution strategies.
That was a big lesson impressed upon the first cohort of Bridge Mentorship, a professional development program designed for the entrepreneurs behind emerging beauty and wellness brands that's a partnership between beauty-focused investment firm True Beauty Ventures and Beauty Independent. Members of the first cohort of the six-month program were Youthforia founder Fiona Co Chan, Nopalera founder Sandra Velasquez and Nette founder Carol Han Pyle.
To be eligible for Bridge Mentorship, applicants must lead brands based in the United States that have been on the market for at least six months and are generating annual sales of $250,000 or above. Applications for the program's second cohort open today and close June 10.
"It's about the brand and the founder, there's so much of a gut feel to this," said Rich Gersten, co-founder and managing partner of TBV, who was joined by TBV co-founder and general partner Cristina Nuñez, for an In Conversation webinar last Wednesday along with the founders of the three first cohort brands. "You know it when you see it, and then you hope your gut can be validated through everything else that you do. And yes, for these three brands, our gut told us they were special."
During the Bridge Mentorship program, a diagnostic was run on the brands that's similar to the due diligence process brands go through when getting backing. The diagnostic explored key functional areas necessary to achieve scale to identify areas that require attention.
The cohort brands had one-on-one time with members of the TBV team and sessions arranged by the firm with industry experts, including lawyers and third-party logistics providers. TBV provided them tools and templates such as an assessment of financial readiness and a financial forecast to organize crucial business information. It then implemented bespoke, detailed action plans for each brand to measure progress and establish goals. 
Velasquez said a principal value of the Bridge Mentorship program is "the access to these industry giants and understanding how they look at things and being able to be in the room." Below, we delve into her experience in the program as well as the experiences of her fellow mentees.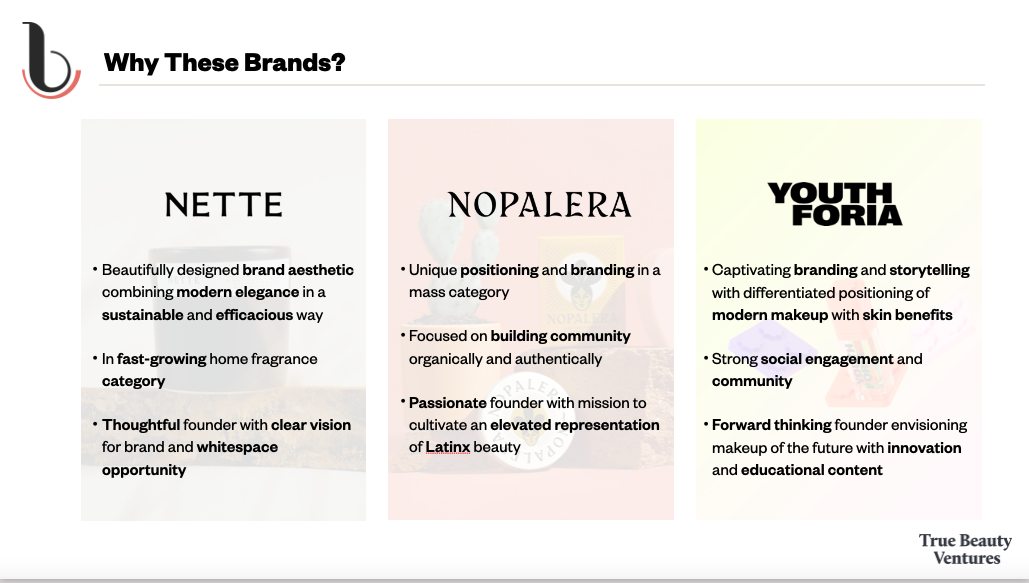 Nette
Year Launched: 2020
Category: Home Fragrance
Positioning: A female-founded luxury beauty and fragrance brand helping you take good care with the highest quality, clean, traceable and sustainable products.
Price Range: $68 to $82
Hero Product: Chai Milk Candle 
Current Distribution: DTC, Credo, The Detox Market, Nordstrom, Selfridges, Standard Dose and select boutiques nationwide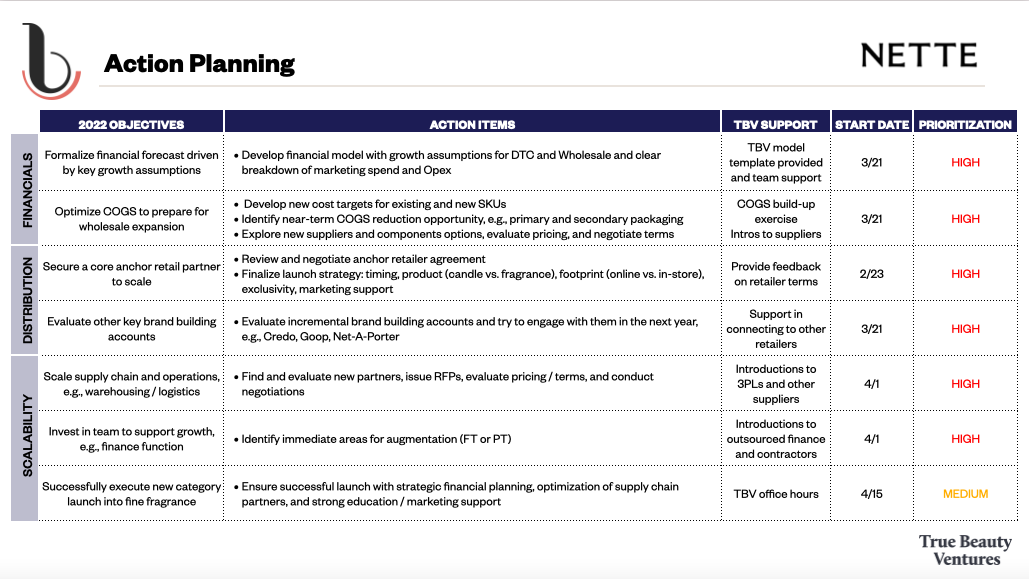 Diagnostic And Action Planning

 
For Pyle, who was a fashion editor and brand strategist prior to launching Nette, an integral Bridge Mentorship program action item was obtaining a better understanding of ideal cost targets and gross margins across DTC and wholesale distribution. "A common mistake is brands starting direct-to-consumer have no wholesale markup. They don't ever think about going in wholesale and what the margins might look like once they have to give away that wholesale markup," said Gersten. "Digitally native brands always have margin issues going into wholesale, but the good thing is you can catch it early and fix it." 
At the inception of Nette, Pyle chose top-notch ingredients and components, and didn't keep an extremely close watch on the cost of goods. TBV helped the brand find a cheaper ceramic vessel supplier and advised her on deals with her current suppliers that cut costs more than half by reaching bigger quantities to enable economies of scale. By the end of the program, Nette reduced its ceramic COGS (cost of goods sold) by over 30% and improved DTC candle margins by about 15%.
Nette is expanding into the fine fragrance category. To help make its category expansion successful, it's been thinking through strategic financial planning and shoring up backend business operations like warehousing. TBV facilitated introductions to new warehouse partners and Stage 1 Financial, which Pyle is expected to bring on board to act as remote CFO for Nette as she embarks on raising a friends and family funding round. 
Nopalera
Year Launched: 2020
Category: Personal Care
Positioning: Nopalera was founded to elevate and celebrate Latinx culture. Its products are inspired by the beauty and richness of Mexico. 
Price Range: $14 to $32
Hero Product: Flor De Mayo Cactus Soap
Current Distribution: DTC, Credo, Nordstrom, Thirteen Lune and 300-plus independent boutiques nationwide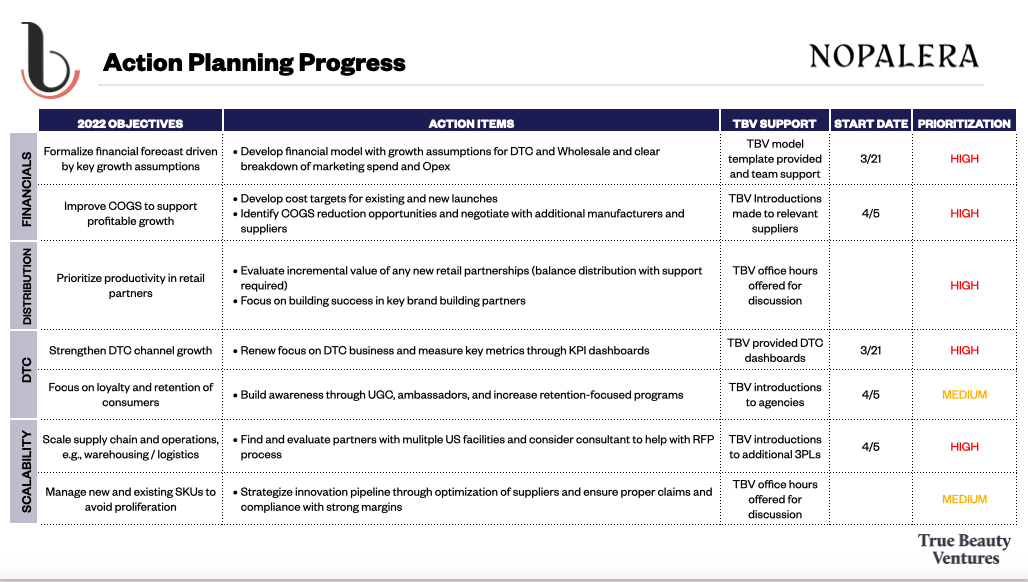 Diagnostic And Action Planning
TBV was interested in pinning down an efficient strategy to increase Nopalera's sales outside of new wholesale partners and specific marketing levers to drive growth. The firm developed dashboards to track key performance indicators (KPIs) to monitor the brand's investments. Nuñez noted it's critical for brands to never stop looking at opportunities to reduce costs and encouraged Velasquez to weigh Nopalera's product pipeline carefully to not overproliferate the assortment. 
Although there's a temptation for brands to do as much as they can do to grow fast, Gersten counseled that a judicious approach to growth is superior. "We tell founders to focus, prioritize and walk before you run," he said. "If you bite off too much too early and you don't have the right resources to execute it from a human or capital perspective, then you'll have nothing to show for it in the long run."
TBV directed Nopalera to strike a distribution balance that can support its wholesale network without losing sight of its margin-friendly DTC business. On the retail side, the firm recommended the brand hone in on an anchor retailer with a sizable door count in conjunction with a handful of specialty retail partners that bolster credibility. On the DTC side, an updated website is on Nopalera's roadmap. 
TBV opened Velasquez's eyes to the power of saying no. "It was just like an avalanche, a constant incoming flow of people that need and want my time—and I have filters now," said Velasquez. "Eliminate, automate, delegate, that's the mantra."
Youthforia
Year Launched: 2021
Category: Color Cosmetics
Positioning: Makeup you can sleep in.
Price Range: $26 to $38
Hero Product: BYO Blush, Pregame Primer
Current Distribution: DTC, BeautyBay, Beautybyjos.com, Credo, Glowy.mx, GYMT.mx, Naked Beauty (MX), Revolve, Thirteen Lune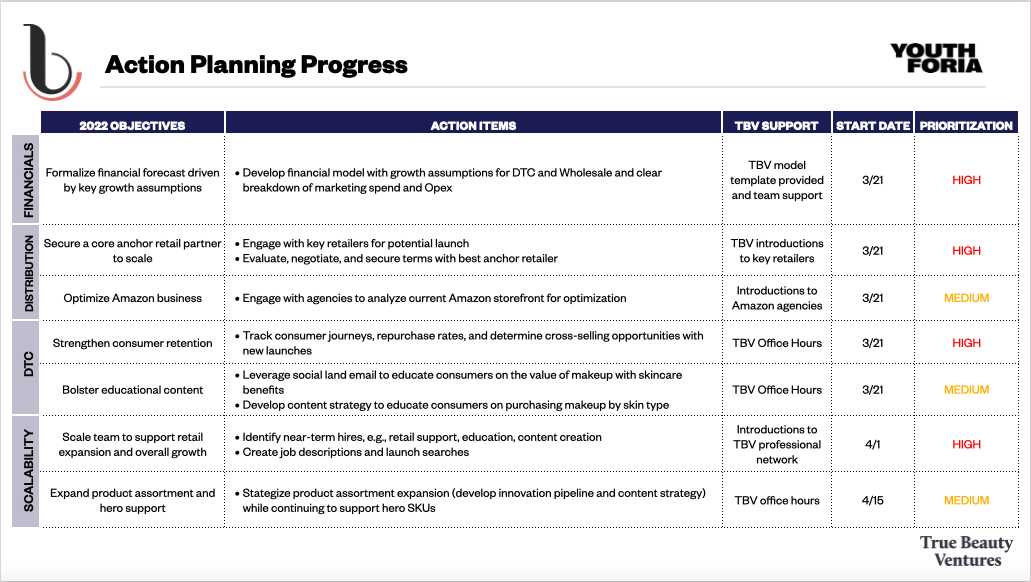 Diagnostic And Action Planning
Chan emphasized mapping out Youthforia's financial model has been game changer for the brand. "Everything goes back to my financial model. It helped me figure out which products to focus on," she said. "For half of this program, I went to Asia so that I could develop more products quicker and strengthen our supply chain…using these dashboards as a tool to plan where I want to go in the next couple of years and making sure that, as a business, we can fund our own growth if that's really what we have to do."  
Nuñez said, "It's great to have big dreams, audacious dreams, but, when you actually put things on paper and you build it from the bottom up and let's say, you want to build your direct-to-consumer channel, well, what are your drivers? You need to lay those out because that will inform where you invest your money." She stressed founders shouldn't fret about making sure their financial models are 100% accurate. The main objective is to offer perspective. 
Gen Z-oriented Youthforia hasn't had a problem generating buzz. TBV concentrated on the brand maintaining momentum from that buzz and retaining existing customers acquired organically. Nuñez emphasized tracking the customer journey and understanding insights from it like conversion and repurchase rates can deepen relationships brands have with customers. Next up for Youthforia and Chan is amplifying educational content. 
"Because she's trying to do something pretty unique—makeup you can sleep in—you have to really teach your consumers about that and how to purchase makeup based on your skin type and needs," said Nuñez. 
TBV urged Chan to swell Youthforia's team and seek out additional suppliers that can assist it with enlarging its assortment. Nuñez said, "She's got some great hero products, but, as a makeup line, you really need to expand a little bit beyond what you have, especially if you want to launch with a retailer."