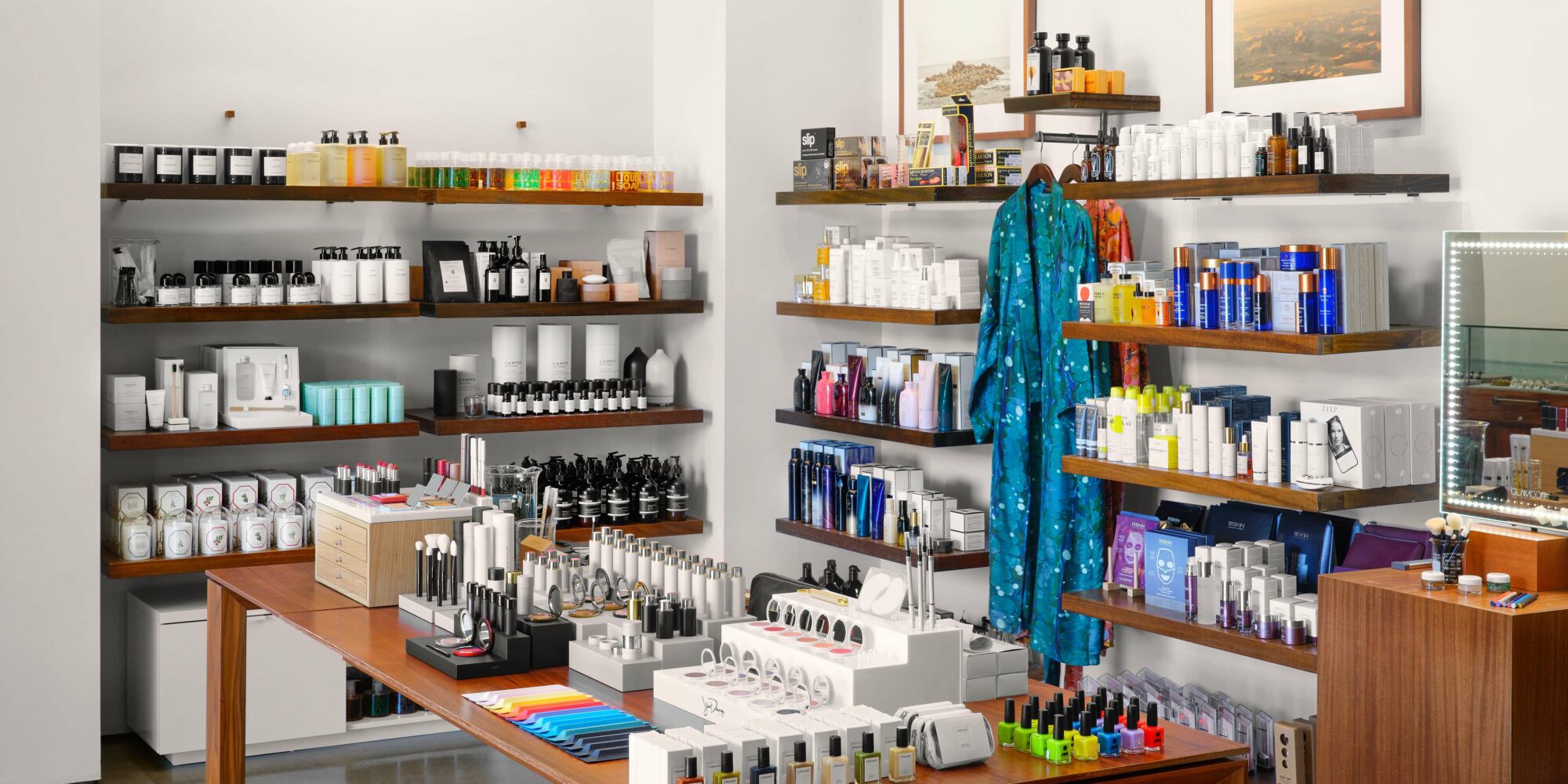 ByGeorge's In-House Beauty Expert Erin Lee Smith Is Behind Austin Shoppers' Most Covetable Beauty Stashes
Before the massive migration to Austin that preceded the pandemic and accelerated during it, ByGeorge outfitted the city's stylish residents in investment pieces from the best designer brands around the world, including Dries Van Noten, Jil Sander, Loewe, Simone Rocha and Maison Margiela. Founded by local businessman George Humphrey, taken over in 1979 by merchants Matt and Katy Culmo, and sold to entrepreneur Larry McGuire, co-founder of restaurant and hotel company MML Hospitality, in 2014, the fashion institution lacked a statement beauty department until Erin Lee Smith gave it one last year building upon the tight edit that made it an apparel and accessories mainstay.
Smith, a longtime Hollywood makeup artist whose move from California to Texas predates Elon Musk, has curated an assortment of elevated beauty essentials from about 30 brands for ByGeorge's North Lamar Boulevard flagship store as well as smaller assortments for its outposts on South Congress in Austin and at Hotel Saint Vincent in New Orleans. "The biggest value that I bring is not only the curation, but also showing people how to use it all and make it easy," she says. Beauty Independent talked to her about putting together the selection, hosting events, changing beauty habits, and strategies brands should pursue to be successful at ByGeorge.
You're a makeup artist who also studied herbalism and had a short stint at a skincare brand. Can you tell us about your road to curating beauty at ByGeorge?
I grew up in Southern California and my parents worked in the movie industry. My dad was in pyrotechnics, and my parents also worked in a catering company on movie sets. So, I was exposed to movies, commercials and print at an early age. I knew that I always wanted to do something within that realm, but I wasn't sure what. I started doing extra work at 18 years old. I was an extra in music videos. I was in Britney Spears' "Slave For You." That's a really good claim to fame.
On sets, I loved the makeup department. I loved being in the trailer and in that small group of people talking, hanging out, and getting their hair and makeup done. At about 20, I got a nine-to-five job at Ecstasy Records. After working there for a year, I was like, "I don't want to work in an office." So, I went to makeup school. Out of makeup school, I got on an assistant list so that, if a makeup artist needed an assistant, they would give me a call.
I did advertising, editorial and occasionally celebrities. You learn so much as an assistant watching different artists, their techniques and on-set etiquette. If the people I was assisting weren't available, then the producer would call me because the talent was familiar with me. After many times of that happening, you start to get your own clientele. I was on the main roster at age 25 at the agency Celestine in Los Angeles. I worked for 10-plus years as a freelance makeup artist in LA until I moved to Austin.
Around 2012, I went through a breakup and wanted to see what else there was in the world. I was always interested in herbalism and plants, and I started messing around with my own skincare. I wanted to learn more about it, so I went to the California School of Herbal Studies in Northern California. It was a nine-month program in this garden in the middle of nowhere, and it was really fun. I learned about what herbs are good for skin properties.
At the time, I started a skincare company with a friend, but I was only involved in the first year. It's called Poppy & Someday. I quickly realized I didn't want to have my own line. It's so laborious. I like to be more of a creative and a worker bee. I got back into freelance and moved to Austin in 2015. I would travel back and forth between Austin and Los Angeles for jobs, which was fine until I had my son. He's three now. It was taxing to be traveling and have a kid, taking him or leaving him. I didn't want to do that, so I was like, "What else can I do?"
It was always a dream of mine to curate a beauty department. I'm a product junkie. I love skincare, haircare and makeup. I knew we had a need in central Austin, so I came up with a business plan and presented it to ByGeorge—and they were ready to do it. It's been about six months since we launched, and it's only going to grow.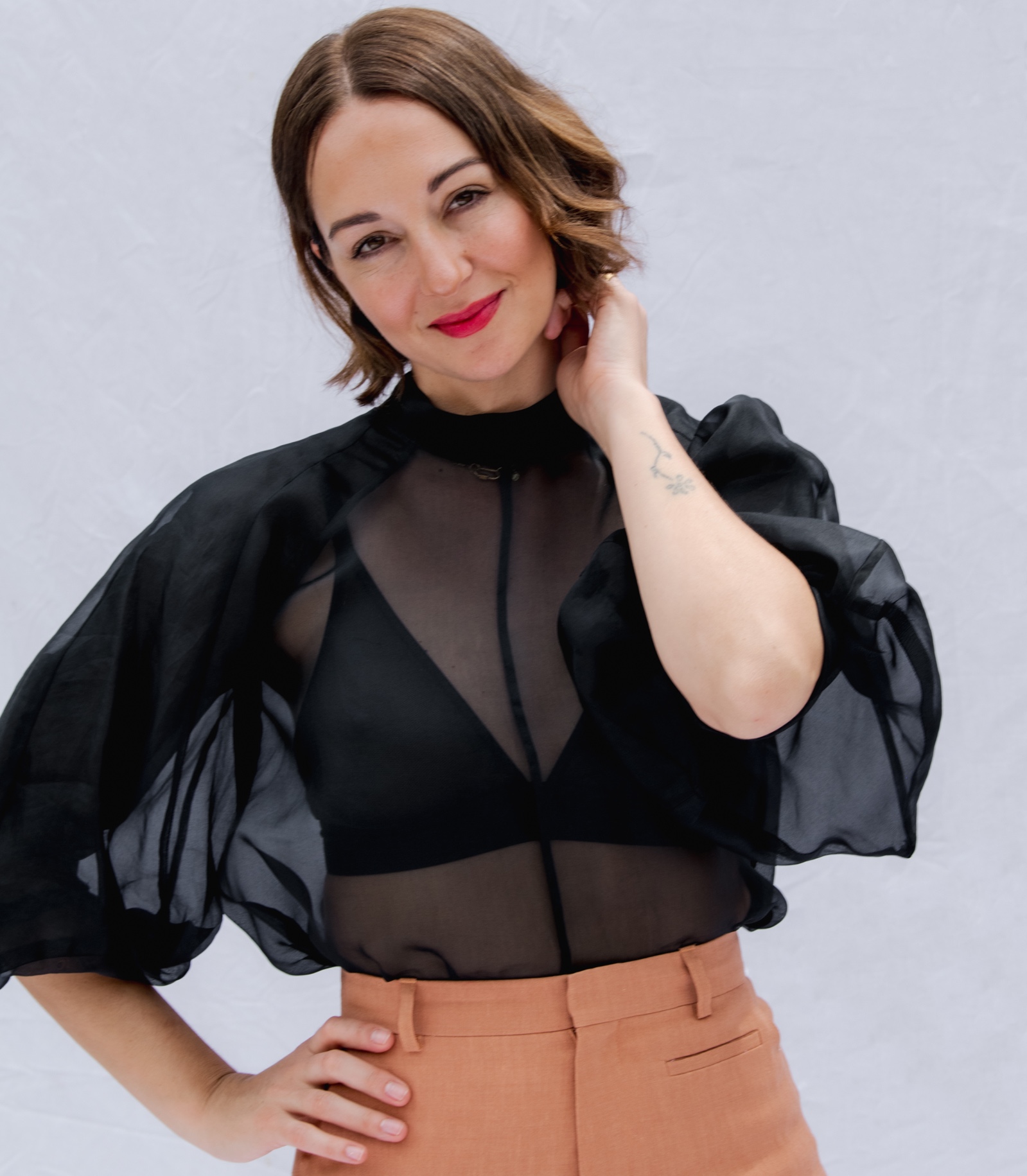 What was your pitch to ByGeorge?
I put together a deck and showed the lines I would want to carry, niche brands that I thought would align really well with the ByGeorge customer. I was also a client of ByGeorge, and there was a big overlap between clients who would shop ByGeorge and those that would have me do their makeup for events. I knew there was a strong need, and I love working with my peers instead of celebrities or models. I want to show them how to do makeup.
Part of my deck to ByGeorge was about there not being a place in central Austin with a tight beauty edit. You had to go to the mall. It was also in the middle of COVID, and it was like, "Let's just give this a shot." We were really lucky because the brands we reached out to said yes. ByGeorge is an institution. It's been around for 43 years. On top of that, I'm in the store promoting the brands and showing people how to use them.
Tell us about the assortment you've curated.
I wanted it to be sophisticated, elevated and niche, meaning not a thousand SKUs. Westman Atelier was a no-brainer. It's sophisticated, performance-driven makeup, but minimally designed. You can cover your whole face with one line, and it's easy to use. It's also maybe the first time that people could touch the brand in person. Once we started carrying the full range in store, people were so excited to be able to come and try it, and be shade-matched for foundation.
Jillian Dempsey is also a makeup artist-formulated brand that is really easy to use. It's a small line that has dual-function products. Both Jillian Dempsey and Westman Atelier are clean and sit nicely next to each other. La Bouche Rouge is also clean, and it has elevated lipsticks. With it, you invest in your makeup. You buy the case and, once it's done, you fill the case again. With those three lines, there was a solid start in color.
Going from there, I wanted something that was fun and bright. I knew about Lemonhead, the glitter line started by a makeup artist in LA. We're the first retailer in the United States to carry the Japanese line UZ. It has bright eyeliners. They have stopped U.S. distribution, but we are working out a deal with them to stay their main retailer in the States.
Outside of makeup, what is there?
For haircare, I was able to bring in Oribe. It's a tried-and-true cult favorite. It's known not just for shampoo and conditioner, but treatments and styling products. I was really excited to offer the full collection. That's one of the lines people come to us for instead of going to get it at a salon or ordering online.
The other main haircare brand we carry is Leonor Greyl, which is a French plant-driven line. I knew about it from being on set since it's a hairstylist favorite. It has great performance and is really beautifully scented. We also have the men's brand Fellow Barber and the Mason Pearson brush line.
We have tons of skincare. Our standout is Augustinus Bader. It's been trending on the internet, but, again, it was hard for people to buy in brick-and-mortar. Another line that our client is super excited about is Venn. It's science mixed with nature. It minimizes the Korean skincare routine with highly curated products.
We carry local-made products, too. We have a skincare line called Vetiver from an aesthetician who has made her own small-batch, handcrafted skincare. She has three SKUs that do really well. There's another one called High Sun Low Moon crafted by an herbalist in town. She does floral baths and masks. We run the gamut of making sure we have performance-driven, clean, niche, people of color-started and local businesses. I wanted a good, 360-degree offering.
Who's the clientele?
Our flagship has customers 30 to 85. Our South Congress location is more tourists, so we are getting a lot of young bridal parties that come to that shop. South Congress is like Melrose or Abbot Kinney, where you walk and shop.
The ByGeorge customer knows it's highly curated with the best of the best in women's and men's contemporary designers. That also is the same in beauty. Our edit has the best of the best, with performance-driven products that aren't everywhere. Our clientele is looking for quality. It's not fast fashion, and it's not Sephora, but it's for beauty enthusiasts who care about their products.
How's it going so far?
We launched in June when businesses were starting to open again. People were coming in masked and happy to see products in person. People were vaccinated, and it was before the Delta variant. They were really excited to get back out. It did really well. On top of that, we went into the holiday season, where beauty is great for buying gifts for other people and for yourself for events.
Austin is a fast-growing city. There are tons of people moving here from New York and LA. They see brands they can relate to, that they know and seek out. Adding in the beauty department makes ByGeorge a one-stop shop for people. When they come, we have men's, women's, home and beauty. It's kind of like a tiny department store.
We've been able to host events, which has been really successful. We've done master classes where I teach people. They have their own little station, and they look at themselves in the mirror. I will be like, "Tonight, we're going to do learn how to do a fake lash." I will do it, and they will follow along.
Has there been any surprise hits?
Glitter and colored eyeliner. You would think they would be something for the youth, but we have people into their 60s stoked about glitter and colored eyeliners, and also a fun bold lip, maybe it's because they haven't been able to have fun for so long.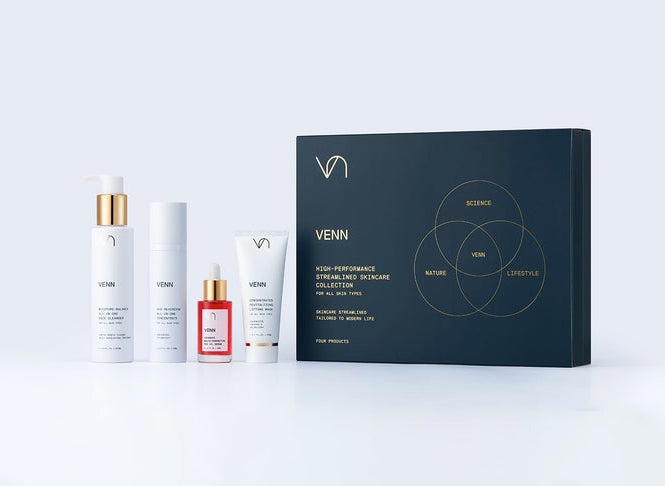 Is there anything that hasn't done as well?
The devices haven't been that big of a sell. We have a few, and they sell, but they're not blowing off the shelves. I think beauty tech is going to have a little bit of a lag for us. It's about education. Perhaps people aren't going to a retailer for it. They're getting their beauty tech from a dermatologist or where they get Botox.
Are there any gaps you are trying to fill?
Yes, my dream would be to have a Chanel capsule collection. I love all of Chanel, but they are such a huge brand, and we are such a small retailer. I'm trying to find the right person to reach out to. I haven't reached out yet. An eyebrow brand would be really great for us. As far as foundation, we only have Westman Atelier, so it would be nice if we had another offering that doesn't have many SKUs so it could fit into our tiny department.
What are products you have that you'd like people to know about more?
I feel like I push them, and they are starting to get traction. The Jillian Dempsey Gold Bar I use daily, and I love it. People see it sitting there, and they think it's just a little face roller, but it actually turns on and has microcurrent. I use it for lymphatic drainage every morning. I try to get people into it, but there's a bit of that education piece that I was talking about with beauty tech.
I'm really into this line we just got called Juna. It's a CBD line with different tinctures for stress, sleep and balance. I love them, but, as it relates to our customer, do they know what a tincture is? Have they tried CBD? Do they know it's not going to get you high? We also have this really epic teeth whitening system called vVardis. It really works, but the educational piece will take a little more time.
How do you think the pandemic has impacted the beauty habits of ByGeorge customers?
A lot of people are like, "I'm on Zoom calls all the time, and I want to look fresh, but not do a full face of makeup." People are really focused on having good skin. Skincare is their foundation, then they want one thing to stand out, whether it's an eyeliner or bold lip. People went from not wearing any makeup for the past two years to really wanting to start again, but it's more minimal. The clients that shop at ByGeorge or the people that are seeking out my aesthetic aren't spending an hour doing a full face.
What do you think your customers may be willing to try now that it's a new year?
A skincare routine. A lot of people are like, "Oh, I have Cetaphil that I've been using, but there's so much more science now being put into these products." From the skincare lines we carry, each line has an ingredient that makes their products succeed, and you really notice a difference. I think people are doing something a little bit more active, and it really does make a difference in the way your skin looks.
Are there particular events that have worked for you at ByGeorge?
People want to make it a social event. So, we have had events where I come up with a theme, and we sell 10 to 15 spots to keep it intimate. We did it for the holidays, but, now with the new year, we are thinking of doing private events after the store is closed with up to five people. They are able to ask me any questions like, "I've been doing my mascara like this, is it right or wrong?"
It provides a space and product there that people can buy. Makeup can be intimidating, and people can feel pressure when they see products. This takes the pressure out of doing makeup. It's meant to be playful and easy. It's about helping people. There's a wave of Instagrammers and TikTokers that target a younger crowd, and people that are 30 and older are like, "I want to do it, but can I?" The events aren't so serious. They're a good hang.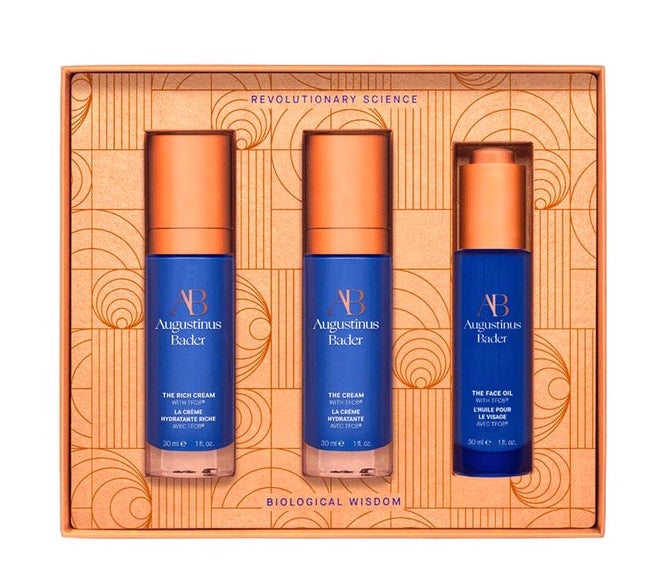 How do you want brands to interact with you?
What has been really helpful to me are brands that have a great rep that gets it. Augustinus Bader reps are so on it with the educational piece and making sure we have testers. It's good to have digital assets, training, samples and product knowledge. It's an easy sell because I use and love it all, but, to get people excited, the sales staff wants to experience it for themselves. A huge part is sending samples.
What helps brands be successful at the store?
Having a good display that's nice and not muddied up, so it's easy for people to see the products and try them. Also, give the sales staff education without too much information. Tell us this is what it is, what it does for you, what it has or doesn't have in it, and here's a sample that you can try. It's very much about touching and feeling. That's the biggest thing. People are so used to shopping online that, when they are in the store, they want to touch and feel. So, if something doesn't have a tester, it's not going to sell.
So, testers are as important as ever?
We have a sanitation station. So, if I'm going to try anything on someone, I sanitize it before I try it on them. We have disposable lipstick wands, mascara wands, sponges and Kleenex. I haven't had anyone be like, "No, I don't want to try it."
Are you enjoying your role?
Being a freelancer for almost 20 years, I never knew what my schedule would be. Now that I'm a mom, I schedule everything, and I love knowing my hours at work. I love working from a computer, and I love that I'm client-facing, too. I feel I get the best of both worlds, and I'm close to home. I'm so happy.