Canviiy Strengthens Its Position In The Growing Scalp Health Category By Launching At Target
When Sherrel Sampson started developing Canviiy in 2014, the scalp health category the brand focuses on wasn't sexy. "It didn't have much appeal. It was like the red-headed stepchild of the industry," she says. "I realized there was an opportunity to create something special."
Back then, three years before Briogeo released its Scalp Revival trio, Sampson scanned the market and discovered popular scalp solutions were laden with mineral oil, provided simply short-term relief and weighed down hair. She had a pretty good idea of how they functioned because she used plenty of them. The idea for Canviiy stemmed from her experience suffering from burning, itchy scalp after having extensions sewn in and being disappointed with existing remedies.
"I am my own customer. I knew I wanted clean ingredients and a product that was lightweight. I also knew one of the product attributes I wanted was for it to be long-lasting," says Sampson. "Even today, with anti-itch products, they may work for five or 10 minutes, but they aren't long-lasting. I didn't want something that would just work for five or 10 minutes."
Following over a year in incubation and roughly $70,000 in investment, Canviiy premiered in November 2015 with ScalpBliss Itch-Calming Organic-Based Serum containing aloe, witch hazel, peppermint oil and Manuka honey. Sampson calls the mineral oil-free product a serum because it doesn't have the thick viscosity of oil, and it doesn't take a huge quantity to be effective. She recommends customers place a pea-sized amount throughout the scalp or directly on irritated areas. If applied properly post-shampoo, Sampson estimates the serum can soothe itchiness for three to four days.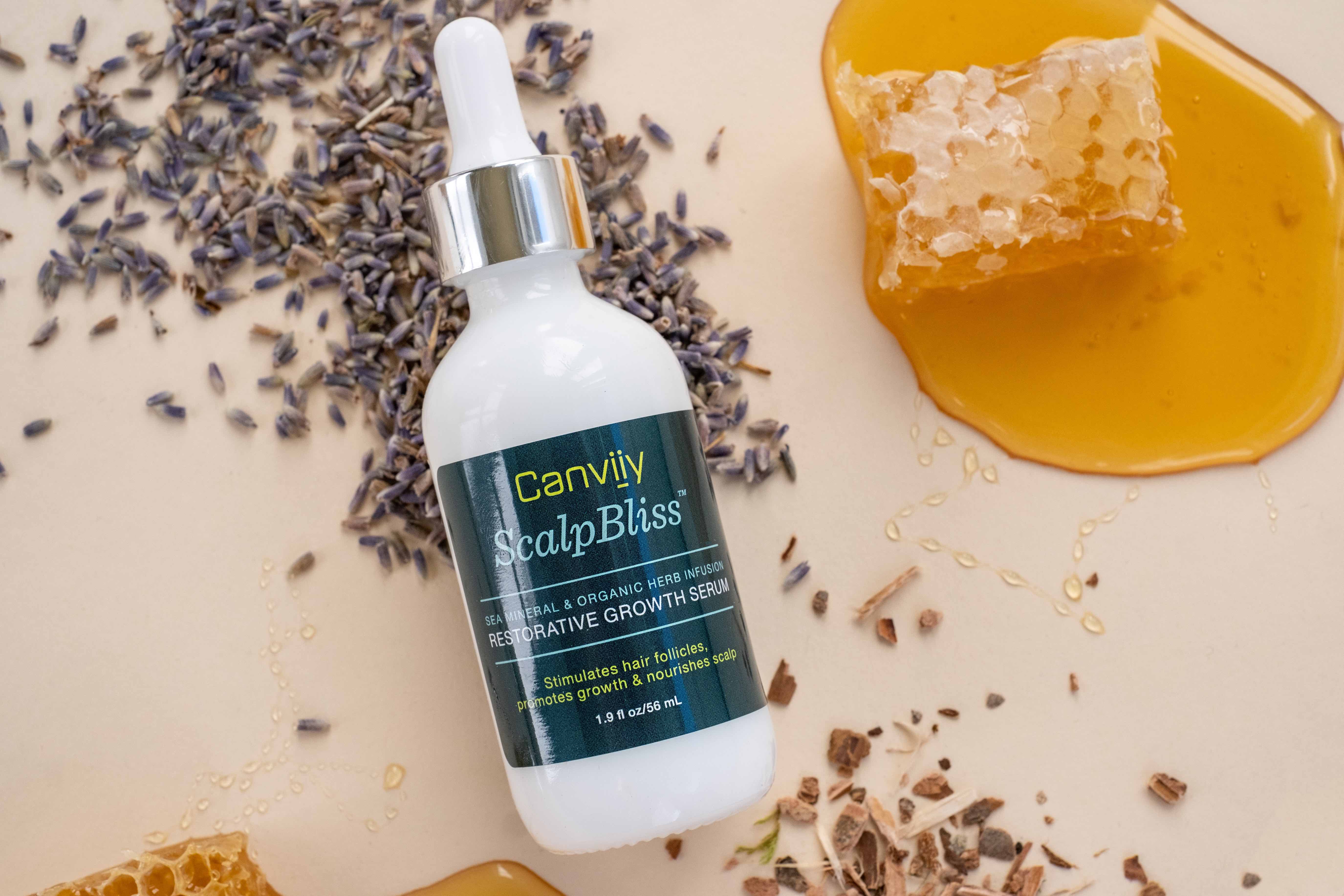 Canviiy's ScalpBliss Restorative Growth Serum and ScalpBliss Soothing Scalp Purifying Foam Treatment rolled out to 195 Target stores in February. Online at the retailer, the two products are joined by the brand's original product: ScalpBliss Itch-Calming Organic-Based Serum.
At the beginning, Sampson admits it was difficult convincing people to try Canviiy. Scalp health wasn't at the forefront of their minds, and the brand was competing against bigger players. She decided to take it to a local farmers' market and participate in events to present it to possible customers, and figures she did perhaps 10 to 12 during the initial months of selling to the public. In 2016 and 2017, Canviiy picked up steam. It caught the attention of press, specifically Black Enterprise and Yahoo Beauty, and was a semi-finalist in HSN's and Good Housekeeping's American Dreams search for entrepreneurs with innovative products.
Now, Canviiy has reached its highest profile yet with a rollout to 195 Target stores in February. On shelves in multicultural beauty sections, the brand has two products that it debuted last year—ScalpBliss Restorative Growth Serum and ScalpBliss Soothing Scalp Purifying Foam Treatment—and they're joined by the original product in the retailer's online selection. The products are priced from $14.99 to $17.99 to suit a masstige positioning.
"It's not about just having products, it's about the ones that are going to move and the cost to move those units."
"That process wasn't easy. We were probably in conversation for a year to a year and a half introducing them to the brand and gaining their confidence that we could actually drive sales in store," details Sampson of Canviiy's path to Target. She adds, "Oftentimes, they [retailers] aren't going to carry our entire selection. It was about making the choice of where we thought we could win. We thought we could win best with those three SKUs. You can have a line of 20-something products, but the question is: Are they going to help you win at retail? It's not about just having products, it's about the ones that are going to move and the cost to move those units."
Restorative Growth Serum is Canviiy's bestseller at Target's physical locations. On the chain's e-commerce platform, Itch-Calming Organic-Based Serum is the top-selling product, but Restorative Growth Serum is catching up. To broaden awareness of its products, Canviiy has turned to beauty boxes. It's been featured in Curlbox and is looking to partner with Cocotique.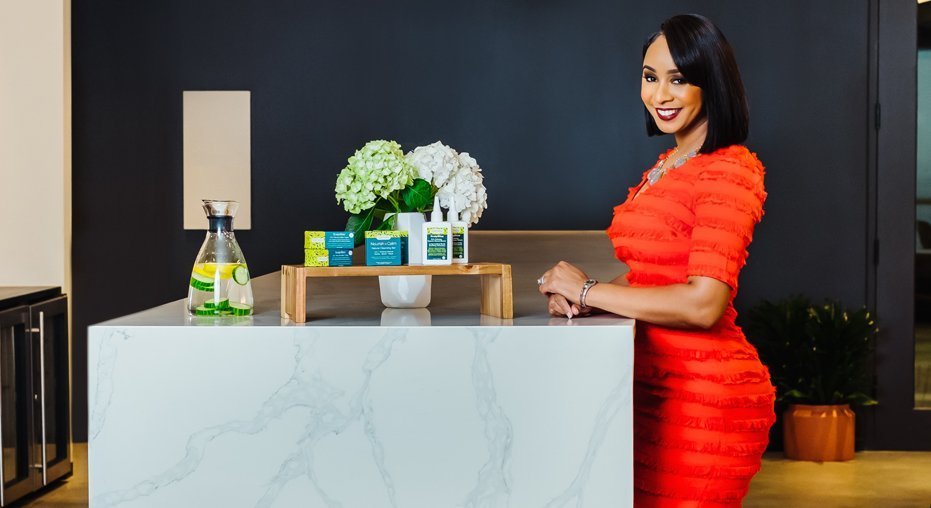 Canviiy founder Sherrel Sampson
Sampson doesn't plan on putting out a multitude of products. She aims to command the scalp health category, a niche that's gained tremendously since Canviiy's launch and stands to grow further, not dilute the brand's role in it with an array of offerings. "I really want to own that space, but own it for delivering performance," says Sampson. She continues. "We are very upfront with retailers, and let them know that we are a brand that doesn't want to just throw out collections. We want to drive efficacy and performance. For us, that doesn't mean launching a whole line, but maybe two or three products from time to time. Retailers have received that well. In the marketplace, brands are very launch-heavy as opposed to being intentional about what they bring to market."
Sampson is intentional about the distribution relationships she pursues, too. She's interested in Canviiy diversifying its distribution network. The brand has four principal distribution channels: healthcare centers (its products are stocked in the retail assortments at Moffitt Cancer Center and USF Health); e-commerce via its own website, Amazon and other e-tailers; travel retail; and traditional brick-and-mortar stores. With healthcare centers and travel retail small aspects of its business, retail accounts for around 60% of sales and e-commerce makes up most of the remainder. Worried about Canviiy being copied, Sampson didn't enter the Amazon fray until 2018, and it currently accounts for around 15% of the brand's e-commerce sales.
"Your scalp is a part of your skin, and I really want to be a skincare company ultimately."
This year, Sampson expects Canviiy's overall sales to rise at least 40%. The pandemic hasn't slowed it down. In the first quarter, its sales were up 64% from last year. Sampson declined to disclose Canviiy's exact revenues. "The only challenge that we are facing is in the supply chain availability of components. The rules have really changed. It used to be you could call and easily get supply runs," she says. "Everybody is ordering, so your smaller order of maybe 25,000 units just looks so small, and the suppliers don't know when they can get you in. We just have to be mindful of timeframes and to get orders in as much as possible."
Supply chain timeframes are among the many elements of running a beauty brand that Sampson, a marketing specialist whose career has spanned hospitality, personal care, grocery, consumer healthcare and enterprise software, learned at Canviiy and, prior to it, at Key West Aloe, a more than 40-year-old brand she was involved in updating. She's learned early assumptions about customers aren't always right. As Canviiy got underway, Sampson explains she believed its customers would be high school- and college-aged girls and women "because she loves to be fly and her hair is fancy, but I was so wrong." Instead, Canviiy's core customers are professional women primarily aged 25 to 55 gravitating to premium ingredients.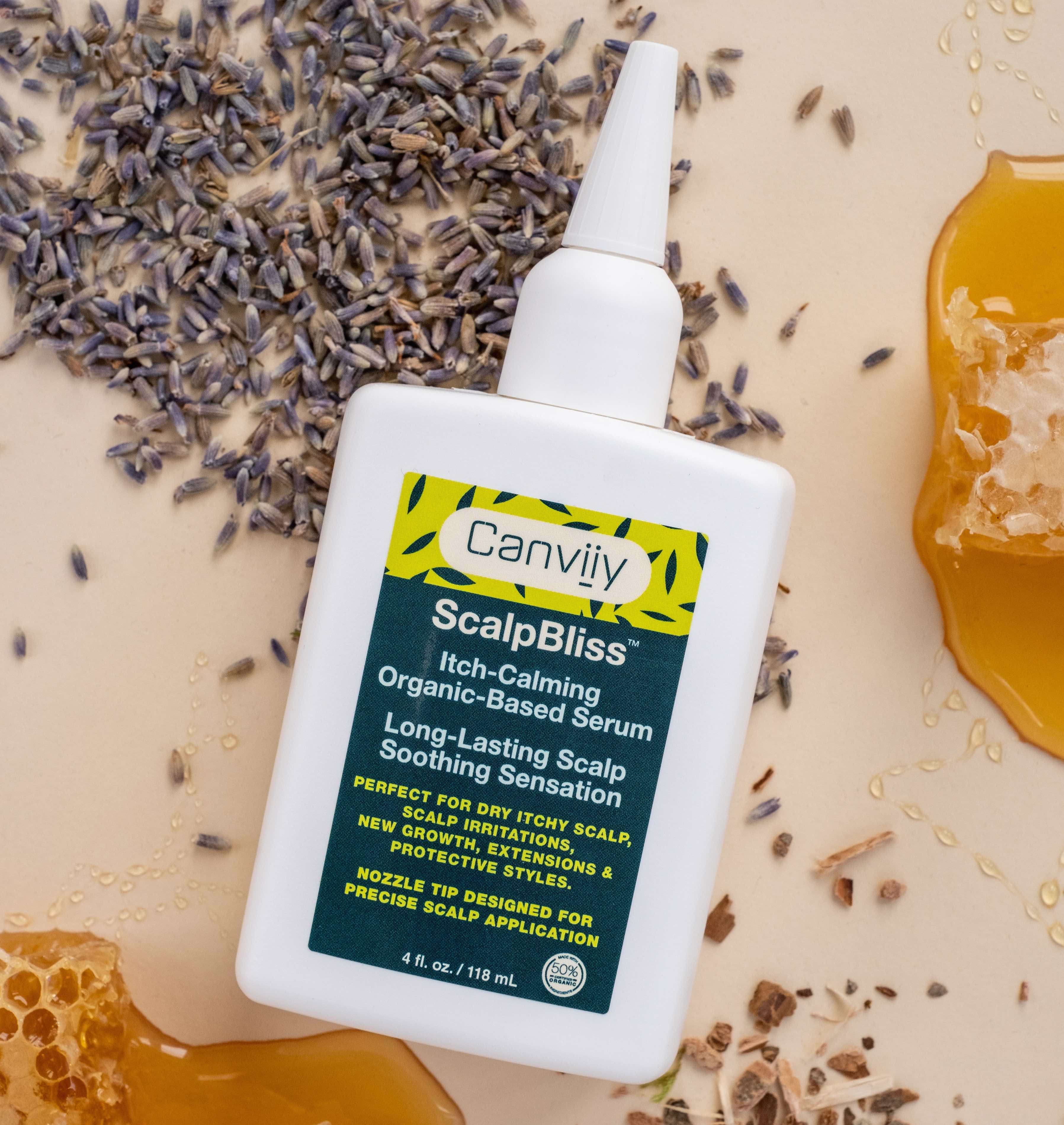 Canviiy's sales are on track to rise at least 40% this year. The pandemic hasn't slowed the brand down. In the first quarter, its sales were up 64% from last year.
At the moment, Sampson is learning to delegate. There are five people on Canviiy's team and, in February, the brand hired Hume Merritt, former brand manager and strategist for Nubian Heritage, Schick, Gillette and Olay, as CMO. "The toughest challenge for me was recognizing the point where I couldn't do it all, and I needed to ask for help," says Sampson. "It's hard because it's in my nature to be a problem solver." Realizing her grand ambitions for Canviiy, though, will require skilled help. Sampson says, "Your scalp is a part of your skin, and I really want to be a skincare company ultimately."