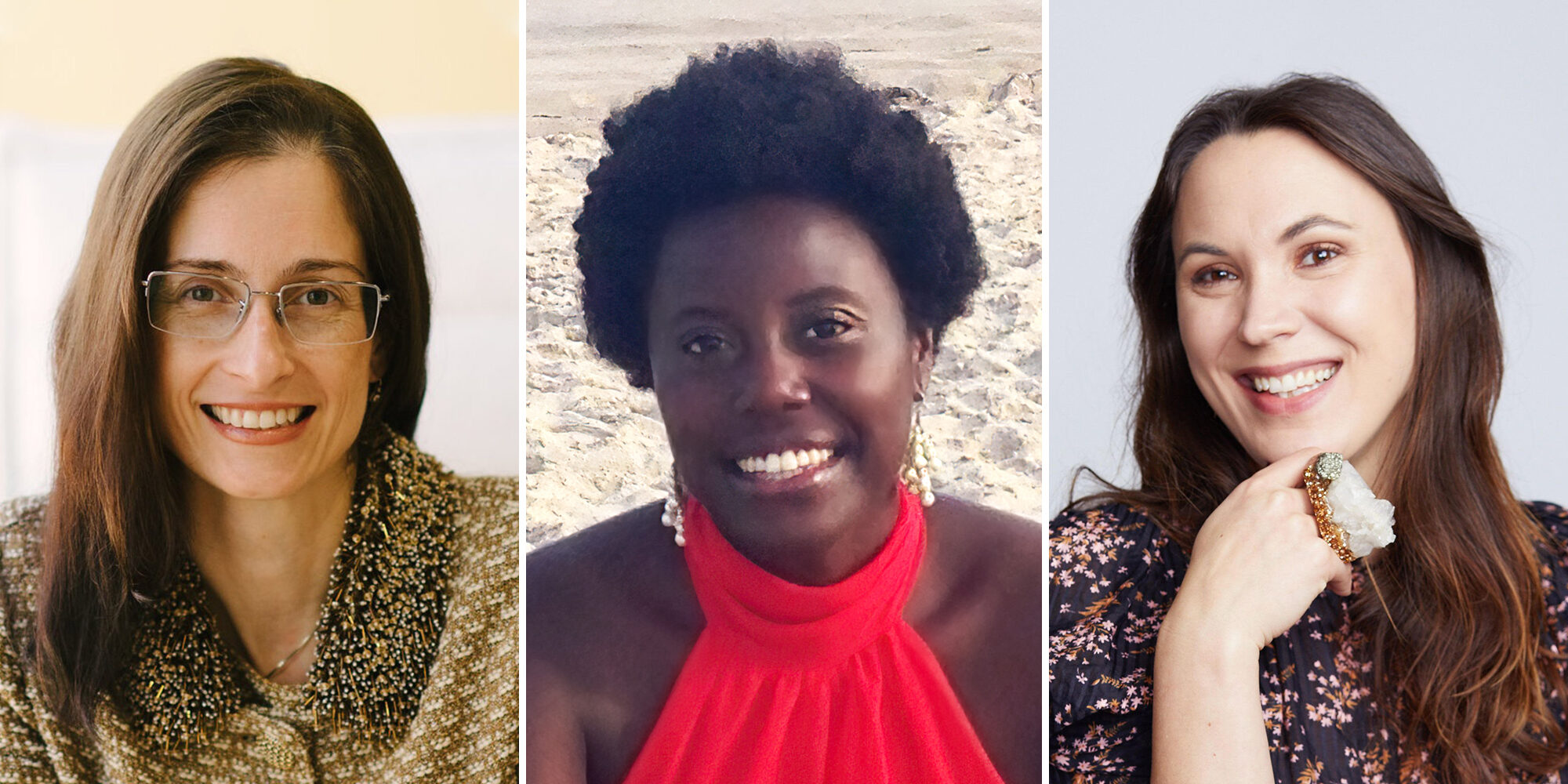 How Indie Beauty Brands Are Shaping The Conscious Beauty Movement
The idea of conscious beauty is spreading across the beauty industry, from brands to retailers. 
Proponents of the phrase are anticipating the high principles it conveys will turn into a movement that will push the industry to catch up with forward-thinking fields like technology and bioscience. From products to business practices, the movement encompasses much of what leading beauty brands are doing, whether it's putting out cleaner formulations, experimenting with sustainable packaging, transitioning to transparent supply chains or improving staff diversity. It reflects modern consumers caring about brands' entire operations. Gen Z consumers in particular are exercising purchasing power in support of brands that share their ethics.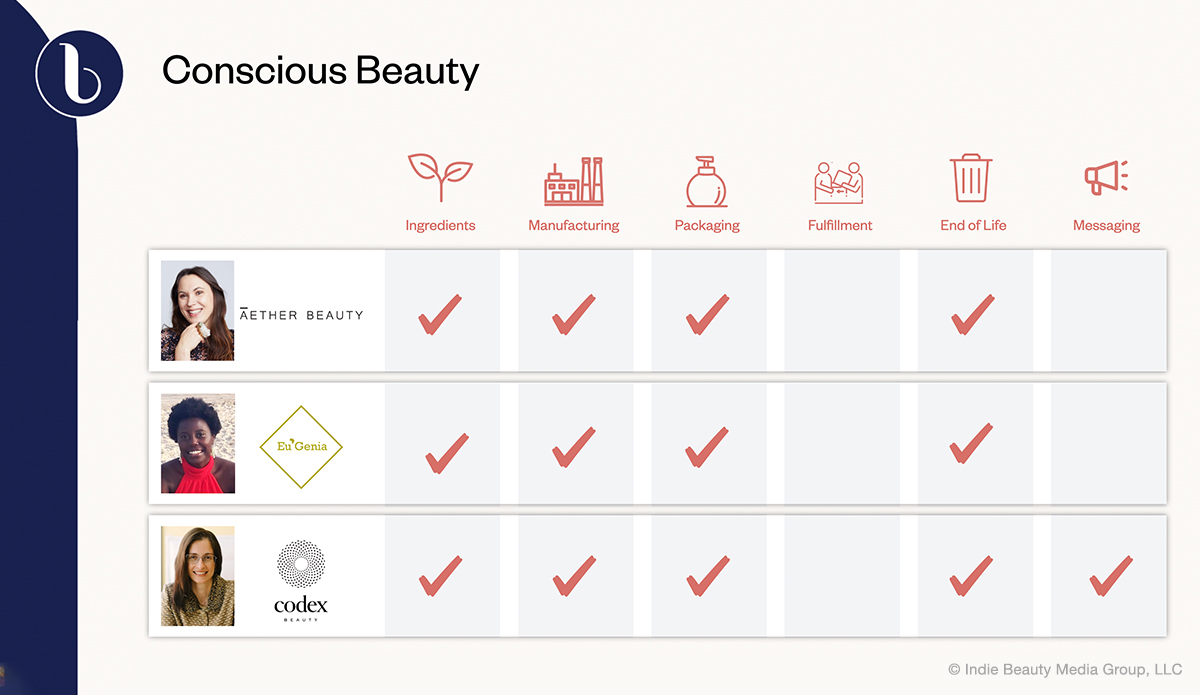 Child labor, toxic ingredients, lack of regulation and waste are significant problems plaguing the beauty industry. "My answer to, 'It can't be done in beauty,' is, 'Bullshit!' It's simply a matter of the will to do it," said Codex Beauty founder Barbara Paldus about the potential roadblocks the industry faces when it comes to sustainable innovation. Paldus joined Tiila Abbitt, founder of Aether Beauty, and Naa-Sakle Akuete, founder of Eu'Genia Shea, for last Wednesday's Beauty Independent In Conversation webinar discussing conscious beauty innovations and lessons they've learned on their entrepreneurial paths.
Tiila Abbitt, Aether Beauty
Inspiration: Abbitt spent seven years at Sephora in charge of product development for makeup collaborations and accessories. Her obsession with sustainability led her to become the lead on R&D for sustainable materials and sitting on the sustainability leadership council for the retailer. When looking at natural makeup formulation, she felt the space lacked choice of color, efficacy, truly sustainable packaging and ethically-sourced ingredients. She founded Aether Beauty, a vegan, clean color line with organic and fair trade ingredients, in 2018 with the launch of a zero-waste eyeshadow palette.
Conscious Innovation: Plastic beauty product components are a huge source of pollution globally. Even though recyclable packing is a common practice, most consumers don't understand how to properly recycle. "The infrastructure is broken, recycling facilities take a lot of money from towns," asserted Abbitt. She continued, "They don't necessarily have a place to resell them, given our current administration's relationship with China, which isn't buying our recyclable ingredients anymore. A lot of people just don't understand the nitty gritty of actually how to recycle a good."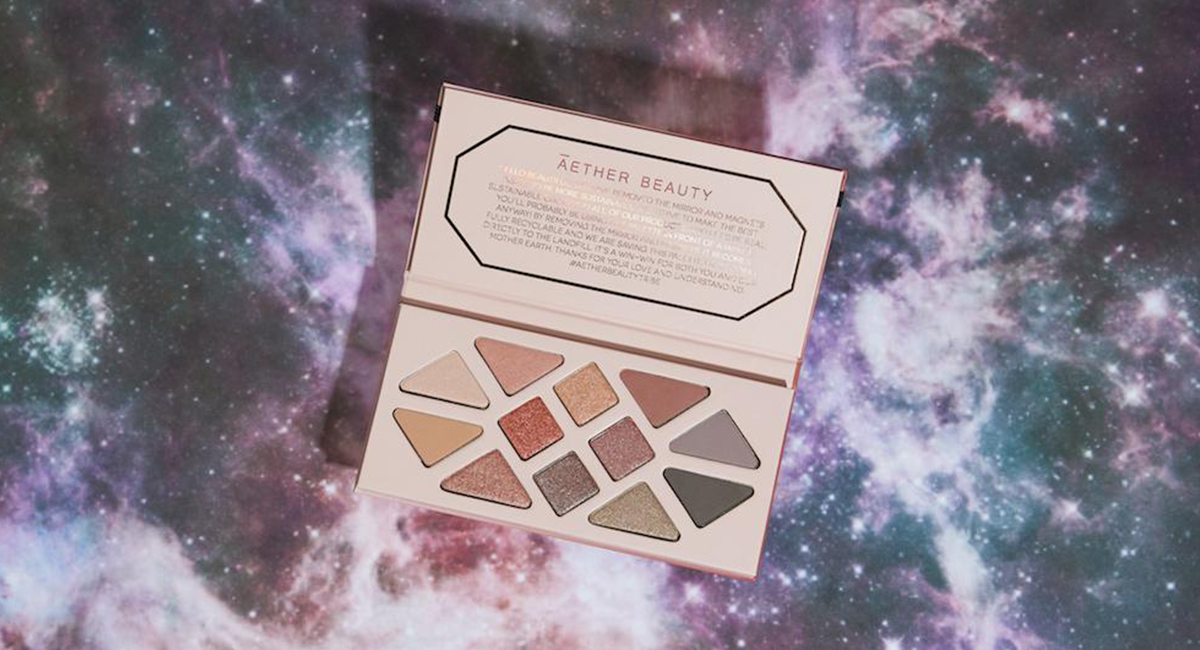 Abbitt asserted greenwashing is a problem, with brands claiming products are sustainable or at least recyclable that are not. She pointed out that many palettes feature mirrors that aren't recyclable or use magnets produced by miners laboring in poor working conditions in China. The country is responsible for approximately 95% of the world's rare earth mineral production. Rare earth minerals are becoming scarcer.
"For me, packaging isn't a luxury, it's a waste," said Abbitt. She highlights that paper packaging, for example, can have finishes and inks that prohibit it from being recycled. All of Aether Beauty's palettes are fully recyclable and incorporate recycled aluminum pans that can removed, elastic bands instead of magnets, and fair-trade paper to not contribute to deforestation. The brand recently launched a recyclable liquid lip component that avoids virgin plastic. It sold out quickly at Sephora.
Key Learnings: Being the most sustainable or eco-conscious brand doesn't translate to commercial success. Engaging with venture capital is inevitable for growth, even if a brand is profitable, but it's not an easy road. Investors need to change their mindset about bottom lines and time frames when they're involved with emerging brands like Aether Beauty, according to Abbitt.
"VCs can be sharklike, only really wanting to take the unicorns with 80%, 90% margins that become cash cows," she said, noting aiming for those high margins can be counterintuitive to a conscious beauty brand's mission. "People are really misinformed in the beauty industry and don't understand what goes on in manufacturing in China. I'm paying for organic, fair-trade, child labor-free and, then, competing with people that have $20 products that cost them $2 to make, whose packaging is going to end up in the ocean." Still, Abbitt acknowledges the importance of affordable products. Aether Beauty is launching lower-priced products in Sephora starting in September.
Barbara Paldus, Codex Beauty 
Inspiration: A scientist, engineer and entrepreneur, Paldus has racked up more than 30 United States patents. Prior to launching Codex Beauty, she spent two decades in spectroscopy, telecommunications and biotechnology. By the age of 34, she had co-founded two Silicon Valley companies that helped paved the way for carbon cycle measurements, food integrity testing, accessible vaccines, personalized medicine and cell therapy. Her newborn son's phenoxyethanol allergy ignited her curiosity about the way beauty products were being created. Paldus found the lack of scientific data shocking. She also discovered that many go-to practices in the skincare industry don't follow the same quality control of other more regulated industries. The rooms where products are produced were less than sterile, unlike those used in bio tech. 
She pressed on after facing skeptics warning her it was unattainable to clean up beauty manufacturing and enhance preservation systems. Using natural ingredients, pharmaceutical-grade processes, clinical trials and keeping sustainability in mind, Codex Beauty's products are submitted to the kind of rigorous testing and transparency found in biotechnology. Its food-grade products are safe enough to eat.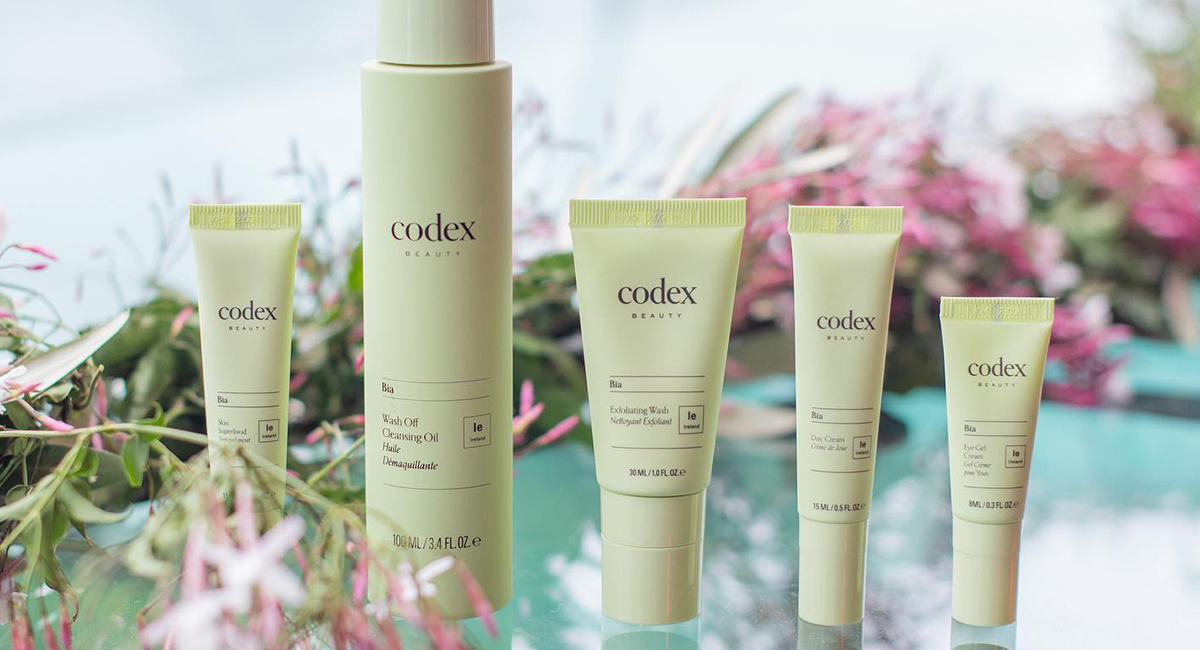 Conscious Innovation: The skincare line is packaged in tubes boasting a negative carbon footprint. The tubes are made of sugarcane planted in the Amazon using land that is no longer suitable for agriculture. The practice not only replenishes the ground, but sugarcane polyethylene sucks carbon dioxide from the air, making for an efficient production process from land to plastic. Paldus is pushing Codex to use mono-material packaging made entirely from polyethylene. She called the breakthrough "a mechanical engineering feat." It will be ready next year.
"Formulators told me it couldn't be done. But when we actually created this and we had all the preservative ethic data, they were like, we're so glad you pushed us because we would have never thought this was possible," she said. "Just because it's impossible now, it just means you haven't tried hard enough." 
With Codex, Paldus set out to create formulations that have clinical data to back up their performance. "I was shocked that it's an honor system in the United States," said Paldus. She referred to the U.S. Food and Drug Administration regulations which rely on manufacturers to guarantee the safety of their products. Paldus said, "It means that people can claim whatever they want and there's no oversight." 
Key Learnings: Paldus argued automated manufacturing is a key to cost reduction for conscious beauty brands in the future. Codex's margins were sacrificed in the beginning in order to vet technology, ensure proper packaging, reduce the carbon footprint of manufacturing, and implement ethical sourcing. "I had this Silicon Valley perspective where, if you look at the raises for companies that are transformative, it took five to seven years," Paldus said. "When you're looking at technology platform changes, you have to spend three to five years in what we call the valley of death in Silicon Valley. That's not being profitable, but it's pushing the envelope and the consumer. It really takes time to create that momentum."
The brand is ready to begin scaling on a meaningful level and is looking at mass manufacturing. Codex has partnered with a large U.S. retailer to create over-the-counter regulated products for acne in the coming year. It also recently entered Selfridges. 
Naa-Sakle Akuete, Eu'Genia Shea
Inspiration: Akuete spent four years in finance working for Lehman Brothers and Barclays Capital. In 2012, she went to Harvard Business School, where she focused on consumer goods, manufacturing, social enterprises and family-run businesses. Shea butter is known as "women's gold" across Ghana because it upholds much of the economy in Africa, in particular in Northern Ghana. There are about 16 million women who support themselves through the industry. She butter has countless uses and healing properties.
Akuete's mother Eugenia realized the women relying on the shea butter economy were geographically fragmented, and lacked access to basic education and technology. The issues led to foreign and domestic market traders negotiating unfair terms with laborers. Eugenia built and strengthened co-ops to increase bargaining power, and bridge the gap between rural pickers and global shea butter demand. Akuete left a job at J.P. Morgan to take over her mother's business and founded Eu'Genia Shea, a line of premium shea moisturizers in partnership with female cooperatives in Ghana.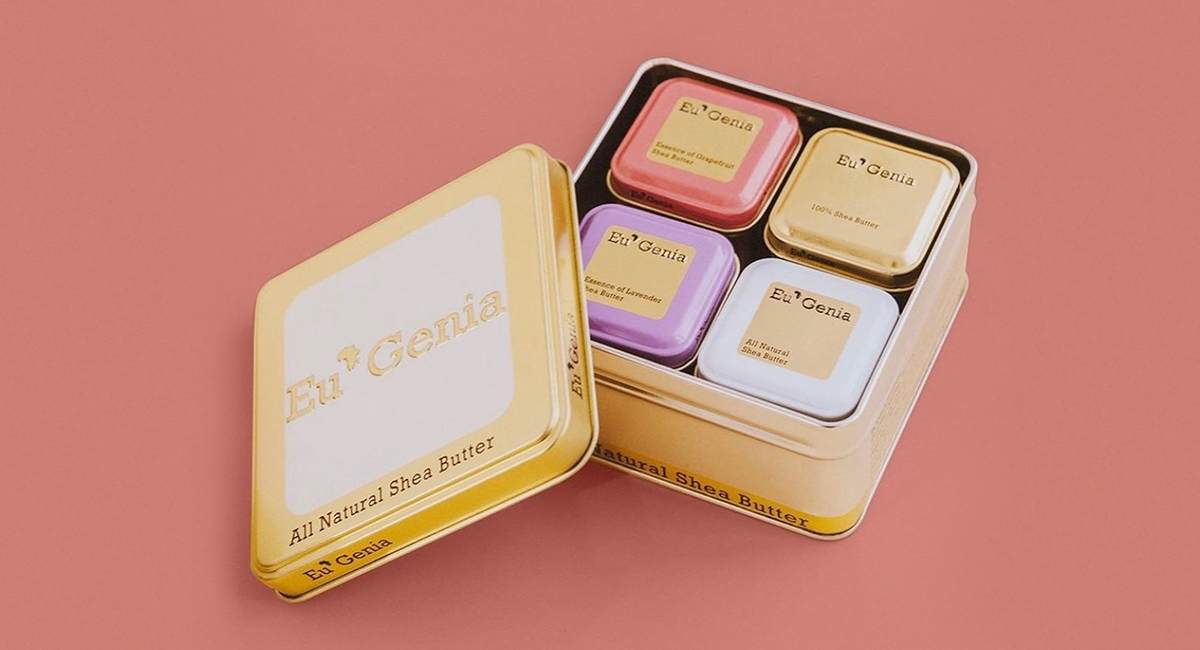 Product: While many products in the beauty aisle use shea butter in there marketing, there's frequently a limited amount in the formula, and the limited amount can be poor quality. With ingredients sourced from and purified in Ghana, Eu'Genia Shea is completely vertically-integrated, and works with about 10,000 standard paid female pickers in Northern Ghana, who on average have five dependents. The pickers are trained to select the highest quality nuts for use and are processed based on the methods developed by Akuete's mother in-house before the product is shipped to the U.S. Since most refining facilities are in Europe, many brands have to transport two to three tons of unrefined shea butter nuts overseas. With a yield of about 33%, the process causes massive waste in terms of shipping. 
The typical refining process strips shea butter of its natural scent and color, but it's also stripping out natural ingredients and vitamins. "Not great from a sustainable or consumer facing perspective," added Akuete. Eu'Genia Shea's products have high concentrations of shea butter: 80% of the formula is shea butter versus under 5% for peer brands. To communicate the value of the product inside, the brand's shea butter balm arrives in recyclable metal boxes. Akuete said, "What better way to package women's gold than to use little gold tins?" 
Key Learnings:  "Every entrepreneur article I read talks about essentially being an overnight success and all of the ups, but we don't talk about the downs enough," said Akuete. She'd like founders to be more vulnerable with people and seek a robust and supportive network. Her biggest piece of advice? Fail fast. Don't spend years perfecting grammar on websites or ruminating over small details. "Get customer feedback, iterate and move forward," she recommended.
She's proceeding with a second brand, Mother Shea, which has a lower price point than Eu'Genia Shea. "I am really excited about the double bottom line concept—one bottom line is profit, the second is social impact and sustainability," she said. "As we do well, we can continue to do good. Increasing the prevalence of this mindset is really exciting to me."