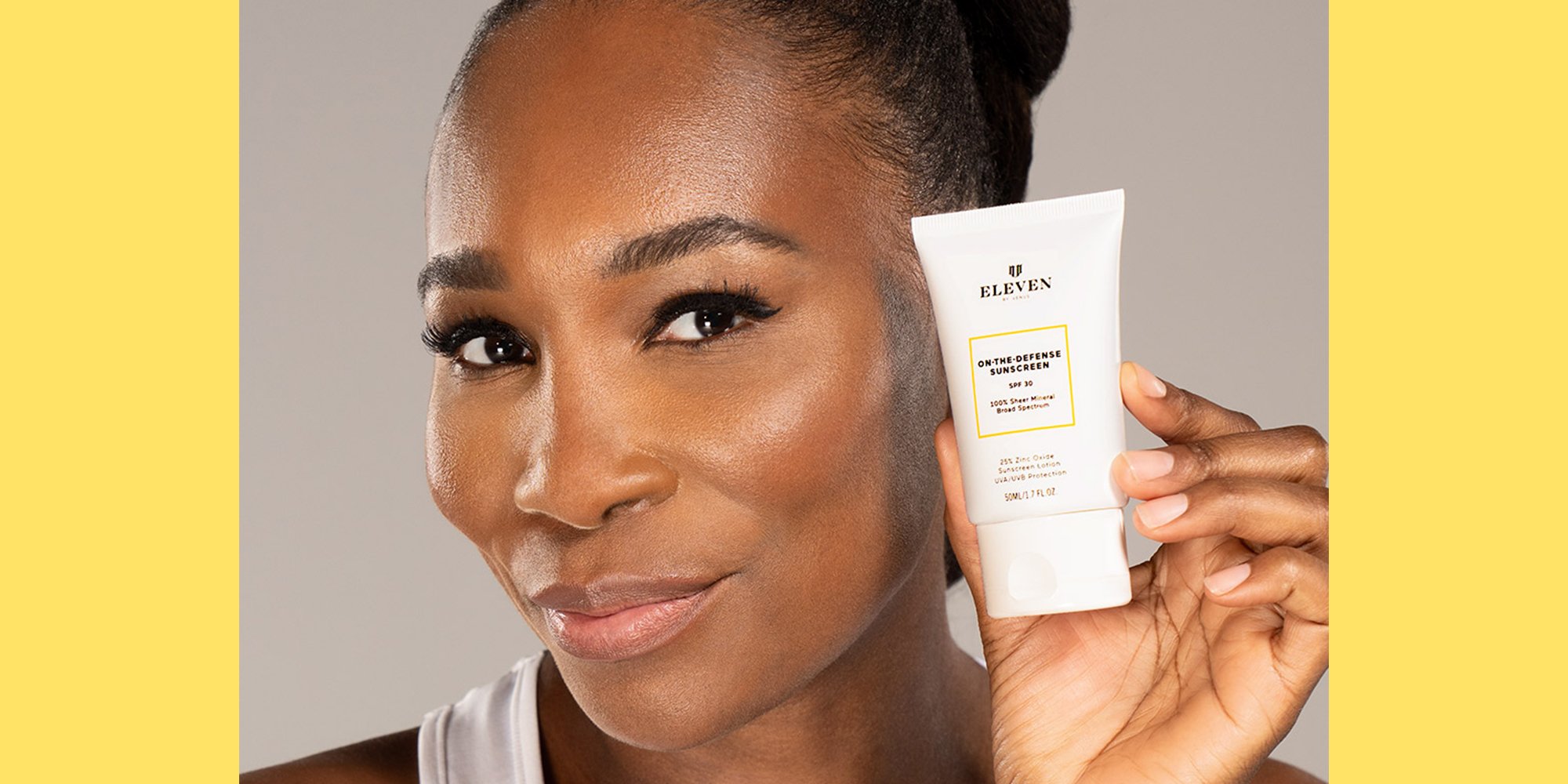 Credo Creates Mineral Sunscreens With Venus Williams' Activewear Line EleVen And The Sunscreen Company
Credo hits an ace with its latest partnership.
In its first foray into creating an exclusive product line, the clean beauty retailer has partnered with The Sunscreen Company and Venus Williams' activewear line EleVen on two mineral sunscreens containing 25% zinc oxide: On-The-Defense, a sheer, semi-matte SPF 30 priced at $42 for a 1.7-oz. tube, and Unrivaled Sun Serum, a lightweight SPF 35 serum priced at $50 for a 1-oz. bottle.
The products are designed to perform under rigorous conditions in the heat on sweaty faces and bodies with every skin tone and type. Mineral sunscreens have been faulted for appearing chalky on all skin colors, but particularly darker ones. Michelle Obama's facialist Jennifer Brodeur praised The Sunscreen Company's CyberDerm Simply Zinc Ultra Sun Whip SPF 50 sunscreen in a Refinery29 article published in January of last year, helping to convince Williams that the mineral sunscreen specialist could execute a sunscreen that worked well for women of color.
Credo, The Sunscreen Company and EleVen toiled on their collaboration for over a year. When their sunscreens were finally slated to debut in April with elaborate launch events in New York and Florida, the COVID-19 crisis interfered. The launch event cancellations weren't the only pandemic-related problems that faced the products. There were sourcing constraints and production delays due to manufacturing facility closures, not to mention the shuttering of Credo stores as a result of shelter-in-place restrictions.
"We are a brick-and-mortar concept. Overnight, we became a DTC clean beauty operation. We had to transform this into a digital launch," says Credo COO and co-founder Annie Jackson. The digital rollout includes a sweepstakes giving away $1,000 in products to a lucky winner from Credo and EleVen, and Williams taking over Credo's Instagram Stories today, the official launch day for On-The-Defense and Unrivaled Sun Serum.
Amid the shifting landscape, the sunscreens' formulas were perhaps the easiest part. The Sunscreen Company has been improving zinc oxide sun protection since 1995, and has done plenty of research and development on mineral formula transparency. Still, CEO Sara Dudley reveals it was tricky to perfect EleVen's offerings. She says, "The Unrivaled Sun Serum is unlike anything we had done in the past. We really had to push ourselves and our chemist. You're trying to suspend these really heavy, big particles in a uniform dispersion in a lightweight fluid, almost like water. Those two things are oppositional. It required a lot of iterations and revisions."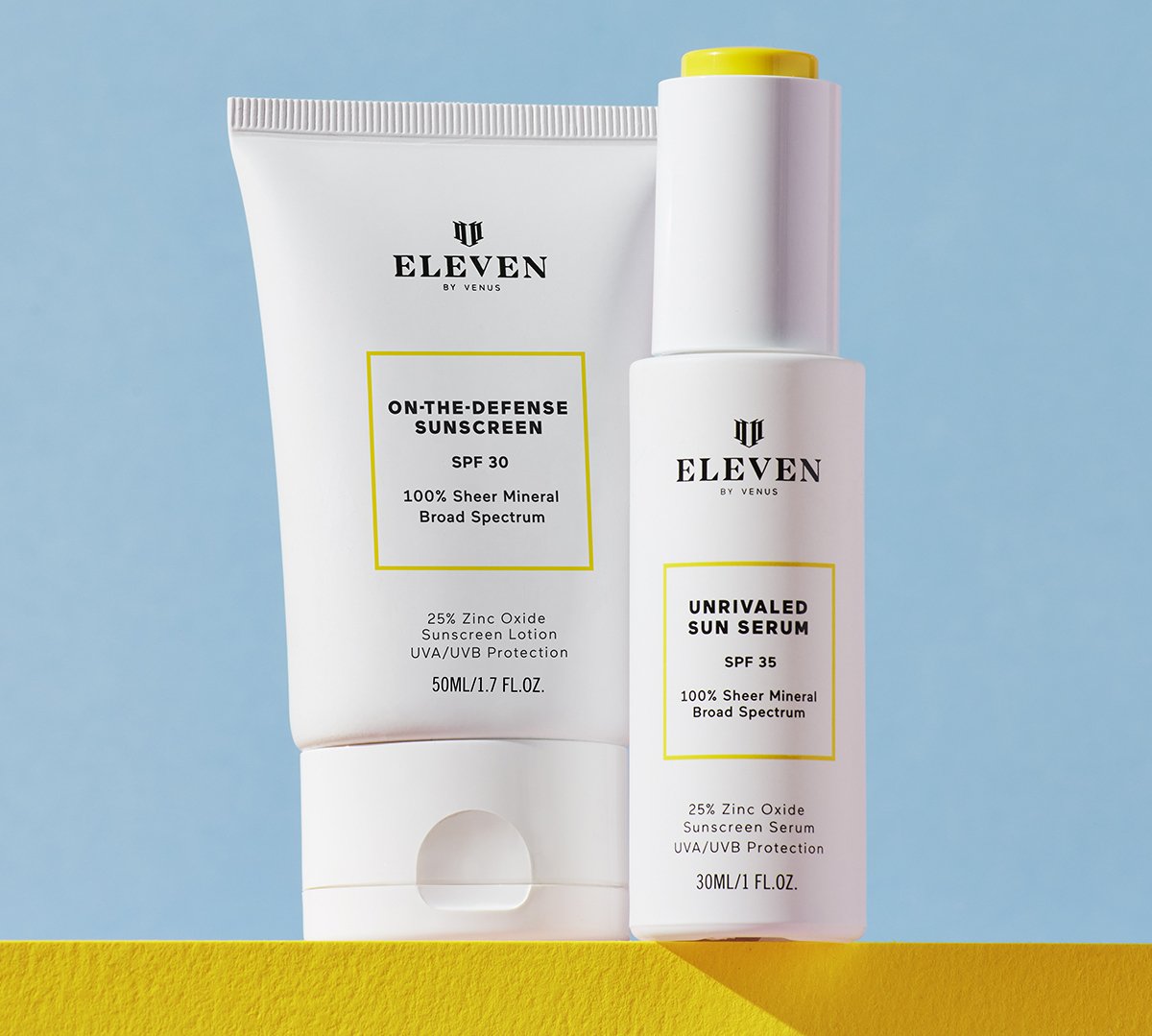 Williams provided constant feedback on the formulation. "As soon as [she] got samples], she would give immediate feedback. In my past life in conventional beauty, we did many high-profile partnerships, and sometimes it was a challenge," says Jackson, previously director of merchandising at Sephora, and director of brand strategy and product innovation at Benefit Cosmetics. "[Williams] had definite feedback on what she wanted. It was so helpful. We could put it to work immediately. And The Sunscreen Company, being true formulators and experts in the field, was able to churn out new renditions right away."
Williams tested the products to ensure they could withstand a pounding on the court—and elsewhere. "She used it in her everyday life, from throwing it in her gym bag to displaying it on her vanity, using it in sport and testing it in water. It was critical this product was to her standards," says Dudley. "We don't have the legacy problems most sunscreens have. [The products] are very tenacious on skin, bind really well and will take a good cleanser to remove. It has to be used on tour. She has to be able to give it to friends and fellow athletes, and be proud."
Williams has entered the beauty game before. Last year, she invested in the natural beauty and wellness brand Asutra. Williams, formerly the No. 1 women's tennis player in the world and winner of seven Grand Slam singles competitions, started EleVen in 2007. Jackson says, "To be aligned with such an incredible person, she's so inspiring. In the midst of all of this, we just smile ear to ear when we think about it."
EleVen's sunscreens arrive as the sunscreen market has been dealt a blow by quarantines. Fact.MR figures sunscreen sales dipped 20% in March. As people begin to step outside, the need and desire to apply sunscreen will undoubtedly rise. Preceding the pandemic, the sunscreen market was projected to accelerate. Statista forecasts it will reach nearly $11 billion in global sales by 2024, up from $8.5 billion last year. Mineral options are a growing category within the overall market as consumers transition to clean personal care, and environmental regulations increasingly restrict the chemical filters oxybenzone and octinoxate.
At Credo, Jackson shares the sunscreen, deodorant and color cosmetics categories experienced the steepest sales dives as the pandemic took root, but they're coming back in a big way now. "I see people trying to establish those at home-work life boundaries and venturing more outside as a critical health investment, but what I've learned is it changes every day. There's no real rhythm to our traffic. Every day, we have to check the pulse," she says, chuckling, "It's like the thousands of memes on Instagram. Nothing is normal, right?"
"The Unrivaled Sun Serum is unlike anything we had done in the past. We really had to push ourselves."
Dudley is bullish on the sunscreen market's prospects. "Of course, you see spikes when the weather changes, but our core clients are very into the nexus of skincare and science," she says. "We're built for everyday utilities—how you incorporate SPF into your routine—so it's fairly steady."
Similar to many areas of the beauty industry, women of color have been largely ignored in the sunscreen segment. However, sun care inclusivity is mounting. In addition to The Sunscreen Company, brands like Unsun Cosmetics, which is carried by Credo, and Black Girl Sunscreen formulate with women of color in mind. Black women use sunscreen at low rates. Researchers at the Centers for Disease Control and Prevention have found 15% of them put it on their faces and 10% put it on their bodies. There's an ongoing debate over the importance of sunscreen for dark skin tones that's complicated by a lack of studies, but the American Academy of Dermatology recommends sunscreen wearing regardless of age, gender or race.
Williams certainly follows the AAD's recommendations. She told Allure, "When I was younger, I was wild and too free, and I took it for granted that I had great skin, but that is not the case now. I am covered from head to toe when I'm outside: long sleeves, long pants, and sunscreen. I try to protect my skin as much as I can." Discussing the premiere of EleVen's sun care at Credo, she commented, "Credo is the leader in clean beauty. It really was just the perfect partner for EleVen to launch a clean mineral sunscreen."
EleVen's sunscreens will be available for curbside pickup at Credo's Chicago, San Francisco and Los Angeles stores. Credo will be tapping its virtual consultation system CredoLive to educate consumers on the products. The retailer has kept its entire team on board throughout the crisis, and pivoted staff members to content creators and digital educators. Jackson says, "Like most small businesses, this is the benefit, we can adapt to how customers are feeling, get immediate feedback and react."
Credo, EleVen and The Sunscreen Company declined to estimate first-year sales for On-The-Defense and Unrivaled Sun Serum. However, their confidence in the sunscreens' success is exhibited by a commitment to extend the collaboration. Merchandise could be in the pipeline for possible 2021 introductions. Jackson says, "Venus' line is named EleVen for a reason. Ten isn't enough. She's always going the extra mile. She's knee deep in the project with us, and there's much more to come."