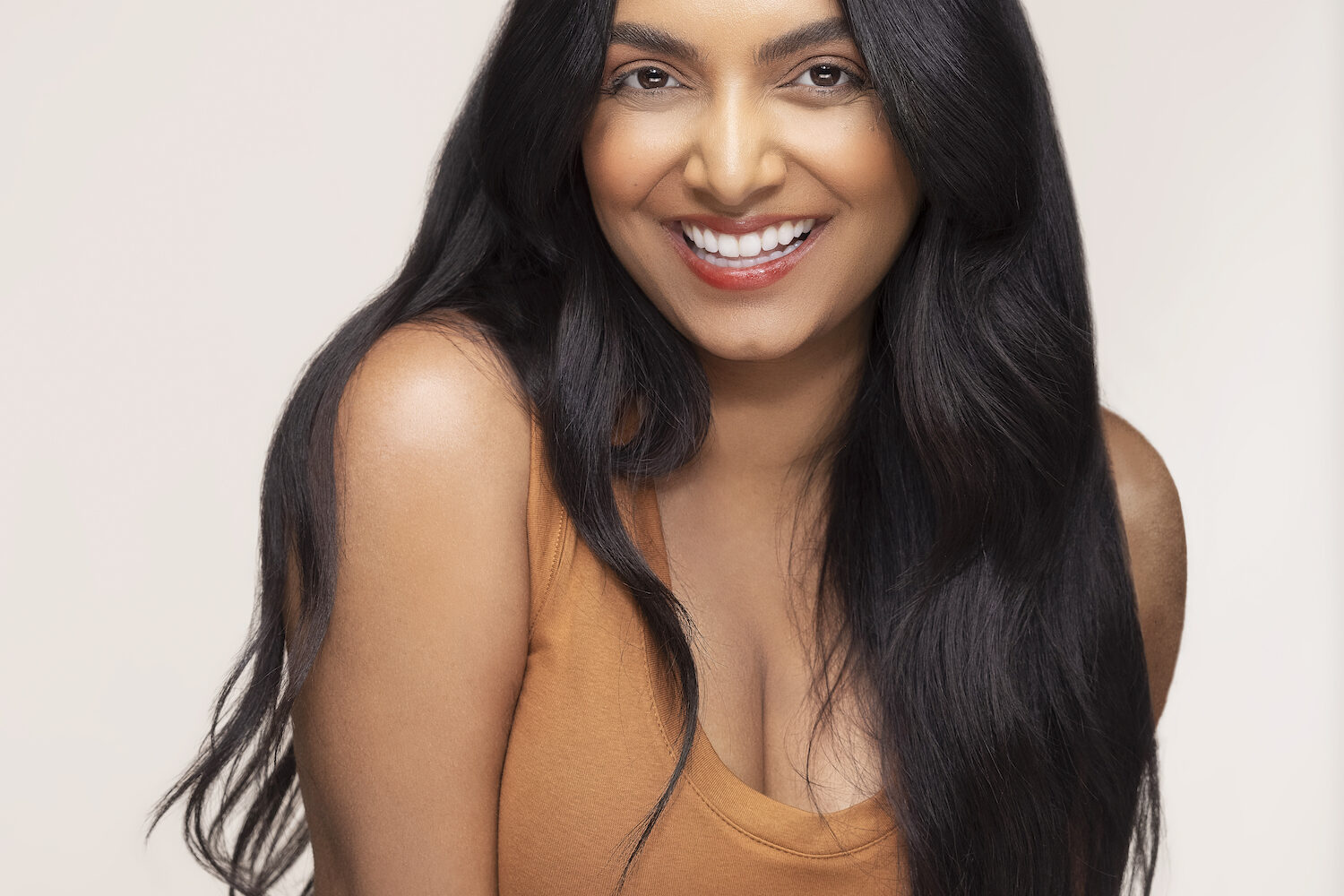 Live Tinted's Deepica Mutyala Thinks Venture Capital Investors Have A Tokenism Problem
"I fell into it," says Live Tinted founder Deepica Mutyala of the fortuitous move into content creation that catapulted her into entrepreneurship. Shortly after graduating from business school at The University of Texas at Austin in 2011, Mutyala worked at Birchbox for three years as a brand campaign strategy manager and brand development senior manager. In 2015, she went from being behind the scenes in the beauty industry to focusing on being in front of the camera after a YouTube video she posted showing her applying red lipstick to hide her under-eye circles went viral. Four years later that same viral moment served as inspiration for Live Tinted's debut product Huestick Corrector. The brand has since expanded beyond its hero product with illuminator Hueglow, copper eye mask Rays, Unity Balm Gloss, Huestick Multistick and Hueguard, a mineral sunscreen, primer and moisturizer that drew a waiting list of 10,000 people before its July 13 release. As Glossy has reported, Live Tinted just launched on QVC with a $37.63 set containing Huestick and Hueglow.
The brand has received seed funding from several well-known names, including beauty and personal care veterans Bobbi Brown, Jaime Schmidt, co-owner of Color Capital, and, in a full-circle moment, Mutyala's former boss and Birchbox co-founder Hayley Barna, a partner at First Round Capital. According to an industry sources estimate in Women's Wear Daily, Live Tinted's revenues could reach between $5 million and $10 million this year. Beauty Independent chatted with Mutyala ahead of a Turks and Caicos Islands getaway about her biggest entrepreneurial lessons, Live Tinted's distribution strategy (it will be available at retail soon!) and fundraising struggles.
What led you to become a content creator?
I fell into it. Back in 2015, I had a video go viral on my YouTube channel. It was the second video I ever posted, and I was using red lipstick under my eyes to hide dark circles. The internet went wild and couldn't believe what was happening, and it created this brand new career as a content creator. I got an email from the "Today" show to come on and do this segment on air, which was the sign that I felt I needed to say I wanted to move forward to do this full-time.
Do you think that your relationship to content creation has changed over the years?
Oh, absolutely. When I started, because it was a beauty video that went viral, all my content was really focused on beauty. Now, I've grown as a human being throughout the years, and you can see that I've inserted more of my family and parts of my identity and my culture into my content. I think the constant theme I've always kept on with is trying to represent for people like me. Whether that was giving beauty tips or sharing my family or vlogs of my life as an entrepreneur, I always wanted brown girls to see themselves through my content.
You can see that evolution happening starting and, now, I'm kind of connecting all three of those things together. What's so cool is, when I first started, there weren't a lot of South Asian women doing this. Now, there's a whole collective of us that do beauty content. So, I feel like it's exciting that I've been able to start my career in that, but, now, I'm really excited that there are other people doing it, and I have evolved into doing more entrepreneurial-related content.
Why is Live Tinted the brand that you wanted to start?
The whole reason I named it Live Tinted was that I wanted it to be an actual mantra, like living tinted in your skin [and] embracing that aspect of yourself because that's something that I didn't do my entire life. I grew up in Texas where I saw a lot of blonde hair, blue eyes as the standard of beauty around me, and I completely transformed myself to fit into those beauty standards. I dyed my hair blonde. I got blue contacts. So, I think, between my experience of starting on the corporate side of the beauty industry, then becoming an influencer myself, Live Tinted is really a testament to my experiences in the beauty industry and wanting to change what I didn't have growing up in this space.
That's why we started as a community platform where we discuss things that I feel like people weren't talking about in the beauty industry like colorism and just taboo topics that were neglected because people of color haven't been the focus of this industry—ever. So, we started there and, then, once we started to think about, OK, what kind of products can we create for this community?, we simply asked them, "What is it that you wish you had? What is your No. 1 beauty concern?" And they overwhelmingly said dark circles and hyperpigmentation. For us, the products we create are really solutions for our community, which is very specific and focused on people of color.
You're in the midst of a second fundraising round for Live Tinted. What's been your approach to securing investment, and what's the most challenging part?
This is like a therapy session. I could go on forever about that. It is still really hard as a woman of color to be able to secure funding. The fundraising space is still very archaic, and I still think there's a lot of work to be done is what I'll say. I think we have to continue to fight as women of color, as people of color for space and a seat at the table. I feel a personal responsibility to help change that for other women of color. I think, for me, the approach when I first started was to go to angel techs and not go the traditional VC path in a big way because I wanted control of my company. In the beginning, there are so many learnings, and I didn't want to have somebody else dictate those decisions.
I've heard stories from friends and founders of mine that it can go south really fast if you don't have the right support system around you. So, I purposely chose to bring in a bunch of incredible founders and friends in my life that have been mentors of mine to give me angel checks because it wasn't even about the money at that point, it was about the advice and the guidance and the mentorship. That's really what I needed when I first started my business. I brought on some amazing people like Bobbi Brown, Payal Kadakia from ClassPass, Hayley Barna, who was my old boss at Birchbox, [Bonobos CEO] Andy Dunn and so many other founders that are basically legends and are creating brands that I feel are very impressive and that I could learn from.
Now, I'm going through the process where we are talking to more traditional VCs in a bigger way. We did have some of those checks in the beginning, too, but they were much smaller because, again, I didn't want to let go of control. As I go through this, I realize there's still so much education to be done around investing in women of color, and there's such tokenism involved. If a fund has already invested in a woman of color, they feel like they've checked off that box in their portfolio, and they can't understand the scope of going wider than that one person. [That's] my personal experience.
That said, I do think it's changing, and I'm proud that I have some incredible VCs already a part of our cap table like Female Founders Fund, which has a South Asian lead behind it, which I think has helped her get behind the brand. Halogen Ventures, which is [led by] a woman, Jesse Draper. I think that kind of sentiment is really the energy that I want to be a part of the brand anyways. It's just frustrating that, as people of color, we still have to keep fighting the fight, but it's real.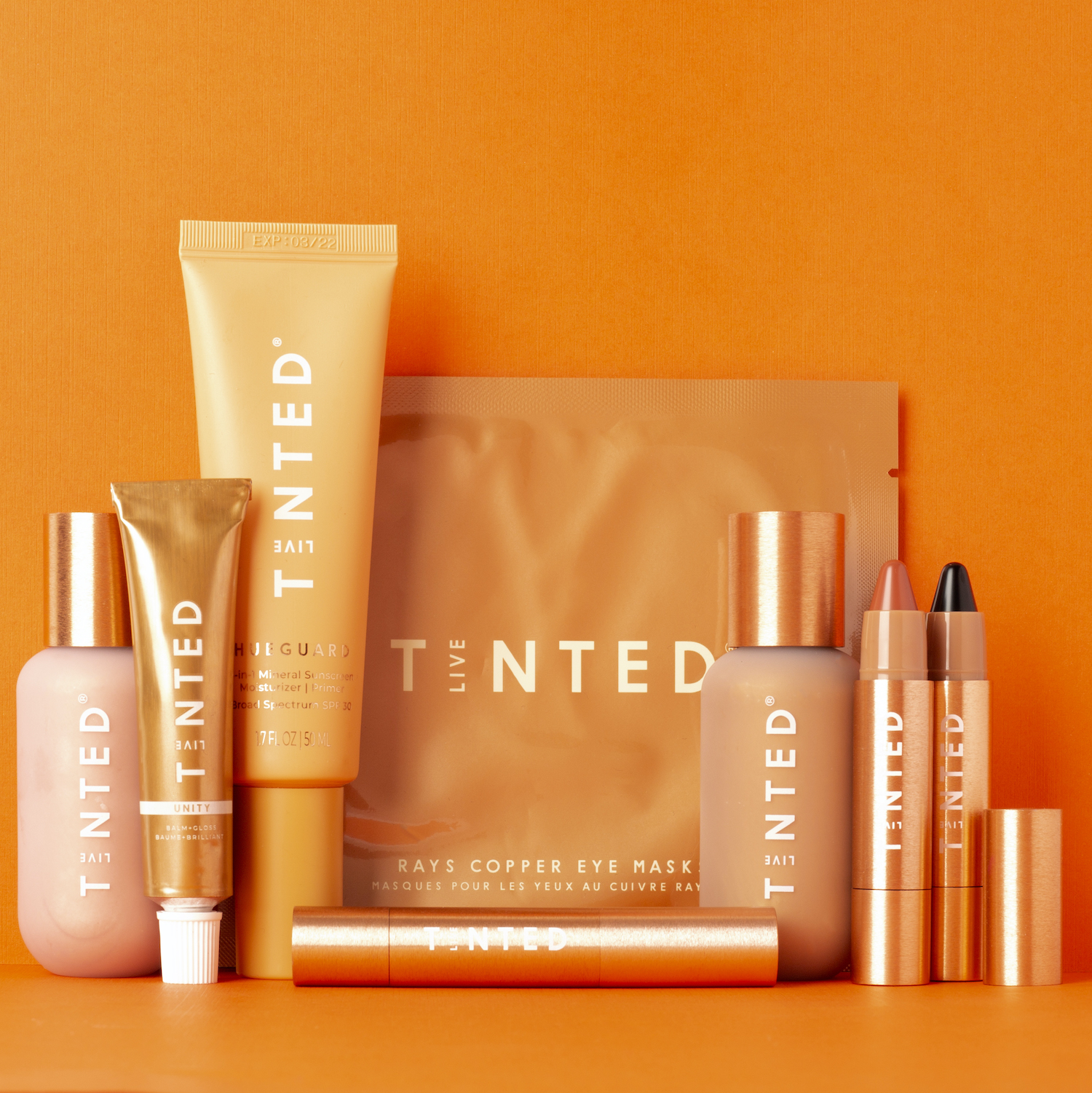 With the round that you're raising right now, what do you want to accomplish with the funding?
It's really to scale. We just recently brought in a VP of marketing Aminata Tall, who has had over a decade of experience in the beauty industry, and I feel like that is invaluable. It's just incredible what experience and a team can do to scale a company. We really want to bring in more senior leaders across different divisions and expand our marketing efforts. Everything has been incredibly organic for us this far, and we need to scale.
What's been your approach to building out your team so far?
In the very beginning, I started my company with the person that I felt was the smartest person in my life, which is my cousin and co-founder Neilesh Mutyala. He likes being behind the scenes, so I don't talk about him a lot, but I think he deserves a lot of credit because I know that a ton of the operations in the business I wouldn't have been able to handle on my own. He helped me get that started so I could focus on fundraising, marketing, product development, operations and PR. So, I'm really grateful that I had him from the beginning, and he's still a crucial part of the business. I think, in the early days, you kind of have to get people that are very hands-on, and can wear all the hats and be more of a generalist. Now, I think we're at a stage where we need to bring in more specialists.
You recently returned to your hometown of Houston to be closer to your family. Has the change of location impacted how you run your business?
I think COVID has taught us that you can live your dreams anywhere and everywhere. I think that's just so exciting and cool to think that we can recruit and hire people from different parts of the country and have diverse talent. I personally have found that being close to home has been very grounding for me. Life is pretty chaotic. Being an entrepreneur is really chaotic. I'm still always flying to New York and LA, but even just having a few days at home has been really grounding and really great for me. I'm really happy that we've all come to this new world where you can really do your job from anywhere. Life has never felt more precious, you know? So, it was like, who do you want to spend that time with? It's with your family.
Live Tinted's new sunscreen was two years in the making. What challenges did you encounter developing it? 
It's crazy how many labs we went to and proposed a mineral SPF without a white cast and how many came back without being able to achieve it. So, that's why it took so long. Also, we were trying to do the right thing across the board: clean, vegan, cruelty-free, put it in 100% PCR, make it so it didn't have the white cast, left your skin feeling glowy and more moisturized, use it as a primer before you put on your makeup. I mean that's a lot because just creating a mineral SPF without a white cast period is already really tough. Add all these other layers that we're trying to do, it felt impossible.
But innovation to me is a key part of what I want Live Tinted to be remembered for. I think the fact that we won innovator awards from Elle and Allure Best of Beauty award for the Huestick, the industry is recognizing that we're putting time and thought into every detail of our products. You can tell that we're not just pumping out products left and right. There is purpose and intent behind everything we do, and that comes down to our product pipeline as well. To me, there are enough mascara and lip liners in the world. What's the point of creating one if you're not going to do it in a way that innovates? That's really always in the forefront of my mind whenever we put out a product.
What's the distribution strategy?
We're currently all online. We are available at Cult Beauty, but it's all online. I fully believe that brands need to be omnichannel in the current beauty climate, and you will see us doing the same this fall.
When you look for a retail partner, are there certain boxes you're looking to tick off?
I've met with every beauty retailer out there, and what I have realized is it is so important to me that I get to dictate the pipe product pipeline for our community and our audience. There are some beauty retailers out there that try to dictate that for you. I want to think bigger than just that one retailer and think about what I know I feel like is missing from this industry from my years of experience and just listening to the community. I never want us to forget about the community that we're serving. Sometimes, when you go into a retailer, you get lost in the noise of it all. I feel like we finally found an incredible retailer that valued our messaging around diversity and inclusion, and also valued my vision and the team's vision around what products we wanted to put into the world, which is very exciting.
What lessons have you learned so far on your entrepreneurial journey?
Another therapy question. It's never easy. Every day is a roller coaster. I wake up with the highest of highs and the lowest of lows all within a 24-hour period, sometimes within a one-hour period. I try to normalize in my brain that the busyness of it all is going to keep happening, but being busy is actually a blessing. I literally dreamt of creating this brand since I was 16, so I've really had to find self-care things that are meditative to me that calm me and help me deal with the fact that rejection is a part of this business. I have to tell myself everything happens for a reason and it's to guide me down a different path. That doesn't mean that I don't keep going, if anything, it fuels me to go even harder.
What are some long-term and short-term goals for Live Tinted?
Short term, I want our mission of making a more diverse beauty space to come to life outside of the digital space. So, I'm really excited about us launching in a retailer this fall. Long term, it is one of my biggest dreams and goals for Live Tinted to launch in India. It's very personal to me. It is important to me, and I will make sure it happens one day. Hopefully, sooner rather than later.
This article was updated on Aug. 14, 2021.