Dermaflash Plugs Into New Channels And Continents With Dermaflash 2.0
Success doesn't stick around for companies that stand still.
Although the product has been a consistent bestseller at Sephora, Dermaflash  completely redesigned its signature at-home facial hair removal and exfoliation device. The brand unveiled the retooled tool at Indie Beauty Expo (IBE) last month and a launch party last week in New York, where its creator Levy ballyhooed the upgrade.
"It's so elegant and so beautiful," she enthused. "We've actually taken away all the guesswork. It's more intuitive."
Dubbed Dermaflash 2.0, the redesigned device retains the benefits of its predecessor while containing improvements that address customer concerns about functionality. The original product hit the market in 2016. 
"Our clients that were shopping at Sephora or Nordstrom – very tech-savvy, very fashion-forward [clients] – had no problems. Our reviews were great," says Samantha Murphy, general manager of Dermaflash. "But we have a large population of women that shop via QVC or even our own website who are older. Performance and results were never an issue. The form and function [were]. Women had trouble charging it. We had a lot of women who had trouble loading and inserting an edge. We also had issues with turning the button on and off."
In addition to easing use, 2.0 makes Dermaflash available to new swaths of international consumers. The brand is gearing to capture a larger slice of the global beauty devices market, projected to reach $10.7 billion this year. It's intent on expanding distribution abroad this year, and the enhanced device is able to be charged globally to make that expansion possible. 
"Our charger before was a North American adaptor. We've moved to a USB plug so you can take it everywhere. This will also service our clients internationally," says Murphy. "After attending IBE, we got a lot of interest from distributors as well as retailers across the water, especially in the U.K., Europe [and] the Middle East. I think the Middle Eastern woman is searching for hair removal. We needed to be able to get a device to [her]." Rounding out the new features is a second, faster speed and condensed size. "It now stands vertically to charge, so it won't take up as much space," notes Murphy.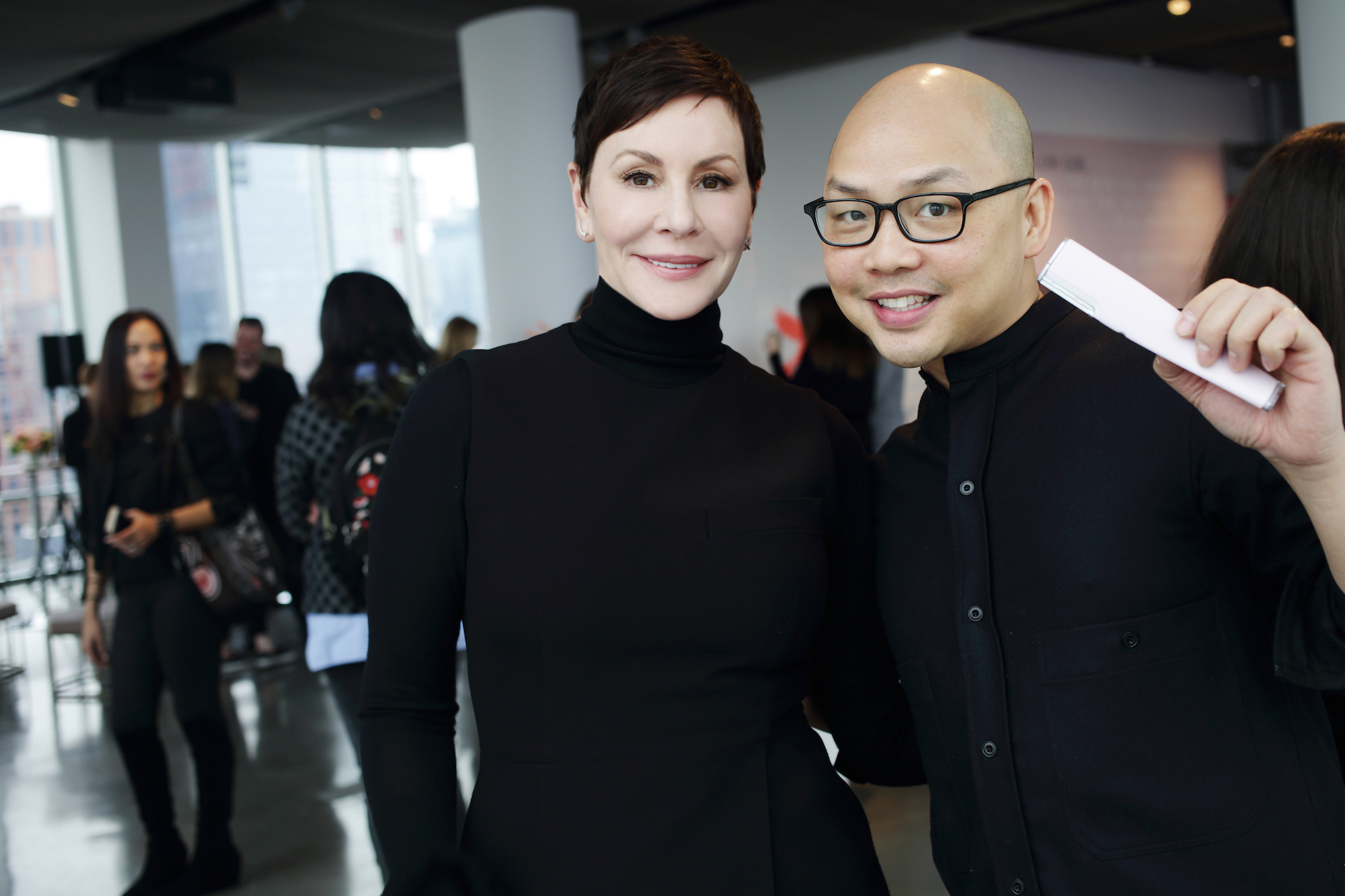 Launch party attendees were invited to get "flashed", or have their fine facial hairs excised by so-called Flash Squad members, followed by makeup touchups from makeup artist Daniel Martin and his team. "I really love this product, and I really see a difference in the makeup," says Martin. "A lot of people don't realize that the fuzz you see in pictures you can't retouch, and that's a big gripe that a lot of photographers have, so it makes my job and their job a lot easier if I can remove it."
Prior to introducing Dermaflash, founder and CEO Dara Levy owned a med-spa that specialized in dermaplaning. For 2018, Levy plans to return to her med-spa roots — and she's taking 2.0 with her. Dermaflash has entered 125 med-spas in the past year and aims to increase that number. "When you get the approval of the doctors, you become an authority," she says. 
Levy has her sights set on the resort spa market, too. Dermaflash is already enmeshed at several Ritz Carlton and Four Seasons spas, where estheticians incorporate the device as an integral step of facial treatments. "Before I opened my doors [to my med-spa], I decided that dermaplaning was going to be the foundation of everything we did. I was addicted to the treatment," says Levy. 
"What's really important to know is that I have invented a new category in skincare," she continues. "This isn't just about peach fuzz. This is about exfoliation on steroids. I always say the skin you want is lying just beneath the skin you see. And Dermaflash instantly reveals it. 2.0 is going to be a real game changer for women around the world."