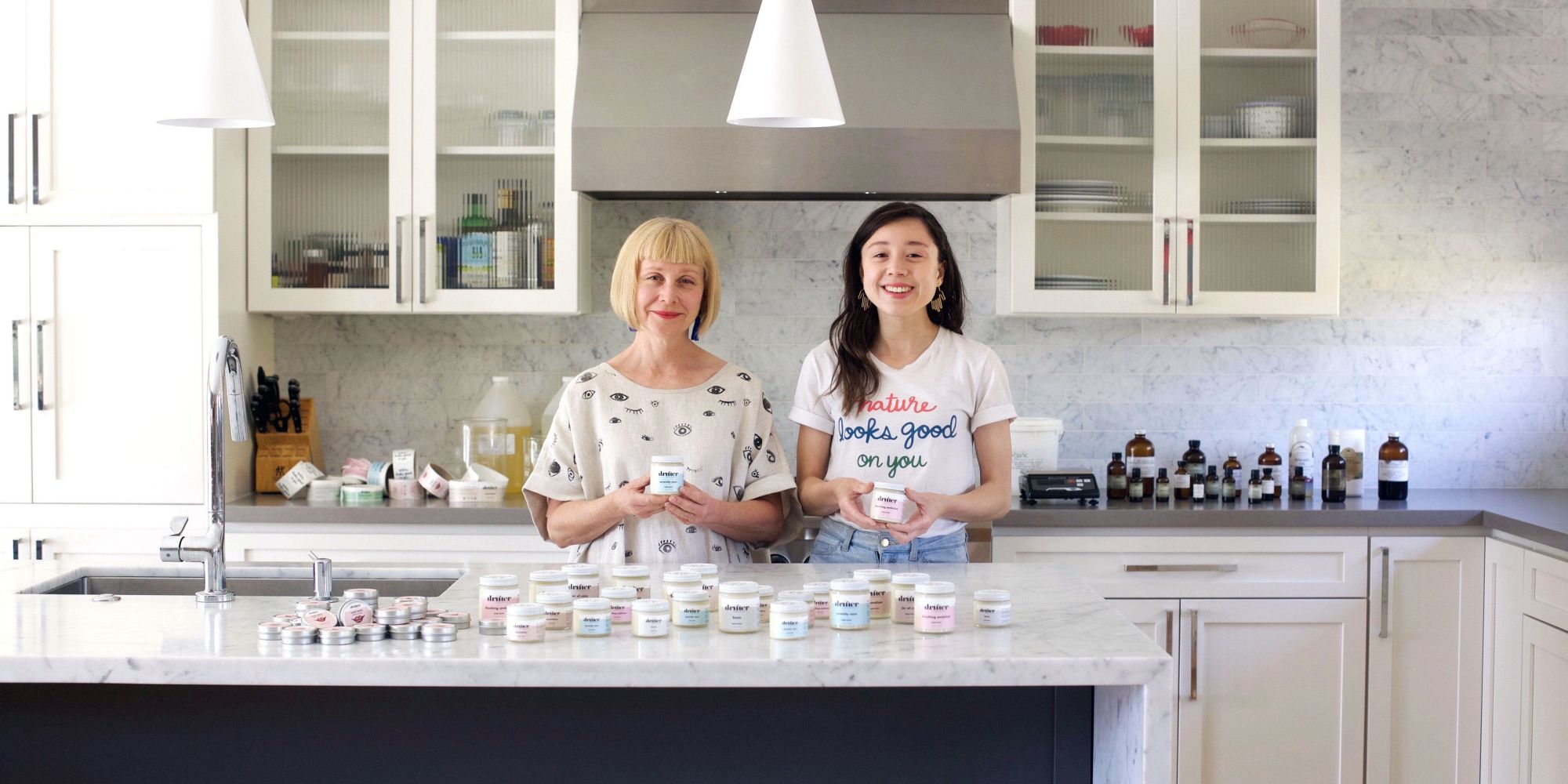 This Mother-And-Daughter Duo's Cheerful Skincare Brand Will Make You Smile
Most women would tear their mothers to shreds if they had to work with them regularly. Micaela Hoo isn't like most women and neither is her mother Dawn Marie. The spunky duo behind Drifter Organics manages to infuse their products, and their business and personal relationships with good cheer. "We complement each other very well. Micaela tends to be more of a worrier and a high-anxiety person. I take it one day at a time and don't worry too much," says Dawn Marie. "We would've never embarked on anything like this if we didn't get along." The 57-year-old and her 23-year-old daughter are growing up in the skincare segment together, and their bond has endured the challenges of entrepreneurship. Beauty Independent chatted with the Hoos about their effervescent style, the bed as a creativity engine, making mistakes, substantiating organic claims, juggling a packed schedule and not killing each other while building their brand.
How did Drifter Organics come about?
Micaela: One of my earliest childhood memories was being in preschool and having my hands itch. I would scratch my hands against the rug in my preschool classroom. My hands were bleeding, and they were raw. My mom would take me to the pediatrician, and they would prescribe a steroid-laden cream. The instruction was to not use the cream after a week because it would thin your skin, but it would clear eczema. There were lots of red flags there. My eczema went away, but it always came back because you were putting a Band-Aid on the symptom. I had used so many prescription ointments that I decided I'm going to let my eczema run its course, and use as many natural remedies as I can and see if it will go into remission on its own. I was doing every natural remedy in the book. After four months, it started to clear up. That was very powerful to me. I also have had digestive issues. I was tested for food allergies, and I tested positive to being allergic to 75% of the foods. My nutritionist said, "Don't be alarmed. Most of those are false positives. They're a sign of a leaky gut." She gave me homework to look at my skincare and my food. I couldn't have citrus, which is used to preserve a lot of natural beauty products, and I couldn't have black pepper essential oil. At one point, my mom started making skincare for me. That's how Drifter Organics began. It wasn't on our radar to start a natural beauty line. We formulated the products for me without the intention of selling them, but, after we nailed down formulas that we liked, we realized that, if works for my eczema, it might work for other people.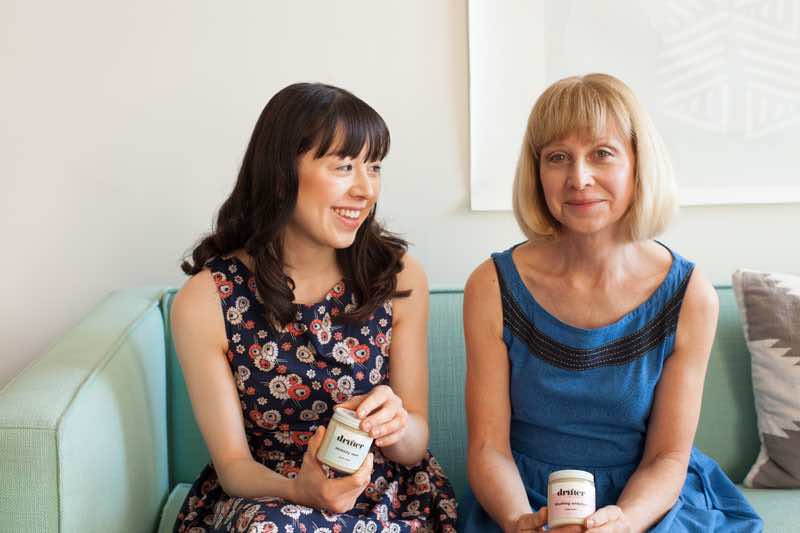 You raised money through a Kickstarter campaign to start Drifter Organics. Why?
Micaela: It was a safer route to launch a business. We weren't sure what the reception would be to our products, so we thought we'd test them out with Kickstarter. It would be a good way to see the response without buying a domain and figuring out which e-commerce platform to use. The second aspect was obviously fundraising. Starting from scratch, we had expenses, and we needed to raise money somehow. We thought Kickstarter would be a great way to bring awareness to our products while also raising money. We had a goal of $7,000 to break even. We wanted to raise money for getting certified organic and cruelty-free, and for the cost of supplies and packaging. We ended up getting over $11,000.
What was the process like to develop Drifter Organics?
Dawn Marie: At the beginning, it was trial and error. I don't have any background in this. Before Micaela was born, I was a legal assistant and, then, from the time she was born until four years ago, I was a stay-at-home mom. I got on different websites and did a lot of Google research on oils, and what they're good for. We got a concoction working. It was good and was helping Micaela's skin, but it wasn't good enough to sell. It was either too oily or too grainy. We sought help from Gay Timmons, and she tweaked our recipe a bit. We launched in April 2016 with the products we have now: Serenity Now, Neutralizer, Blushing Ambition and Basic. We did Basic because some people don't want any scent at all. We have a seasonal scent for spring and summer called Barefoot In The Park, and one for fall and winter, which is Jar Of Cozy.
What did you make sure the products don't have?
Dawn Marie: We needed to preserve the products with something, but we didn't want it to have soy. A lot of people are concerned with soy. We use tocopherol. Tocopherol is vitamin E, and it can either be derived from soy or sunflower seeds. We go to the sunflower seed route.
What's been your distribution strategy?
Micaela: We primarily do e-commerce with a strong focus on marketing through social media, primarily on Instagram. We do craft fairs and pop-ups a few times a year. We also have connected with retailers at trade shows, craft fairs and online.
What percentage of your business is direct versus wholesale?
Micaela: I would say 70% percent is direct, and 30% is wholesale.
Pretend Beauty Independent is a retailer. Give us a quick pitch on your brand.
Drifter Organics is an all-natural skincare line that's certified organic, cruelty-free, vegan and non-GMO. It is made with shea and cacao butters, and various carrier oils scented with different essential oils.
Amazon, yes or no?
Micaela: No, we are not on Amazon. I've heard that Amazon has really high quantity orders and, at this point, I don't think we are ready to have a few thousand items to qualify for Prime. I don't have anything against Amazon. I use Amazon Prime all the time for myself. In the future, if we had an opportunity to sell on Amazon, I wouldn't say no.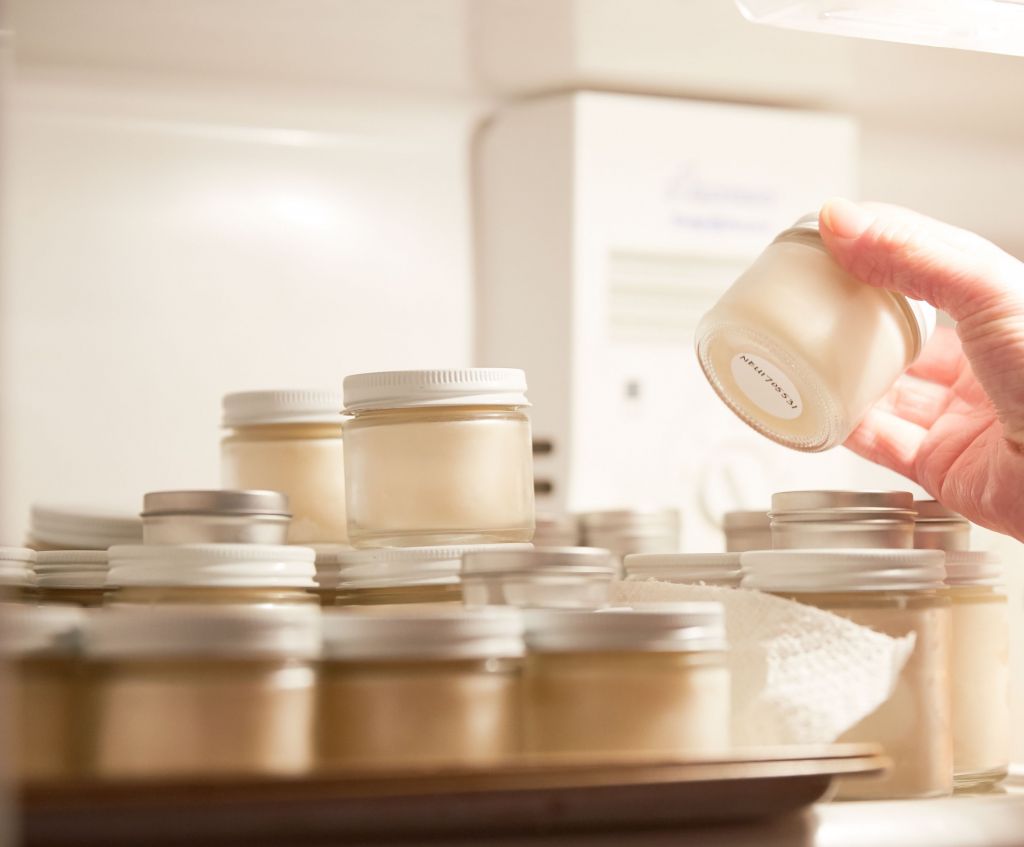 When will the company reach profitability?
Micaela: Right now, we are just breaking even. We are hoping to reach profitability in 2018. We are almost there.
Who is your target customer, and how did you identify that target customer?
Micaela: Our target customer has a pretty wide age range. Everyone needs skincare. Since my mom and I are in business together, it's important to marry both generations. It starts at age 18 and can go up to 60. We try to keep the brand feminine, whimsical and fun, but not over the top. We want it to be sophisticated as well as fun.
Why does the brand look like it does?
Micaela: The brand is supposed to be quirky and cute without being in your face. We found there was nothing in the middle of crunchy skincare, and skincare that's very minimal and black and white, almost pretentious. When you do get more approachable design, it gravitates toward being Disney-esque. Why can't natural stuff be fun and colorful, too? We are trying to be whimsical and natural.
How do customers usually find Drifter Organics?
Micaela: People usually find us through Instagram. Also, I have a fashion and lifestyle blog. I try to direct my audience to my business without being over-the-top salesman-y. It's also word of mouth. We talk to friends who use our products, and they mention it to their friends. I'm a huge podcast junkie and a lot of them have private Facebook groups. I do a lot of networking through that, and I do a lot of cold emails to writers. Basically every single avenue you can think of, we've tried.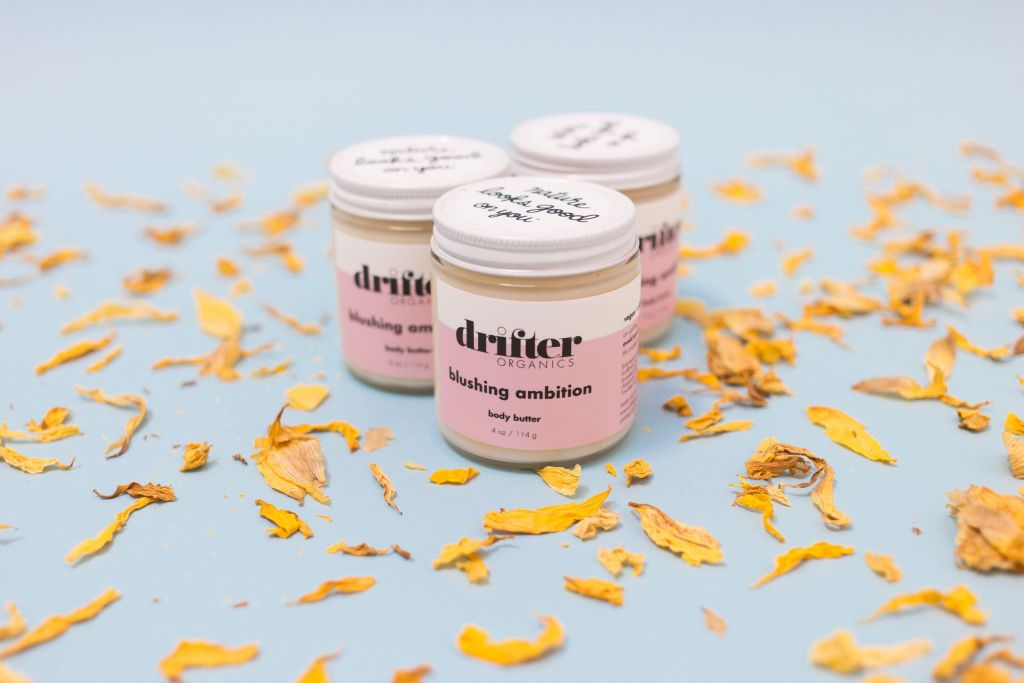 What are a few of your favorite podcasts?
Micaela: One Part Podcast by Jessica Murnane, The Lively Show and Happier with Gretchen Rubin.
Tell us about your blog, Oh My Drifter.
Micaela: I was a freshman in high school. I was browsing online one day, and I landed on a blog. I thought, "Oh my goodness, this is so cool." I started my blog in November of 2008 as mainly photography. I wasn't doing much fashion and lifestyle. Over the years, it evolved into style and different outfit pictures. I love colors and mixing patterns, and creating an offbeat, quirky vibe with my outfits. My mom is the same way. She loves color. It's not very hard to put my personality in my work. I dig in my head and pull out what's going on in there. I am blogging a lot less. I used to post consistently a few times a week, but now it's once a week. With the shift toward social media, I have found other bloggers are posting a lot less, too, but sharing behind-the-scenes on Instagram Stories. A lot of my audience has shifted to Instagram, so they're not losing me. I like to think of Instagram as micro blogging, and my blog is the more long-winded version of my thoughts.
At Drifter Organics, what's the approach to social media?
Micaela: We like to do a lot of Stories. It's really important for us to show our faces and show that there's actually personalities behind the brand. We're real people. It's not just here's a logo, but you don't know the people behind it. We make mistakes everyday. Our consumers can identify with us.
What have you found challenging about building Drifter Organics?
Micaela: Time management. We would ultimately like this to be our full-time gig. I'm still going to school, and my mom has a part-time job. We are trying to keep ourselves afloat. At this point, the business is growing, but we are not ready to outsource our manufacturing yet. We produce everything in-house literally in our own house. Our kitchen is certified organic. We are trying to save as much as we can and push the threshold of how much we can produce at home, but that's getting to be a challenge.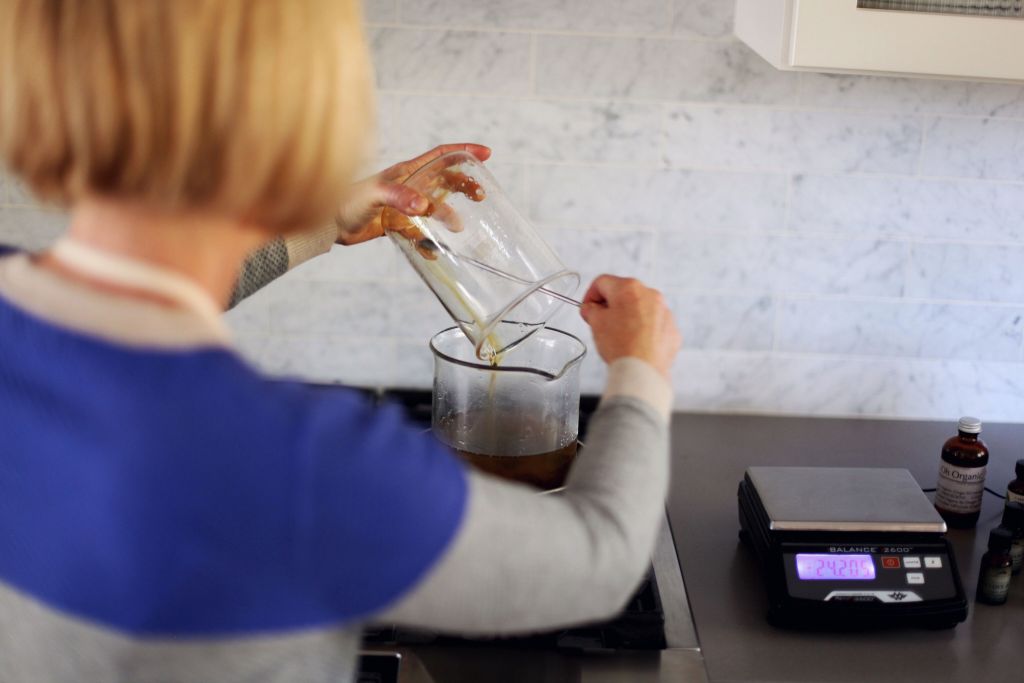 How do you try to manage your time?
Micaela: We are still working on it. We have a shared Google account and a Google doc with everything we need to do. We know what we have to do on certain days. My mom takes care of product formulations and making the product. I do the photography and social media. Of course, since we are only two people, our roles definitely blend together at times. Sometimes, I make the product, though, having set roles makes us more efficient.
How is it working together?
Dawn Marie: We always got along well. People joked we were more like sisters than mother and daughter, and we work well together. I work at an animal hospital, and Micaela has another year or two of school left. With the business, we are taking it slow. By the time she's done with school, hopefully, the business will be at a point where she can support herself with it and graphic design. At that point, hopefully, it should be my [full-time] business, too.
Walk us through your work environment.
Micaela: We usually work from the kitchen. That's where we make all of our products. I have a computer station there. We live in the same house, and we'll do bedtime sessions. We will sit on the bed at bedtime. It's the equivalent of study hall. Sometimes we're doing our own research, and it may not be anything that pertains directly to the brand. It might just be getting inspiration on Instagram or Pinterest, and we'll tell each other about it. We will say, "Have you ever seen this shop in this city? This place is really cool. I'm going to email them." It's nothing super hard core, but it's a good way to get our creative juices going and talk out different ideas.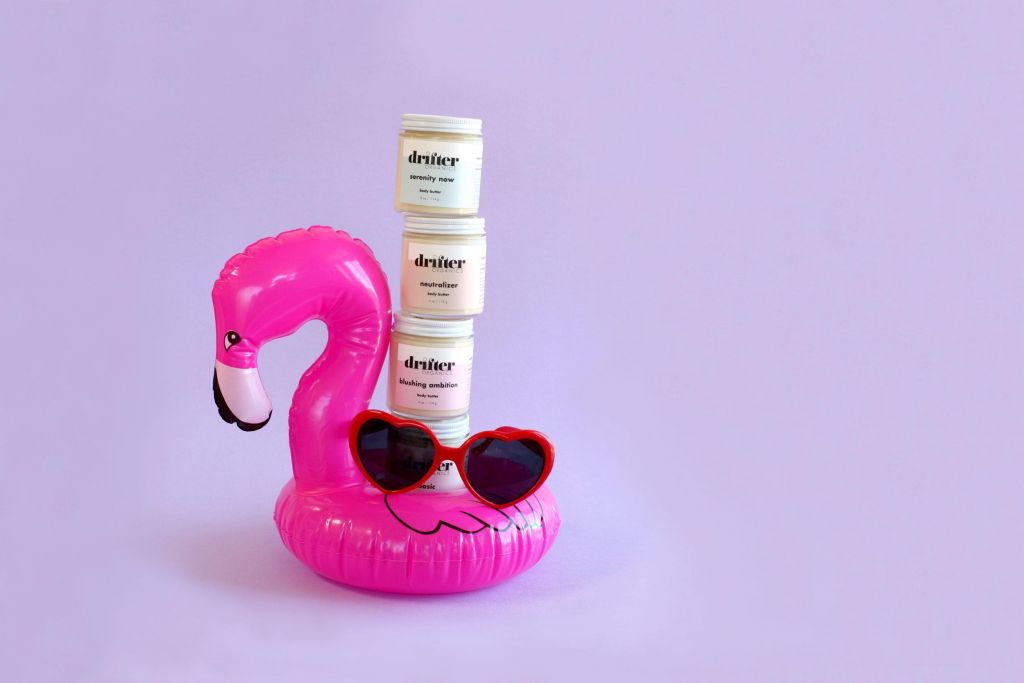 What was it like for Drifter Organics to become certified organic by Oregon Tilth?
Micaela: I'm so sensitive to products that I need to see a seal that says certified organic before I can use something. I asked myself, "Why would I make something if I wasn't able to buy it?" If we didn't have certification, I wouldn't really trust the brand. I can't risk having a reaction. It was a lot of paperwork to certify, which was not fun at all. It was probably one of the worst things I've ever done in my life. We had to fill out 30-plus pages, and it included stuff that didn't apply to us because Oregon Tilth certifies farms as well as natural beauty businesses. An inspector came to our house to see that we were being truthful about everything we wrote. That was nerve-racking. It was our main cost and why we did the Kickstarter campaign. It cost $1,250 plus another $500 for an inspector to travel to you.
How did you land on Drifter Organics' prices?
Micaela: Our price points are four times as much as it costs us to manufacture the products. That's the general formula we found through online courses and asking others who own their own businesses.
Dawn Marie: We purchased other products that were similar to ours, analyzed the prices and, taking into consideration the fact that our products are certified organic, we priced our products accordingly.
Where does your cheerful style come from?
Micaela: It's always been that way. We are both sitting on my bed right now, and she's wearing red socks with white polka dots on them. We are a pattern family. We like to wear colored tights with dresses. We gravitate toward a lighthearted aesthetic. I'm not a very serious person. I'm very casual. I love the super edgy minimalist look, but I can't pull it off. Why would I make my business look like that if I can't pull it off myself?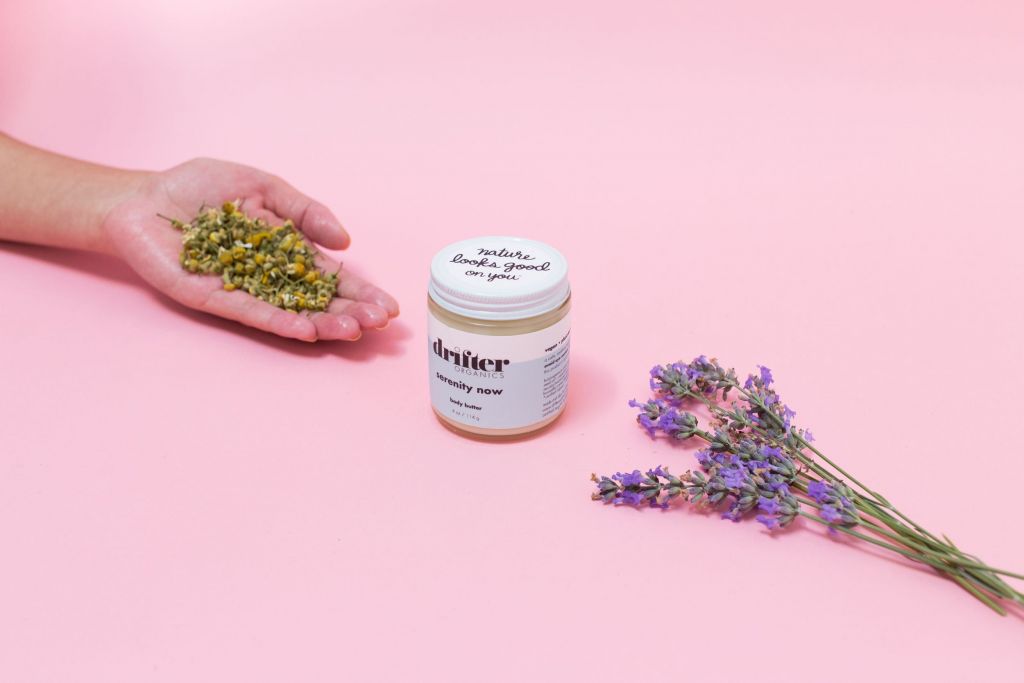 What's been your biggest product fail?
Micaela: I'm always on to the next product before I tie up loose ends on the previous project. One of my goals is to work on perfecting what I currently have before moving on. We have wanted to do hair oils because we're always trying to find something natural that doesn't make hair look greasy. We haven't been able to come up with that. People have asked us about [face and body] oils, but, right now, we are sticking with body butters. Maybe we will do oils in the future. I'm personally not an oil person. I usually want something thicker.
Is there something you've done that you would rather have skipped doing?
Micaela: When we were ordering the labels for our products, I knew you have to double and quadruple check to make sure everything is spelled correctly, and you have to have an asterisk after every single [ingredient] name that is certified organic. I ordered the labels and thought I had checked them correctly. I forgot the "A" at the end of the botanical name for lavender, which is lavandula. We wasted so much money on those labels. I thought I had checked them enough, but it made me realize that you really have to be careful about the labels. You can't blame the label maker because you're the one who approved the proof. It was a total newbie mistake.
What are goals for Drifter Organics going forward?
Micaela: We want to do everything we are doing now, but on a grander scale. We want to market our products more, and be distributed in more stores and build more awareness. We would love to be in Credo and Whole Foods as well as well-curated mom-and-pop stores with other independent brands. I love supporting slow living and other independent makers. We want to build a movement focused on living naturally and colorfully.