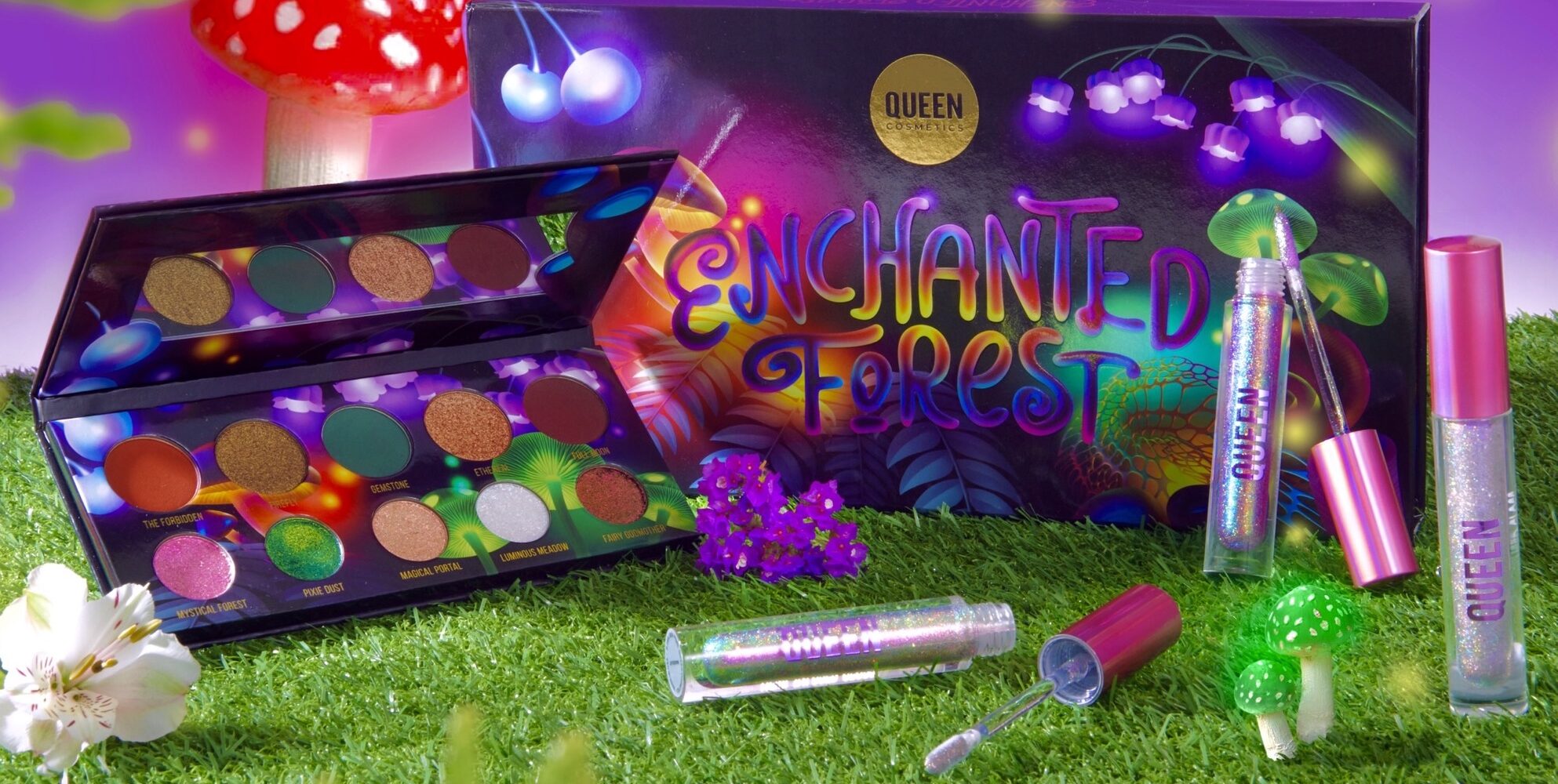 Elimar Depaula Turned A $200 Loan To Start Queen Cosmetics Into A Business Surpassing $1M In Sales This Year
Elimar "Ellie" Depaula, founder and CEO of Queen Cosmetics, a bold, sparkly makeup brand, has always had a passion for makeup. In high school, she spent hours doing her friends' makeup for parties and dances. Yet, she never imagined she'd have her own makeup brand.
Three years ago, while enrolled in college to study business, Depaula, the innocent bystander of a road rage incident in Germantown, Md., was shot in the back. Doctors told her she wouldn't walk again. "My life changed in an instant," she says.
Depaula had to drop out of college and moved back to Tampa to be with her parents. "I needed to do something with my life because I was at rock bottom," says Depaula. She turned to makeup as an outlet. "I couldn't waste any more time doing things I wasn't passionate about anymore," she says. "Makeup is the one thing that allows me to be creative."
A long-time fan of holographic (holo) makeup, Depaula couldn't find lip glosses she felt were truly holographic. "Most of what's available are nothing more than iridescent," she says. "With a holo gloss, you can see the rainbow reflects. I wasn't really seeing that done anywhere and thought it could be interesting to create."
With a $200 loan from her father, Depaula set out to develop what she couldn't find. She didn't have beauty industry contacts or prior experience. She spent hours online researching how to formulate makeup and tested shades repeatedly until they satisfied her.
Queen Cosmetics and its futuristic vibe were born in June 2020 with four shades of hemp-infused lip glosses handmade by Depaula. "We had 12 sales that first day, which equated to about $200 in sales," she recalls.
In two and a half years, Queen Cosmetics has become royalty on social media, where its ultra-pigmented, glitter-dense lip glosses and eyeshadows have gained a cult-like following. "We will hit the seven-figure mark by the end of the year," says Depaula confidently. "Right now, we're averaging about 300 orders weekly, and the average order is $40."
"Social is where I express myself and let my personality shine through."
Depaula's story and Stardom, a space party-themed collection of limited-edition lip glosses, helped skyrocket Queen Cosmetics' social media fame. Depaula spent $60,000 to produce the collection launched in July of this year. Stardom, though, wasn't a huge smash upon release.
"On launch day, we sold only $10,000 worth of merchandise. It wasn't what I expected, especially since I spent six times that to make the products and packaging perfect," says Depaula. "So, I wasn't even close to recouping my initial investment." To ramp up sales, she cold-pitched major makeup influencers, gifting them the collection in the hopes they would include it in their feeds. The strategy worked.
Two weeks after Stardom's launch, Rose Siard, the beauty influencer, makeup artist and founder of Rose and Ben Beauty, spotlighted the glosses. They sold out on Queen Cosmetics' website in four hours. Siard also posted a handful of viral videos on layering the glittery lip glosses over black lipstick (holographic glosses pop and shine the most on a dark base), resulting in the black glitter lip trend.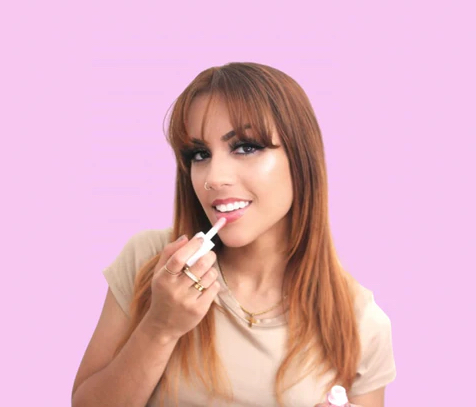 Then, TikTok phenomenon Mikayla Nogueira followed suit wearing the glosses atop a matte black lip, and orders rolled in. Depaula gifted glosses to Alexx Mayo, singer Lizzo's makeup artist, too, and he incorporated them into a glittery dark lip that Lizzo often wears. "Teen Vogue ran a trend piece about black lipstick and featured us, which was exciting," gushes Depaula. Stardom generated $150,000 in sales.
Queen Cosmetics has drawn almost 964,000 followers on TikTok and 24 million likes. It has over 100,000 followers on Instagram. Depaula handles all aspects of its social media content, answering direct messages, photographing and filming. She says, "Everything we have experienced on TikTok and Instagram has been entirely organic. I haven't spent a dime on marketing."
Before Queen Cosmetics' viral success, Depaula admits she knew little about social media. Her vulnerability and authenticity have been integral to the brand's digital resonance. "Social is where I express myself and let my personality shine through. I'm myself," says Depaula. "What you see on the brand's Instagram and Tik Tok is just me expressing my creativity and talking a lot."
"It's been a wild ride, but it's been awesome."
On Black Friday, Queen Cosmetics introduced its third collection, Enchanted Forest. It has a 10-pan multi-dimensional eyeshadow palette consisting of mattes, multi-chromes, high shimmers and iridescent shades. In addition, three holographic lip glosses will debut.
Depaula describes the new lip glosses as "color shifting." She says, "For example, one color transforms from pink to gold with a holographic effect, so you still get the rainbow reflects in the gloss." TyAna, a beauty influencer with 1.1 million followers and 24.4 million likes on TikTok, is the face of Enchanted Forest.
Due to Queen Cosmetics' fast growth, Depaula is no longer formulating, filling, packaging and shipping its products from her home. The brand has partnered with a professional cosmetics lab to assist it with keeping up with demand. The lab is enabling Queen Cosmetics to improve its makeup formulas in accordance with Sephora's clean beauty standards. An updated formula is slated to arrive in January 2023. "It took about 20 versions and one year to perfect the glosses," says Depaula. "Now, they're smoother and non-sticky."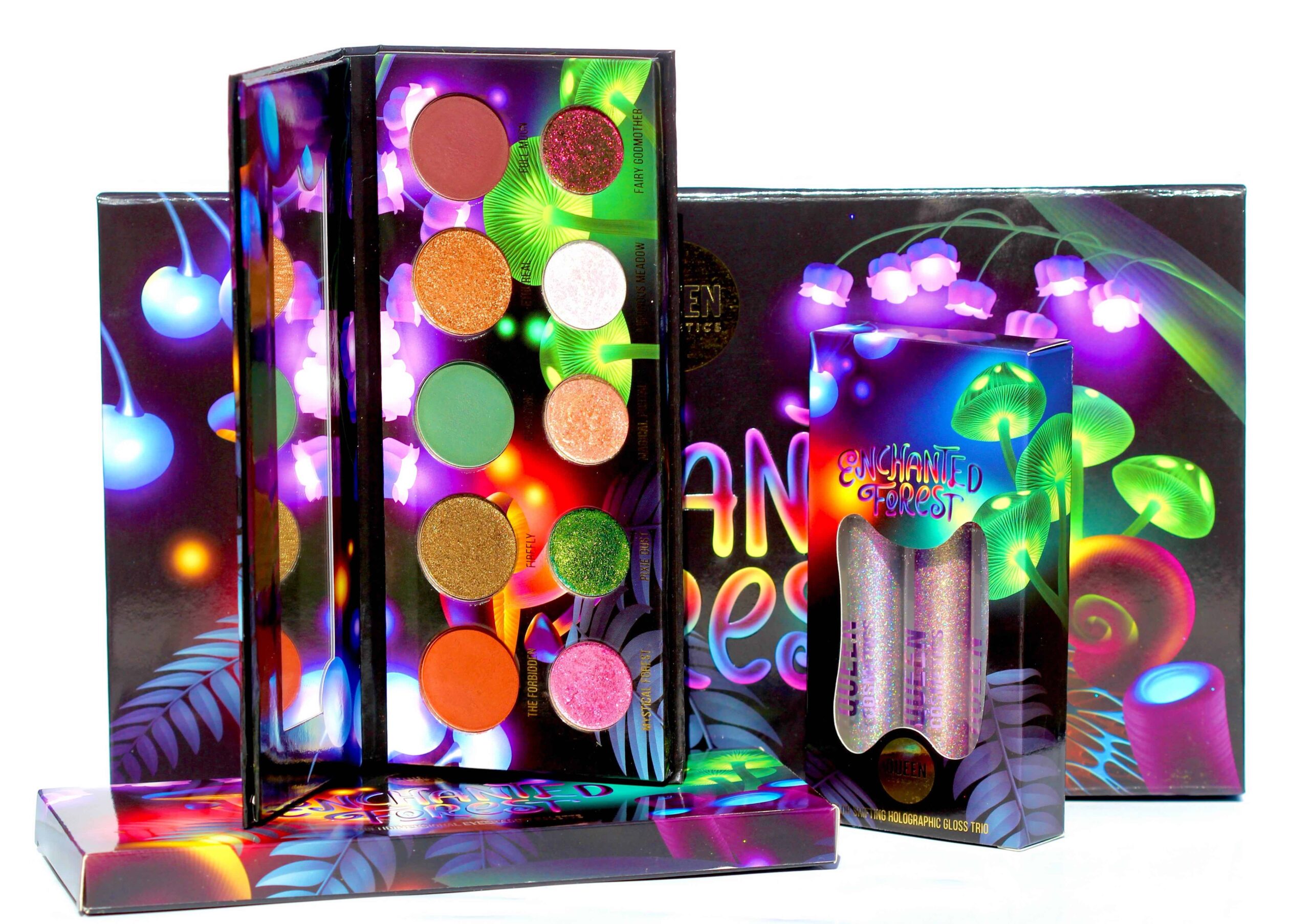 Queen Cosmetics is a direct-to-consumer brand. Beyond its website, it's only available at the moment at Australian e-commerce site Glam Raider Beauty. Depaula's dream is for the brand to sit front and center in Ulta Beauty stores nationwide. She's talks with a few retailers, but declines to share their names. She mentions they discovered Queen Cosmetics on TikTok. Depaula notes Queen Cosmetics will be capable of delivering retail volumes once its updated formula launches. She says, "Once that happens, retail conversations will be another big thing for us to focus on."
What else does Depaula have in store for Queen Cosmetics? More makeup products, of course. There are plans to get into complexion products next year. Depaula expects to evolve Queen Cosmetics into an artistry brand while not losing its accessibility. The brand's prices for individual products run mostly from $12 to $28.
Depaula looks to Pat McGrath as an inspiration and wants the brand to be perceived similarly to Pat McGrath Labs, but with its own style. There are definitely no signs that Queen Cosmetics will slow down. Depaula says, "It's been a wild ride, but it's been awesome."