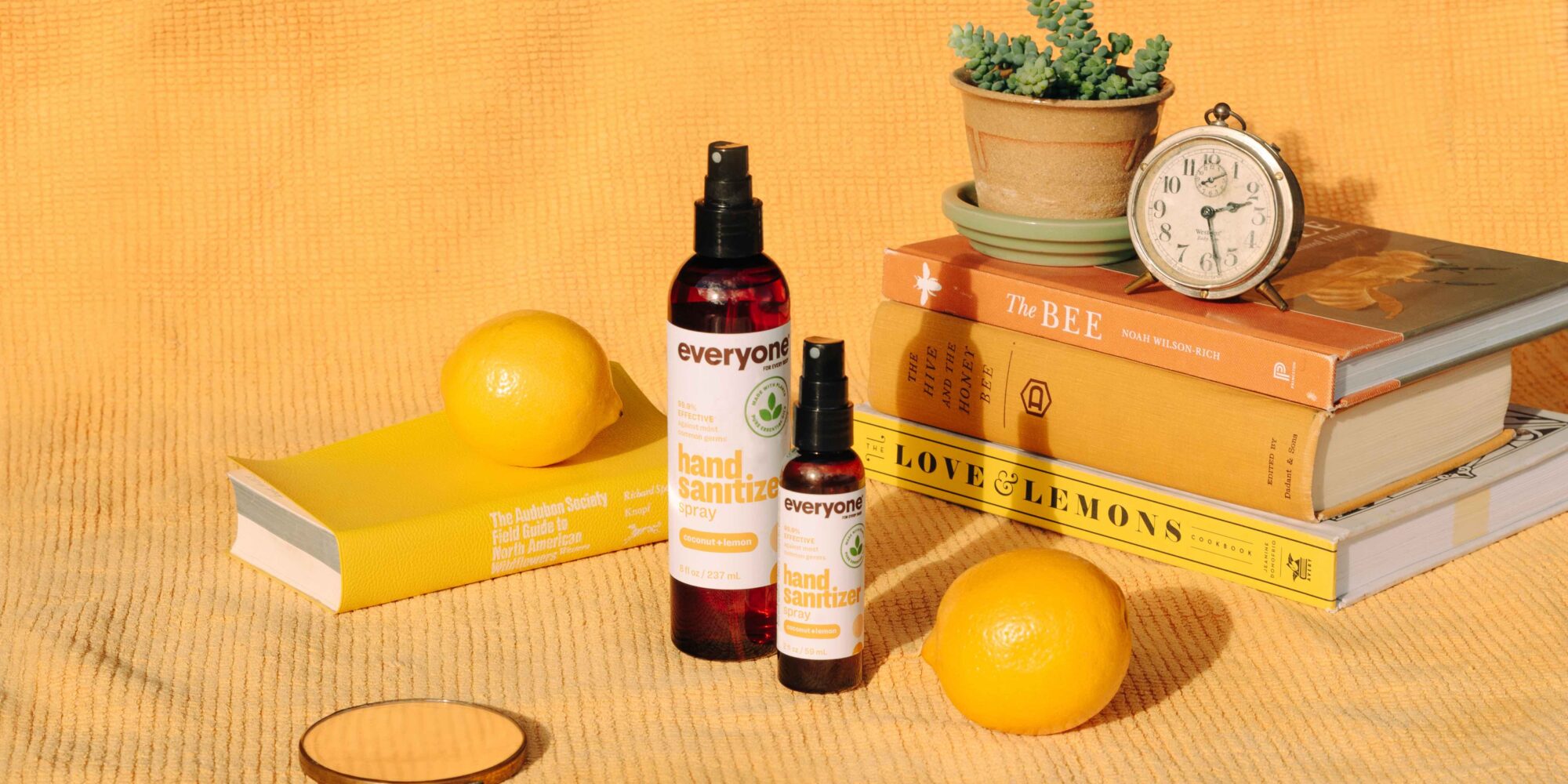 "It Wasn't Iconic Enough": Everyone Revamps To Stand Out On Big-Box Shelves
Shortly after EO Products' launch more than a quarter century ago, it entered Whole Foods, then a budding grocer that hadn't yet hit Manhattan. Along with companies like Dr. Bronner's, Nature's Gate, Alba Botanica and Burt's Bees, it helped define natural personal care for a burgeoning movement of conscious shoppers well ahead of Goop turning clean beauty into a chic imprimatur of consumer discernment.
But Susan Griffin-Black and Brad Black, the former married couple at the helm of EO Products, weren't interested in limiting their business's reach to the already converted. In 2012, they made a concerted push into the mass market with Everyone, a brand with the tagline "botanical body care for all" that was roughly a third of the price of EO. It started with 32-oz. 3-in-1 Soap and 32-oz. 3-in-1 Lotion retailing for $9.99 each at Whole Foods, but soon spread to thousands of doors at big-box and pharmacy chains Target, Walmart and Walgreens.
"I realized that 90% of all Americans live within 10 miles of a Walmart and, it's important for them to have choices for accessible clean products. It fits into health, wellbeing and social justice," says Griffin-Black. "I was like, 'We can do this. We can compete price-wise with the big guys and make a better product more accessible to more people.' We were on a mission to break out of the natural channel."
Following nearly a decade on shelves, the big guys encroached into the natural personal care space Everyone had pioneered in the mass market. Griffin-Black admits the stock HDPE (high-density polyethylene) bottles selected at the beginning of the brand didn't cut it in the crowded environment. And, amid the noise, Everyone's careful approach to formulation—it incorporates real essential oils in vegan, cruelty-free and EWG Verified blends manufactured in-house at its facility in San Rafael, Calif.—wasn't being conveyed to shoppers as much as the brand hoped.
"Getting into big box and really competing there is much more difficult because brands with really big legal departments and very slick marketing campaigns were outpacing us in terms of what they were saying, but not what they were doing," says Griffin-Black. "The competition is fierce that way where it wasn't before. Our messaging was not really getting through to people. They didn't know that our ruby grapefruit is really ruby grapefruit, and it costs more than synthetic fragrance, and we have corrected for that in the rebrand."
"Now, I feel like the packaging matches our intention."
Everyone set out to rebrand about two years ago and invested a smidgen under $1 million in the renovation. It worked with graphic designer Jose Caballer and the firm Content BK to refine its aesthetics without a dramatic departure, reduce its environmental footprint and improve its communication about the good ingredients inside its packaging. Everyone has swung to a slightly bolder logo, increased spacing on its labels and a straightforward green seal on its exteriors that reads, "made with plants pure essential oils." Although Griffin-Black has been weary of the seal frenzy that's preoccupied the natural personal care segment, she believes Everyone's seal lessens rather than worsens confusion.
Prior to the rebrand, Everyone's bottles had 25% post-consumer recycled content or PCR. It's shifted to 100% PCR amber bottles that protect from ultraviolet rays degrading formulas while facilitating reuse. Everyone plans to change over its pumps and tops to options with 50% recycled plastic by the end of 2022.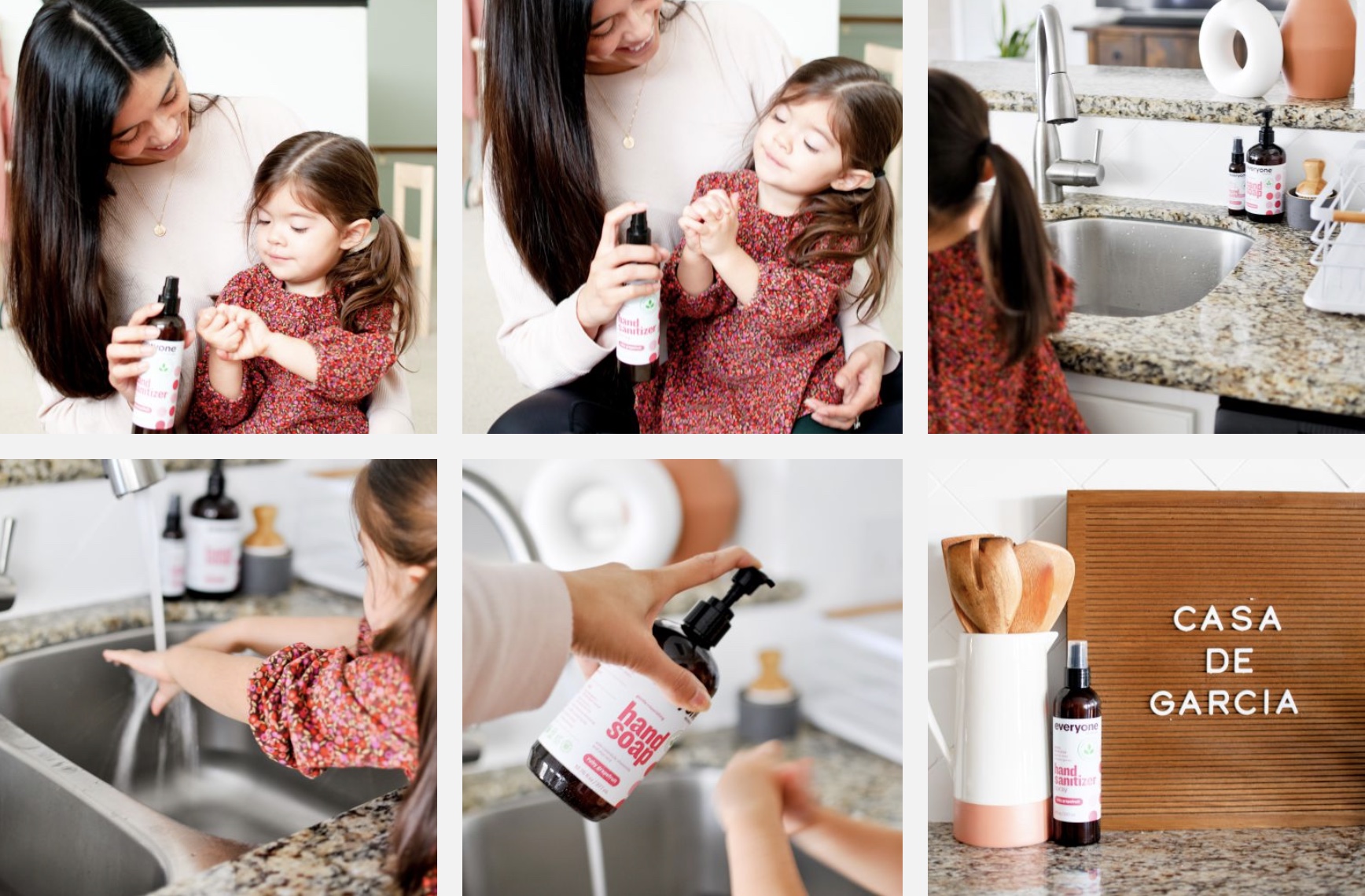 EO Products is committed to being a zero-waste B-corp. It diverts 90% of its refuse from landfills and, in 2019, recycled 436 tons of plastic, cardboard, metal and wood. Griffin-Black estimates the company could remove up to 700 tons of virgin plastic from the waste stream this year.
"If we would have kept going with the other packaging, the problem was the PCR content, but label-wise, when we looked at it, it wasn't bright enough or appealing enough. It wasn't iconic enough to carry the day for the more and more people who are wanting clean products," she says, noting customers sometimes thought Everyone was a generic brand. "We are very focused on multiuse kids and family products that are multigenerational, genderless, clean and simple. Now, I feel like the packaging matches our intention, and it's much more integrated and beautiful."
"Everyone will be everywhere in the categories we choose to go into."
As part of its rebrand, Everyone shrunk its assortment from 85 to 35 stockkeeping units. "Because we are manufacturers and makers, it's easy to make stuff, but marketing and taking up category position is very expensive and not so easy," says Griffin-Black. "What we have found now with the streamlining is we really are aiming to be category captains in hand sanitizer, 3-in-1 Soap and 3-in-1 Kids Soap."
Everyone isn't done progressing. The brand is tinkering with a refill concept that consumers and retailers can get behind. It will introduce gallon sizes of its 3-in-1 Soap and is considering PCR refill pouches. Griffin-Black is also compelled to share the importance of Everyone's in-house manufacturing with consumers. "You can walk through our factory, and you can walk through a contract manufacturer, and we both are similar in process, but the feeling is very different," she says. "It's kind of like urban farming. There's meaning and community to be able to actually put all those pieces together."

Last year was transformational for Everyone, which surpassed its predecessor brand EO's sales in its third year of availability. The pandemic-spurred hand sanitizer rush lifted EO Products' revenues by 32%. In 2019, Beauty Independent was informed the company's sales were closing in on $70 million. Based on that figure, a 32% lift would translate to its sales surpassing $90 million last year. Griffin-Black doesn't anticipate the company returning to double-digit sales growth until 2022. In 2020, she says, "Our fill rate was really awful because we couldn't keep up. What we decided for this year was to really focus on the operational side of thing as we do the rebrand, and go really deep with our customers and understand our business coming out of the pandemic."
The considered strategy for this year doesn't mean Everyone isn't pursuing expansion. Griffin-Black suggests it has club and convenience stores in its sights. "Everyone will be everywhere in the categories we choose to go into," she says. Next up for EO Products is a refresh of the EO line to burnish its elevated self-care standing. Griffin-Black says, "Self-care is about having an experience that allows you to regenerate yourself so you can better take care of the people you love and do the things you love to do."