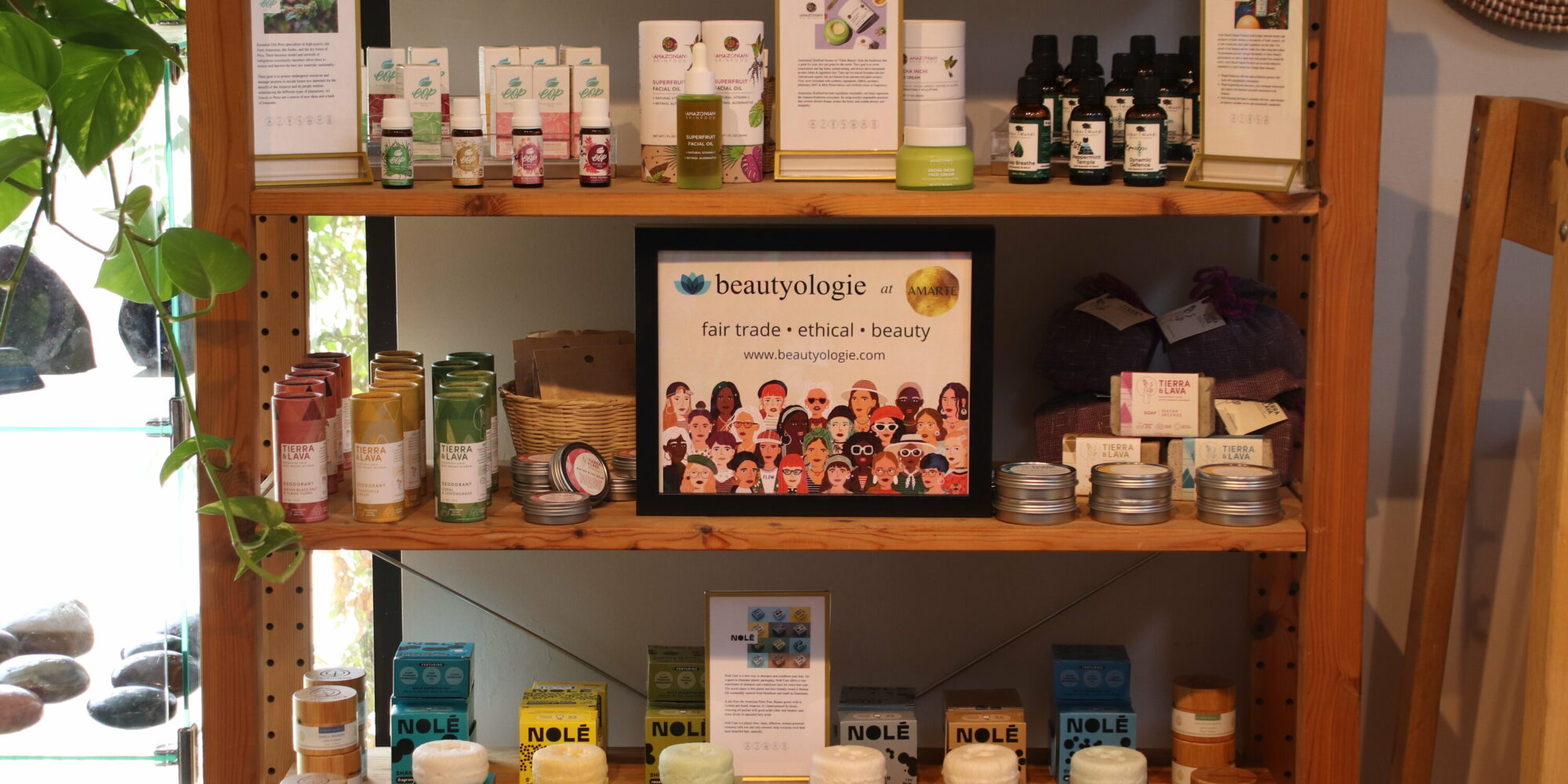 Fair Trade Beauty Destination Beautyologie Partners With Boutique On First Brick-And-Mortar Concept
A year from
its launch
,
Beautyologie
, the online beauty marketplace for fair trade and ethically formulated products, has expanded into its first permanent brick-and-mortar location. 
"Beauty sells better in person," says Robin Tolkan-Doyle, Beautyologie's founder and a beauty PR veteran of over 20 years. "I'm hoping Beautyologie's physical and online businesses can now help feed each other."
Nestled within a 1,400 square-foot boutique called Amarte in Long Beach, California, eight brands from Beautyologie's online assortment, including Tierra & Lava, Moringaia, Amazonian Skinfood, Candela Peru, Essential Oils of Peru, Nole Care, Arbor Mundi, Madame Gabriela Beauty and Amazon Silk, are now available to shop IRL in a six-shelf display labeled "Beautyologie At Amarte." 
Amarte offers a selection of artisanal and fair trade clothing, jewelry, accessories, and home goods from Mexico and Latin America. The store's owner was looking to expand into beauty when she linked up with Tolkan-Doyle through a connection from Fair Trade L.A., a non-profit organization where Tolkan-Doyle now sits on the board. 
"I curate beauty brands from all over the world, from Africa to India, to Egypt, Bangladesh, and Latin America as well. Amarte's owner and I spoke about creating a special collection for her store that highlighted those Latin American brands, so that's what I did," says Tolkan-Doyle.
Building off the ethos that Beautyologie was founded on, "Beautyologie At Amarte" is aimed at spotlighting brands that uphold the 10 main principles of the fair trade movement. These include paying local artisans and producers livable wages, avoiding child and forced labor, ensuring safe and favorable working conditions up and down the supply chain, and respecting the environment.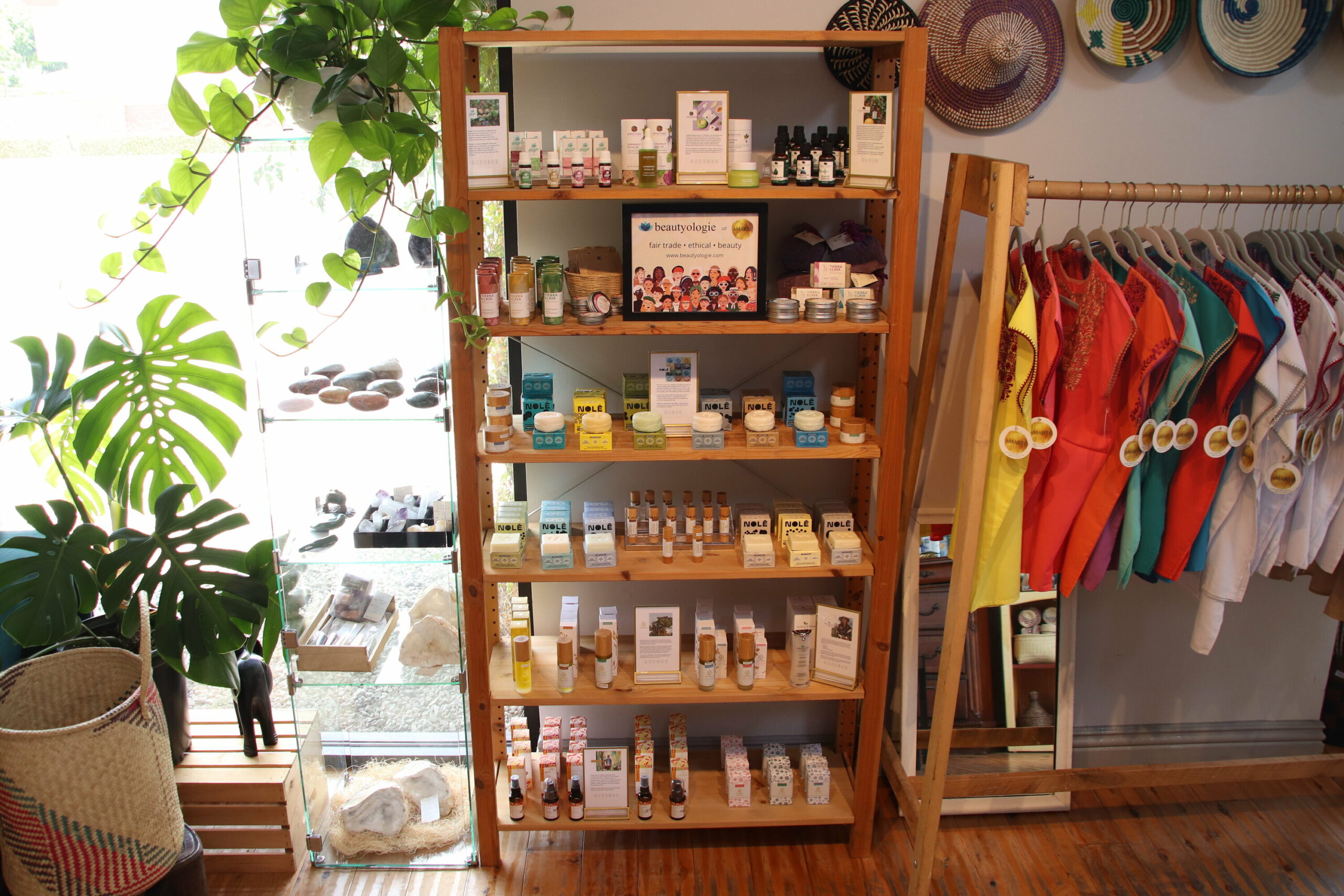 Tolkan-Doyle explains that it's nearly "impossible" for brands to be certified 100% fair trade in any country, but points out that many of Beautyologie's brand partners use fair trade-certified ingredients and are transparent about how they support local communities. 
In addition to promoting fair trade items, "Beautyologie At Amarte" also aims to spotlight more niche and under-the-radar brands that may otherwise struggle to find distribution. "The beauty landscape today is crazy and oversaturated. These brands don't have the money or the investments to get out there and compete. Not every brand is going to be an Ilia or a Drunk Elephant, and not everyone is going to get into Sephora or Credo or The Detox Market."
She continues, "There's way more brands now than there are marketplaces to promote them."
To educate customers in-store, Tolkan-Doyle created placards that help tell the stories behind the brands and delineate which mission pillars they adhere to. She also created take-away materials to spread the word about Beautyologie's online business. 
To kick off the partnership, a launch event was held in late July that helped generate in-store traffic and interest, per Tolkan-Doyle. "It's a great marketing tool for Beautyologie to be in a physical space now," she says, pointing to previous in-person pop-ups and marketplaces that Beautyologie participated in that drove traffic and conversions to the online platform.
Amarte's location will likely be a crucial factor in determining the success of the "Beautyologie For Amarte" partnership. Long Beach is an up-and-coming shopping destination for the fair trade-inclined consumer as more collectives and grocery co-ops start to populate the area. Situated next to Amarte is Fair Trade Long Beach, a well-known fair trade retail collective that gives the store "automatic foot traffic," says Tolkan-Doyle. "It's a good location for this particular demo of people."
Instead of diving in head-first with her own physical location, Tolkan-Doyle is starting small and using the shop-in-shop as a test to see how the concept is received at brick-and-mortar. But she has bigger, more expansive plans for the future. "I'd love to create more of these types of retail opportunities and take Beautyologie another step further and create my own collective in L.A. I could offer all of my beauty brands and incorporate some other ethically-sourced categories like fashion and home goods."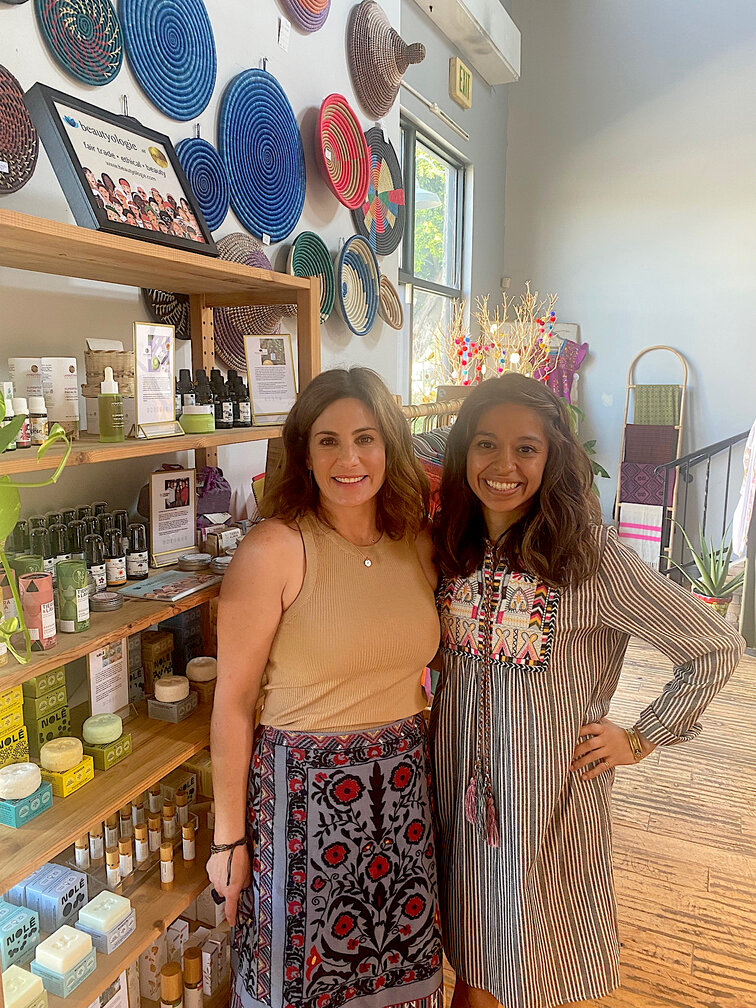 Beautyologie's online marketplace has more than doubled its brand count since launching in the spring of 2021. Currently, the platform offers roughly 300 stockkeeping units from 36 international brands, including Srida Herbals, Matr Boomie, Humanist Beauty, LUXE Botanics, Shea Yeleen, Terres D'Afrique, Moon Beings, and ATHR Beauty. The brand roster will likely be capped at 50 to ensure a tight curation. 
Online traffic is also growing on the platform, registering a 25% increase in the past five months as Tolkan-Doyle develops a more aggressive SEO and paid media strategy.
With skincare being the most well-developed category on the platform, Tolkan-Doyle is now looking to on-board more haircare and makeup brands. The latter category has proved to be particularly challenging though. "There's a lot of clean and vegan color cosmetics brands out there but not many that are formulated with fair trade ingredients. Not a lot of people are talking about fair trade in the beauty industry yet."
According to Fair Trade USA, consumer knowledge around fair trade practices sits at 66% but this is likely skewed by the food and apparel industries where awareness is already well developed. 
Tolkan-Doyle is hoping to bump up awareness in the beauty community as she grows her business with "Beautyologie At Amarte" and other future brick-and-mortar opportunities. "I want people to know that it's a given when they come to Beautyologie that the people that are actually sourcing the ingredients that go in their products are being treated well and taken care of."