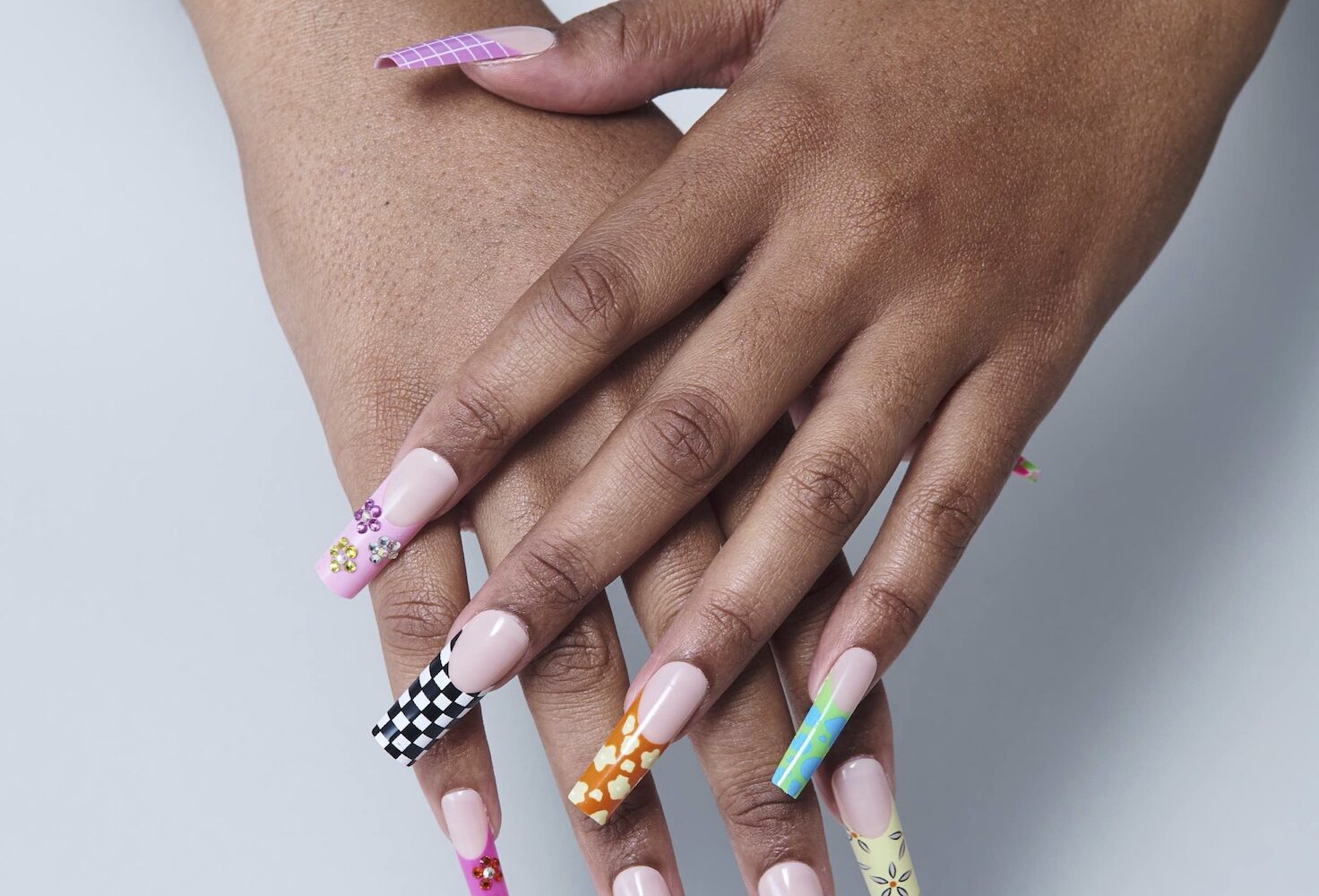 Nail Artist Melissa Samuel's Finesse Your Claws Press-On Nails Let Customers Recreate Her Celebrity Styles At Home
Colorfully patterned and textured nails are a staple of nail artist Melissa Samuel's look.
But even the devotee of over-the-top nails was amazed by what she saw when she started working at a Japanese nail salon in Manhattan after moving to New York City from London in 2015 to pursue nail art full-time. "It was art like I'd never seen before," she says. "You could literally make portraits on nails."
Samuel soaked up Japanese nail art techniques like a sponge, practicing for hours to hone her craft. She moved on from the Japanese nail salon to manage an up-and-coming Brooklyn nail salon before opening her own studio during the pandemic. "I was very unsure how busy I would be, but it just blew up straight away," says Samuel, whose client roster boasts celebrities SZA, Justine Skye, and Lil Yachty, and fashion brands Moschino, MCM and Brandon Blackwood.
Now, she's released a collection of press-on nails through her brand Finesse Your Claws for people unable to snag a spot on her exclusive, now-closed client roster. There are four sets in the collection. Called The Influencer and Viral, two of the sets are long and square, options that Samuel made sure she included because they're not commonly offered. "Doing my research, there aren't a lot, if any, long, square press-on nails. They always come in short almond shapes, but my clients are a little bit edgier," says Samuel.
In the early days of Finesse Your Claws' press-on nails collection, The Influencer has been the bestseller. It's inspired by a mix-and-match French tip style Samuel created for an influencer in 2020 with an array of different tips. The style went viral in 2020 and again in 2021 when SZA wore it on the cover of Cosmopolitan. "It was a very defining moment," says Samuel. Viral has a multi-colored houndstooth print with a matte finish.
Less edgy, the other two sets are the cute Game Changer and Acid. They're almond-shaped with floral and pink and red designs. Samuel describes them as being more wearable. "I wanted to create those for people who may be new to nail art or for doctors, nurses, school teachers who can't commit to an over-the-top, extra design every day," she says. Samuel plans to release the next set for Christmas and another for Valentine's Day.
She began developing press-on nails when the pandemic hit the United States. She wanted to have versions of her nail art that clients could get without visiting her studio. The idea resonated with them. "What I thought would just be something to keep me busy became really lucrative," says Samuel.
After 12 years of being a nail artist and accumulating a star-studded client roster, the notion of just slapping any nail art on press-on nails didn't sit well with Samuel. She took two years to perfect hers, although she notes press-on nails can easily be developed in six months. "It was important that I didn't disappoint the people that are not based in New York that can't come to my studio," she says. "I wanted to give them the experience that my clients who come to me every month get."
Samuel hopes to make the products available for U.K. distribution soon. As far as distribution in the U.S. goes, she envisions Finesse Your Claws on the shelves of Urban Outfitters, Kith and Target. She says, "When I branded it, I branded it for the retail space."
Each Finesse Your Claws press-on nail set has 24 reusable nails, glue and a prep kit. Viral, The Game Changer and Acid are priced at $30. The Influencer is $40 because it contains gems that have to be applied by hand. Samuel charges clients on average $170 to get a set of nails at her studio with a level of nail art she says is comparable to the press-on nails. Speaking of the press-on nails, she says, "You can get up to a year of wear out of these for a fraction of the cost."
Nail care is a potential future endeavor for Finesse Your Claws. Currently, its website stocks a range of products along with its press-on nails such as $8.50 5D Jelly Gel and a $19.99 Cuticle Oil. "You definitely need to have a good foundation for nail art, and I don't think enough emphasis is placed on that," says Samuel. "So, while the art is fun and I love to create, I would love to emphasize healthy nails and what you can do to achieve that before adding enhancements."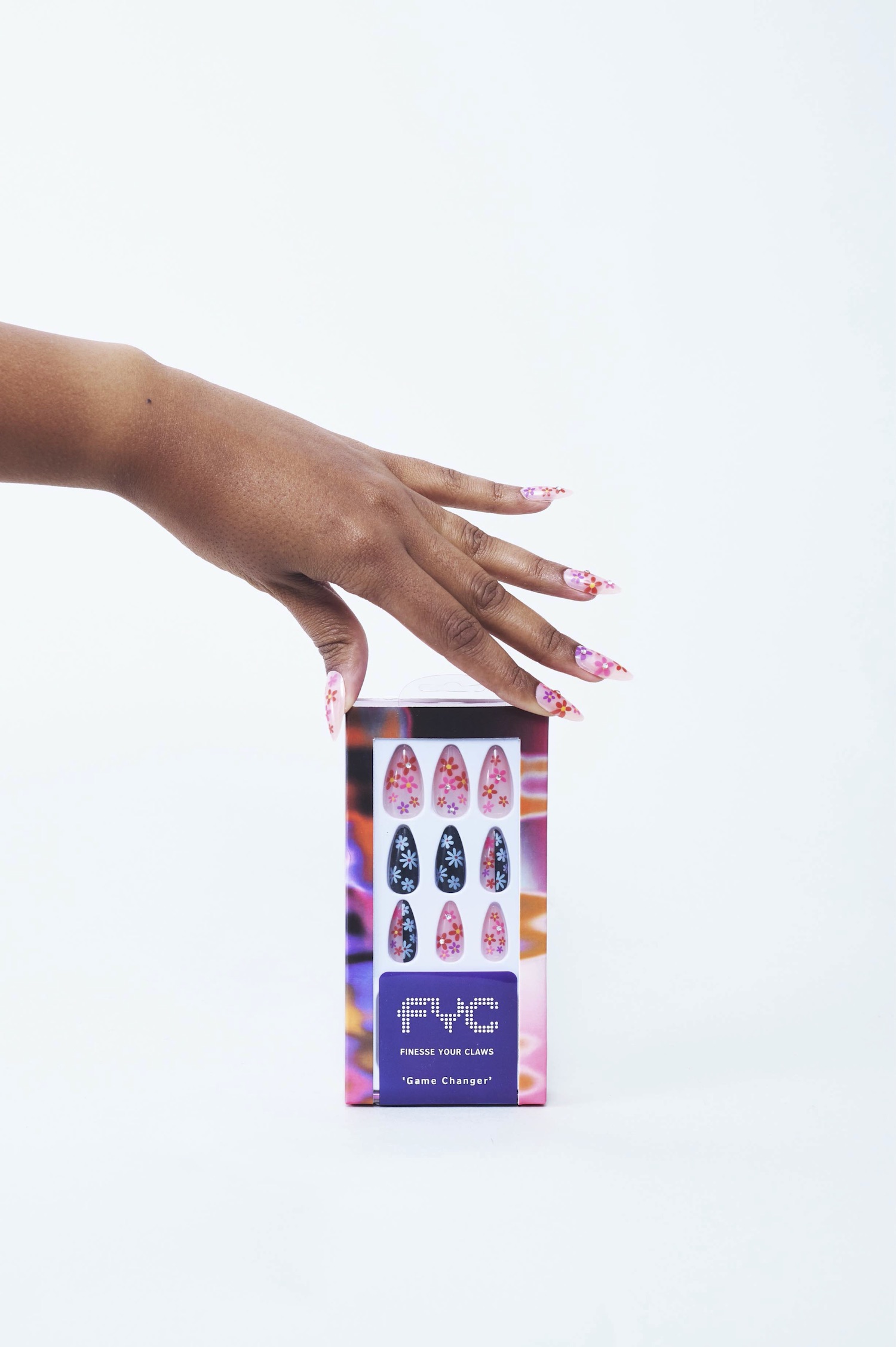 Press-on nails have been making inroads at retail lately. Glamnetic sells them at Sephora and Ulta Beauty, where Kiss press-ons are stocked, too. Target carries press-on nails from Olive & June, Clutch Nails and Kiss, among several brands. Vibrant press-on nail specialist PaintLab Nails is heading to Walmart as part of the massive chain's accelerator program, Walmart Start. Amid the pandemic, the nail product segment exploded as salon closures forced consumers to become their own manicurists.
Samuel reflects, "People have really been coming out of their comfort zone since the pandemic because they're working from home and don't feel like they're being watched or judged based on their nails. [The pandemic] also sparked an interest in nail art in general."
As people's interest in nail art grows, Samuel predicts nails will get longer and nail art will become increasingly three-dimensional. She thinks rocks will be incorporated into metallic patterns and foam will boost texture. "On social media, people want to create crazy content, so something doesn't necessarily need to be wearable, it just needs to be creative," says Samuel. "People want to express themselves through their nails, and there are no limits to that."