Follain Arrives At Fivestory To Bring Upscale Clean Beauty To Uptown
For a neighborhood loaded with designer boutiques and pricey salons, Manhattan's Upper East Side is woefully devoid of chic clean beauty stores. A shopper has to go to Soho or – gasp! – all the way to Brooklyn to find luxury non-toxic beauty products in a posh setting.
Follain Clean Beauty Clubhouse is filling that green beauty retail gap. Occupying the third floor of luxury designer haven Fivestory through Jan. 15, the 1,200-square-foot pop-up showcases many of Follain's bestselling products, including Herbivore Botanicals bath salt, OSEA face toner, Ursa Major deodorant and Kjaer Weis color cosmetics.
If you think natural deodorant and Nicholas Kirkwood footwear are strange bedfellows, Fivestory founder Claire Distenfeld would have to disagree. "To us, Follain is the Fivestory of non-toxic beauty," she says. "Their narrative echoes ours: to make you look and feel like your best self, honestly, authentically, and luxuriously. For this reason, our partnership with them is extremely synergetic."
The relationship between Follain and Fivestory was forged not long after Distenfeld made her first purchase at the Boston-based green beauty retailer. "I had started shopping at Follain at the recommendation of a friend. I then got an invitation in the mail to go to a Follain dinner that was a few blocks from my apartment. While my initial thought was, 'How am I going to pretend to be a beauty aficionado? I should probably skip it.' I decided to go with my gut and go," she recalls. "At the dinner, I met Tara, and we immediately bonded. The partnership was born that night."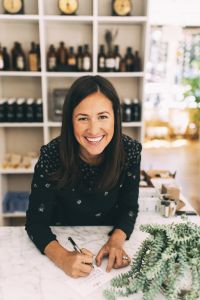 The Follain pop-up at Fivestory looks like a modern-day boudoir, replete with a full bathroom bigger than many New York studio apartments. "The bathroom here was built for 'shelfies'," explains Follain founder Tara Foley. "It's important to some people that their products look beautiful in their bathroom and on their shelves, so we wanted to show that they do. Green beauty doesn't have to mean crunchy."
The marble bathroom abuts a spacious room where the Clubhouse's selection of bath, body and skincare products are displayed amongst a porcelain claw foot tub and oversized floral arrangements. For New York beauty shoppers used to the packed shelves of Sephora or Zitomer, the space offers a tranquil alternative intended to inspire visitors to set aside time for self care.
"The sensorial plant-based ingredients in non-toxic products encourage women to create a real moment for themselves and to celebrate their skincare ritual," says Foley. "It has been incredibly rewarding to work with Claire and the Fivestory team to create the Clean Beauty Clubhouse and bring it to life for our New York customers."
Yet another room is a color cosmetics studio where makeup and skincare consultations will be available upon request by in-house makeup artist Dani Levi, who specializes in clean cosmetics. In addition to Levi, Foley herself will be on the premises once a week. The clubhouse will also be manned by a team of Follain "educators," the title Foley gives the company's highly-trained retail associates.
Foley selected the products sold at the Clubhouse from Follain's already edited selection of natural personal care products. "We don't carry a full line from any brand," she says. "Follain carries over 600 products. We've brought 200 of them here, carefully pared down to bestsellers, products with highest reviews and new arrivals. We did not bring our baby or men's products to Fivestory, either. "
Distenfeld believes the Follain selection will be warmly received by Fivestory shoppers. "Tara is as much a curator as anything else and her authenticity in her brand value and message is something I really admired," she says. "I think our customer will love to learn about clean beauty and love to do it through the lens of Follain."