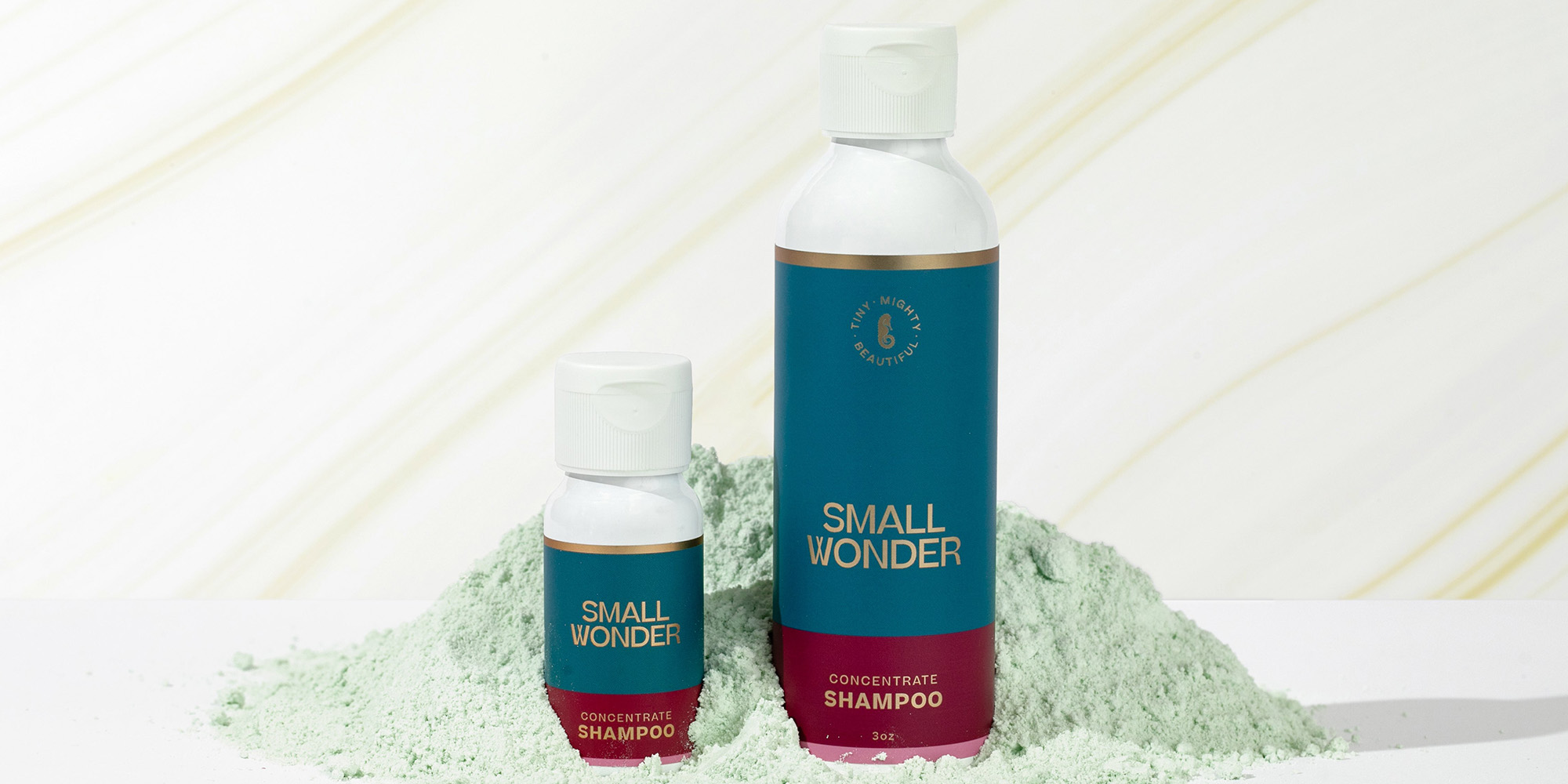 Former Neutrogena And Target Execs Team Up To Disrupt Haircare With Concentrated Products
Small Wonder co-founders Stephanie Farsht and Paul Earle were teaching colleagues at Northwestern's Kellogg School of Management when they began discussing their frustration with the state of haircare. "We both hated buying products that are mostly made with water and shipped in single-use plastic," says Farsht. "But we knew we didn't want to compromise on being professional-grade and luxe."
It wasn't long before the idea for the waterless brand Small Wonder was born, and Farsht, who spent 15 years working in innovation and strategy at Target, and Earle, founder of brand advisory A Day In The Sun, convinced Katja Lerner, former worldwide director of research and development for Neutrogena and VP of R&D and innovation at Kimberly-Clark, to come on board as head of product and co-founder to help bring that idea to life. Farsht says, "We met, told her our mission and then the three of us just took off."
The trio plunged into the development process for three years and finally launched Small Wonder in September with its debut product, Concentrate Shampoo, priced at $36 for a 3-oz. size and $12 for a .7-oz. travel size. "Our concentrated powder transforms into luxe professional-grade shampoo in a beautiful tiny bottle that dispenses without letting water near the powder," says Farsht. "There's no dilution, just the best ingredients, nothing else. No more single-use bottles, no more goop, no more shipping heavy water."
According to Farsht, Small Wonder partnered with a large global salon manufacturer to produce its shampoo concentrate. She declined to disclose the manufacturer. "This particular manufacturer had spent about nine or 10 years working on dehydrating their high-end salon shampoo and conditioner and were eager to partner with us, so we spent about two and half years working on a prototype with them," says Farsht. "Then, we had the opportunity to purchase all of the innovation and formulation, so we ran with it."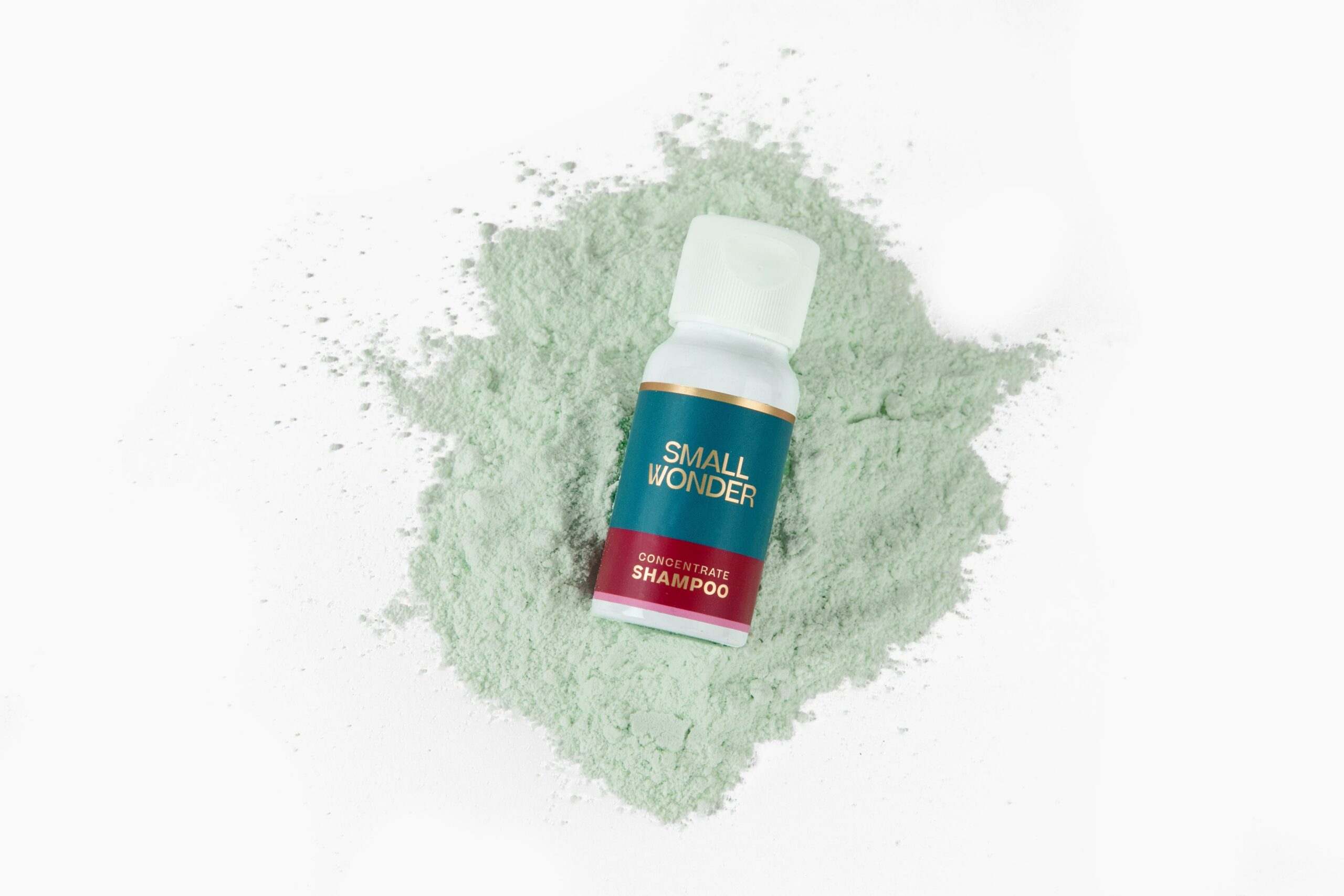 The concentrated powder formula contains the brand's proprietary color-safe Shine37 compound that's designed to leave clean, soft and shiny hair no matter the hair type. More specifically, the shampoo has ingredients like jojoba seed oil, coconut oil and corn to nourish and repair dry, damaged strands. The smell was important, too. The formula features Amalfi lemons, Casablanca lilies and cedarwood for a dreamy aroma. Farsht says, "We wanted to bring some magic to your shower for it to feel like you're at a spa."
Apart from reducing water usage and waste, one of Small Wonder's main goals is to make its powder shampoo concentrate as easy and enjoyable as conventional shampoos. "All you have to do is pour your desired amount of powder onto a wet hand and activate it by rubbing your hands together for around five to 10 seconds," instructs Farsht. "Then, you simply apply it to wet hair and lather up as you normally would."
Next month, Small Wonder is set to launch its powder-to-cream Concentrate Conditioner along with a patent-pending Forever Bottle. On the docket for early next year are refill pouches that customers can purchase for replenishment once their concentrate bottles are empty and formulas tailored to hair types.
Speaking of the Forever Bottle, Farsht says, "We spent the last year and a half working with an industrial design firm to create the first patent-pending dispenser that keeps powder dry in the shower. It works like a pump where you just press it down, and it dispenses into your hand like other shampoos."
"There's no dilution, just the best ingredients, nothing else. No more single-use bottles, no more goop, no more shipping heavy water."
Feedback so far has been positive. "Our existing customers are obsessed with the powder-to-foam shampoo, selling out our inventory after eight days when we first launched," says Farsht. "Our restock is focusing on those existing customers, plus an energized group of hairstylists and salon owners."
Rather than pay influencers to churn out content, Small Wonder is taking an organic approach to marketing. "We're just starting to build out our TikTok and Instagram channels and have just hired an experienced social media manager [Rania Bolton] that has spent years in the beauty space," says Farsht. "We are focusing on finding authentic connections with professional stylists that love the product so much, they're actually excited to make a Reel or post a story on IG talking about us."
On the distribution front, Small Wonder is available on its direct-to-consumer channel and is interested in pursuing hair salons as well as specialty retailers that align with its values. Farsht wouldn't share the brand's sales projections, the total funding it's raised or the names of its investors. "We're excited to work with select salons on in-real-life events and merchandising as we build out our collection," she says. "Our investors represent former executives from Target, successful entrepreneurs and family offices."
With sustainability top of mind for many consumers, Farsht reports it wasn't tough for Small Wonder to secure investment. "We had people that were super motivated from a sustainability perspective want to get involved," she says. "And then we also had quite a few investors that were super motivated just from a magical new brand, new concept, new format perspective."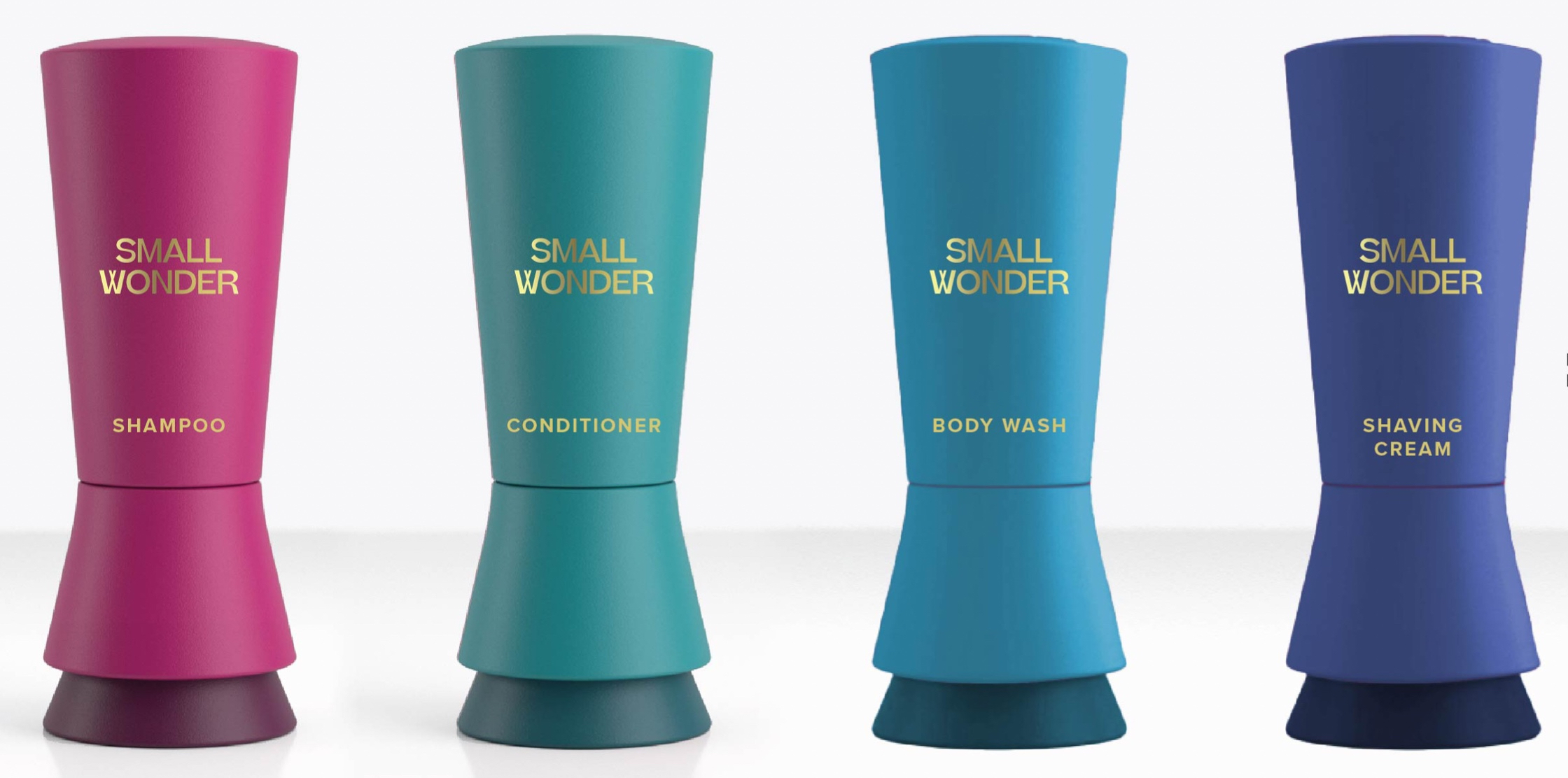 The market for waterless personal care products, currently a tiny slice of the beauty industry, is emerging. The firm Maximize Market Research forecasts worldwide sales in the waterless cosmetics market will advance at a compound annual growth rate of 12.2% from 2022 to 2029 to reach nearly $24 billion. The beauty industry globally generates over $650 billion in sales.
Aside from Small Wonder, brands with waterless shampoos in paste or powder formats include Everist, Sinesia, We Are Concentrate and Susteau. Waterless shampoo bars aren't rare, and brands such as Ethique, Superzero, Nolé and HiBar sell them. The challenges for brands are getting consumers to change behavior to adopt waterless products and formulating them to deliver on consumer expectations.
Farsht points out that formulating a high-quality waterless shampoo is difficult to do well, a factor explaining any consumer hesitancy and the dearth of powder-based waterless haircare merchandise. "It's very hard to find powder manufacturers that understand both powder and hair," she says. "There are a lot of powder manufacturers that are great at hair, and there's a lot of powder manufacturers that are great at cosmetic powder, but few that have mastered them both."
After establishing itself as a leader in the waterless haircare sector, Small Wonder plans to expand its assortment across personal care. "We'll be following up with body wash, shaving cream and more," says Farsht. "This experience has been amazing so far, and we're so excited for what's next."