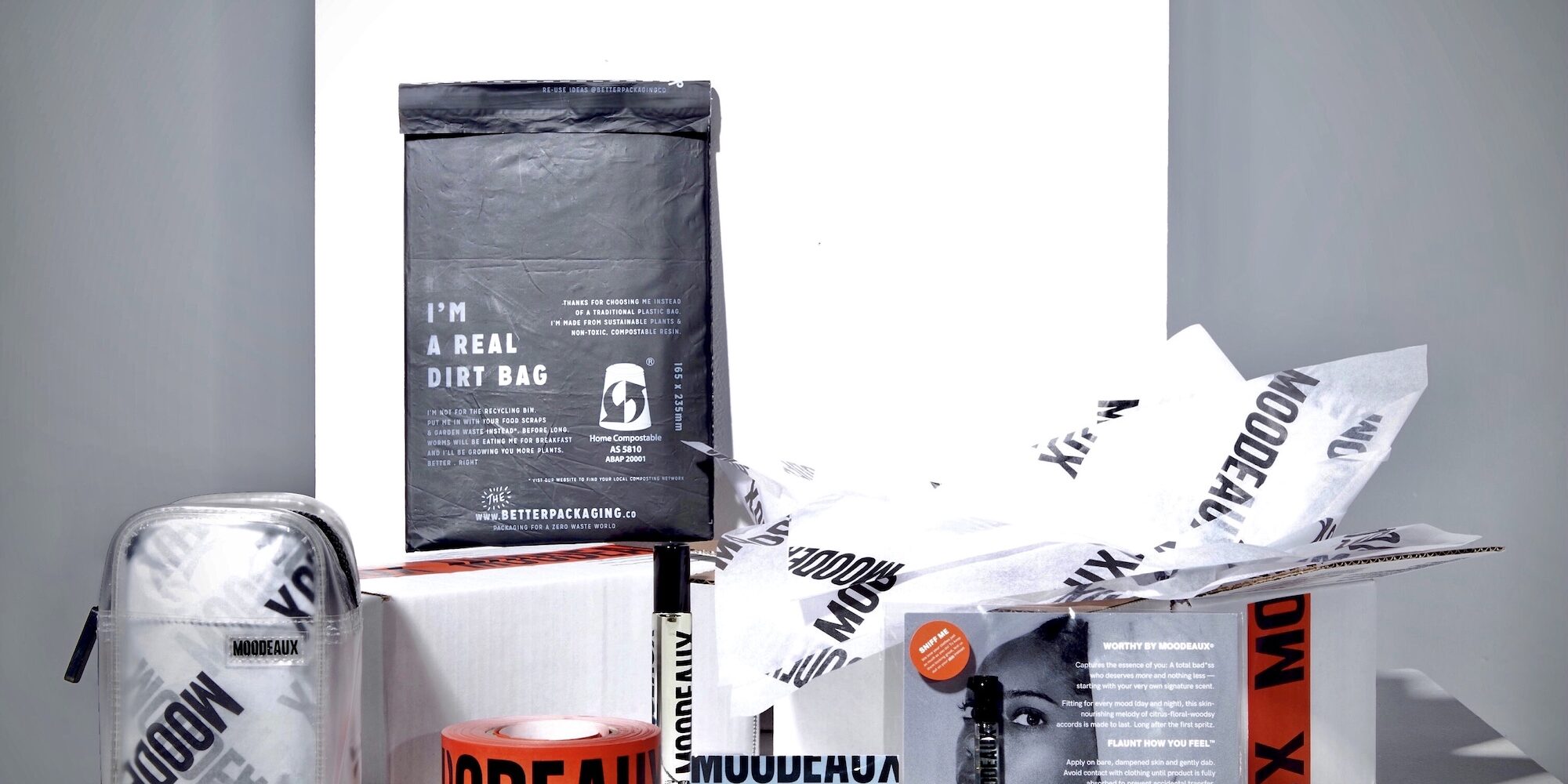 This Forthcoming DTC Brand Connects Fragrance, Feelings And Skincare
Like for a lot of Black women beauty founders before her, the recipe for Brianna Arps' new fragrance brand Moodeaux started in the kitchen. Well, technically, it started in Whole Foods and on Amazon, where she ordered a bunch of essential oils to test. "I started playing around with different notes and seeing what organically smelled good to me," she says. "Once I found a mix of something I liked, I was like, 'OK, we might be cooking with fire here.'"
Arps' homemade concoction became the blueprint for Moodeaux, which launches later this summer with Worthy, a version of what it's calling a Supercharged Skin Scent. It will be offered in a 2-ml. size for $10 plus a Grab-Then-Go kit with a 10-ml. travel pen, spritz atomizer and bag for $65. Arps describes Worthy as a "cross-categorical" product that blends fragrance with skincare. The formula includes grapeseed and meadowfoam seed oils for moisturization. "Worthy is to be spritzed on bare, dampened skin," advises Arps. "Think erogenous zones that emit heat, helping to unlock the true potential of the scent, and gently dabbed until the product is fully absorbed which takes just a few seconds."
She says Worthy's aroma is a citrus, floral and woodsy blend, and was developed over the course of three years with the guidance of blind paid surveys, social listening, and input from family and friends. She also combed through hundreds of customer comments on websites like Sephora's and Ulta Beauty's. While the initial scent started in her Brooklyn apartment, Arps eventually found a lab partner within her budget through Google and her connections in the industry. She's currently a senior marketing manager at a social media marketing agency.
Moodeaux adheres to IFRA or International Fragrance Association standards. IFRA is a global body that establishes best practices in the fragrance industry. "It's very important to me to develop a product that didn't disrupt our endocrine system," says Arps. "A lot of products that are marketed towards Black women are terrible and chock-full of these nasty things that aren't necessarily found in products that are marketed towards our counterparts. So, when I went to my lab partner, I really made sure that they understood that this product had to be safe, and had to be clean and had to be IFRA compliant."
To further her fragrance education, Arps enrolled at the online School For Aromatic Studies in 2018 and re-enrolled for a refresher earlier this year. She plans on pursuing a certificate in aromatherapy to eventually become a certified aromatherapist. Arps says, "A lot of the foundations and principles for aromatherapy apply to fragrance, which is feeling good, smelling good, and looking good."
Worthy doesn't come with secondary packaging at the moment, though Arps recognizes that may have to change if Moodeaux goes into retail. Instead, it comes in a reusable pouch. "When you see the fragrance world, you see these big, beautiful bottles with these really highly decorated caps and, then you have the packaging that's wrapped in the cellophane, which is horrible," she says. "So, we were really trying to take a different approach, down through our bottles." The bottles are screen printed by a small business in Brooklyn.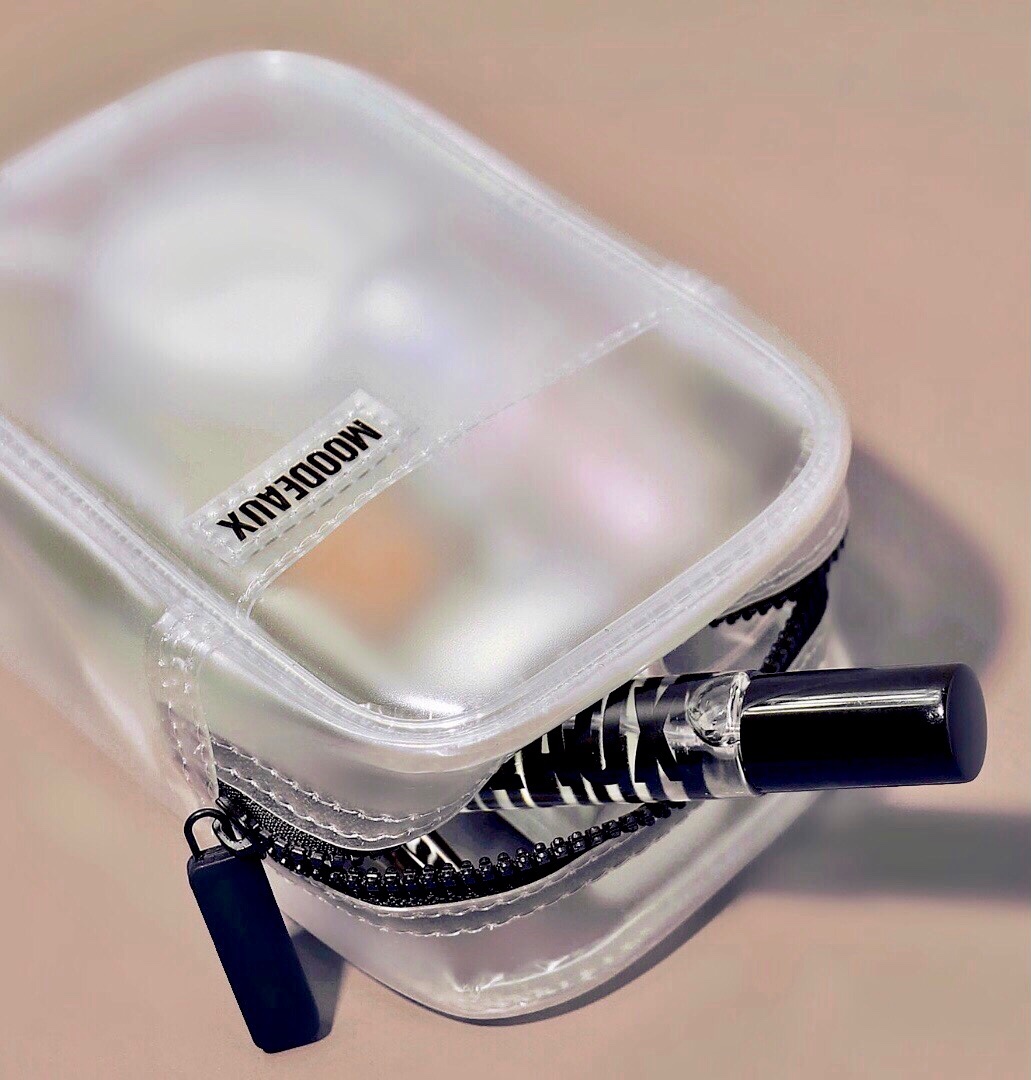 Arps has worked in marketing and media for seven years. She was one of about 70 people laid off from her branded editorial role at Refinery29 in 2018 and, demoralized by the tedious process of applying and interviewing for jobs, decided to find a path she's passionate about. "I really had to be honest with myself as to what I wanted to do," she says. "I had a partner at the time and I told her, 'You know what, I'm going to start a beauty line. I have a marketing background. I love working with other beauty brands. I want to do this.'"
Fragrance has always topped Arps' list of must-have beauty products. "It's something that I utilize to accessorize my mood, to help me flaunt how I feel," she says. "If I don't feel like doing a lip or if I don't feel like doing a complexion product, I know that I can grab my fragrance and feel OK." As she entered into the research and development phase, she noticed that there are very few Black entrepreneurs in the fragrance market despite, according to Nielsen data, Black American consumers spending $151 million on perfumes in 2017 and accounting for 22% of the total fragrance market in the United States for the year. As Beauty Independent covered earlier this year, the disparity is due in part to exclusivity in the fragrance industry.
"It's such a commercial dominated industry [with] celebrity-backed fragrances and all that come from these really big houses overseas," reflects Arps. "It's a monopolized industry in a lot of different ways." But instead of seeing the status quo as a deterrent, she harnessed it as motivation. "Being the type a person who really loves a challenge, I took it as a sign that this is what I really need to be doing," she says. "The fact that there aren't a lot of people who look like me doing something like this means I need to do it."
"The fact that there aren't a lot of people who look like me doing something like this means I need to do it."
Moodeaux began as Moode Beauty, a name that Arps' lawyer recommended against for trademark reasons. She elected for Moodeaux, a combination of part of the term "eau de parfum" with mood, to underscore the relationship between fragrance and feelings. "We really want to help our customers—our Moodeaux mavens, if you will— really explore the link between feeling good, smelling good and looking good, they're all three intrinsically connected," says Arps. "We put our feelings on our sleeves—literally. We really help our users have an intimate moment with themselves and connect with themselves before they go out and brave the world again."
Compared to other beauty categories, fragrance performed well last year, and sales are accelerating. In the first quarter of 2021, market research firm The NPD Group estimates prestige fragrance sales rose 45% to $953 million. "A lot of that I think is people just really want something to make them feel good, something that they can connect with and incorporate in their self-care routine," figures Arps. "They're willing to take the chance on something that they can resonate with personally, something that they think could smell good." With fragrance shoppers getting more accustomed to buying fragrances digitally, she says, "Being DTC and utilizing ads and email marketing and retargeting, I think we can become a power player in that space."
Moodeux is embarking on a campaign coming up involving mailings of sniff cards before the brand's launch. In addition, Arps plans to pass them out in popular public venues and record content as she does. "There's a lot of things that I want to do outside of just sitting behind my computer selling perfume," she says. "I want to actually get out, move community, and incorporate the product in pop-ups, trade shows and any experiential activation that I can be a part of."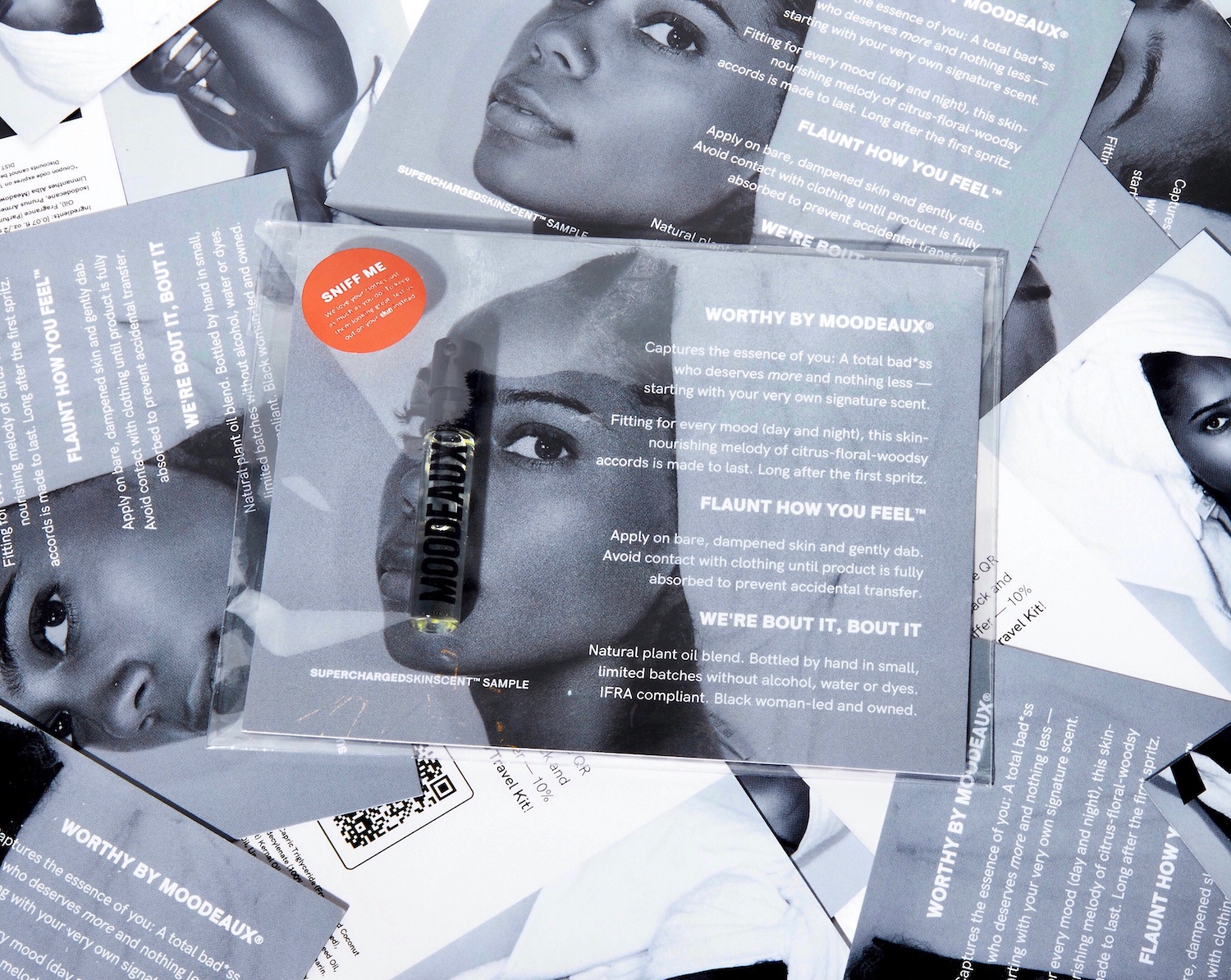 Arps created Moodeaux with about $15,000 of her own money. She recently won $25,000 from a pitch competition hosted by New Voices Foundation and Pull Up for Change's Impact Fund at the virtual Essence Festival. "That is going towards the building of the business, which offers me a little bit of financial relief and allows me a chance to build up my own savings accounts again," she says. She's also competing in Tower 28's Clean Beauty Summer School pitch competition next month. The winner receives a grant of $10,000 from New Voices along with support on the strategic, public relations and legal front.
"Our strategy within the past year or so is applying for pitch competitions and really taking advantage of what I, unfortunately, am calling like the Black business boom," says Arps. "And I call it unfortunate because it's sad that certain circumstances had to come into play for people to want to pay attention to us or for people to want to pour back into us to fuel and fund our ideas." Despite the circumstances, she's grateful for the funding opportunities that were few and far between when she initially started entrepreneurial pursuits in 2018. Once Moodeaux launches, she expects to pursue angel investors within three to five years.
Moodeaux's pipeline is packed with future products. "We have more, different ways to experience Moodeaux that reach into more traditional lanes of fragrance as well as more traditional lines of skincare," says Arps, noting the home category is of particular interest." On top of Moodeaux, she's introducing a service organization Black In Fragrance. It will serve as a resource hub and, eventually, is anticipated to provide grants to those wanting to enter the fragrance industry. Upon Moodeaux's launch, customers will be able to buy a limited-edition Black In Fragrance x Moodeaux hard enamel pin set for $25.00 with 50% of proceeds going toward the grant initiative.
"It was very difficult for me all those years ago to find the information that I needed," says Arps. "It was a challenging and frustrating experience, but I think it birthed another idea that I think could be invaluable to people."
Retail is on the docket for 2022. Arps has her sights on Ulta Beauty and Macy's, but Sephora is ultimately where she envisions Moodeaux being stocked. She'll have a chance to pitch to Celessa Baker, VP of brand marketing for makeup and hair at Sephora, during the upcoming Tower 28 competition. "I'm a person who's big into manifestation and really verbalizing my wants and my needs for the business and writing them down and, then, going for it," says Arps. "I feel like God planted the seed and, because he planted the seed, I know I have what it takes in me to help that seed grow into fruition."