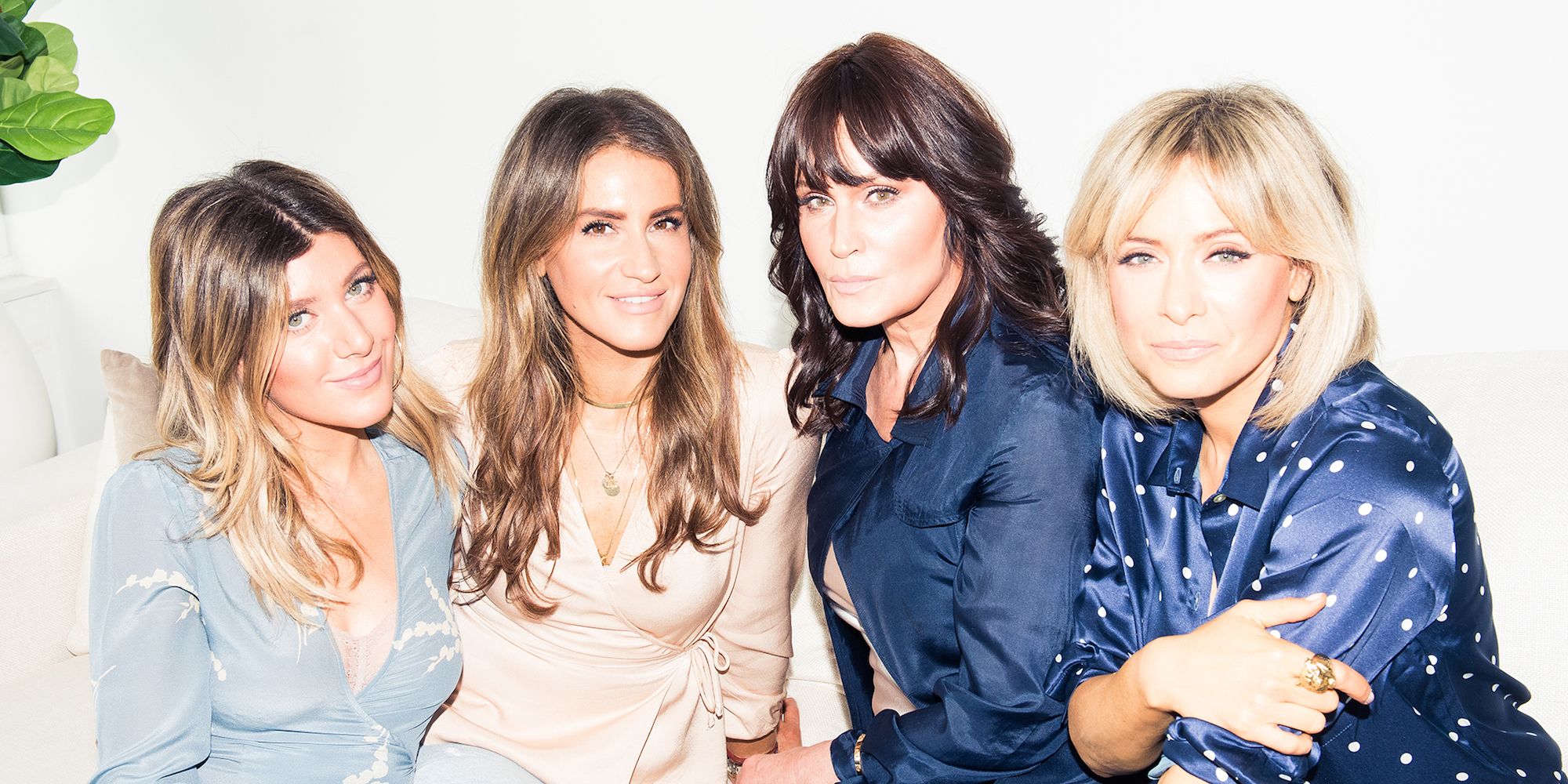 From Toronto To Miami, Prestige Beauty Curation Ain't Nothing But A Gee Thing
Gee Beauty is a known destination for luxury beauty products and services.
For the four women behind cult beauty studio-cum-boutique-cum-cosmetics line Gee Beauty, offering the best in prestige beauty to devoted clientele is a family affair. Co-founded by mother Miriam Gee and one of her daughters, Natalie, with Natalie's sisters Celene and Stephanie in the roles of creative director and director of Gee Beauty Toronto, respectively, Gee Beauty has been bringing luxury niche beauty brands and Insta-perfect brows to its Miami and Toronto locations for over a decade. Beauty Independent spoke with half of the Gee Beauty quartet, Celene and Natalie, about Toronto versus Miami clientele, launching near-legendary brands in a new country and evolving from working with influencers to becoming influencers in their own right.
Four of you manage two locations in two different countries as well as your online business. How do you divide the work?
Natalie: It's about give and take. [We aren't handling] all aspects of our business every day. One day you focus on one area and the next day you focus on another area. You really always want to, as an entrepreneur, focus on your day-to-day and then also look at the bigger picture and what is so exciting about being in business today is that we have so much access to creative outlets, looking at what is inspiring people. [We] are talking to our clients in a whole new way via social media or person to person, we're really listening to our clients and what they want. It's up to us to respond to that as quickly as we can. Being a small business [has] been so beneficial for us because we can adapt very quickly. If our clients are looking for something, we can bring it to life sooner than we would have otherwise. That's a very honest capture of what life is like. It's definitely busy, for sure.
How do you discover new brands?
Celene: It's always been, from day one, a very organic process. One of the nice things about the fact that there's four of us, is [there's] four people scouting, reading, trying, engaging. All of our lines have come to us, or we brought them in, because one of us was like, "I've read a lot about so and so; let's reach out to them", or, "So and so reached out to me. Let's try them."  It's been very organic like that. What we always do is, when we're interested, we share the information, we make contact, or the brand contacts us, and then we try everything for a month -and-a-half to three months. If it's something that we continue to use, we know we have to have it. If we've ever stopped carrying a product line at Gee beauty, which has probably only happened four or five times in the last 15 years, it's because we just weren't using it at home. It wasn't in our regimen. It's got to be something that one, two, three, or even four of us can speak to the benefits of or else it's just not authentic.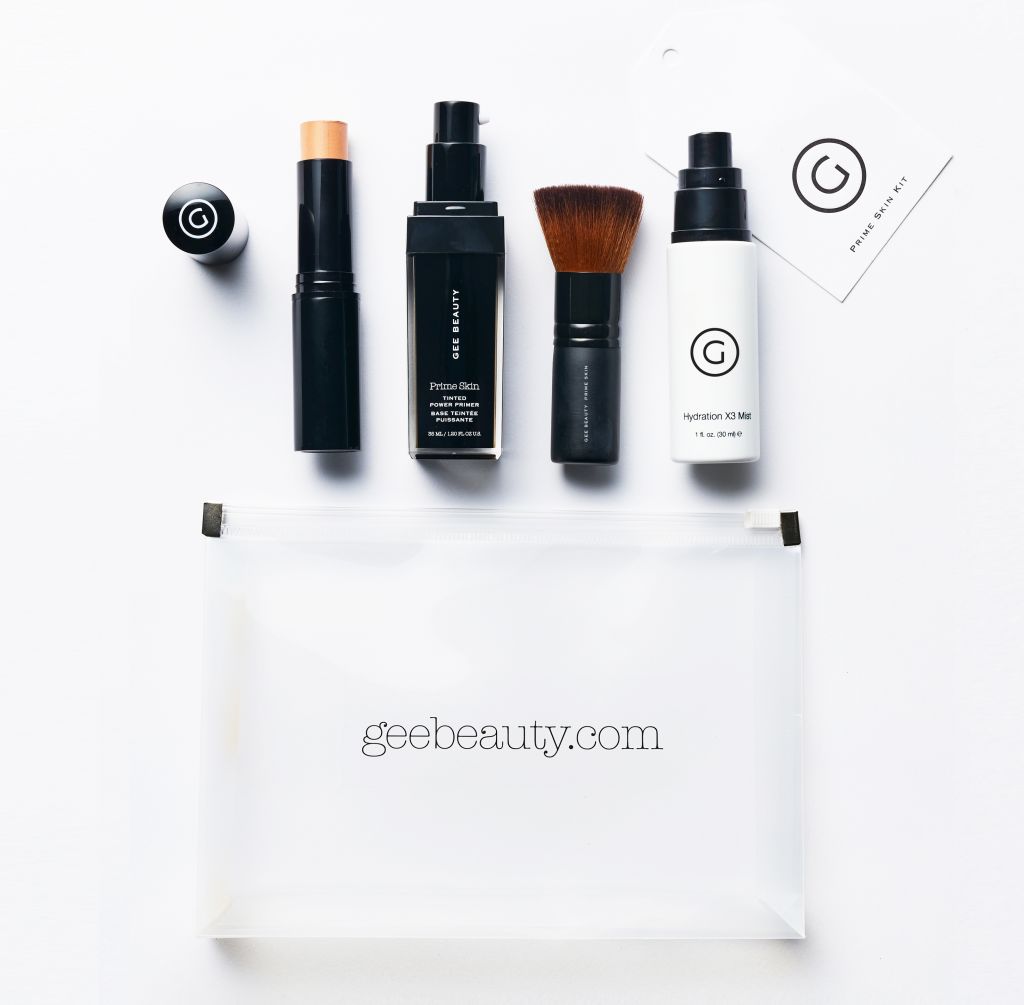 What are some best sellers? Are there certain lines or products all four of you are devoted to?
Celene: There's a lot. We're beauty girls. Aside from our own makeup, our hero product is called Prime Skin, that has always been one of our top five sellers online and in-store, Skinceuticals, either CE Ferulic or Phloretin CF, is always in the top five. Dr Sebagh makes an incredible Rose de Vie serum. It's a mix between a serum and an oil and it gives a glow to the skin and calms inflammation. It does a multitude of things. It's beautiful. It mixes well with makeup or [goes] underneath makeup or as a treatment when you travel. That's always in our top five.
Retinol Reform is another big seller. Shani Darden is an LA-based facialist. She works with Jessica Alba. Her Retinol Reform [is] a gentler version of retinol with aloe. Since the day we launched that online it's been one of our best sellers. Also online, I'd say Super Elixir gets a lot of interaction and purchase power and curiosity. In-store as well, but I noticed people really do seek it out [online].
Natalie: I think people on our website, they're looking for a little bit of this and a little bit of that. They'll come on and say, "OK, I want to try something wellness-related, I want to feel good from the inside out, but then I want my skin to glow."
Celene: One of my favorite things is seeing the orders. It's almost like looking in people's beauty bags. I love to see the Super Elixir pouch, and a blush and brow pencil and an eye cream. I get so excited and curious by what people's mixes are. Or they'll buy one straight product line. The Tata Harper client, she's looking for all Tata Harper. It [allows us to] see how well we've curated and edited and represented the products online to see how people navigate.
How do you all prefer brands to reach out to Gee Beauty?
Celene: It's always great when there is some type of connection established, whether that means you've been in the studio, not necessarily come in the middle of the day and bring products, but maybe you've come in for [a] service or said hello or introduced yourself over email. I think it's always good to get a heads up. If I was sending my product out, I would always want a point of contact or some type of introduction over email. You want a name [to] establish a connection. People in retail are getting a lot of product on a daily basis and you want to [see], maybe there's a preference, or something they're interested in. Maybe there is something they've read about. Making some kind of contact is always going to be more beneficial.
Natalie: I think for a lot of brands reaching out this happens a lot. I wish I could tell someone, do your research [on] where you're going. If a brand came into Gee Beauty, I want them to know who the founders are. I want them to have that little bit of information. It's not hard. Cold emails than seem spammy are actually spam.
Celene: With a little more time and research, you could make it a little more personal. It's amazing to have beautiful packaging, [but] it's a combination of things. The product has to work, it has to be timely, reflecting what, not necessarily the trends are about, [but] what the themes are in the industry. Inner and outer beauty, cleaner products. Not necessarily everything all natural, organic, but reflective of that. But when something great comes in, we reach out. I would say that we've reached out to the same amount of brands who've reached out to us.
We always want to make sure first and foremost that our categories and our demographics are covered. Do we have things for younger skin? Two weeks ago Nat and I were talking and we realized we didn't really have anything in the natural hair category. A brand we had loved for so long is not in production anymore so we needed to fill that category. We needed a natural sunscreen and we needed a lip balm with SPF.
We're able to take a look at our retail offering and see what we're missing. We ended up going back to brands that we had made contact with two or three years ago, that at the time we didn't bring on for whatever reason. It's a good example that you make the contact, [but] let it sit for a little bit. People have to come to things in a natural way. We've always come to things in a very organic way. It might not be that somebody writes in order for your brand within six weeks of introduction, but it will sit with them and if it's a great product and they're using it, they'll reach out. We'll reach out.
Natalie: We're definitely not about trend trend trend at Gee Beauty. We're much more about slow and steady and building into that brand. We believe so wholeheartedly in the brands that we carry and we're loyal to them. That's another [reason] why you won't see the latest and greatest. What about tried and tested? A product that is going to work with you no matter what? We really stand by that.
"If we've ever stopped carrying a product line at Gee beauty, which has probably only happened four or five times in the last 15 years, it's because we just weren't using it at home. It wasn't in our regimen. It's got to be something that one, two, three, or even four of us can speak to the benefits of or else it's just not authentic," says Celene.
How does price come into play?
Celene: We make sure that we have a range of cleansers — a cleanser for $35 versus the cleanser for $65. And the $35 cleanser is incredible. One of my favorite eye creams in the whole studio is one of the lower price point eye creams. I recommend it because I swear by it. It does a multitude of things, it's amazing from men as well. It's great for younger women who are looking to start being more preventative. So, we make sure that there is a range of brands. It always has to be good quality. It always has to be something unique. We're not looking to carry every line that Sephora has. It's got to be something that is special to us in some way, but we want to make sure that we're reaching everyone.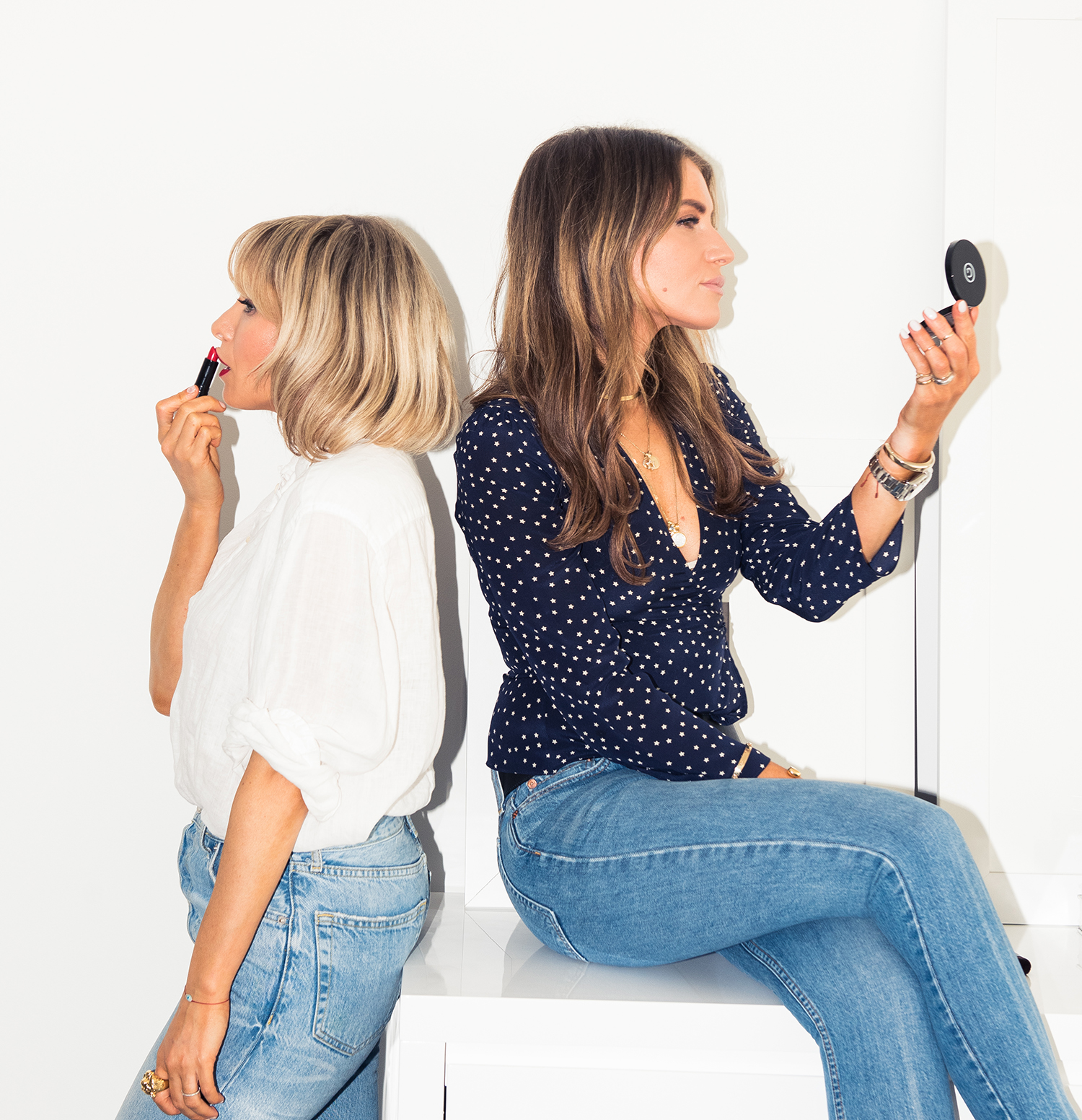 Who is the Gee Beauty client and has she and he evolved over the years?
Celene: We always try to think about this, but the truth is [it's] a lot of different women. Younger girls curious about colored eyeliner, young girls coming in for teen facials [to] decongest [their] skin and then they buy a clay mask and then we develop a relationship from there. We have a younger clientele on social that will click to shop and will reach out through direct message and shop that way. In studio it's always been a range. There's definitely a sweet spot in the studio of 30 to 50, but it's 30 to 70. We've never been able to say she's one type of woman. She's definitely educated. She definitely has done her research. She's definitely interested in learning more. We have a very open and engaged clientele where they want the knowledge.
We do an incredible founder series in Toronto and Miami, where we'll have a brand founder come in, like Dr Sebagh or Elle Macpherson or Barbara Sturm. We have Joanna Vargas coming up and Dr. Gross. The clients wants the knowledge. They want to hear about the science behind a product or an ingredient. They want to hear about the health benefits. It's not about only wrinkle reduction. Tell me what's going on on the inside so that I can better treat my inside and my outside. So it's a very eager and open woman — and man for that matter.
What categories have you all seen growing and which are declining?
Celene: Obviously, the wellness category has developed for us. That being said, the Gee women are not a hundred percent natural, organic, non-toxic all of the time. So I think it's important for us to reflect that in our offering. There are quite a lot of brands we carry that are natural and non-toxic and, then, let's say pharmaceutical grade, other brands that do have some synthetics. All of the brands that we carry are such high quality that you can [trust that]. In terms of wellness coming into Gee Beauty, it's very integrated into our daily life. We aren't making smoothies with 17 different powders in them, but if we're using one or two [powders], we retail them. The Beauty Chef, Super Elixir, Moon Juice. Also, dry brushing the body, taking better care of the body or thinking about lymphatic drainage, all kinds of ways. Even if it's just taking a moment to breathe in an essential oil before you go to sleep or before an intense meeting. Small kind of rituals like that that are part of a modern lifestyle.
Natalie: Women and men are looking to level up their life in some way and they're using beauty to do that. If it's a ritual before bed, or a bath, or some sort of wellness product, or introducing a vitamin C serum they've never used before. It's all about elevating yourself to that next level. That's really what we're seeing.
Celene: Environmental protection. We've seen a lot of creams and serums introduced that are anti-pollution or that have blue light protection embedded in them. Dr. Sebagh was one of the first with his Supreme Day [Cream], Barbara Sturm just launched anti-pollution. So lots of things that are having more protective benefits. Also travel, whether that means small sizes, individually-packaged sheet masks, lip masks, ways to maintain yourself on the go, hydrating sprays, makeup wipes, kits. Things that are not overly complicated, but that are packaged for this on the go lifestyle.
Tell me about your onboarding process for new brands.
Celene: We will always bring things into the studio first. We're very tactile, very interactive because we aren't just retail, we have the interaction of the studios and the treatments, so it really is about, let me try this. Then we will bring it on the site. We don't have anything yet strictly online that isn't in the studio. There [are] a few different offerings, in terms of brand or product launches, between the US and Canada. The two different countries have different demands, different preferences. [It's] a little more body and SPF focused in Miami. [It also depends on] when things get regulated and approved in Canada, it takes more time there. In terms of taking from a whole line, we always love to start with best sellers and things we know that our clients love. Generally we take on everything but maybe we leave out one or two things. We go for lines that have 12 to 14 SKUs, max, and then we edit and fine-tune. 
After we have a consultation with [a client], whether it's over the phone or email or in person or through the different filters on the website, once you tell us your skin type, your preferences, your lifestyle, your budget, there shouldn't be over 10 options for you to choose from. We never wanted it to be 45 different cleansers. If you're oily and you're sensitive and you are in this price range, there's two or three incredible options. There aren't 10 so that you feel overwhelmed.
Natalie: It has to feel very natural for us. Brands have become more lenient to break up their line, versus business seven or eight years ago, it was all or nothing. We shy away from lines that are so big, that offer almost too much to clients, because if we're confused, our clients are going to be confused, and that's not what we want. Beauty, for us, should be easy.
What kind of margins do you usually take?
Celene: We like them to be fair and even for both the supplier and the retailer. We really worked to develop significant relationships with our brand. We like to have great communication, incredible training, product knowledge, sampling for our team to try, replenishing our testers, gift with purchase, ways that we can stay communicative on a constant basis, that will ensure success. We're always looking for a 50-50 partnership with a brands, and whether that means adding value in other ways, brand founders coming in for appearances, sampling, gifts. That added value.
What are some ways that brands have worked Gee Beauty that were really successful?
Celene: It's all about relationships. We like to meet the founders, develop a nice fit, a good understanding. And letting it breathe. Like we said before, sometimes we write an order within the first four to six weeks and sometimes we don't. Because there's four of us, we each take our time, we think about it, maybe one city picks it up sooner than the other city. It's so dependent on the brand and the product itself. That being said, there might be a brand founder we've never met, but the product is so great it sells itself and it's got great loyalty and people love it.
It's always great to meet the brand founder as soon as possible. From the beginning we worked really closely with Tata Harper to bring her to Canada. Quite a few of the brands that we have in Toronto we launched in Canada.
Gee Beauty launched Tata Harper in Canada?
Natalie: Yes, we were their first account in Canada. Le Labo fragrances, as well, we brought to Canada. They didn't have any retail exposure in Canada. Dr Sebagh as well.
How many brands does Gee Beauty carry currently?
Celene: It must be 30 to 35 brands.
Does Gee Beauty work with influencers?
Celene: It's very natural for us. What we think is unique about Gee Beauty is there are these four beauty experts, or beauty advisors, within the brand. It really is what defines us, what helps us inform the decisions about what we offer and how we interact with our clients. We do that within our brand and on social and have started to, especially in the last year or two, [in] our email communication and all of our marketing. It's about letting us show you the ways to achieve our version of natural beauty. We don't do anything outside of the studio or outside of the brands that we represent, in terms of influencing, but we are growing our exposure and our own reach so that we can interact and reach more people.
Natalie: If we're going to work with an influencer, we have to feel connected to them. We've been approached many times and we just don't have a connection. It doesn't matter how many followers they have, we've got to feel connected to them. If not, you can just see it.
Celene: Anyone that we have worked with, whether it's people coming in the studio like Aimee Song of Song of Style or Hannah Bronfman, it's a very organic relationship. We have friends in common, it's a natural kind of thing. We work with some really incredible South American girls, friends of ours here in Miami that we met organically and then they came into the store and they loved the Gold Facial, so we promote that with them. I'm sure there is a lot more [we could] be doing if we had a more aggressive, assertive social media campaign, but up until this point, it's kind of natural.
What services are the most popular at Gee Beauty?
Celene: The foundation of the business are brows, skin and makeup. The Gee Beauty Brow, which is a threading service, then doing a brow tint, we always say is the welcome to Gee Beauty. It's the point of entry. We still get excited when a client comes in for her brows and she sees the transformation. It's like putting on a new lipstick. You're never going to beat that feeling. That is definitely our most popular service in terms of volume.
With our skin services, we've incorporated a lot more technology in the rooms. Clients are always looking for brighter skin, no matter their demographics, no matter where they live, from Toronto to Miami. Brighter skin equals younger looking skin, so skin treatments that incorporate technologies, combo treatments, whether its microcurrent, microdermabrasion, hydrafacials, peels, dermaplaning. Then in Toronto we have a whole medical division, so we do all of our medical aesthetics as well. IPL, skin rejuvenation, hair removal, LED, laser treatments.
We developed the medi-beauty department about five years ago and it's really grown. We have more space in Toronto, so it allows for bigger treatment rooms and more technology. There's a demand in both cities, but our offering and with our clients is a little bit different. In Miami, it's really about head-to-toe beauty, body, glow, things that work very quickly. So we built the medical division [in Toronto] and it's great because it has a very modern twist to it. It's really about giving great results with a great regimen that's going to change your skin over time.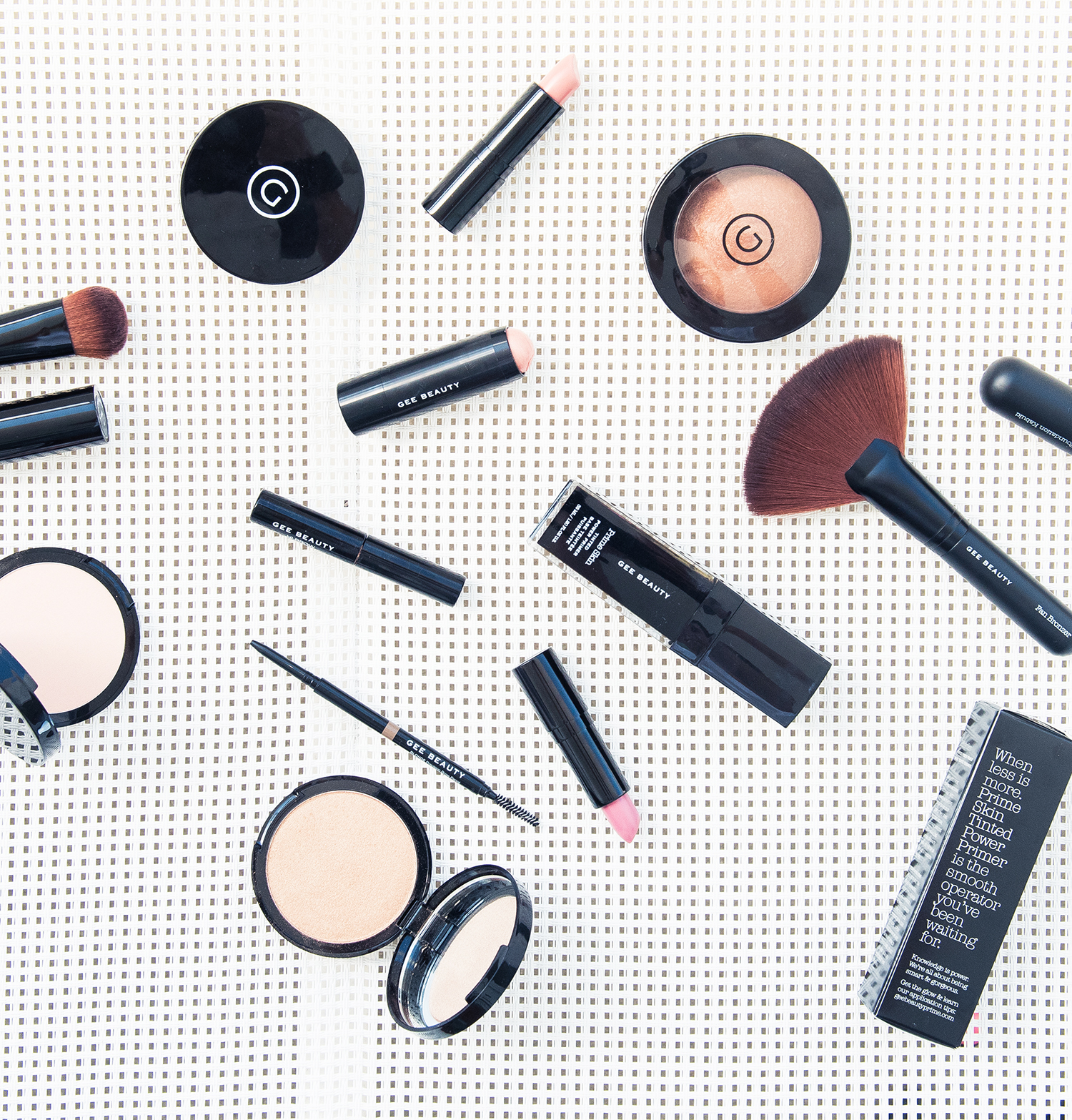 What are your plans for Gee Beauty going forward?
Celene: We're always open to great, innovative new brands. We're in the habit of picking up three to four brands per year, which is not a lot. Maybe in smaller categories there's more, like the natural hair and the natural SPF [categories], but in skincare it's pretty limited. We never want to oversaturate the shelves and confuse anyone. We don't want to make our clients feel like we spent so much time building and sharing and loving one brand and then we say, "Well, hey, here's a whole other brand."
We're doing a bit of a facelift to our website, putting more of our beauty expert editorial perspective on it, more recommendations, building out more of the categories, adding a lot more content. An online loyalty point system is going to be added, so we're super excited about that. Developing our products further, carrying our skin products like our Prime Skin and our foundations in more retailers. In terms of new locations, if there are partnerships that develop, absolutely, we're open to that, but the website and product development are the biggest categories we're working on right now.