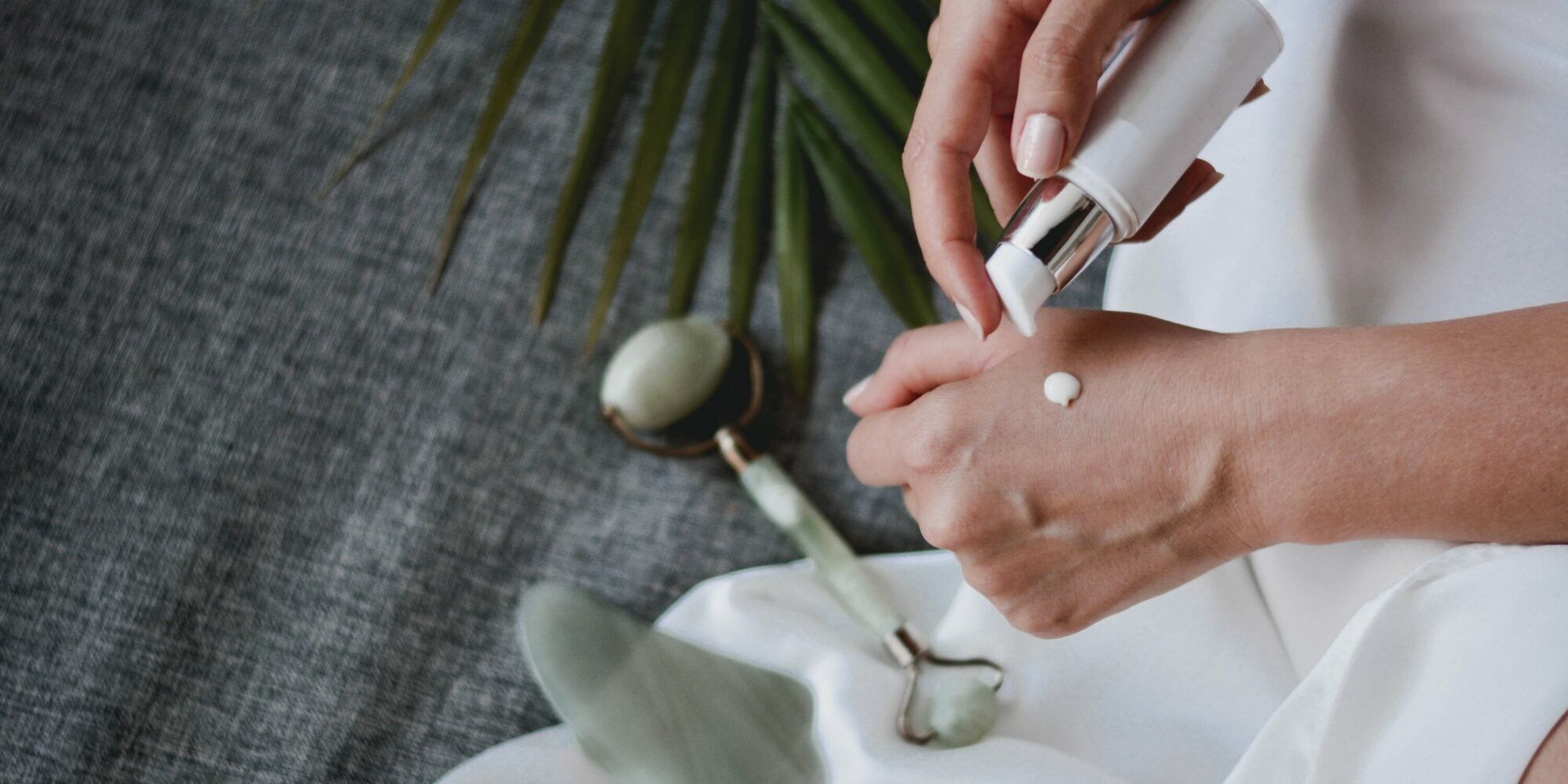 Gen Z And Millennial Beauty Spending Expected To Stay Strong As Shoppers Overall Cut Back
Shoppers are keeping tight grips on their wallets. 
According to new research from McKinsey & Co., 79% of consumers are reducing their spend across categories by purchasing fewer products and seeking discounts—or both. Dimpy Jindal, associate partner at the global management consultancy, pinpointed non-essential categories such as skincare, makeup and personal care, automobiles, toys and supplements as likely to experience the greatest effects of consumers' shifting behavior over the next three months.
"This raises the bar on the brands to differentiate themselves given the number of brands that will now be present on the shelf as retailers are playing into different price points,"said Jindal said during a recent Beauty Independent In Conversation webinar. For the webinar, she was joined by Jennifer Famiano, executive director and beauty industry analyst at market research firm Circana, and Nini Zhang, managing director of investment banking at Bank of America. Opinions expressed by Zhang on the webinar were her own and don't represent Bank of America.
Not all shoppers are equally thrifty. McKinsey has discovered that millennial and gen Z shoppers, in particular, are still planning to splurge on beauty and personal care products over the next three months. Jindal said, "There is an overall net negative intent to spend from consumers, but for consumers who plan to splurge, beauty is one of the categories that they do want to spend on."
"Splurging" for millennial and gen Z consumers doesn't necessarily translate to buying high-priced products. In skincare specifically, millennials are showing heightened interest in lower-priced brands that have clinical or prestige-style positioning, per Famiano. Speaking of gen Z shoppers, Jindal elaborated, "They're looking for more efficacious products…that provide the benefits that they need, which means that they're willing to trade down even if the product is not that expensive. They're not really placing as much value as other generations on brand name and expensive marketing."
CATEGORY PERFORMANCE
The beauty category is outperforming sectors such as fashion, footwear, home and technology. Famiano said, "Consumers are continuing to treat themselves to beauty products, which makes our products a standout from other discretionary retail categories where consumers are continuing to pull back on their spend."
Encompassing mass and prestige, beauty generated over $42 billion during the first half of 2023. Sales jumped 11% in dollars and 3% in units. Mass beauty constituted the largest percentage of sales, but prestige beauty's growth is steeper. Prestige beauty sales increased 15% in dollars year-over-year and 13% in units to reach $14 billion for the first half of the year. Meanwhile, mass beauty sales increased by 9% year-over-year in the same period.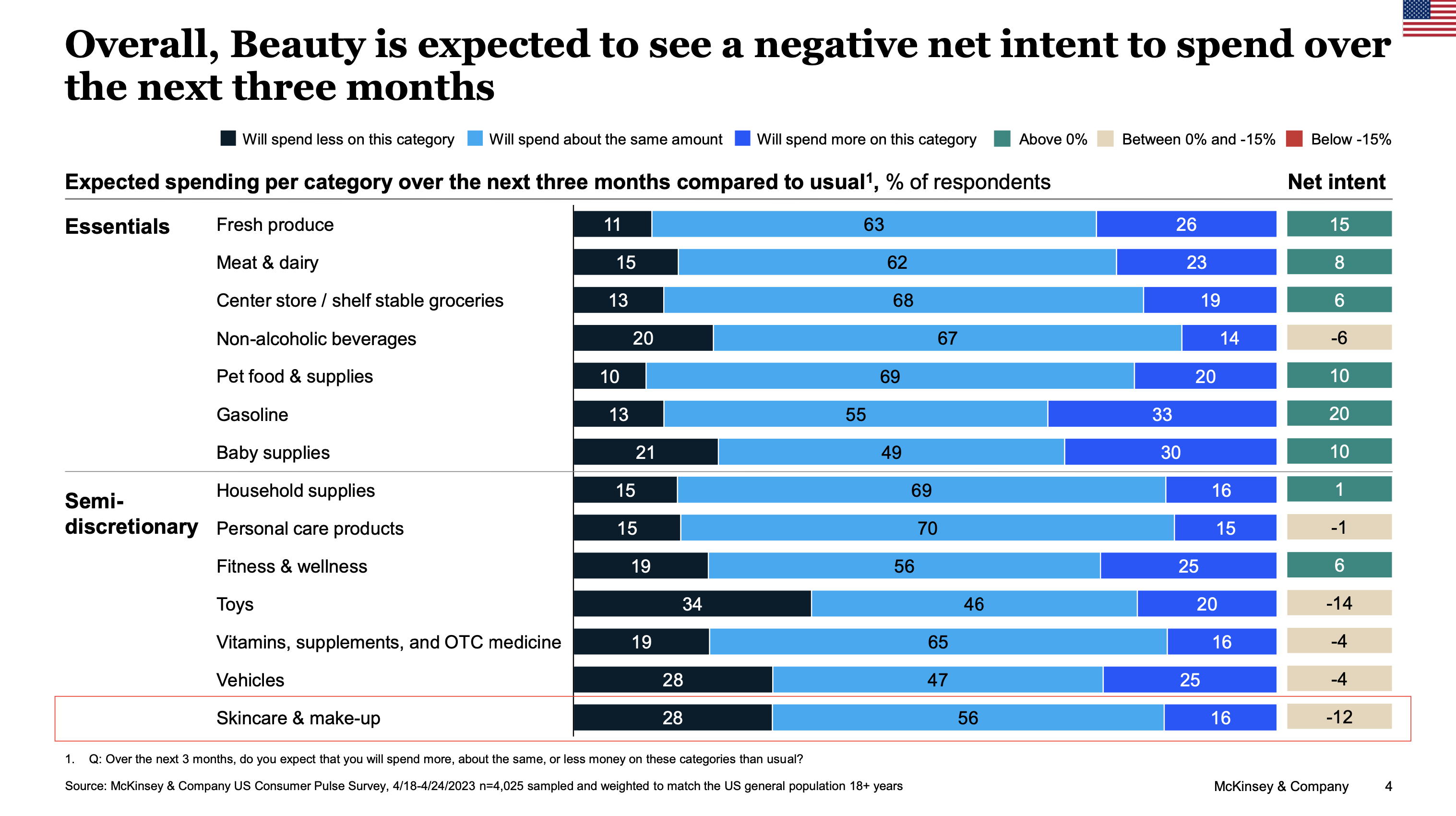 All prestige beauty categories have registered double-digit growth rates in 2023 so far, but demand is starting to moderate in every category except skincare. Makeup sales were up 18% for the first half of the year compared to a 20% year-over-year advance during the first half of 2022. The category has enlarged its audience in the past year, with 70% of women aged 13 years old and up reporting that they use makeup on a daily basis. 
"Not only are more people using makeup now more than a year prior, but consumers are more engaged with the category," said Famiano. "A significant number of consumers say they are using the same number of makeup products or more compared to a year ago."
Lip is the strongest performing makeup product category. It surged 35% in prestige and 21% in mass for the first half of the year. Lip oils were hot, contributing $51 million to makeup's gain in the first half.
The skincare category spiked 14% in dollars during the first half of the year, matching its growth rate from the same year-ago period. Clinical brands drove demand in prestige and increased 16% in dollars. Famiano highlighted that smaller "alternative" brands with a "unique or offbeat philosophy" soared 51% during the period and were responsible for one-third of prestige's skincare gain.
"You want to think of brands that walk to the beat of their own drummer and carve their own path," she said. "It's interesting because what's really driving [sales] with 'alternative' is innovation. These are brands that are winning the consumer over with inventive solutions."
Serums notched about $89 million in incremental dollars during the first half of the year and increased in units sold almost 30%. Famiano said consumers traded up in cleansers if price points landed between $10 and $15 above mass cleansers. As a result, sales of mass cleansers declined in the first half of 2023. At less than 2% of the skincare market, body sprays have punched above their weight in a big way this year. Their sales skyrocketed over 200% to hit $48 million for the period. 
Fragrance increased 13% in dollars and 8% in units sold during the first half of the year compared to a 15% increase in the first half of last year. Luxe price points are propelling growth in fragrance, but dupes and gift sets are also pushing sales. Sales of luxury gift sets increased at twice the rate of the entire prestige fragrance category. Luxury fragrance gift sets gained two unit share points during the period.
Perfumes pulled in $2.4 billion during the first half of 2023, accounting for 76% of fragrance sales. Higher concentration eau de parfum and parfums performed the strongest within perfume and were the only subcategories to grow in units.
Consumers spent $217 million on prestige haircare in the first half of this year. The category rose 13% in dollars. The category grew by a heftier 25% during the first half of 2022. Similar to fragrance, Famiano identified premiumization is fueling the majority of haircare sales. "It had the highest average price increase in prestige," she said. "Prices were up 6%, with seven out of the top ten brands having an average price that is higher than the category average." 
Styling products were prestige haircare's top performers for the period, representing 21% of the business and contributing 29% of the incremental dollar volume gain. Salon brands generated the most demand within prestige and outpaced sales of mass haircare brands. Famiano said, "More than half of consumers purchasing hair products agree that a high-quality brand helps them pull the trigger on a purchase, and this is second only to price in prestige." 
DEAL ACTIVITY
Speculation about a recession has been circulating since last year, but Zhang said Bank of America's outlook has gotten sunnier of late. It expects consumer spending and gross domestic product growth to be robust through 2025. A strong, albeit gently cooling, labor market underpins the forecast. 
"We're still seeing pretty healthy spend from a beauty, personal care and self-care perspective," said Zhang. "Folks are just going to be more choosy in terms of where they put their dollars going forward."
Beauty deal activity heightened in July and August and is forecast to be steady through the rest of the year and into early 2024. Zhang noted that the level of due diligence on transactions has increased significantly. She explained, "It's really now, show me the efficacy. If you are a science-backed brand, I want to see that clinical data. Have you run clinical trials? Are you published in well-known journals? Are you peer reviewed? Do you have patents? Do you have an exclusive or proprietary formulation?"
Differentiation, portability to international markets and profitability are top of mind for strategics on the acquisition hunt. Some key metrics that Zhang specified include gross margins in the 70% to 80% range and earnings before interest, taxes, depreciation and amortization (EBITDA) margins at about 20%. 
Investors are turning their focus to companies seeing elevated volumes rather than those growing through price increases. "They want to see a more balanced growth between pricing and volume," said Zhang. "How are you going to increase volumes? It's a very fine balancing act because, to grow volumes, it's innovation, it's investment behind the brand, it's marketing spend."
Valuations are holding stable or trading above average in beauty. Zhang spotlighted two recent deals as evidence of the valuation dynamics: Kering's $3.8 billion acquisition of the centuries-old fragrance brand Creed and E.l.f. Beauty's $355 million grab of masstige skincare brand Naturium. On Kering's move, she said, "There's not another Creed in the market. It's not something that you can replicate overnight." Regarding the Naturium deal, which was about 4X sales and 20X EBITDA, she said, "That's straight down the middle of the fairway."