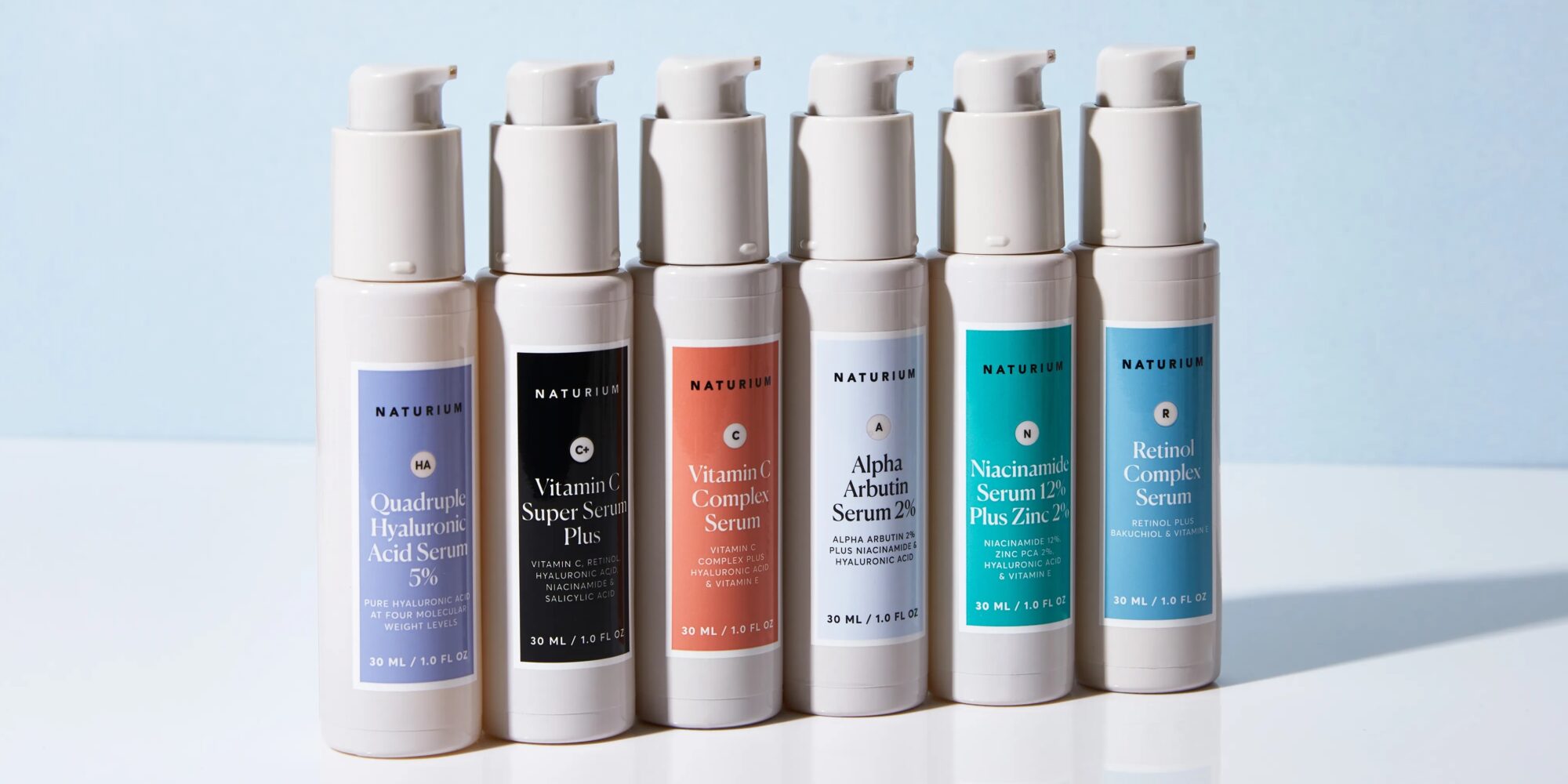 E.l.f. Beauty Acquires Naturium To Grow Skincare Market Share
Already a makeup juggernaut, E.l.f. Beauty is angling for the same status in skincare by acquiring Naturium for $355 million.
The company's deal for the brand, which consists of a combination of cash and stock, represents its first in the skincare segment and the first since it acquired clean cosmetics brand W3ll People in 2020 for $27 million in cash. On track to hit roughly $90 million in annual net sales, Naturium is expected to double E.l.f. Beauty's skincare presence to approximately 18% of its retail sales, which stood at about $509 million last fiscal year. While it's the No. 3 brand in the cosmetics arena behind Cover Girl and Revlon with 9.5% market share, E.l.f. Skin is the No. 14 brand in the skincare segment with 1.5% share, a discrepancy illustrating the potential for growth in skincare.
"This acquisition not only propels E.l.f. Beauty to a more dominant position in the skincare industry, but also expands their product offerings, enhancing customer choice and satisfaction," says Chris Vernicek, founder of business strategy and development firm Modern Man Ventures. "On the other hand, Naturium stands to benefit from the expansive distribution network that E.l.f. commands, promising them increased visibility and enabling their high-quality products to reach a broader audience through additional stores and online platforms."
Janice Lee, founder of consultancy Clarity Strategies LLC, says, "It's a smart acquisition for E.l.f. Beauty because it adds skincare, especially clinically focused skincare to their portfolio that can complement the more clean-focused W3ll People. From a brand awareness and engagement standpoint, it's combining social media forces with complementary approaches: E.l.f., the darling and pioneer within social media, particularly TikTok, and Naturium through Susan Yara as a heavy hitter in social media as well."
Wall Street seems to agree that the acquisition is a win for both parties. Following news of the Naturium deal, E.l.f. Beauty's share price advanced nearly 9% to $133.63 on Tuesday. The company's shares are up 260% over the last 12 months. Its fiscal year 2023 net sales increased 48% to $578.8 million and adjusted earnings before interest, taxes, depreciation and amortization (EBITDA) jumped 56% to $116.8 million.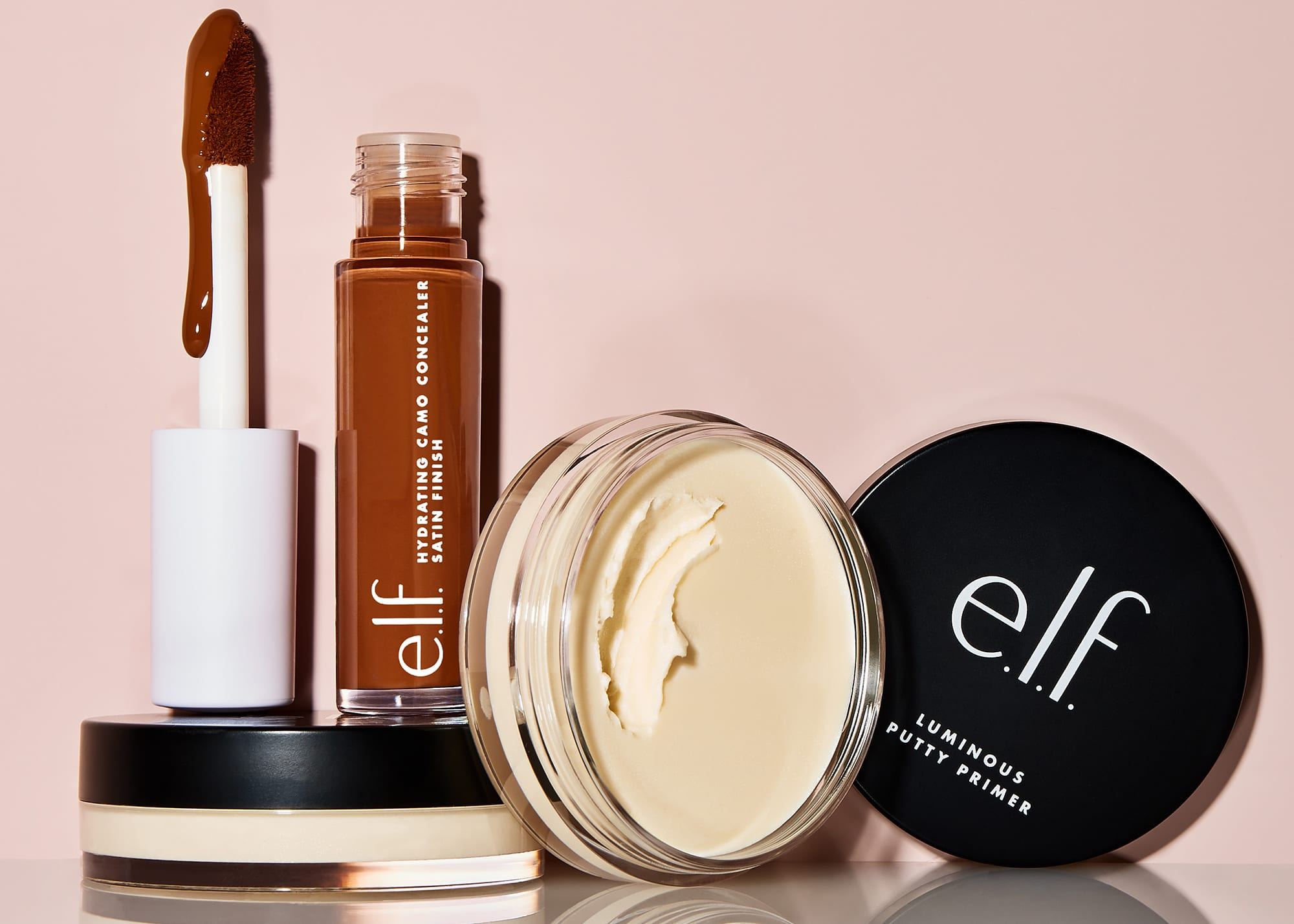 The Center, an incubator and investment firm established by HatchBeauty co-founder Ben Bennett, created Naturium in 2019, and Susan Yara, the former news reporter behind beauty content destination Mixed Makeup, joined the brand in 2020 as co-founder. Naturium's introduction was marred by controversy over Yara's previously undisclosed business ties to the brand. However, the controversy appears to have had limited sales impact.
Naturium is on pace to contribute about $48 million to Oakland-based E.l.f. Beauty's fiscal 2024. E.l.f. Beauty chair and CEO Tarang Amin told the publication Business of Fashion that it's notched an 80% compound annual growth rate and will generate $17 million in adjusted EBITDA in 2023. The brand's 25-person team will remain in place at its Los Angeles headquarters. Francois Bonin, former COO of Tatcha, BH Cosmetics and Fresh, became CEO of Naturium last year and is staying on board as is Yara. A spokesperson for the brand says, "[Susan] is passionate about this next phase of growth." E.l.f. Beauty's acquisition of Naturium is anticipated to close around Sept. 30.
Squarely in the masstige portion of skincare with an average price of $18 compared to E.l.f. Beauty's average price of about half that amount, Naturium has taken pages out of prestige skincare's playbook—star ingredients, clinically studied concentration levels and active ingredient percentages on the packaging—and showed they're effective in the mass market. Naturium's bestsellers include KP Body Scrub and Mask ($18), The Glow Getter Multi-Oil Hydrating Body Wash ($16) and Niacinamide Cleansing Gelée 3% ($18).
In the United States, Target is at the heart of Naturium's retail distribution. The brand's sales are split between brick-and-mortar retail and its online distribution on Amazon and its website. Outside the U.S., it's at Douglas and Space NK, demonstrating its ability to span the beauty retail spectrum. E.l.f. Beauty has much broader distribution in the U.S., where it's available across mass, food and drugstore chains the likes of Walmart, Target, CVS and Walgreens. Eighty-eight percent of the company's sales were driven by retail in fiscal 2023, and the U.S. was similarly responsible for 88% of sales.
For a 2020 article revealing her involvement in Naturium, Yara explained to Beauty Independent, "I definitely wanted it to be a brand that felt like a treat. I think that's missing when you sometimes look at a masstige brand. They just feel they are getting the job done and that's it. Our brand feels really nice. You can do the shelfie, and people can feel proud to have it on their Instagram, but, at the same time, it feels serious."
"This acquisition not only propels E.l.f. Beauty to a more dominant position in the skincare industry, but also expands their product offerings, enhancing customer choice and satisfaction."
At the intersection of mass and prestige, masstige has been particularly relevant to millennial and gen Z consumers covetous of prestige skincare formulas, but without the budgets to always plunk down for them, especially during a period of high inflation. Social media platforms, notably TikTok, where Naturium has 33,000 followers and 415 million views, have schooled them on results they can achieve with skincare products sold at mass-market retailers.
In an interview with Beauty Independent earlier this year, Larissa Jensen, VP and beauty industry advisor at market research firm Circana, mentioned that the premiumization evident in haircare and fragrance hasn't been evident in skincare as consumers flock to affordable options. "We are seeing that luxury skincare is flat to declining in units, whereas the overall category is up 12%," she says, referring to last year's skincare sales. Jensen adds, "We've taught the consumer that they don't need to spend a lot to get results."
Lee says, "Consumers do their research. They are savvier about ingredients and formulas, and if they don't know something, they will find the answer, even if it means asking 'TikTok derms' to post about questionable ingredients or procedures."
Positioned as clean and clinical, Naturium exhibits the power of that combination as consumers hunt for skincare products without certain ingredients that don't sacrifice skincare performance. "Clean is doing well in skincare, but 'cleanical' is doing even better," says Jensen, noting that, in the prestige segment, clean skincare sales were up 15% last year, but cleanical skincare sales were up 25%.
Prior to the unveiling of Naturium, Bennett informed Beauty Independent that The Center aimed to deliver premium beauty products that aren't exorbitant. Along with Naturium, the incubator has developed body care brand Saltair, a Target entrant, and Prequel, a brand linked to dermatologist Samantha Ellis, and purchased and revamped fragrance brand Phlur and makeup brand Make Beauty. Prelude Growth Partners injected $15 million into The Center in 2021.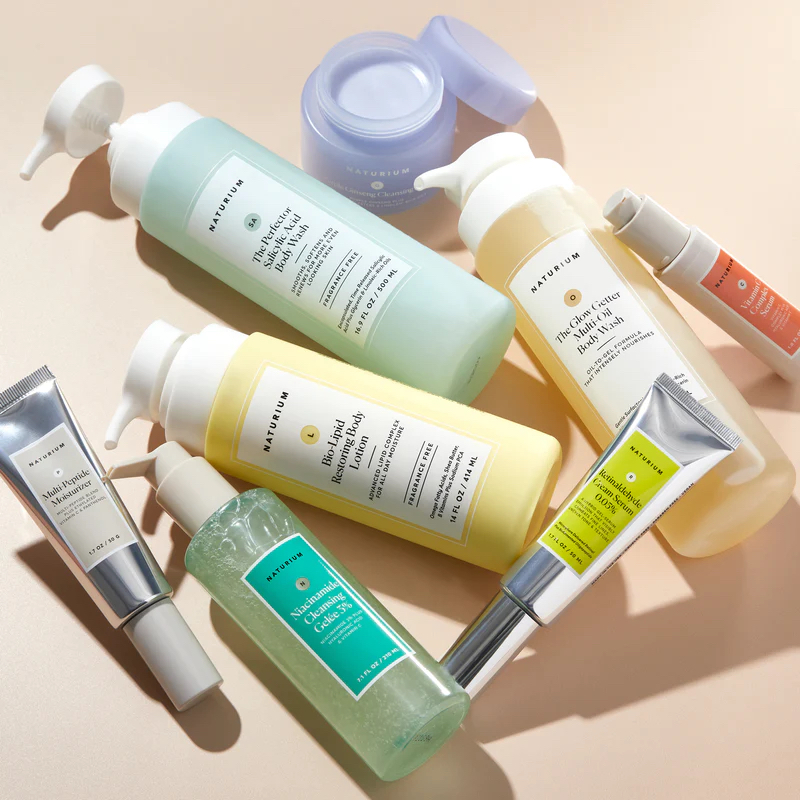 "For years, I would say that the lines between the channels of distribution are blurring. I don't say that anymore," Bennett told Beauty Independent. "Those lines are gone. I think you can develop a really compelling, really beautiful brand and do it at really approachable price points and put it in distribution points where you can reach a broad audience."
Although E.l.f. Beauty's skincare footprint is small relative to its color cosmetics footprint, it has been making skincare inroads. In 2020, the company unveiled skincare-centered Alicia Keys-connected brand Keys Soulcare. In the three months ended June 30, E.l.f. Skin's sales rose 127% compared to category growth of 10%, making it the fastest growing skincare brand among the top 20 skincare brands, according to E.l.f. Beauty. The company's products such as Suntouchable! Whoa Glow SPF 30, released in January, have been helpful for its skincare gains, and Naturium may be useful to provide insight for forthcoming innovations.
To extract value from Naturium, Vernicek advises, "Respect for Naturium's indie brand identity is crucial, especially when considering its role in the brand's rapid growth trajectory." Lee says, "The future is bright for Naturium if they continue to get social media support, this time from E.l.f. learnings, and if they continue the focus on clinical efficacy and not get distracted and dilute the message. Skincare is not slowing down. If anything, with people going back to the office full-time, it's another reason why people will want to put their best face forward."
E.l.f. Beauty, which has registered 18 consecutive quarters of more than 20% sales growth, may not be done with acquisitions. Speaking to the publication Women's Wear Daily, Amin said, "Even with this acquisition, our net debt to EBITDA ratio is still less than 1.5 times. We still have plenty of capacity. If we saw another asset like Naturium, that excited us and fit our strategy well and we saw a lot of growth, we can certainly do more."
In the beauty industry, Alyse Zunino, founder of beauty brand agency Eminence Brand Development, believes E.l.f. Beauty's acquisition of Naturium will be emulated by other large companies. "Prominent trends within the skincare industry point to an ongoing strategy of larger enterprises acquiring smaller, pioneering brands. This trajectory has experienced a notable upsurge throughout 2023, with clear indicators suggesting its continuation," she says. "The analogy of 'larger fish consuming smaller fish' captures this phenomenon, which combines strategic investment with assimilation. This trend holds significant promise for emerging brands, particularly those that emphasize innovation, resonance with consumers and strategic alignment."