Has The Beauty Industry Reached Peak Incubator?
Before releasing The Ordinary in 2016, the brand that changed skincare with affordable, ingredient-centered products, parent company Deciem had developed at least a dozen brands. Named for the Latin word for "tenth," founder Brandon Truaxe steered it to erect a brand anytime he thought there was a market gap, novel technology or value proposition worth pursuing.
"Everyone's advice is to focus, focus, focus," he told Women's Wear Daily in 2015, when four of Deciem's brands were rolling out to the retailers CVS, Target, Rite Aid, Ulta Beauty and Urban Outfitters. "They say you can't do 10 things at the same time."
The Ordinary overshadowed Deciem's 10 or more other things (e.g., hair restoration line Grow Gorgeous, haircare cleaning specialist HIF, body care brand Loopha and hand treatment provider The Chemistry Brand) and engendered imitator brands chasing the dollars of a new class of skintellectuals. It also overshadowed Deciem's influence as a pioneer of a different or, in the parlance of Truaxe, who died last year, "abnormal" type of beauty company that's come to be known as an incubator.
Unlike investors and acquirers, incubators generate brands in-house. Beauty Independent has identified no less than 25 incubators that have materialized over the last few years in the beauty, personal care and wellness space. Companies that incubate brands can have investment and acquisition functions, and several have evolved into entities with clusters of brands that arrived in their portfolios through incubation, investment and acquisition.
The proliferation begs the question: What's going to happen to the incubator throngs? Some have sold assets, and there will continue to be disposals of brands. Some may go public. Some will fizzle. A rising number of insiders conclude the beauty, personal care and wellness industry has reached peak incubator, and there will undoubtedly be fallout as they proceed to their next steps and possible exits.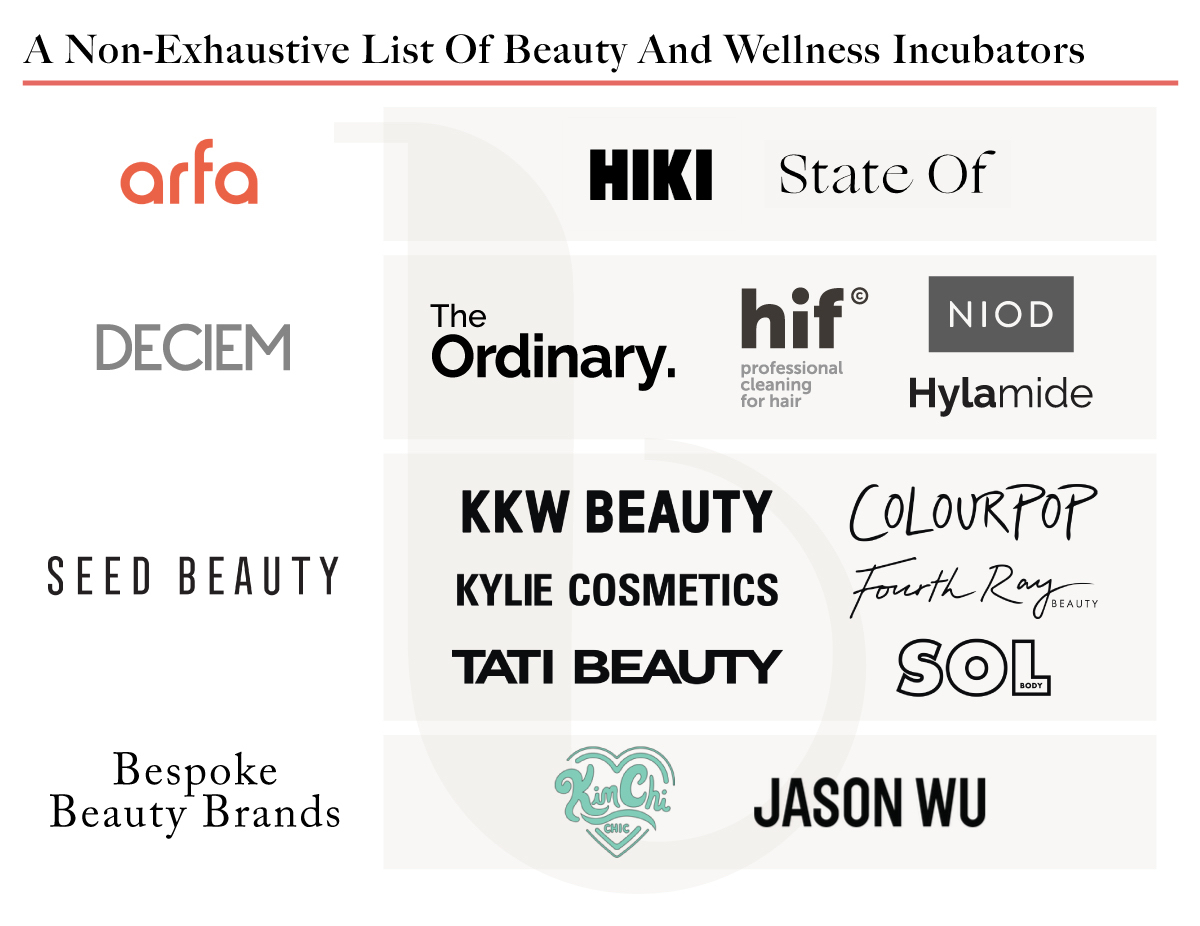 "When there are dozens of incubators being launched and seeking capital at the same time, to me, it feels like a bubble," says Richard Gersten, founder and managing director at investment firm True Beauty Capital. "I have looked at many investment opportunities and passed on them all. I am not always right, but I am skeptical. I am biased toward mono-brand investment."
Andrew Charbin, managing director at investment bank The Sage Group, describes the incubator phenomenon as overheated, too. "I think it's a bubble because a few have been successful, but too many are now trying it," he says. "You can start three brands overnight, but what are you going to do with them? It takes a tremendous amount of resources to build a brand to $100 million to $200 million in revenue, and the majority of incubated brands aren't going to get there. So, who's going to buy them?"
There's a panoply of reasons for the incubator boom. Retailers are out to distinguish themselves from competitors and bring in brands tailored to millennial and gen Z consumers lacking allegiance to legacy players. Brandable has churned out consumer packaged goods brands, including contemporary feminine hygiene brand Queen V and plastic-free brand For Earth, for chains such as Walmart attempting to energize their selections. Maesa, an incubator that began as an agency with brands and retailers as clients, has adhered to a similar strategy. It introduced Drew Barrymore-fronted makeup brand Flower Beauty as a Walmart exclusive in 2013 and haircare line Kristin Ess as a Target exclusive in 2017.
"On the demand side, modern consumers want new, better, and different brands and products," says Scott Kestenbaum, SVP at Maesa. "We often talk about identity politics. Now, we talk about identity products. Women desire brands and products that say something about who they are as an individual, what values they hold dear. They are less brand loyal than ever and more product loyal. This has created an environment that necessitates more choice for the consumer."
Retailers have been scrambling to offer consumers greater choice. "When I'm dealing with retail partners, their appetite for newness I don't feel has slowed at all," says Kelly St. John, former VP and DMM for beauty at Neiman Marcus and current brand consultant at KSJ Collective. "Everyone is trying to figure out the brands that are really going to be able to move the needle."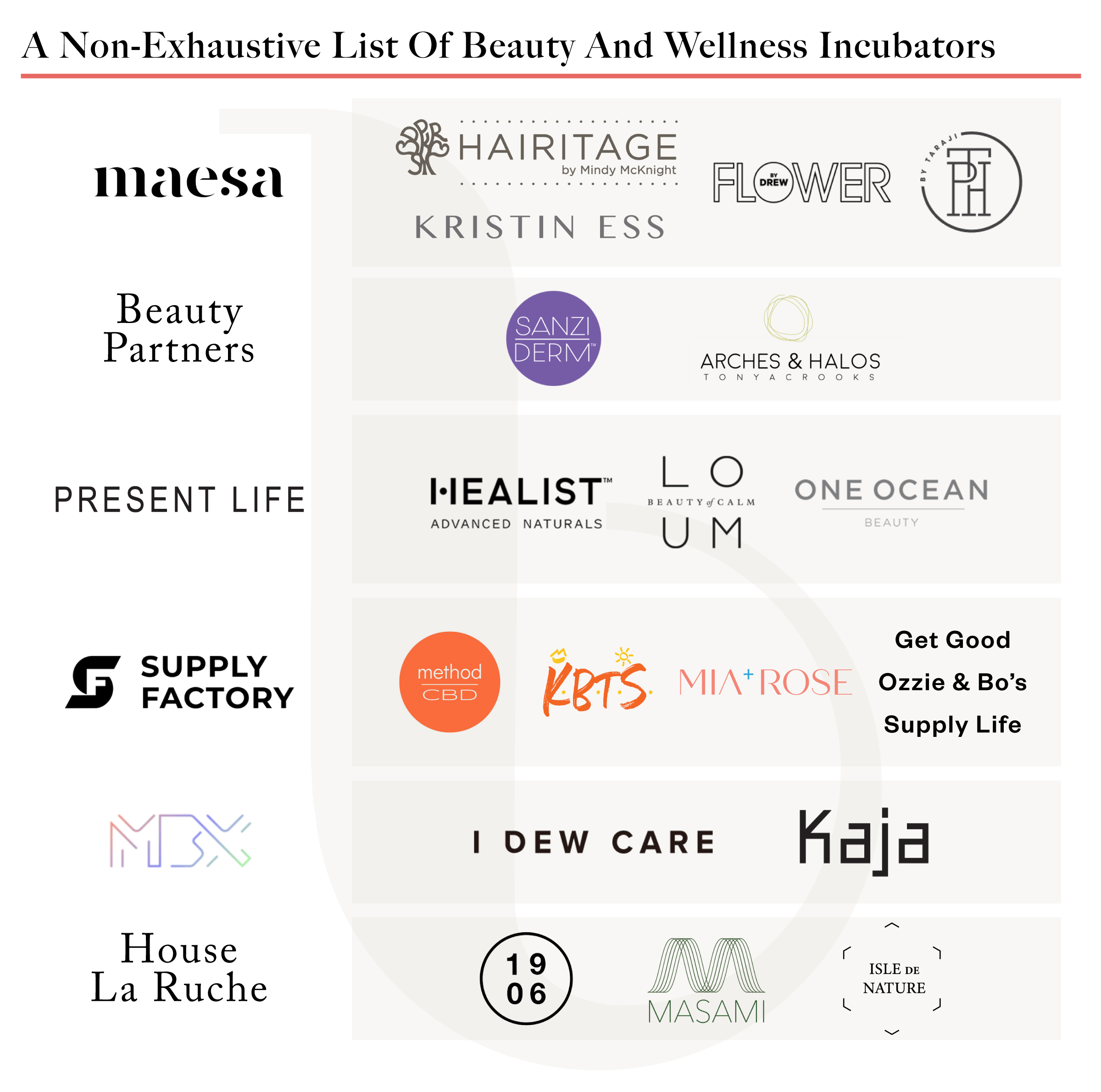 Incubators swooped into the beauty industry with skills—particularly involving speed to market, digital distribution, influencer relationships and category proficiency—conglomerates historically haven't had. MBX has honed a K-Beauty specialty with the brands Kaja, Nooni, I'm Meme, Pony Effect and I Dew Care. Present Life is zeroing in on clean and sustainable brands, and its stable contains Healist, Loum Beauty of Calm and One Ocean Beauty. Mark Freeman, founder and CMO of BeautyMark.International, an incubator he estimates has 25 brands in the works and about 15 live, has taken a brand from concept to shelf in under six months. Incubator Invincible Brands built HelloBody into the fastest-growing direct-to-consumer beauty brand in Europe prior to selling it to Henkel in the summer along with the brands Banana Beauty and Mermaid+Me to improve the company's digital prowess.
The old-school spokesperson model has given way to a personality-tied brand model where the personalities are allocated equity. Incubators have infiltrated the prevailing social media and celebrity partnership arena. Luxury Brand Partners, an incubator and acquirer initially designed to shepherd brands into the professional beauty sector, had success with Becca's partnership with influencer Jaclyn Hill and sold the brand to Estée Lauder in 2016. It's subsequently launched influencer brands One/Size by Patrick Starr and Elaluz by Camila Coehlo. Incubator Beach House Group's celebrity beauty and personal care brands are Millie Bobby Brown's Florence by Mills, Tracee Ellis Ross's Pattern and Kendall Jenner's Moon.
"The barriers to launching a brand are lower than they have ever been, and there's increased interest in direct-to-consumer and beauty at a younger age," says Jennifer Gosselin, GM and SVP of Madeby Collective, the incubator affiliated with subscription service Ipsy and behind Item, a beauty brand connected to TikTokker Addison Rae. "There's a shift in self-expression from something pushing you to look a certain way to a real form of self-expression, and there's a growth of influencers able to support a specific look and reach a following that really responds to that look."
Incubators have been fueled by venture capital and private equity. Last year, Bain Capital purchased a majority stake in Maesa, and Brandable closed a series B funding round led by Cota Capital with participation from Lightspeed Venture Partners, Advance Venture Partners, Pentland Ventures and Fields Texas. Luxury Brand Partners announced in January that Bookend Capital Partners poured $50 million into it for a minority share. In August, Beach House Group revealed it raised an undisclosed amount of series A funding from Monogram Capital Partners, and Present Life publicized it received $20 million from The Craftory.
"There's a growing demand for ways to invest in the sector's tailwinds without having to pay up or take risk on a single brand," says Kelly McPhilliamy, managing director at investment bank Harris Williams. Larry Kahn, managing partner at investment firm Beechwood Capital, says, "I believe incubators are more than a trend as they provide a tremendous way to cost effectively build multiple beauty brands with the leverage of shared services like finance, operations, sales and perhaps shared supply chain partners."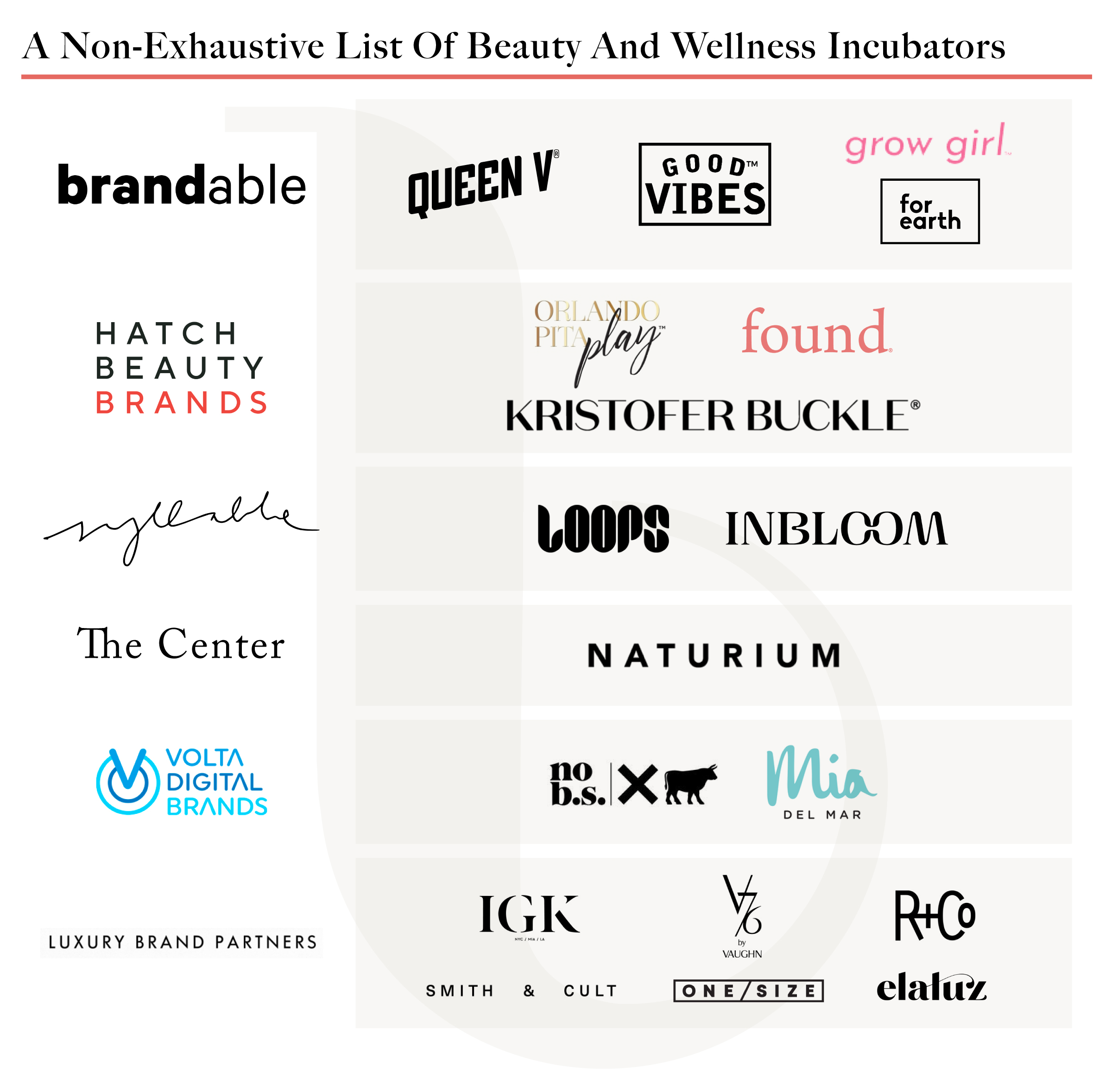 Kestenbaum elaborates, "A startup brand operating within the portfolio and support structure of an incubator is able to effectively leverage preexisting, proven processes and infrastructure. It is more efficient, reduces the chances of failure, and creates the conditions to accelerate growth…Bain Capital was attracted to Maesa's management team and business model that was specifically engineered to adapt and thrive to ever-changing trends and consumer tastes."
Diversifying risk could be especially important in a deal environment shifting away from the big transactions of the past. Early-stage investor Tina Bou Saba, founder of Big Future Fund, prognosticates so-called unicorns or brands valued at $1 billion and above are becoming rarer commodities. St. John agrees, predicting, "There will potentially be more brands that are acquired, but not at the prices of a Drunk Elephant [$845 million] or Tatcha [$500 million]." In the post-unicorn age, investors are hunting for collections of brands that can have the heft they aim for and the agility to quickly take advantage of lucrative openings in the market.
However, traditional beauty investors generally aren't enthusiastic about incubators because their exit prospects are restricted in a beauty industry where large acquirers like Estée Lauder and L'Oréal are accustomed to purchasing single brands. "If you are trying to sell a company with luxury and mass brands, then Estée Lauder isn't going to take you because they only do luxury," says Charbin. "If you have three brands, and one is in hair, one is in makeup and one is in skincare, certain buyers may only be active in one or two of those categories. It narrows the universe of strategic buyers and makes it tougher."
In universe where solo brands are supreme, incubators may end up as vehicles that test a variety of brands, but eventually stick to one or two that excel. Deciem went that route. Business of Fashion reported The Ordinary accounted for almost 80% of its revenues, which were projected to hit $330 million for the fiscal year ended July 2019. The solo brand route makes sense because incubators that prop up flimsy brands can be distracted and drained of resources. In addition, the futures of incubators that persist after selling off strong brands are precarious. According to Glossy, Beach House Group has put Florence by Mills up for sale. If the brand supports the incubator's other brands, a sale could leave a weakened company in its wake.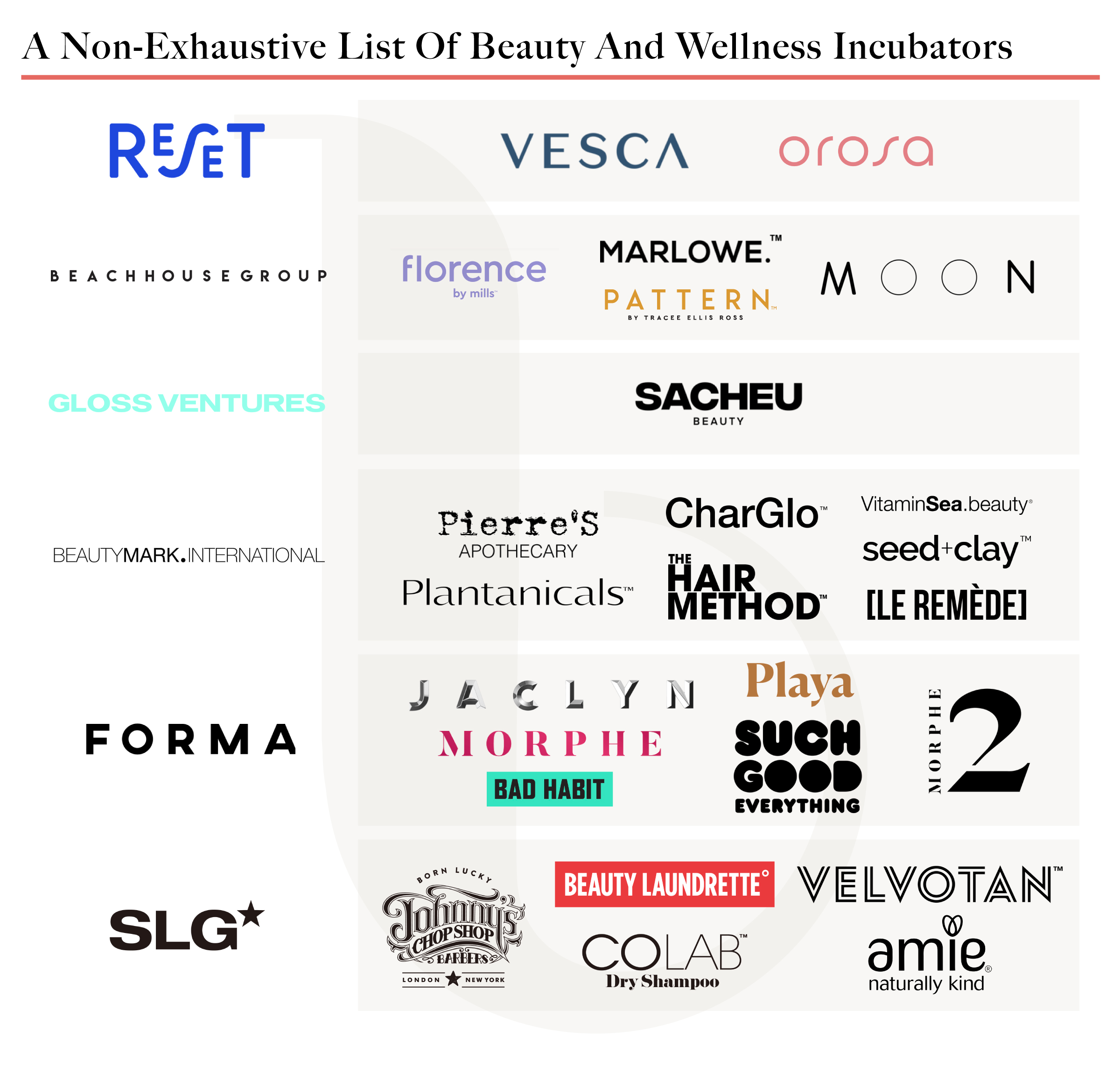 "There is a potential stranded overhead issue upon the sale of a single brand. Let's say there is an incubator with $8 million of overhead expenses shared over four brands. If one brand is sold, the $8 million is now spread over three brands. Each brand is now absorbing more overhead," explains Gersten. "It may also be harder to sell one of the brands independently because the buyer is likely only buying assets and the incubator holding company still has to provide transition services until the buyer can stand on their own. This makes it harder to transact."
Sales to private equity firms, initial public offerings or special-purpose acquisition company (SPAC) deals are possibilities for incubators. The Hut Group's $7 billion IPO provides an illustrative example. Although the company isn't an incubator, it's a multi-brand outfit. Among its brands are Eyeko, Espa, Illamasqua and Deciem spawn Grow Gorgeous, and they're joined by e-commerce destination Lookfantastic within the THG fold. In the vein of THG, Forma Brands, a company stitched together via acquisition and incubation that recently sold a 60% stake to General Atlantic at a $2.2 billion valuation, is "priming itself for the public markets," per WWD. Forma's brand roster consists of Morphe, Morphe 2, Playa, Lipstick Queen, Jaclyn Cosmetics and Bad Habit, and it has its own stores.
"I absolutely think multi-brand beauty, health and wellness companies that meet certain revenue thresholds can be public companies," says Bou-Saba. "It's very hard to be a mono-brand public company. The market likes holding companies like LVMH where you can shift capital toward higher-growth opportunities and, if there's weakness in one area, it can be offset by strength in another."
Bou-Saba has an even bolder vision for nascent incubators. She forecasts the stoutest of them becoming formidable strategics of tomorrow. There's a hint of what could be in activity occurring today. Forma acquired Playa and Lipstick Queen, and Present Life bought One Ocean Beauty. "There's going to be really meaningful consolidation in the beauty, health and wellness space in ways we are just beginning to see," says Bou-Saba. "I think we are going to see a radical reshaping of the beauty, health and wellness space in the next five-plus years. We are already seeing the blurring of beauty, health and wellness, and I think you are also going to see a blurring of the lines between incubators, acquirers, brands and conglomerates."
Elizabeth Edwards, general partner at venture fund H Venture Partners, asserts the reshaping of the industry spurred in part by incubators is great news for indie brands. "It means more potential capital partners," she says. "It's probably mixed news for strategic acquirers, who are acquiring brands at earlier and earlier stages. It means more competition."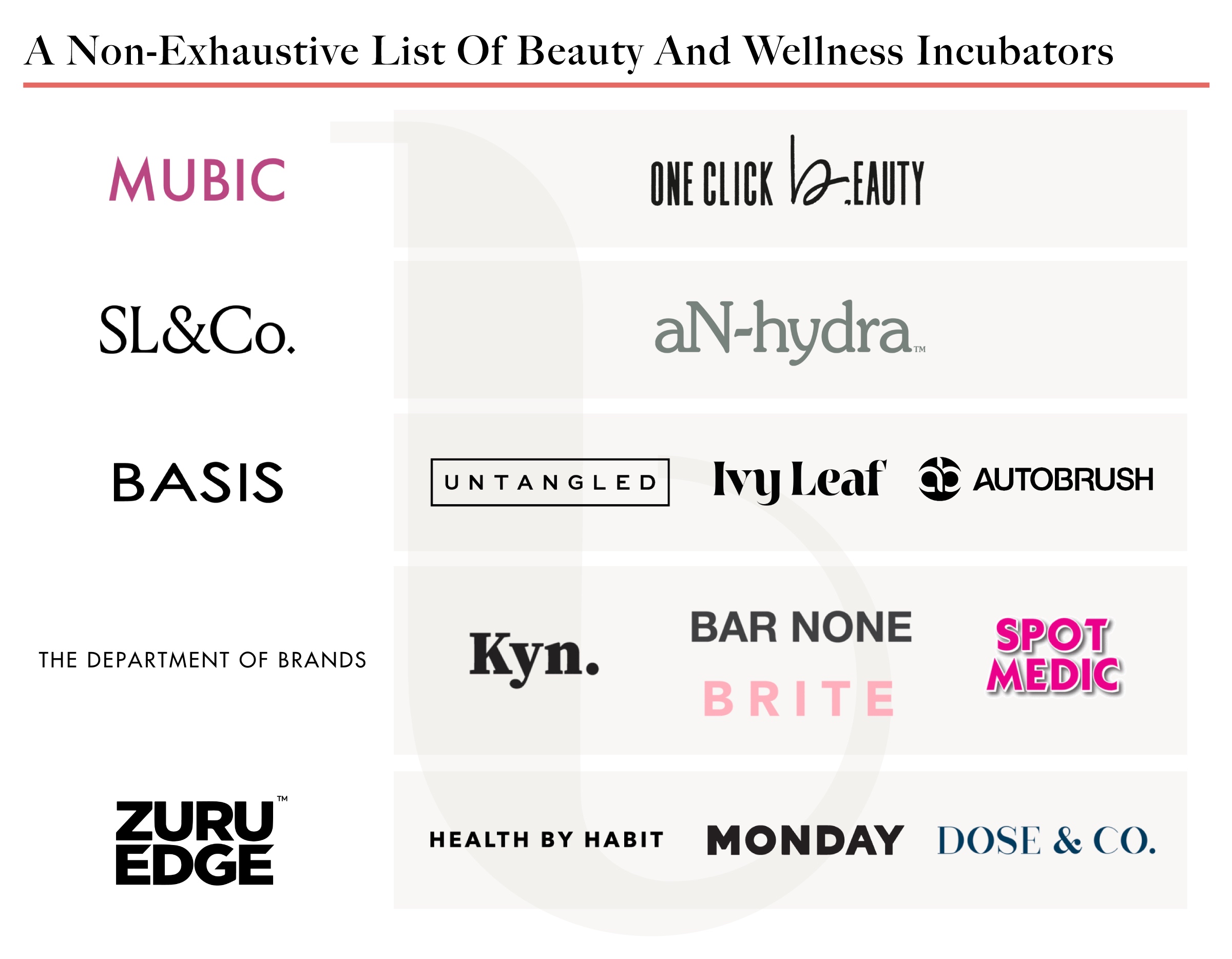 Incubators' roles as tomorrow's strategics will depend on whether they can transition from brand generator to brand operator. Brandable is sorting through that tough transition and hired ex-Tesco executive John Burry to spearhead it as CEO. Maesa's brands Flower Beauty and Kristin Ess have had staying power. It's yet to be determined whether its newer brands, TPH at Target and Hairitage at Walmart, will endure.
"It's not difficult to start a beauty brand," says Kestenbaum. "To me, a true beauty brand incubator needs to demonstrate a consistent, serial ability to not simply birth, but successfully scale and sustain a multitude of categorically diverse, differentiated, relevant and profitable brands."
Barbara Paldus, CEO of brand Codex Beauty and managing partner of investment firm Sekhmet Ventures, isn't optimistic about incubators' longevity. "I see them as a fad of the last five and maybe next two years," she says. "I'm a long-term investor in technology. So, to be honest, while I see that these incubators can add value, they are not the be all and end all, especially as the field becomes even more crowded and another pretty package won't be enough."
KEY TAKEAWAYS
Beauty Independent has identified no less than 25 incubators that have materialized over the last few years in the beauty, personal care and wellness space.
Incubators are companies that create brands in-house. Examples are Present Life, Beach House Group, Brandable, SLG Brands, Invincible Brands, Maesa and Forma Brands. Some companies that incubate brands also acquire and invest in brands.
A rising number of insiders conclude there's an incubator bubble.
There are many reasons for the incubator boom. Retailers are hungry for new brands addressing millennial and gen Z consumers. Incubators tend to be strong in merchandise categories, distribution channels and social media partnerships where entrenched collaborates have traditionally been weak. They are also being fueled by private equity and venture capital investment.
Beauty incubators are limited in their exit strategies because large strategic acquirers in the beauty industry are accustomed to buying single brands.
Incubators can sell off individual brands to investment firms or strategic buyers. However, the incubator that remains after a sale is likely to be less robust than the incubator that came before it.
IPOs are believed to be a route incubators that reach a certain size will take. Forma Brands, for example, is on a path toward the public markets.
Incubators could become the strategics of tomorrow. Already, a few of them are purchasing brands, especially founder-led brands that may be distressed or have reached the apex of what they can do under founder control.