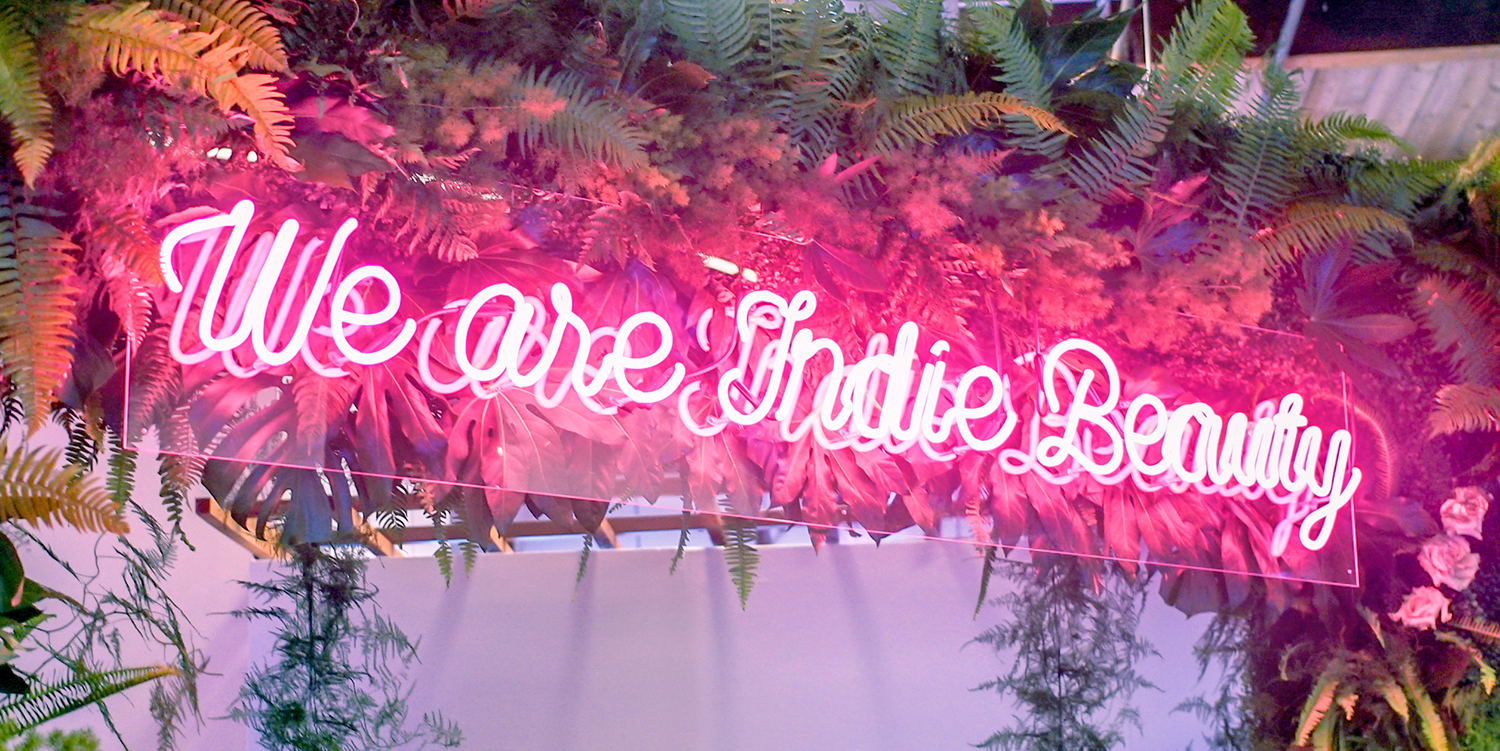 Indie Beauty Expo Dallas 2018: Exclusive Trend Report
Sometimes it pays to get away from New York and L.A. That was the case from May 9 to 10, when Indie Beauty Expo touched down in Dallas for its sophomore trade show in the city, presenting 70 brands in an upscale setting at event venue Sixty Five Hundred. Attendance increased across the board, with the biggest jump among buyers (up 64% from last year), followed by members of the press and influencers (up 46%) and finally shoppers (up 40%). All IBE Dallas attendees had intimate conversations with astute exhibitors attempting to convey points of differentiation and noteworthy offerings. Beauty Independent scoured the expo floor for items that propel the beauty industry's narrative forward. Here is an exclusive look at more than 35 products from 34 brands grouped into a dozen major trends making noise in the indie beauty market.
Related: 10 Standout Trends From Indie Beauty Expo's 2018 Los Angeles Edition
Dallas Beauty Trends, 1: Eczema and Psoriasis Pride
In this day and age where people are choosing dignity over degradation, eczema and psoriasis are the latest conditions to come out from behind walls of shame. No one needs to hide behind scaly skin, and IBE Dallas beauty brands are acknowledging uncomfortable skin ailments while soothing them.
Freedom Naturals: A young division of skincare stalwart TriDerma, Freedom Naturals was created to address the eczema and psoriasis symptoms of millennial and gen z beauty shoppers. It does so with an empowering message and potent ingredients. Freedom Naturals' Eczema Power Ointment contains organic aloe vera, colloidal oatmeal, shea butter and arnica. "Having a skin condition is normal, and we believe that everyone should have the freedom to feel confident in themselves and in their skin," says Tess Fox, director of marketing at Freedom Naturals. "One-third of the U.S. population suffers from a skin condition, and [many sufferers] most likely haven't told anyone. Although there's no cure for eczema, there are various ways to find relief."
Svati Organics: Lindsay Wolf, founder of Svati Organics, has firsthand knowledge of eczema. After the birth of her son, hormonal fluctuations caused eczema flare-ups on Wolf's skin. To calm the itchy patches on her face, Wolf formulated the facial serum Balance, an anti-inflammatory blend of black cumin seed, karanja oil, cape chamomile, and thyme linalool. Svati Organics's assortment also features the product Bare Body Butter to address eczema on the body. It has coconut oil, shea butter, sunflower seed oil, lavender extract and vitamin E, among other ingredients.
Honey Belle: Available at Riley Rose and on Forever 21's website, Honey Belle's well-known masks and scrubs products are easy to use and affordable. The brand's take on addressing eczema is no different. Developed for co-owner Calvin Hang, who experiences eczema, Honey Belle's soaps (Sea Salt Facial Bar and Sea Salt Oatmeal Bar) are designed to calm skin when rubbed on it in circular motions. They cleanse at the same time, giving customers with eczema fresh and buffed results. The $8 to $10 bars are packed with goat milk, oatmeal, sea salt and coconut oil.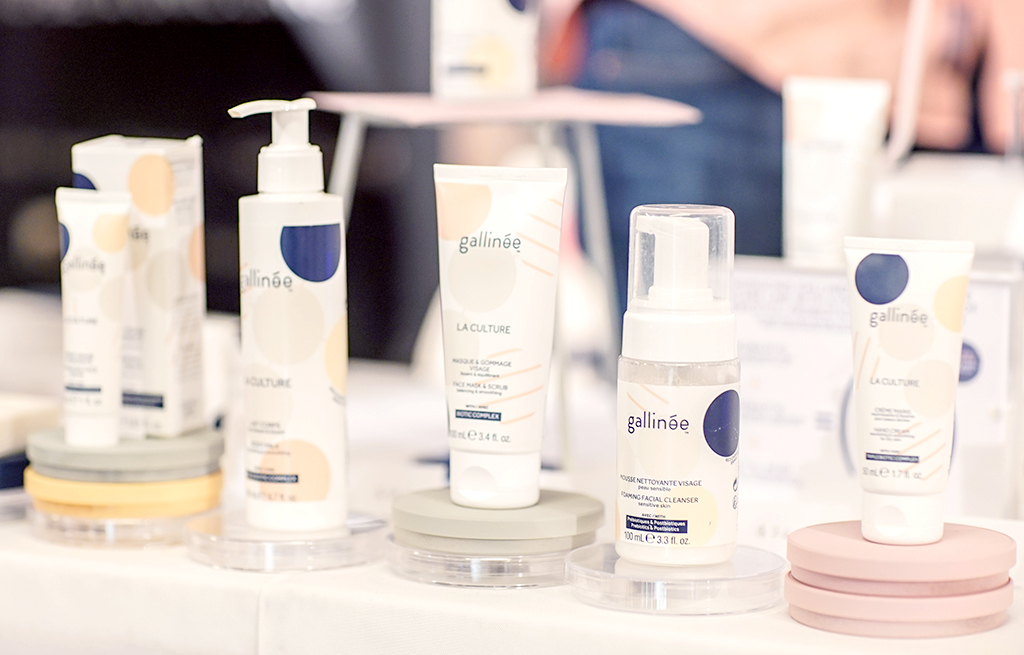 Gallinée: Colloidal oatmeal has been the leading ingredient for eczema, but interest in probiotics to address the skin issue is mounting. In its lightweight hand cream, Gallinée incorporates probiotics stemming from deactivated lactobacillus bacteria, and a prebiotic mix of gentle fibers and sugars. "We have a lot of feedback from people with eczema using Gallinée, so we retested most of our range on atopy-prone skin, and we got excellent results," says founder Marie Drago. "Up until now, most products were simple barrier creams that could be greasy, sticky and were only helping with the consequence of the disease. The research around the skin microbiome and probiotics is addressing the cause of eczema, and I think this is going to totally change the way it is treated."
DALLAS BEAUTY TRENDS, 2: High-End SKINCARE
With the American economy chugging along, consumers are shaking off recessionary caution. Emerging skincare players are depending on the willingness of beauty-conscious consumers to put disposable income toward products that carry lofty price tags.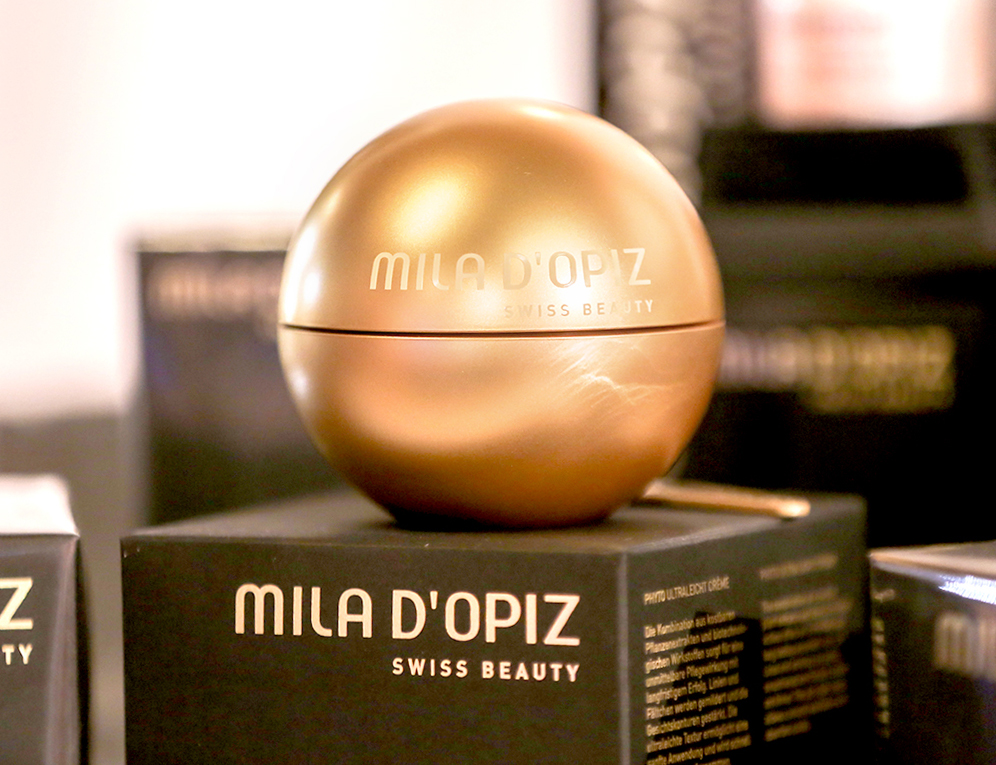 Mila D'Opiz: A strong seller in Indie Beauty Media Group's ShopTheExpo collection at Neiman Marcus, Swiss skincare line Mila D'Opiz's products aren't for spendthrift shoppers. Its Skin Whisperer Cream is priced at $584 for a 1.7-oz. orb, and Skin Whisperer Serum is $424 for a 1-oz. bottle. Caroline Studer, CEO of Mila D'Opiz, says the reason for the steep prices is that the formulas are packed with powerful plant stem cells. She discloses each stem cell costs between $8,000 and $25,000 per kilo, and Mila D'Opiz's products have stem cell concentrations of 3% to 8%. "People understand the high price," says Studer. "They want to avoid Botox and cosmetic surgery."
Pili Ani: None of Pili Ani's five products—Intense Hydrating Facial Oil, Intense Hydrating Facial Cream, Beauty Elixir Milk Serum, Youthful Glow Facial Cream and Natural Radiance Facial Moisturizer Cream—is under $100. The range is centered upon the nutritionally-dense pili nut that grows on pili trees in the Philippine jungle. Pili Ani asserts pili oil from the nut is comparable to or more effective than avocado or olive oils for skincare. The brand envelops its formulas in curved packaging with gold tops and colorful bottoms for a distinct luxe aesthetic.
Luvanti: Luvanti CEO and founder Lidya Wati's struggles with hyperpigmentation drove her to start a skincare brand. Her brown spots met their match in Luvanti's Correctinol Trio Cream, which is priced at $175 for a 1.7-oz. size. The cream is laden with peptides, plant stem cells, flower acids, licorice root extract, resveratrol, ferulic acid, argan oil, and vitamins C and E. "I know that the price may seem high, but it really yields results," says Wati. "It's clinical-grade, and it's also gentle."
Related: 20 Bold Indie Beauty Predictions for 2018
DALLAS BEAUTY TRENDS, 3: Crystals And Beyond
Whether due to healing properties or just because sparkly stuff is so mesmerizing, crystals have invaded beauty products with a ferocity that belies their meditative qualities. The gleaming trend shows no sign of ebbing and, at IBE Dallas, brands showed the appeal of getting stoned.
The Lyfestyle Co.: Feeling like you're not your best self? Perhaps a scent could put you in the right frame of mind. The Lyfestyle Co. offers perfume oils tailored to a customer's zodiac sign or numerology number with crystals chosen to help bring out the customer's positive attributes. Crystals are infused into organic almond and coconut oil bases under a full moon.
Full Unicorn: Boring exfoliators be gone. Gemstone Resurfacing Treatment wows in a way dull microbeads can't. It's full of glittery goodness in the form of hexagonal crystal gemstone crystals. The crystals are paired with papaya and pineapple enzymes, and hyaluronic acid to banish dead skin cells and plump the face. "It was created to infuse a big dose of fun as part of a simplified beauty ritual," says Full Unicorn founder Nancy Rimbergas, adding, "Gemstone builds collagen and elasticity as it reveals a bright glowing complexion."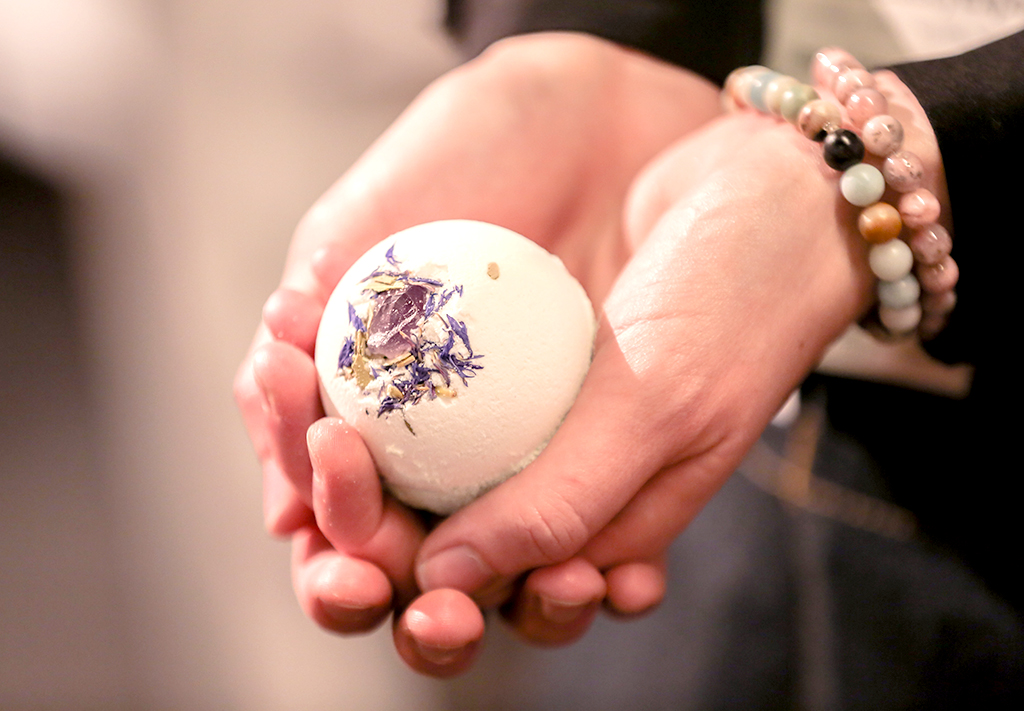 Holistic Hemp Co.: Spice up your bath with the surprise amethysts inside Holistic Hemp Co.'s slow-dissolving bath bombs that are charged with Reiki energy. The bath bombs have 20 milligrams of CBD from hemp extract and seed oil, kaolin clay, sea salt and essential oils in addition to the crystals. "Our full-spectrum, cannabinoid-rich American hemp oil makes them amazing for soothing sore muscles and joints, and allowing the body to relax after a long day," says Alaina Lansing, co-founder of Holistic Hemp Co., who continues, "We wanted to create a bath bomb that people looked forward to using in their personal care routine, and something that truly made them feel better after."
DALLAS BEAUTY TRENDS, 4: Sunscreen Sensations
With summer fast approaching, brands are whipping out sunscreens in an array of formats to give customers options for warding off harmful rays. From powders to glosses, the selection of sun protection products on display at IBE Dallas demonstrated diversity.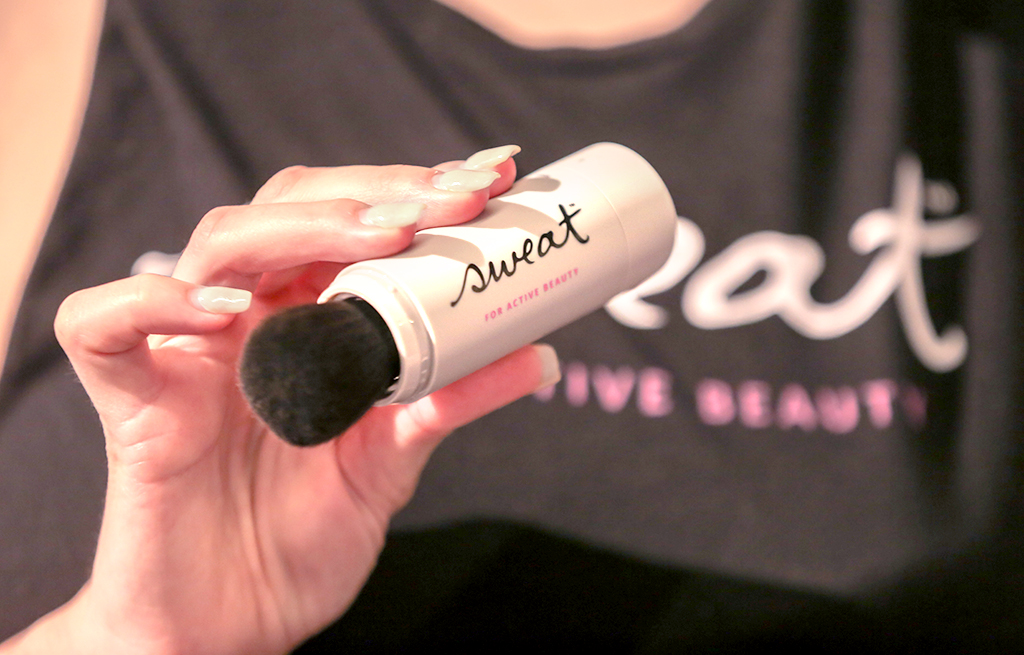 Sweat Cosmetics: Whether she's literally running or running late, a woman-on-the-run has little time for fussy foundation. Athleisure beauty brand Sweat Cosmetics thought deeply about her needs when it fashioned its Mineral Foundation SPF 30 + Twist-Brush. The brush works for application in a snap, and the mineral foundation formula is a makeup, skincare and sun-protection multitasker. It's water- and sweat-resistant for 80 minutes; has skin boosters vitamin E, milk thistle and rhodiola rosea as well as sunscreen ingredient zinc oxide; and comes in five shades to suit fair to deep skin tones.
Prep Cosmetics: Lips are often forgotten in the sunscreen segment, but Prep Cosmetics has them covered with its SPF 15 Lip Gloss. The gloss boasts 11% zinc oxide, a subtle pink hue and hint of mint. "Our formula is different than most on the market as oftentimes zinc oxide can be very dry and very white. We've blended ours beautifully to be creamy and lightweight, and a little bit really goes a long way," says Prep Cosmetics founder Kelly Barker. "It's especially great for anyone who is driving in the car, spending time outdoors, playing on the sandy beaches or skiing down the slopes."
New Heights Naturals: Sunscreen shouldn't be overly complicated, particularly for kiddos. New Heights Naturals relies on four ingredients—non-nano zinc oxide, organic coconut oil, organic vanilla extract and organic beeswax—and gimmick-free packaging. The SPF 30 Sunscreen Stick is a standout for slathering on tiny tots. "Our stick is large. The diameter is about the width of a child's arm. Further, because it is in stick from, you can hold your child still with one hand and apply sunscreen with the other," says New Heights Naturals founder Stephanie McGraw. "You are not chasing a child with two goopy hands."
Related: Missed BeautyX Retail? Here Are Some of the Best Buyer Insights From the Summit
DALLAS BEAUTY TRENDS, 5: REFINED PRODUCT SETS AND BUNDLES
It's never too early to think about Christmas. Brands at Indie Beauty Expo Dallas were getting into the holiday spirit with sets that could be spiffy stocking stuffers or excellent introductions to their products throughout the year.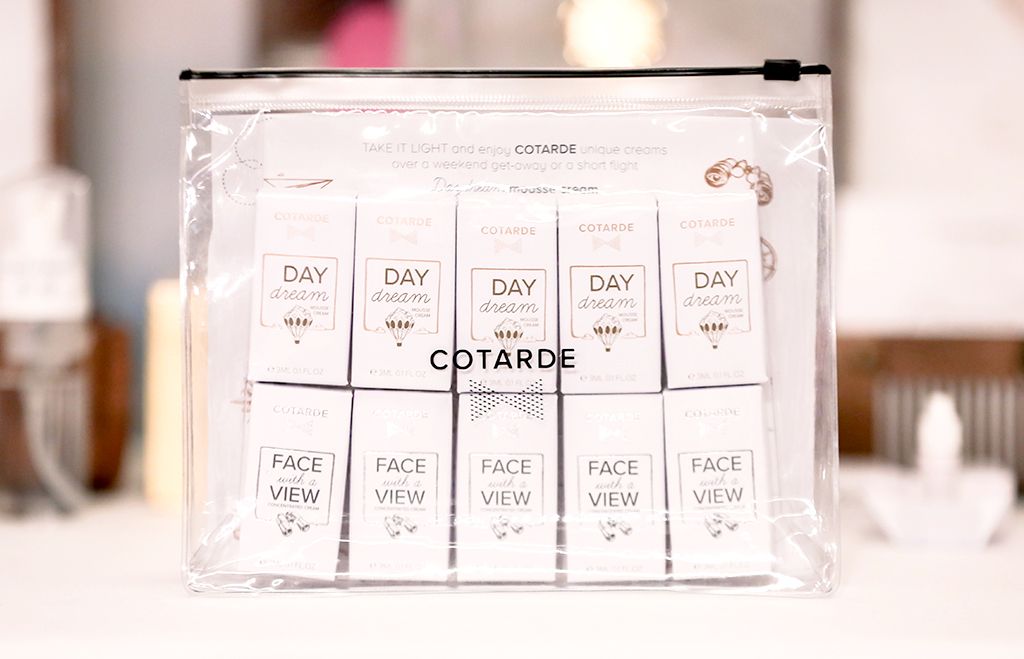 Cotarde: Sticking to a beauty routine on the road is difficult. Cotarde assists weary road warriors seeking convenient and efficacious skincare with the Take It Light Set housing five .1-oz sizes of its DayDream Mousse Cream and five .1-oz. sizes of its Face With A View concentrated cream. The products are stored in a PVC zip lock to pass through airport security checkpoints and fit nicely in carry-on bags. "It's a perfect product for those who travel a lot, but for not too long at once (e.g., one- to two-day business trips)," says Danuta Dudek-Pellon, co-founder and managing director of Cotarde. "It's ideal for a weekend getaway. Each miniature is enough for two days of use as a cream or one time use as a face mask, and it works just fine if you need a set of skin SOS products anytime."
Earth Based Body: Kylie Cosmetics made Lip Kits famous, but the brand didn't make them natural. Earth Based Body has gone the clean beauty route. Its vegan versions of mouthy sets—Sexy AF Lip Kit and Sweetheart Lip Kit—contain lip masks, lip repair balms and lip tints. "With these products, you have everything you need to keep your lips looking smooth, healthy and polished without looking super made up," says Christina Mahar, a partner in Earth Based Body, continuing that retailers "love that the mix of lip repairs and tints can be customized for their account as well as the insert that goes in them."
Skinkick: For the lucky few, acne might be solved by one product. But, for many, it takes at least two and consistent usage. Skinkick urges customers to use both its natural products—Face Wash and Blemish Lotion—but assembling them together in a 2-Step Kick Blemish Relief Kit. The first step busts impurities and balances oil with coconut shells and botanical extracts, and the second step tackles pimples with ingredients such as black willow bark extract, tea tree oil, acai, andiroba, camu-camu, copaiba, pequi oil and passion fruit.
DALLAS BEAUTY TRENDS, 6: Souped-Up Toners
K-beauty brands emphasized that the step before serum is important. Now, brands of all origins are zeroing in on pre-serum primping with pumped-up versions of toners that go by several names and integrate ingredients that weren't formerly toner fare.
Woodlot: On its box, Woodlot's new toner is titled Nourishing Facial Toner, but brand co-founder Sonia Chhinji describes the product as a toner serum. The reason for the combo name is hyaluronic acid that gives the formula a thicker texture than most toners and heightens the hydration factor. "We believe that this helps to not only lock in moisture, but also to enhance the moisture or oil that you use afterward," explains Chhinji. The toner serum doesn't stop at hyaluronic acid. Its label additionally lists rose water, witch hazel, radish root ferment, rose geranium essential oil, lavender essential oil and organic glycerin.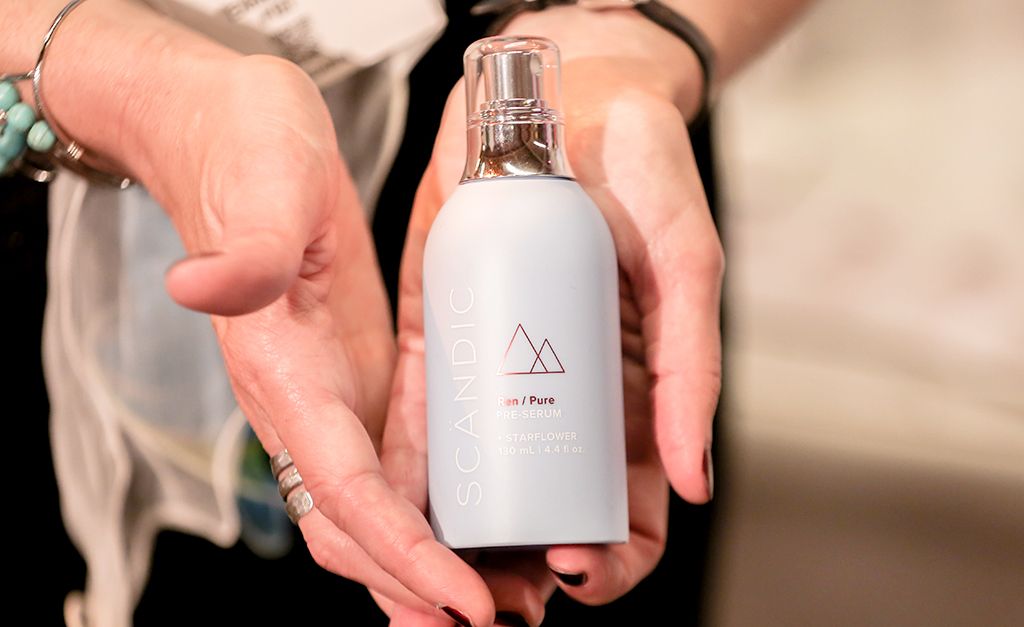 Scandic Skincare: Regular water is rudimentary. Scandinavian-inspired beauty brand Scandic Skincare relies on heavy water or deuterium oxide, which has a high amount of the hydrogen isotope deuterium, to deliver skin nutrition with its Ren/Pure Pre-Serum. The heavy water is coupled with hyaluronic acid, honey, and plantain leaf, starflower and chamomile extracts. "It is lovely to spritz on one's face—with eyes tightly closed, of course—mid-day as a refresher, morning and night just before serum application or after applying makeup to set the makeup for the day," says Deb Uhrberg, president of Scandic Beauty. "When used just prior to serum, the serum just glides onto one's skin. It has a very mild scent, and one is able to literally see the difference after a spritz. It is instantly hydrating."
Shaffali Skincare: Aura Amplification Mist puts a new spin on multipurpose products. "It is a facial toner and energy cleaner/amplifier all in one. So, you can feel grounded and glow," says Shaffali skincare founder Shaffali Miglani. She details the mist is energized by gemstones that correspond to chakra colors, and it has witch hazel, rose, lavender, sandalwood, frankincense, myrrh and helichrysum. Miglani explains, "It is an extremely versatile product especially made for those who love aromatherapy, gemstones, spas and yoga. You can spray before your yoga practice to elevate the experience."
DALLAS BEAUTY TRENDS, 7: Unique and Lucious Lip Products
There were marvelous lipsticks aplenty at Indie Beauty Expo Dallas, but the lip products that jumped out to us had unique ingredients, encasings or purposes. They catapulted lip merchandise up a notch.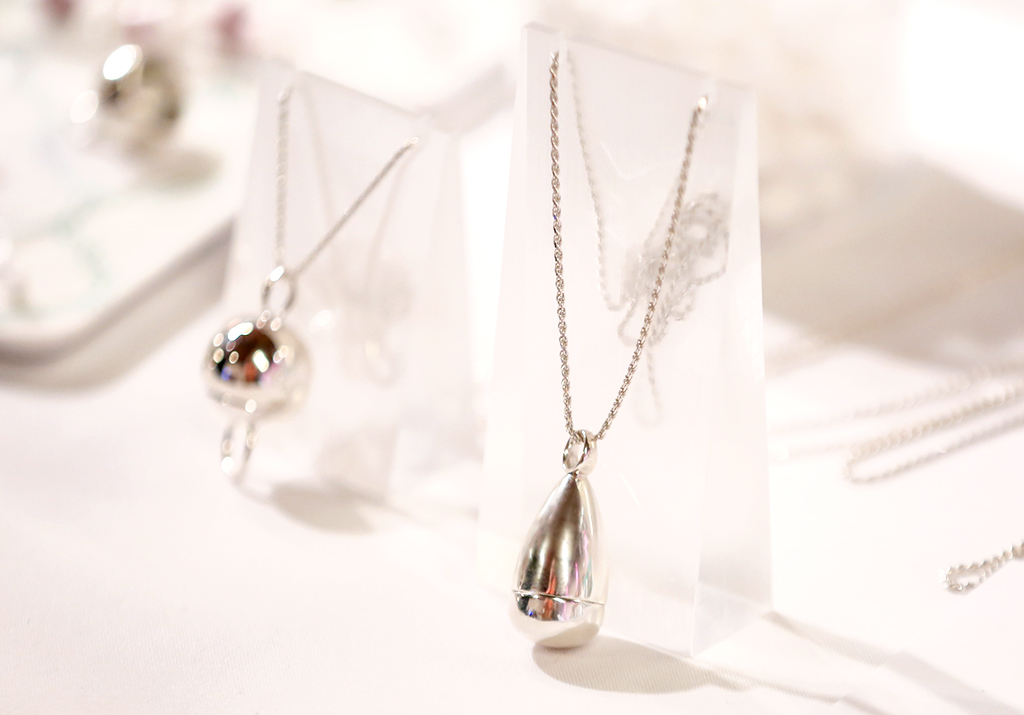 Lilu Lip Care: Never go digging for lip balm in your purse again with Lilu Lip Care's lip balm necklaces. Founder Meg Meranus has secured a patent on a silicone application mechanism she dubs a lip balm pearl that holds lip balm chicly inside fine jewelry pendants. "I would buy poison rings and smash balm into those, but thought there had to be a better way," says Lilu Lip Care founder Meg Meranus. "There is really nothing like this on the market that's clean and hygienic with lip balm that's really colorful."
Holistic Hemp Co.: Chapstick doesn't cut it anymore. Holistic Hemp Co.'s lip treatment with rosehip, geranium, sandalwood and CBD-loaded hemp extract raises the bar. "This combination of ingredients feels like it's straight from Mother Earth's own beauty cabinet," says Lansing. "The scent is subtle and, yet, beautifully alluring, so you'll find yourself using it every day without fail. The hydration benefits and antioxidants found within hemp enhance the natural beauty of the lips and work fast to repair any cracks or dryness."
Ari Rose: The lips down there received their share of love at IBE Dallas, too. Ari Rose's feminine care oil My Little Secret was a buyer hit at the expo. Formulated with vaginal pH in mind, it was clinically-tested for three months to ensure safety. Its essential oil blend is intended to combat ingrown hairs in the bikini area after shaving or waxing. My Little Secret is free of synthetic fragrances, dyes, preservatives and glycerin.
DALLAS BEAUTY TRENDS, 8: The Caribbean Beauty Beat
It makes sense that one of the most beautiful regions on earth would become the next hotbed of beauty brand incubation. Two IBE Dallas exhibitors showed the Dallas crowd that the Caribbean is more than beautiful beaches.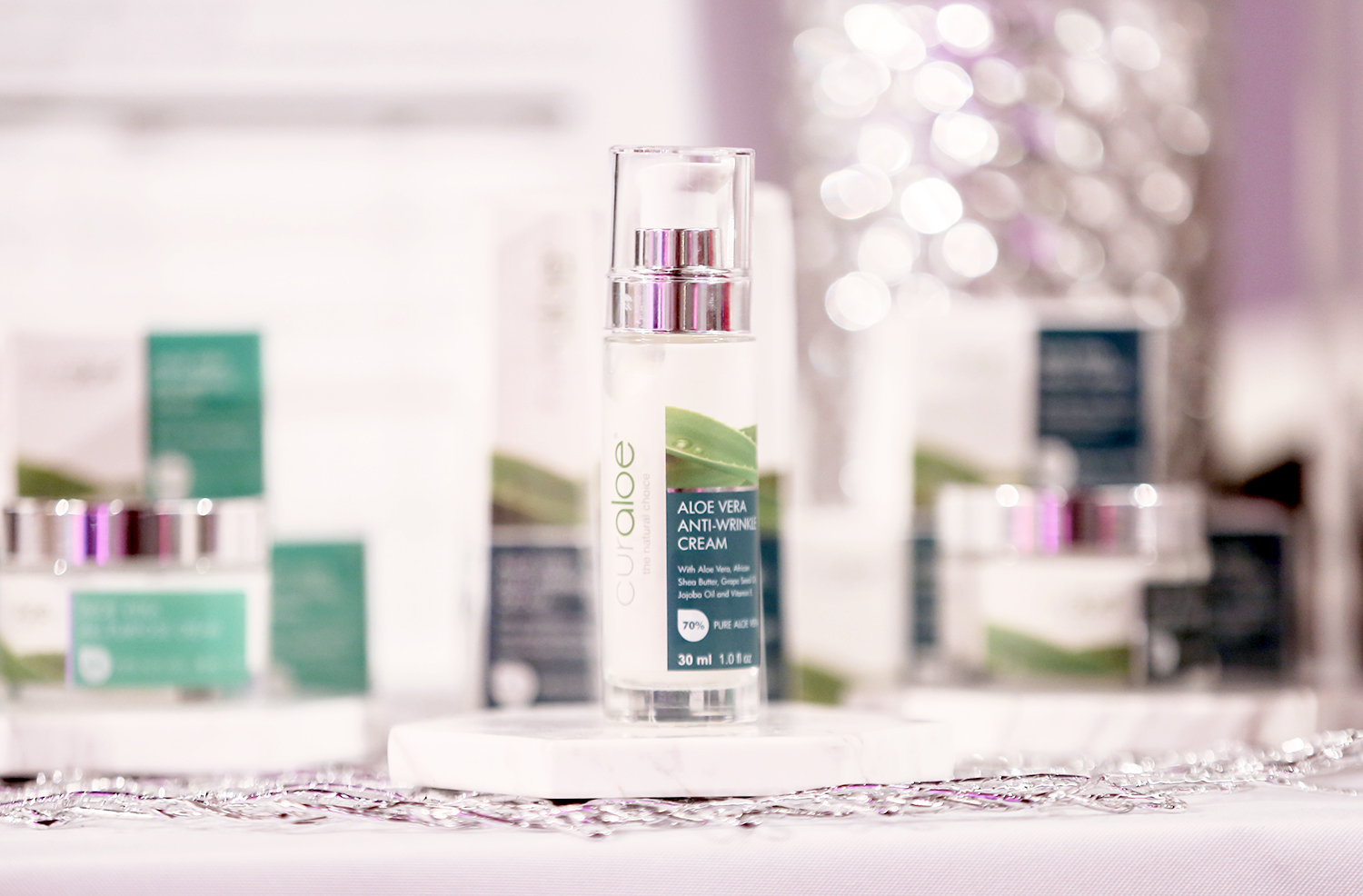 Curaloe: An aloe specialist from Curaçao, Curaloe does aloe differently. Instead of mixing Aloe Vera powder with water, Curaloe used aloe vera gel straight from the plant. The brand grows the aloe on its own plantation, which also is home to a cosmetics factory. The vertical operation allows Curaloe to infuse the purest form of aloe into its wide array of products from shampoo to bar soap and lotion to digestive health tonic.
Onaturell: Haitian skin and hair care brand Onaturell uses local plant-based ingredients to produce clean and creative beauty and wellness products such as its bestselling Shea Mango Butter Cream for the hair and scalp, La Vie en Rose facial mask and collection of carrier oils for massage.
Dallas Beauty Trends, 9: Public Displays of SKINCARE Patches
Now that celebrities are walking the streets shamelessly sheetmasked, we mere mortals are starting to get a pass on the practice as well. IBE Dallas attendees strutted the show floor unabashedly donning facial patches to treat wrinkles, dark circles and uneven skin tone sans any stigma.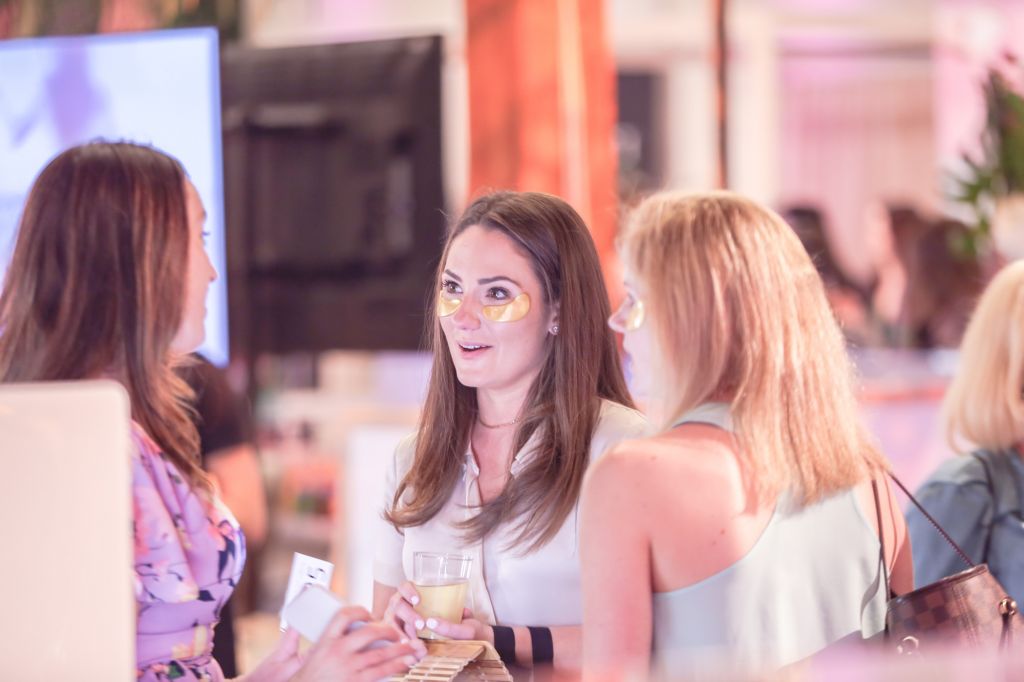 Knesko Skin: Created by celebrity esthetician and makeup artist — not to mention Reiki Master—Lejla Cas, Knesko Skin's chakra-activating Nano Gold Repair Collagen Eye Masks and Diamond Radiance Collagen Eye Masks elevate undereye collagen masks from banal to blinged-out. We spied consumers at IBE Dallas keeping theirs on for way past the 30-minute minimum.
Frownies: For those who are needle-shy, Frownies can non-invasively iron out facial wrinkles, but they need time to do so.  It's recommended to leave the patches on for several hours, ideally overnight. If sleeping with them isn't an option, you can wear flesh-colored Frownies as you go about your business through the day.
Dallas Beauty Trends, 10: Reformatted Fragrance
When it comes to fragrance, spray is so passé. IBE Dallas brands delivered scent for body, hair and home in atypical yet effective formats.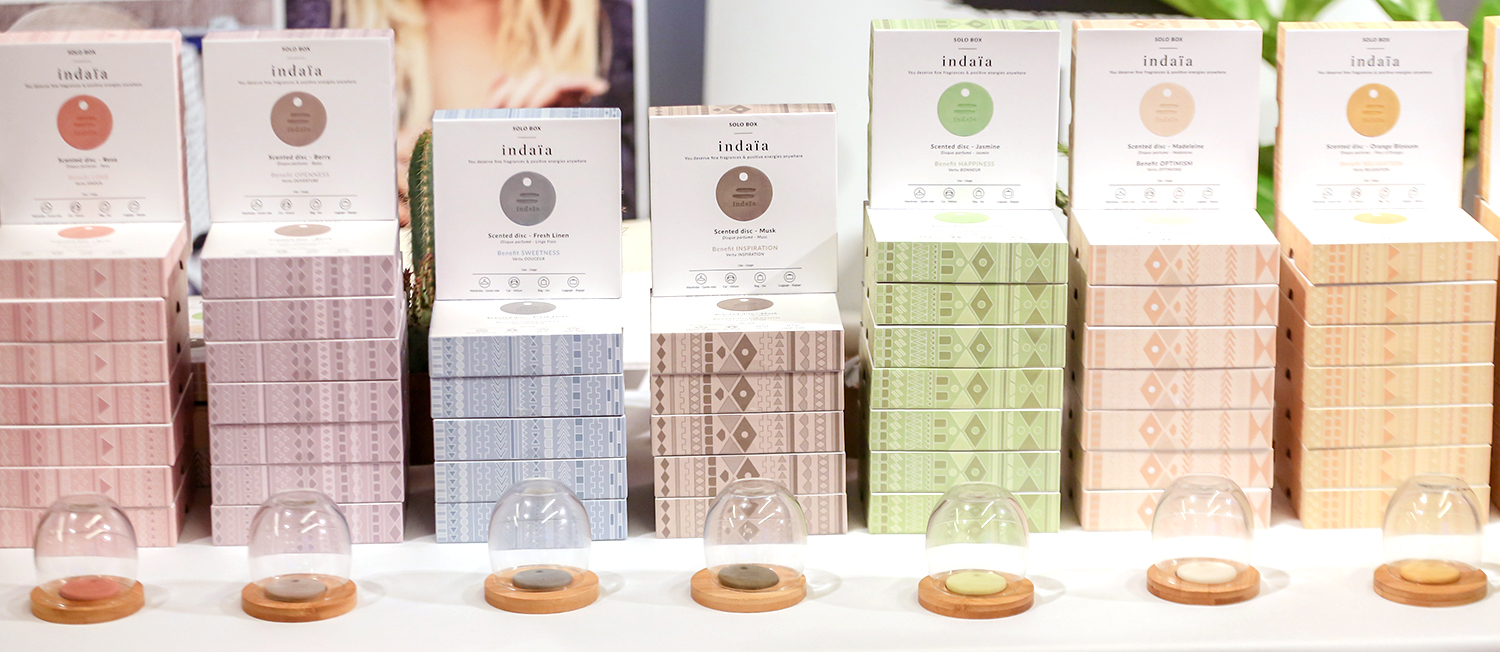 Indaia: Lifestyle fragrance brand Indaia specializes in scented discs for rooms, small spaces, handbags and beyond. "Indaïa was born to enable consumers to benefit from fine fragrances and positive energies anywhere in a user-friendly and stylish way," shares Raphaël Cohen, the brand's operations manager. The discs incorporate properties of ingredients known among Native Americans to give fragrances their full effect.
Flora Remedia: You'll get a lot of, "Gee, your hair smells terrific," with Flora Remedia's Lavender Hair Oil Treatment infused with flower essence. You'll also get shiny, luscious and healthy locks, thanks to this subtly fragranced hair oil. File this product under the unusual category aromatherapeutic hair treatment oil. 
Lovinah Skincare: Delicately fragranced with Lovinah's signature scent, Goddess Glow Shimmering Body Oil is infused with vitamins, nutrients, mica and more to leave skin hydrated, toned, supple, shimmering and smelling delicious enough to eat. 
Dallas Beauty Trends, 11: Scalp TREATMENT Spotlight
Top of head treatments were top of mind at IBE Dallas with brands bringing new-style scalp solutions for a myriad skin and hair issues.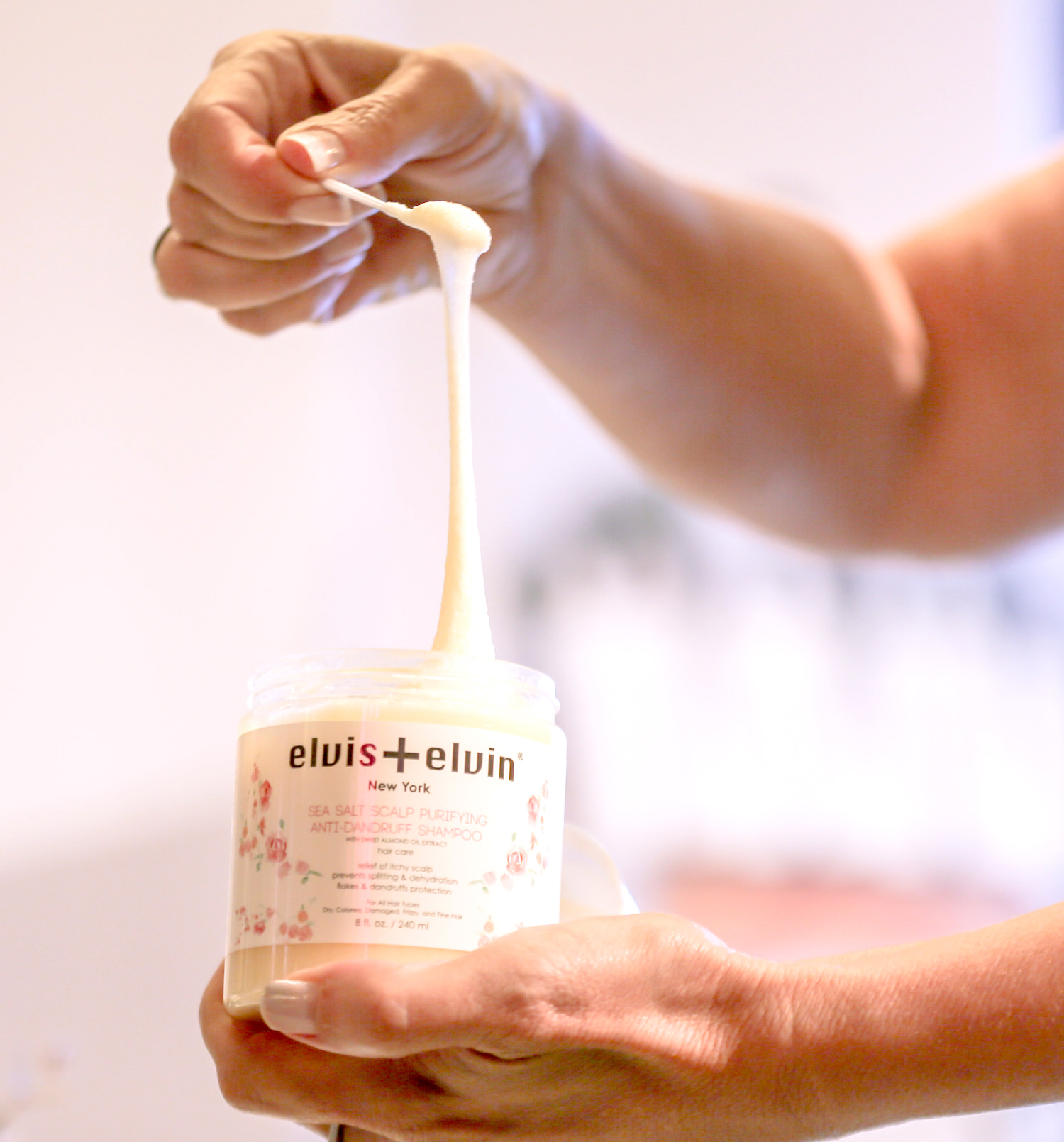 Elvis+Elvin: We're calling it: Herbal medicine-oriented skin and hair care line Elvis+Elvin has invented 'shamgoo.' Its Sea Salt Scalp Purifying Anti-Dandruff Shampoo gives hair and scalp a thorough and therapeutic cleanse and exfoliation without any soapy bubbles.
Cleo & Coco: Cleo & Coco's talc-free Dusting Powder Dry Shampoo is powered by a blend of vegetable powders, activated charcoal, bentonite clay and essential oils to absorb odor-causing toxins, bacteria and wetness from your scalp…and your body. You can even sprinkle some on sweaty parts in lieu of deodorant.
Groh: Hair and scalp health specialist Groh created an oil-free scalp serum enriched with natural antioxidant ergothioneine, which is  derived from mushrooms and nourishes hair follicle cells. Happy hair follicles, of course, produce stronger and more vibrant hair.
Dallas Beauty Trends, 12: New Application Methods
As brands innovate, many find that traditional application methods feel insufficient and staid. At IBE Dallas, innovative skincare brands developed new product application techniques to supply optimal results.
Skin Probiotics: Ellie Trinh, a winner in The Race For Shelf Space competition at Beauty X Retail Summit, created her patent-pending, preservative-free Skin Probiotics brand with beneficial live bacteria. To protect the probiotics, they come in their own bottle and are mixed with the brand's serum immediately before application on the skin
Emma Hardie: U.K.-based Emma Hardie Skincare has developed a product application and removal method dubbed 'lines not circles.' The brand purports that using short, downward strokes rather than the common circular motion works with the natural grain of facial tissues. Doing so encourages healthier skin, and improves circulation and lymphatic drainage by bringing up moisture from skin's lower levels.
Shunly Skincare: Shunri MacQuarrie developed a "skincare map" to allow Shunly Skincare users to customize their regimen to a tee. You apply the brand's collection of targeted treatments exactly where they're needed instead of slathering one serum over your entire face.