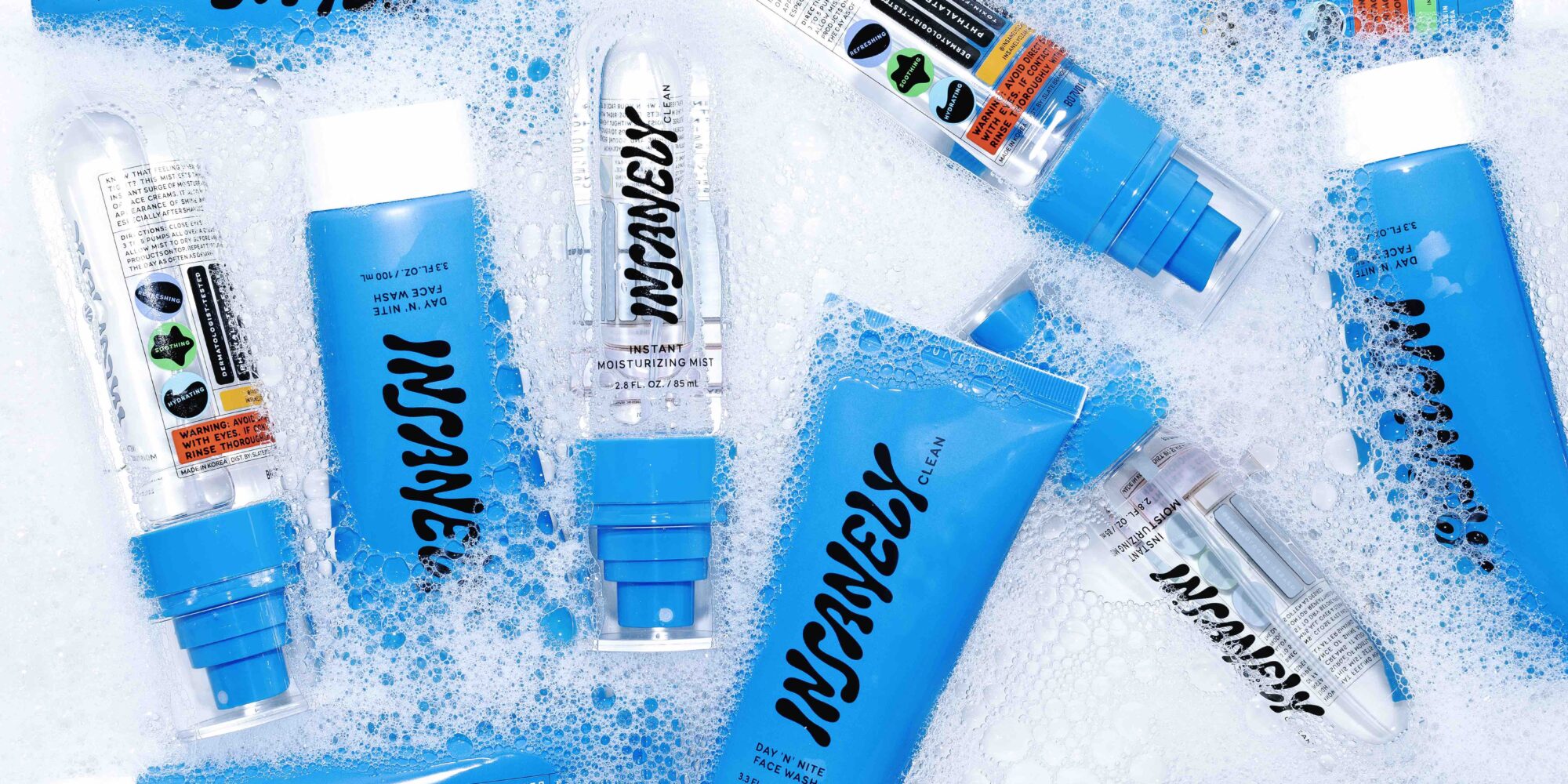 Insanely Clean Entices Discerning Gen Z Guys To Try Skincare With Easy Products And Edgy Design
Judah Abraham was born into the beauty industry and even he admits his commitment to skincare waffles. "I often don't moisturize after I wash my face because I'm lazy," says the 32-year-old CEO and founder of gen Z brand incubator Slate Brands.
Abraham's shaky relationship with skincare got him thinking about how he could encourage guys as they move out on their own, choose products suiting their sensibilities and establish personal maintenance routines to pick up and stick to skincare. He spent almost three years mulling over the challenges of men's skincare, and conducting panels, focus groups and interviews with hundreds of young men to figure out ways to overcome them.
Slate Brands' new brand Insanely Clean builds on all the learnings from Abraham's research with two products—$21 Day 'N' Nite Face Wash and $23 Instant Moisturizing Mist—formulated and packaged to be easy and efficient to entice men to try skincare. It's the first fully owned brand and brand not affiliated with famous people from Slate Brands, which has a stable of six brands connected to influencers and celebrities.
"Men are reactionary instead of preemptive. They will use products once they see the detriments of not using products, but how do we get men to take care of their skin a little younger?" says Abraham. "It's about the brand catering to the real needs of men and not just being another brand with black packaging."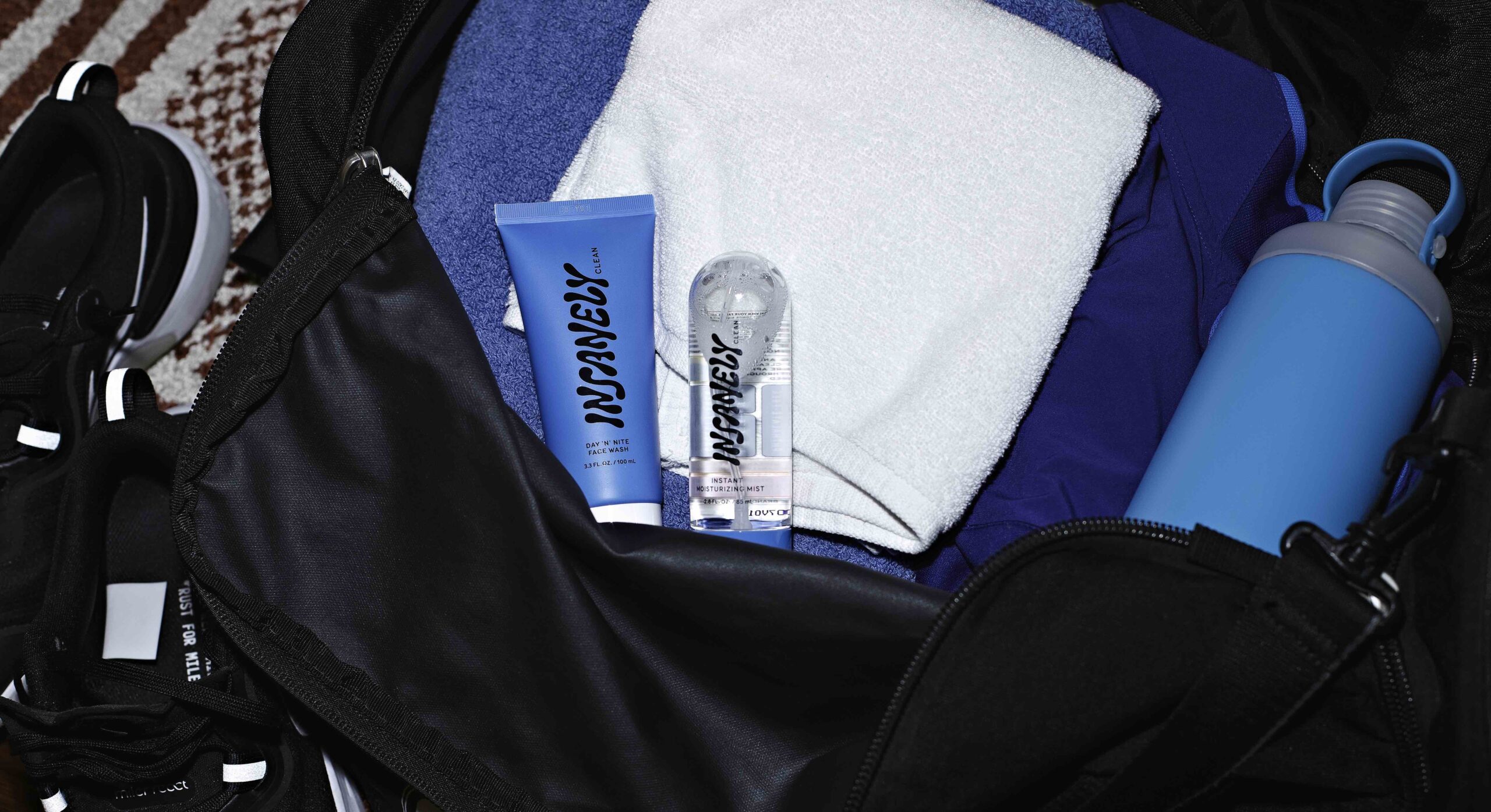 Men don't need their faces to be super taut following a good cleanse, and  Day 'N' Nite Face Wash is designed to have a creamy, quick-forming foam that delivers a fresh face that's not dried out. It has a practical twist cap. Instant Moisturizing Mist renders moisturization as straightforward as a few spritzes. The products are manufactured in South Korea and feature what Insanely Clean calls Y-7 Vitamin Complex, a packed blend of vitamins C, B3, B5, B7, B12, E and F.
The decision to start with two products was simple: guys prefer skincare be simple. Abraham doesn't foresee the brand churning out products constantly and hopping on every skincare trend going forward. It will carefully consider product releases based on input from Insanely Clean customers. "If it has serums, retinols and different options, it's confusing, and that will leave men hesitant to go into skincare," says Abraham.
"It's about the brand catering to the real needs of men and not just being another brand with black packaging."
Insanely Clean's aesthetics are inspired by streetwear to fit the clothes, accessories and gear that its customers might have cluttering their Brooklyn apartments. Its components are bright blue, white and clear, and its prominent logo has an eye-catching wavy scrawl. The white outer boxes add pops of color along the sides. Artist and fashion collaborations are in the pipeline.
The word "Clean" in Insanely Clean's name doesn't refer to clean beauty. Abraham explains, "We have our standards of clean, but we all know it's a relative term. Clean relates to being healthy. It's about being clean for oneself, not for others. Men will only keep getting healthier. We are going to see them explore inner and outer beauty and mental health." Insanely Clean supports Project Extreme, an organization with experiential and intellectual programs for at-risk Jewish teens.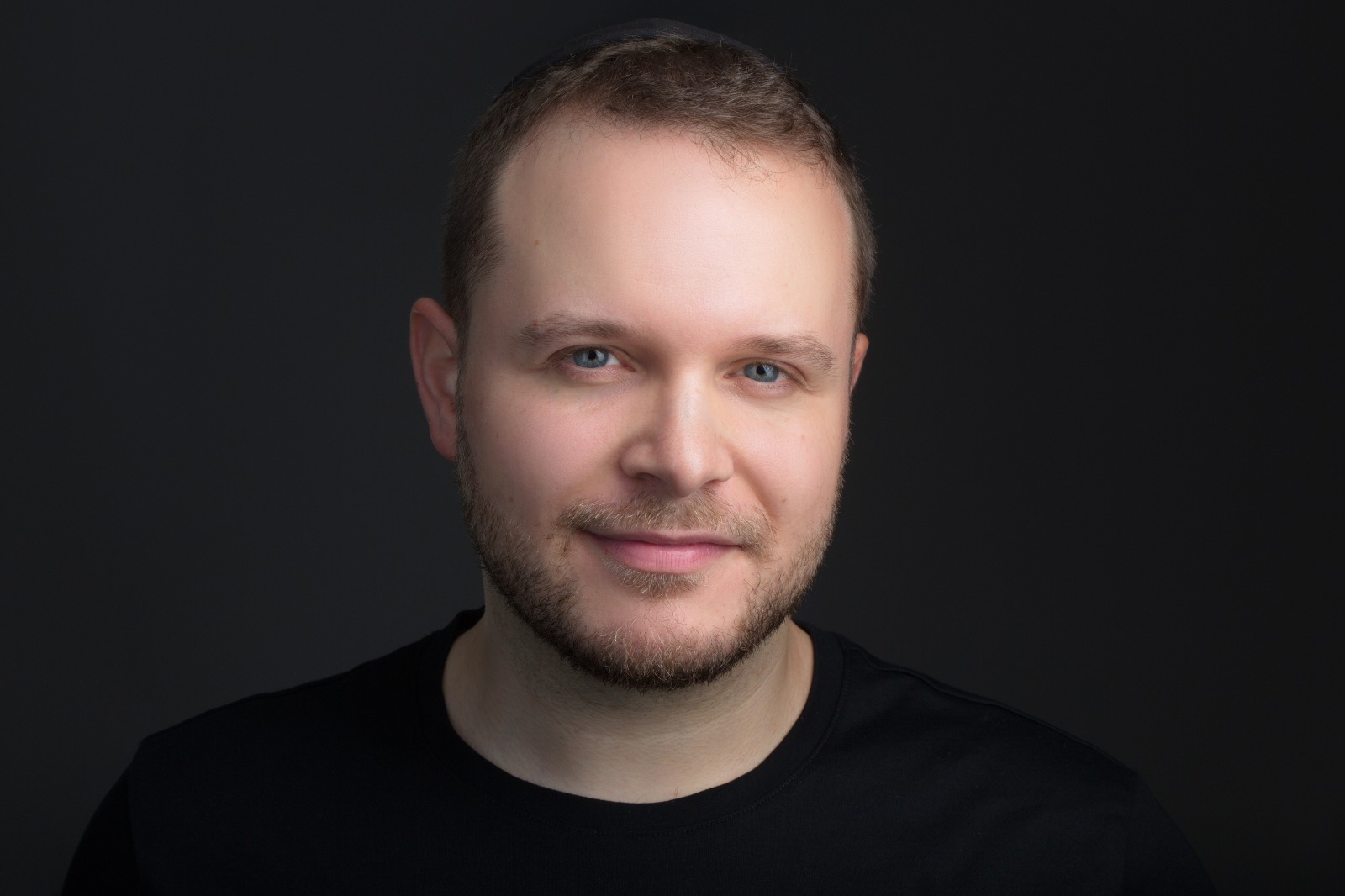 Abraham has strong opinions on celebrity beauty brands, particularly when it comes to skincare, where he argues celebrity brands often feel forced. He didn't want to force a celebrity tie-in with Insanely Clean. Speaking about celebrities in skincare generally, he says, "There may be some fits and authentic involvement if solving a real niche, but usually talent should just be an ambassador or investor for marketing what they have tried, used and know works in skincare."
Outside of skincare, Abraham says consumers view beauty products from celebrities and influencers as merch that expresses their fandom. Driven by that understanding of celebrity and influencer products, Slate Brands typically structures deals with celebrities and influencers that give them rights to brands and have limited terms. "We offer full services. Depending on the exact structure, we ideate, do logistics, ship and can help fund the brand," says Abraham. "Plus, we leverage the data we have about younger consumers to develop products that will resonate with fans."
"In this market, when men like something and find that it works, they want more of it."
Slate Brands' celebrity and influencer brand roster contains fragrance brand Hue by Hayley Kiyoko, fragrance brand Mirrored Image by Brianna and Brittany Murillo, nail brand Me Nails by Moriah Elizabeth, feminine wellness brand Vagitaminz by LaLa Milan, haircare brand Evolove by Kaycee Rice and body care brand Kollab Beauty by Collab Crib. A sophomore in-house brand, which will be in the fragrance arena, is scheduled to hit the market in the second quarter of next year.
Prior to Slate Brands, Abraham climbed up the ranks, from packing boxes in the warehouse to heading business development, at fragrance and cosmetic brand wholesaler and distributor Cosmopolitan Cosmetics Inc., which his father Eugene founded with William Gold in 1975. Slate Brands operates separately from Cosmopolitan, but harnesses Cosmopolitan's network and logistics capabilities.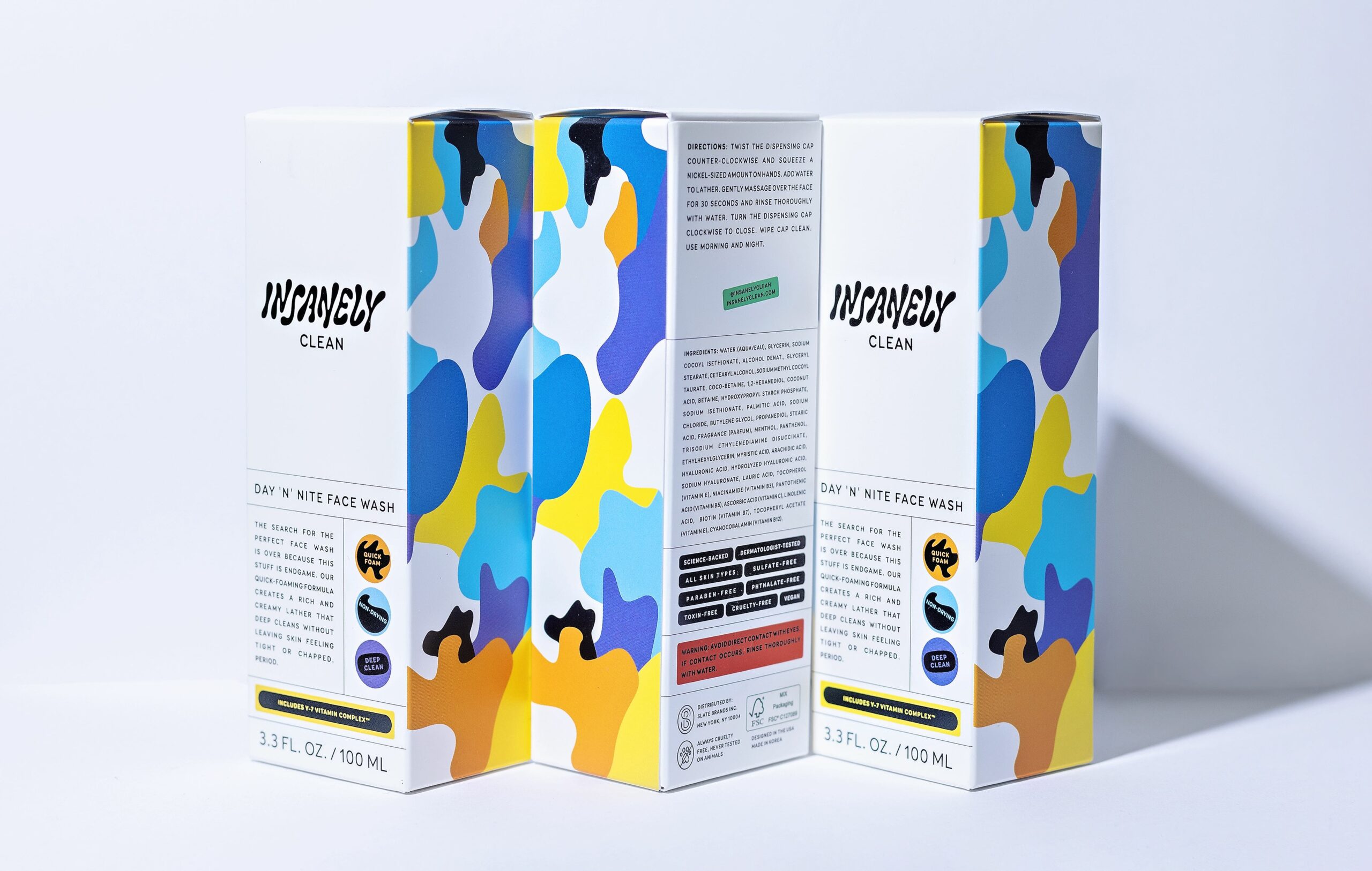 Abraham declines to specify a first-year sales goal for Insanely Clean. The brand has launched on Slate Brands' e-commerce marketplace SlateLand and will launch on Amazon within weeks. Slate Brands is in talks with retailers for distribution, and Abraham envisions the brand venturing into stores where guys tend to shop such as Target, Walmart, Dick's Sporting Goods and Modell's Sporting Goods. Ulta Beauty, Sephora and Urban Outfitters could be possibilities down the line, but they're specialty in women's products doesn't align with Insanely Clean's initial distribution plans.
Retailers are, pun intended, insanely interested in men's skincare, a space long believed to be a reservoir of untapped potential. Market research firm Future Market Insights projects global men's skincare sales will advance at a double-digit compound annual growth rate to reach $28 billion by 2029. As retailers jockey for men's skincare sales, Target has brought in a number of men's skincare brands, including Goodfellow & Co, Bravo Sierra, Lumin and Oars + Alps, and Urban Outfitters is experimenting with the brands Frontman, Black Wolf, Revolution Man, Tooletries and Jaxon Lane.
In a category that demonstrates greater loyalty than women's skincare, they're attempting to identify the brands that convince men to enter skincare beyond soap and have staying power. Abraham is big on sampling Insanely Clean to make the case. He estimates it will dole out several thousand samples, and it's concentrating on two colleges for sampling and later consumer feedback. The brand is also turning to the men who participated in its panels, focus groups and interviews to be evangelists for its products.
"Our products are great products for anyone, but they are formulated to be the first step to get men in the door," says Abraham. "In this market, when men like something and find that it works, they want more of it."