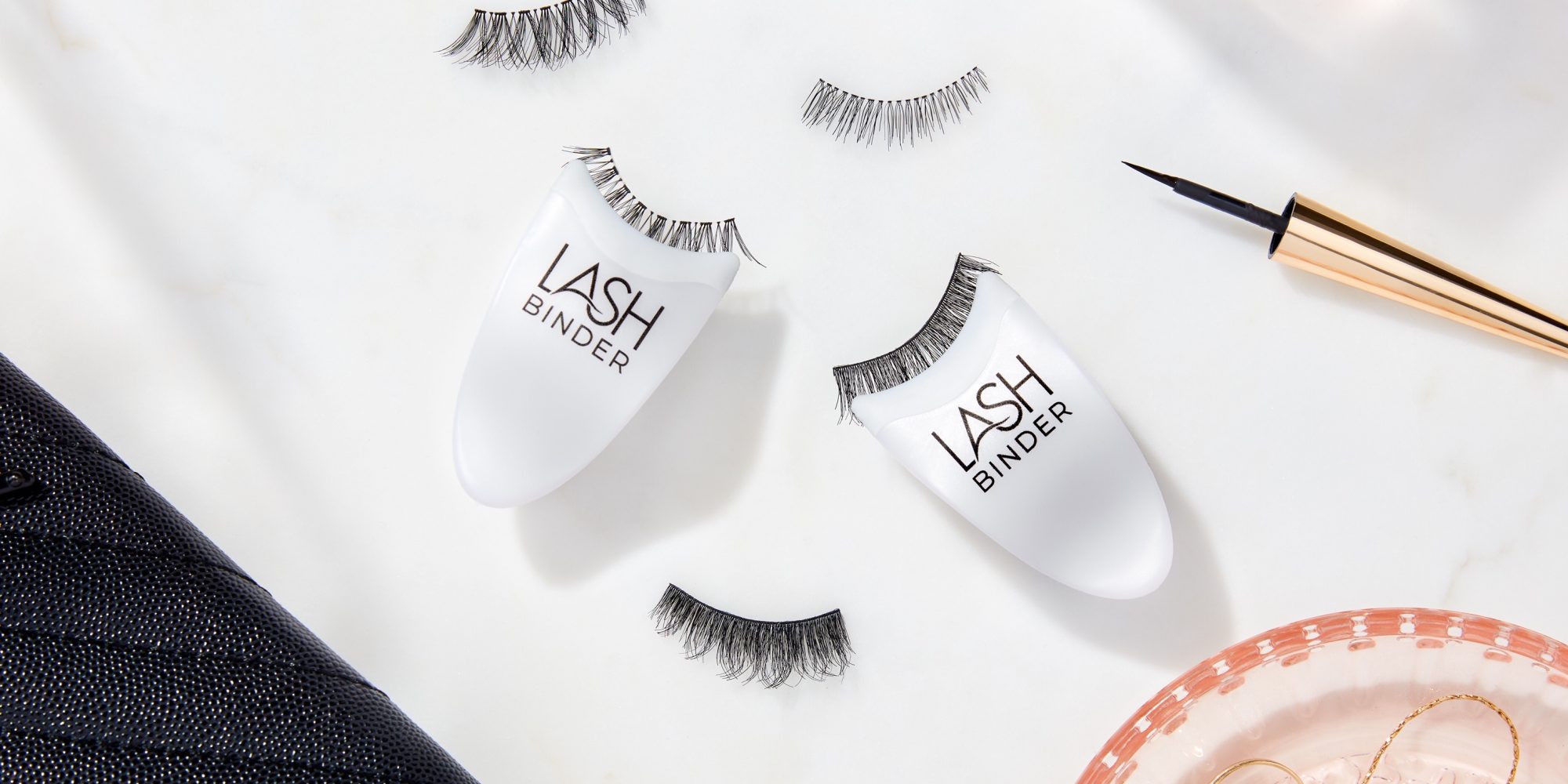 From Makeup Artist To Podcaster To Product Creator: Cassandra McClure Launches Lash Binder Tool
Professional false eyelash applications look great, but they can cost a pretty penny. At-home applications are affordable, but the results often scream amateur hour.
Celebrity makeup artist, Beautycounter educator and Clean Beauty Podcast host Cassandra McClure set out to make great-looking false lashes achievable on an at-home budget with the launch of Lash Binder. The $29.99 patent-pending lash application tool is the result of years of frustration on the part of McClure as well as her clients and friends who lamented their inability to put on false lashes sans professional help.
"I had issues with applying lashes for a long time," says McClure. "I brought the issue up at a workshop. Someone there told me, 'You should develop this tool.' Nine months ago, I did and handed it out to my makeup artist friends. I didn't have to give them instructions. They all just picked it up. It's a simple, straightforward tool. Once I started getting the feedback, I knew I had something." 
While McClure produced a prototype for Lash Binder nine months ago, she considered creating a lash application aid well before that. "I wanted to do this for three years, but I waited a couple years to see if something would come out," she says. "Lashes are such a big trend. I thought someone would come out with this. I realized that it took someone like me to see the need in the industry for a tool like it and to bring a beautiful tool to market." Thus far, McClure has funded Lash Binder with the assistance of one angel investor. She shares she spent tens of thousands of dollars to launch it.
Lash Binder's initial run is 3,000 units, and 1,000 of the units produced are going to professional makeup artists to raise awareness. Makeup artists can sign up to sell Lash Binders. Every artist that's sent the tool receives a unique code to give their clients $5 off the retail price. The artist makes $5 on each Lash Binder sale. McClure contends the white plastic tool Lash Binder can last a lifetime if properly cared for.
"We want to empower the makeup artists to use their expertise and artistry to make extra money while they're not working," says McClure. "I wanted to give back to the community that I came from, the makeup artist community, because most brands aren't doing a lot of supporting the artists when artists are promoting their product. I think it's important to give back."
"Lashes are such a big trend. I thought someone would come out with this. I realized that it took someone like me to see the need in the industry for a tool like it and to bring a beautiful tool to market."
McClure teamed up with a fellow indie beauty brand founder Tiila Abbitt of clean color cosmetics Aether Beauty to show the Lash Binder in action at Alt Summit, a gathering of women influencers and entrepreneurs held last month in Palm Springs, Calif. "Tiila fell in love with Lash Binder," says McClure. "I applied eyeshadow and lashes on hundreds of attendees. The whole conference was buzzing about us by night one. On day two, someone called me a lash fairy, and I sold out of Lash Binders and lashes."
After that stellar performance, Abbitt and McClure arranged to partner on more events throughout this year and into next, including the first-ever CosmeCon in San Jose last weekend, Renegade Craft Fair San Francisco in April and July, BottleRock Napa Valley in May, Outside Lands in San Francisco in August, and Wedding MBA in Las Vegas in October. Additionally, McClure will be Aether's key makeup artist for instructional makeup videos on the websites of Aether's retail partners such as Sephora. She says, "We knew that we made a great team because, after all, lashes and eyeshadow go together so well."
As for possible retail partners for Lash Binder, McClure points to Credo as a top choice. She also foresees the product hitting Amazon in the future. McClure notes, "I'm doing this from my home for the first run. I want to keep it small and keep control of everything at first."
McClure is already anxious to extend Lash Binder's assortment. She believes a clean lash glue that doesn't have latex could find an audience. "It can cause allergic reactions. I'm sensitive to it," says McClure of latex. "There's a lot of fragrance in glue as well. There's cellulose gum [and] dyes. It's not good near the eyes." Beyond a better glue, McClure is interested in releasing lashes. "We also want to do a real human hair lashes and cruelty-free mink lashes," she says. "But, right now, because I'm self-funded, I'm focused on this, our hero product. If this goes well, I'd love to expand."