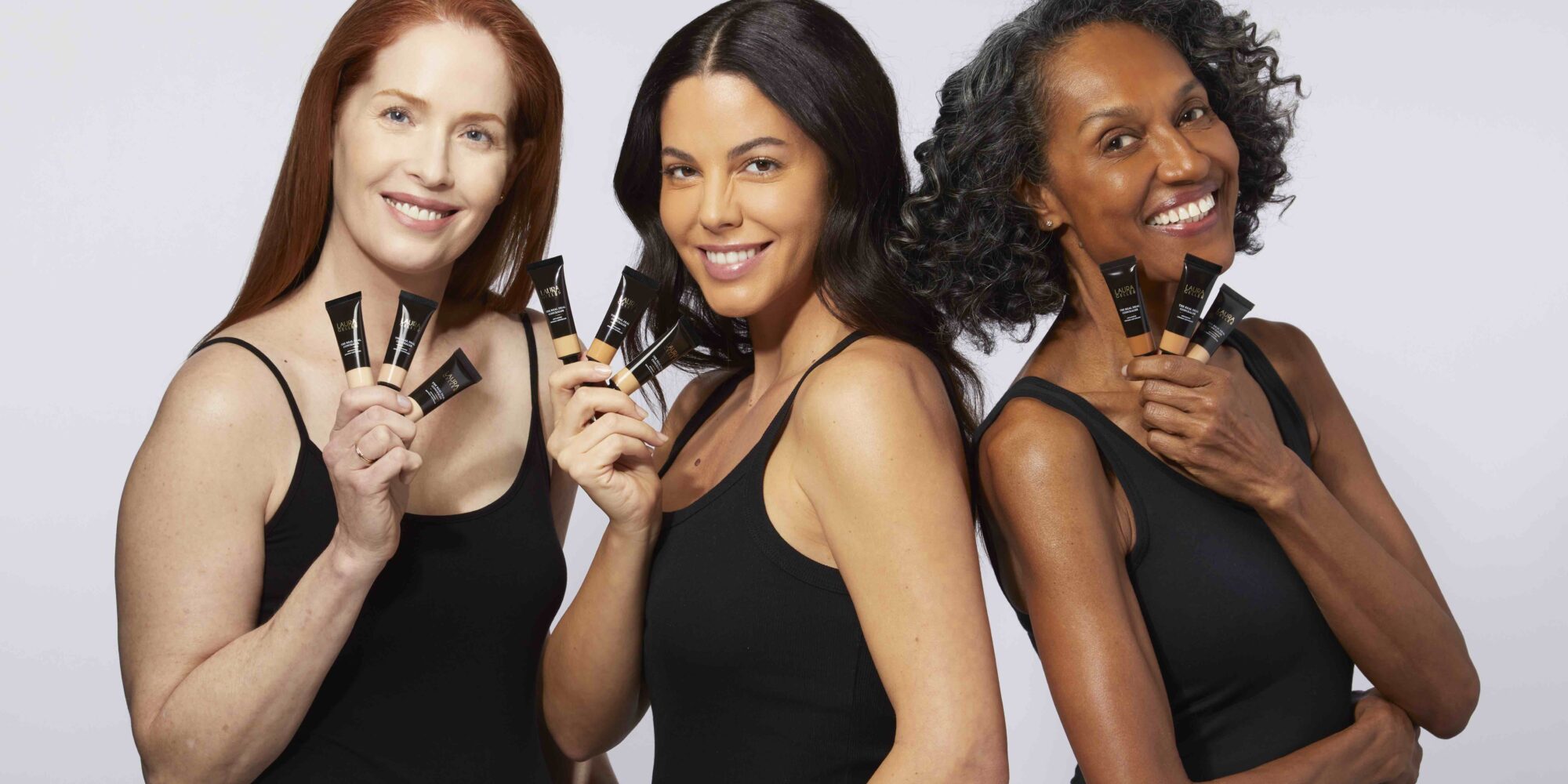 Why Laura Geller Is Focusing On Women Over 40 In Its Imagery—And Why Other Brands Should, Too
A funny thing happens when you've been successful in the beauty industry for a long time. Despite all its magical creams, you age. For some beauty brand founders, dealing with that inevitability can be difficult. Aging seems to signal a defeat by revealing products' fallibility and, enmeshed in the youth obsession of the beauty industry, they fall victim to its unattainable standards. But, for Laura Geller, whose namesake brand debuted on QVC in 1997 with a Contour & Highlight Kit that sold out in minutes, age brings an understanding of how to do makeup and create formulas better. In her brand's new imagery, she's celebrating the performance of its makeup—Laura Geller Beauty has about 40 products priced from $20 to $45, including the bestselling Baked Balance-n-Brighten Color Correcting Foundation and renowned Spackle Perfecting Primer—by showcasing it on women over 40.
The focus on women over 40 definitely doesn't mean excluding women under 40. During a Clubhouse discussion on Wednesday, Geller was delighted by gen Z and millennial consumers fangirling over her brand's highlighters. "I walked away from it happy to hear that I'm still relevant. I don't think I'm aging out. I think, when you are really good at what you do, you have staying power, and people need what you have to offer," she says. "My hope is to keep touching and speaking to more and more people." Beauty Independent talked to Geller about the lessons she learned from ceding ownership of her brand, which is now in the hands of AS Beauty after previously being controlled by Tengram Capital Partners and the defunct Glansaol, ageism in the beauty industry, why she's always been comfortable sharing how old she is and her ultimate legacy.
When did you start thinking about focusing on showcasing women over 40?
It's one of those things that I've always thought about because I've been on QVC for 24 years. I've always felt you needed to be inclusive and spotlight women over 40, women of color and plus-size women. We are made up of all ages, shapes and colors.
When I was under different ownership, everybody was trying to tap into a new demographic to bring new people to our brand. And, although we are known for having three generations of customers, it wasn't until last year that the current owner of the company really did a deep dive into them. They did a whole brand dive and restructuring, everything from the way the brand looks and the formulations to diving into the demographics. While we knew the majority of our clients were over 40, it was confirmed.
I was so happy and delighted that they took the time to do this work and realize you need to speak to your demographic. It's nice to try to bring other followings to your brand—and that's important to continue to do—but, if you don't speak to your core base, they will abandon you. So, I was so pleased that this was a direction that we were aligned with because I've always felt it was important.
We are not going to be exclusive to women over 40. We will be doing much more spotlighting of women over 40. We are going to be having much more emphasis on them in our social media and in our campaigns. You are going to be seeing a lot of celebrities that are going to be doing stuff with us going forward, which we are very excited about. They are beautiful women in their 50s and 60s. We are very excited about the new trajectory of focusing on them more, but we are not eliminating anybody.
Do you feel the nature of aspiration in the beauty industry has changed?
Well, not enough. All of us are hiring 40-plus, 50-plus models and 60-plus models, but they are still models who may not have all the things women have as they get older. It should be aspirational to really be able to see yourself, and I don't think there's been a heck of a lot of spotlight on that, real women and showing how they can look like their best selves through the beauty of formulation and color. We are going to be making a concerted effort to do that more.
We have a core base and speak to them. We throw a wide net and say, "Show us what you use," and we spotlight them. They show us a product that they may love of ours, and we feature them on our social pages. Sometimes, they are just holding up an item or, sometimes, they are videoing application. It's easy for us to cast them because they are our core customers, and they are very happy to be featured.
What do you think about the role social media filters and editing tools like Photoshop play in beauty industry imagery today?
Listen, it's a mixed bag. We have women featured on our social pages who are not filtered, and they are not models, but I do think that, when we are doing a photoshoot or campaign, for the purposes of what we are trying to achieve, sometimes you have to use them. You might have to adjust the color or soften the look. I don't think you can go from zero to 100 overnight. Sometimes you do it, and sometimes you don't do it. That's where we are today. If somebody photographs well and it looks right on our page, then we are not going to touch it, but, if somebody needs a little zhuzzing here or there, we are going to do it. I'm being honest. I'd be lying if I said we didn't do that.
We often see new brands aimed at gen Z or millennial consumers claiming to be inclusive that don't include older people in imagery. Have you seen that?
I agree with that and I'm like, "Oh no, you shouldn't be claiming that." I'm 62, and I've grown up in this business, which I've been in since I was 18. I remember when I was 44, I would say it proudly because I wanted people to identify with me as I was in my 40s, but, when you are 62, you don't want to just see people who are 44. You want to see 62, and you want to see 70. So, now, I'm hypersensitive to that. When I hear brand founders say, "Look, we have a 45 year old," well, you can't eliminate anyone you need to be speaking to. When we say women over 40, we don't just mean women who are 40. We mean 40s, 50s and 60s. We don't just mean 40 because that would be unfair because a 45 year old doesn't look the way a 65 year old looks. We want to be able to represent every decade.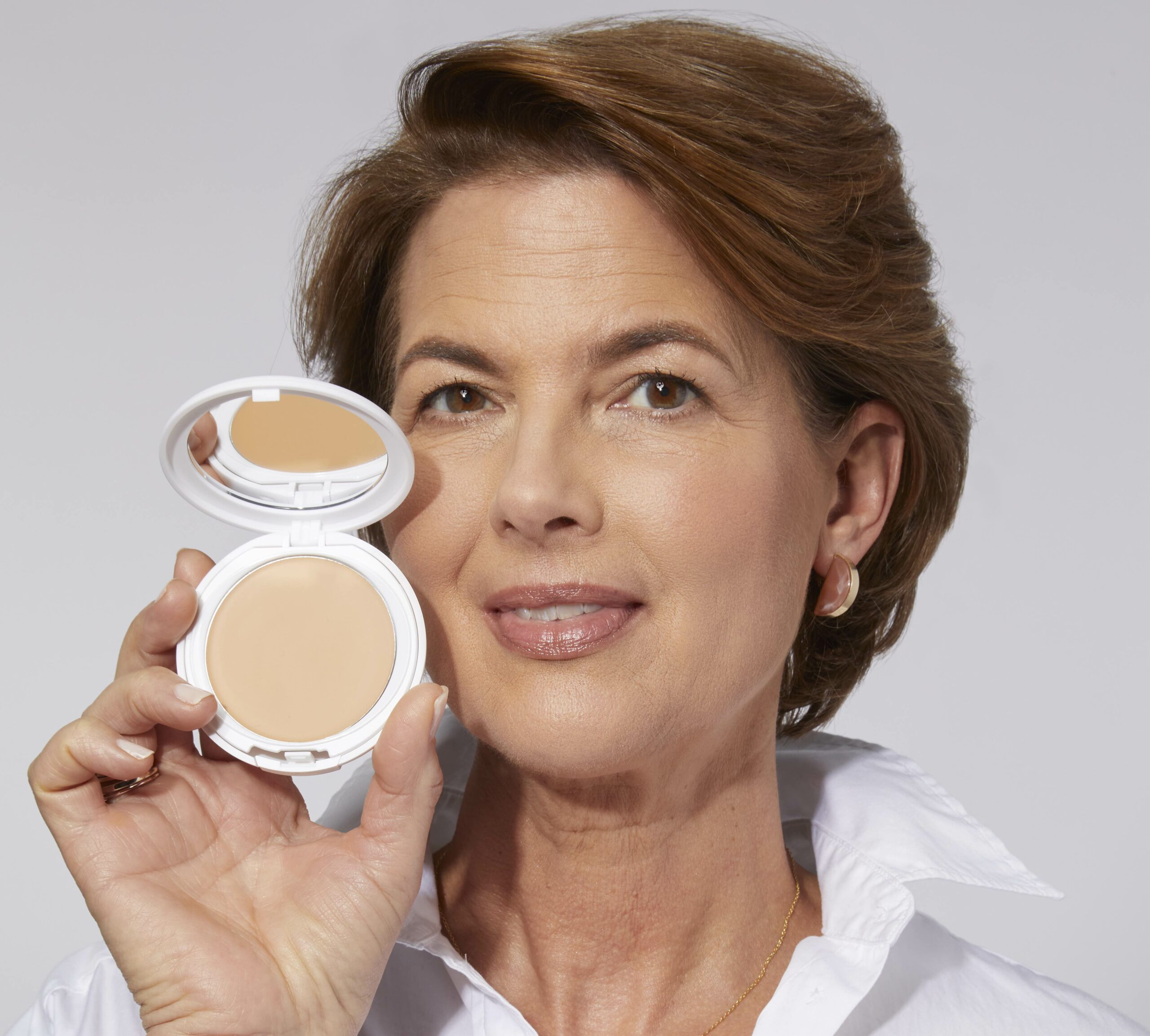 When we featured 40 brand founders over 40 years old in 2019, we encountered many founders who didn't want to share their age. Have you always felt comfortable sharing your age?
Always. I will tell you why. When you are a makeup artist, if you are a good makeup artist, you want to be able to make a woman at any age feel she is beautiful, but, the older I got, the more understanding I had of what it meant when your jawbone gets softer, when you have deeper nasolabial folds, those sevens on your face. I needed to be able to learn about that when I did makeup for weddings on the bride, the mother and the grandmother. When I was 20 or 30, I didn't come with that experience or understanding, but, now that I have gone through all these decades, I'm proud of the fact that I understand it because I'm living it, and I can translate that not just through the formulation, but through my understanding.
Maybe founders think that they are not cool enough [when they reach a certain age]. They may not be Kylie, but I have always represented real women. I'm not a model. I don't try to profess to look like one. I feel that is the real customer. She doesn't walk around looking like Kylie even if she is in her 20s or 30s. I want people to see that makeup is transformative, but you can still look like yourself. That's been my mantra forever.
What do you think will be the business implications of Laura Geller focusing more on women over 40?
Every now and again, I would see something on our social pages before that would say, "Why are you only using young models on QVC?," which was untrue because we were using women in their 40s or 60s, but maybe not enough of them and maybe they weren't watching when they were on, but I would hear them, and I would recognize that they felt left out. I appreciated that feedback. Now, we are doing Mature Skin Mondays [emails] on Monday, and we are doing much more spotlighting of real women over 40. The feedback I'm getting is just incredible. Younger people, too, are saying, "It's so good for you to speak to this."
I started as a makeup artist in my 20s and, when an older woman started to perspire because of menopause, I wouldn't have understood that back then, but that's real. I've always formulated my products thinking about every age, that a 20 year old and a 90 year old should be able to wear them. Will there be that person who is maybe 19 or 25 who will go toward Huda Beauty or Kylie Cosmetics? Will that happen? Maybe, but we don't see any detriment to us at all from what we are doing. We speak to 19-year-old and 25-year-old women and men, too. Men wear our products, and they are very vocal about it. The feedback that I'm getting already is that people feel we are changing the tide a little bit for the good. I'm not worried about negative feedback at all.
How do you think the beauty industry is doing when it comes to ageism?
I think the beauty industry has come very far in the last decade because it can't afford not to. You are seeing more women featured that historically were not featured. They had put youth on a pedestal, and it was tough. They were probably women that just didn't know they could speak up about it and, now, because of social media, people are very vocal. I feel like I've always been the representative of an older woman because I was 40 and 50 doing this and, now, I'm 60-plus. I can't speak for other brands, but I do think you will see much more of it. You are called out today when you leave somebody out. Sometimes, that is how you learn as a brand. Thankfully, we have not been that brand. People want to see more of the people they can identify with. So, that is why we made the move to spotlight women over 40 more.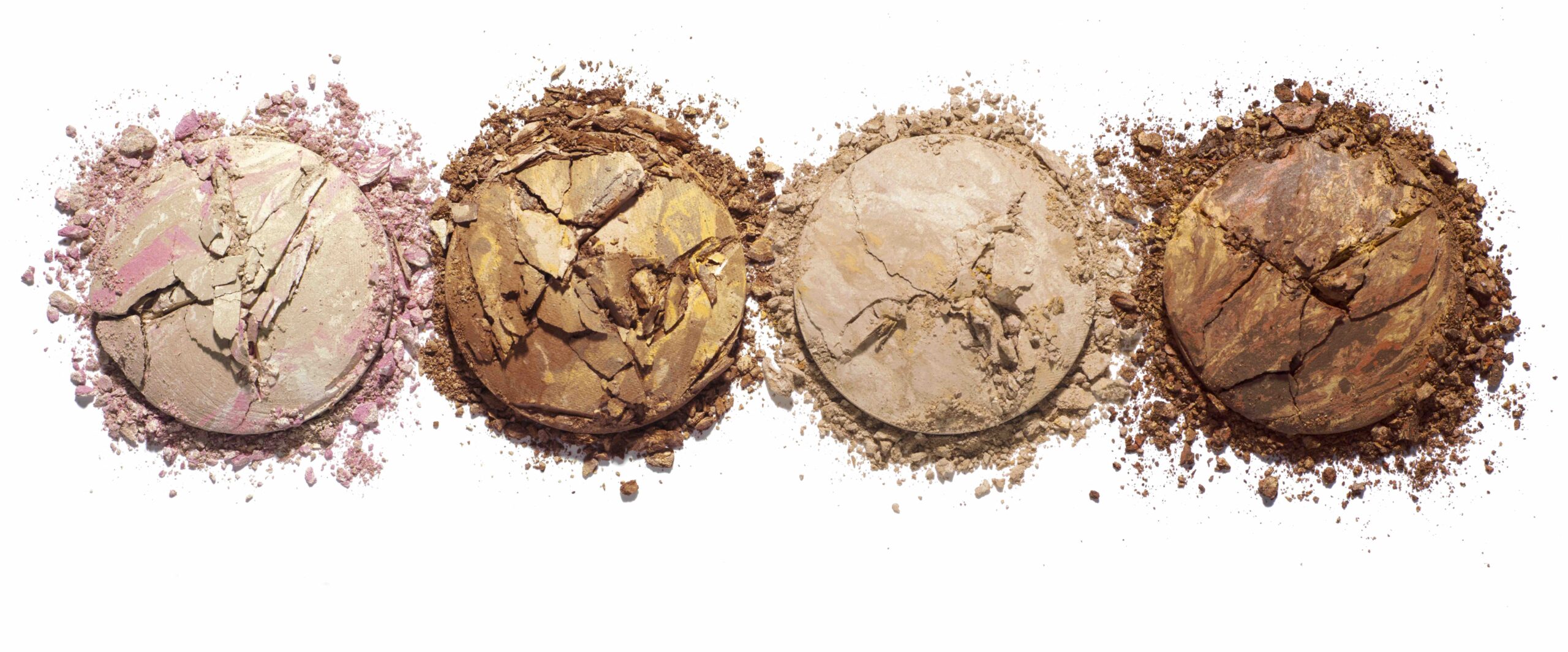 How has your role changed as you've gotten older?
My role has changed over the years. I am no longer doing makeup. I think I'm right where I'm supposed to be. I want to do this—be a spokesperson—for as long as my customers and QVC will have me. I've always brought more to my platform than selling makeup. I think I brought a level of education. I'm a teacher at heart, and I really was a vocational beauty school teacher back in the day. When I'm on air, teaching is always something I've cared about doing. It's not only OK that I know how to do it. You need to know how to do it so you have the tools to be empowered to do it yourself at home.
When my product sat on the shelf at big chains of stores—and that was the case at one time because we were in Ulta and Sephora in a big way—my biggest frustration was that I couldn't be there to teach the customers that were shopping. I would teach my account executives, but I would be frustrated if they didn't provide the same information in stores or I would hear a customer complaint.
Your brand has been owned by a few companies. What have you learned from going through different owners?
You can't know how it's going to unfold. When I sold my brand originally in 2012, I still retained a minority stake in it. My big thing with every investor who came to me was, "Please don't change the ethos of who we are and the brand identity. Please don't change the product development that I've worked so hard on. Do you see my vision? Are you on the same page as me? If you plan on taking this brand somewhere else, I can't get on board with that. I am not sure I could be your spokesperson."
I'm so glad I was vocal about that to everybody because, let's face it, it didn't always go the way I hoped it would, but I always sat back comfortably knowing that, if I called it out, they had to learn from me. They may not be coming from where I am coming from, but I bet they would come full circle to where I was. Sometimes I'm right and sometimes I'm wrong, but I can save you a lot of money because I've been there and tried that. You might think something is the right thing to do, but it isn't if it goes against the brand. But they will say, "This is what is happening in the beauty industry, and we need to do it, too." When you sell your brand, you have to expect someone else will have strong opinions, and you have to be ready for that.
What's been a big change that's happened in the beauty industry since you started in it?
I remember when we were in Ulta and Kylie launched, and she sold out in no time. I was like, "Heck, we can't compete with that." So, that has changed. The celebrity putting her name on beauty products has changed the game a little bit because it's no problem for them to do it. As an artist who has been invested in it for more than 40 years and trained in it, you go, "Geez, they didn't pay their dues," but I still see that there is room for everybody no matter how crowded the space gets if you are authentic and have something uniquely different. If I speak to indie brands, I always say, "What's your elevator pitch? Why am I going to come to you?"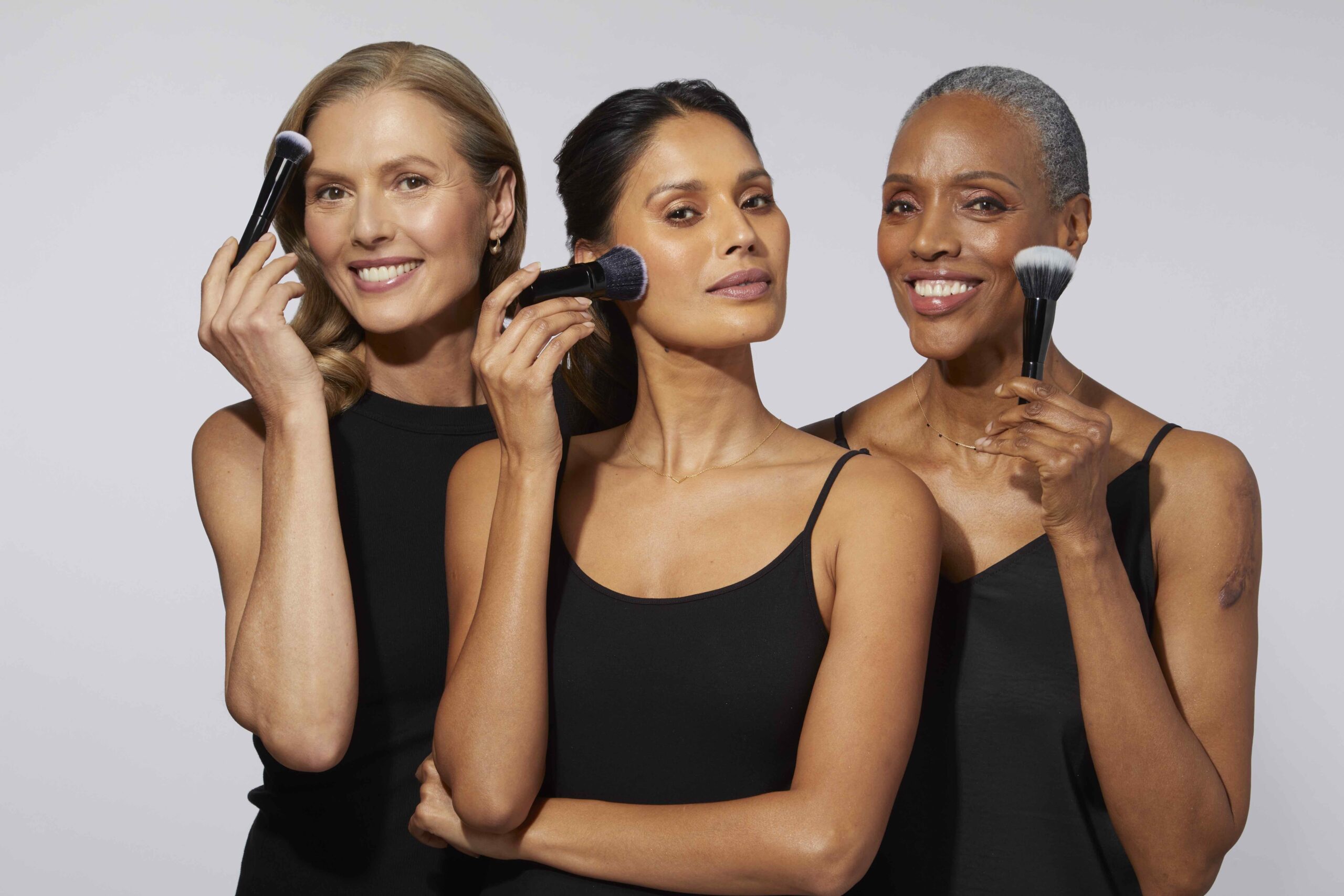 What's been done that's improved the beauty industry?
I have to tell you I have never seen so many indie startups. The space is so crowded. I can't keep up myself. I'm overwhelmed. Everybody has their own platform, and I respect everybody's platform. Every brand has to find a higher power for what they are doing. When I started and owned the brand myself, I gave over $1 million from sales of an item to a lung cancer charity. What can you do to make a difference? If every brand gave back, oh my god! Could you imagine how we would rule the world? That's what I want for brands. That's what I hope for the industry, and I've seen a lot of that, so I'm very pleased.
What are your ambitions for the brand going forward?
When I went into the business so many years ago, Estée Lauder was my idol because she started behind the counter selling products in Queens and working with women, and that's how I started, too. I remember thinking, "If she can be a global brand that everybody knows even long past her reign on earth, why can't that happen for my brand?" I know there may be a time when I'm no longer representing Laura Geller while I'm alive or no longer alive, and my only hope is that I made a little bit of difference, and people will remember this brand.